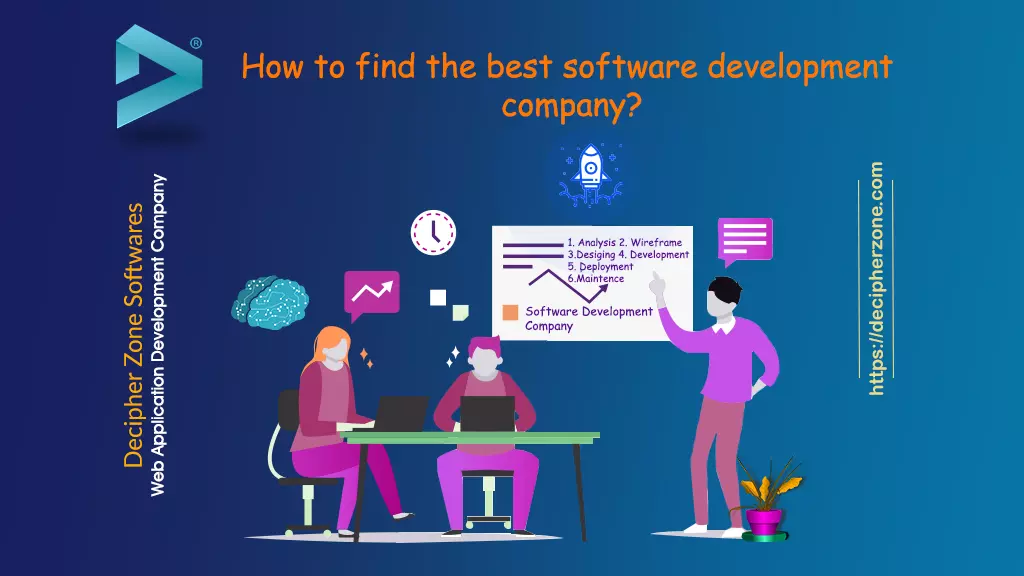 Top 10 Unique ways to find a good software development company
The moment you get a good software development company, you are assured that nothing will ever go wrong. The stronger the software you have, the better the performance of your business.
Remember, customers are continually looking for high-quality digital products. They long for something that will offer them a great user experience.
Whether you need a website for your business, internal software for your company or a mobile app, the right software development company will help you get that.
There are many software development companies on the internet. You need to click on a few website links and get numerous suggestions.
However, choosing the best can be tough. Consider applying the tips below to get the best choice for your business.
1. Consider your objectives through customer's needs
A successful business is the one that solves people's needs. Have you considered finding out what your customers need?
Turn your customer's struggles into objectives. This will help you know the services you need and identify a company that does it best.
Read: "What is an API and How it works?"
Having goals helps you to have a picture of the future state of your business. Through your objectives, it's easy to find out what can improve your business by providing advanced and unique solutions to your clients.
2. Referrals
Did you know that referrals can save you time? Are you connected with people who have used the services of software development companies?
If not, social media is a great platform that has made things easy. Join relevant Facebook groups related to your business. That's the most excellent platform for asking and getting suggestions.
You can also visit online forums like Quora and Reddit. Use the search button to search for discussions related to software development companies. You will be thrilled by the massive suggestions.
3. Create a list
Based on your knowledge and findings, now it's your turn to list down a couple of results from your research. Start with the companies your friends suggested based on their experience of working with them.
Include the suggestions you got from social media and other forums. Start comparing them one by one. Find more information about them. Look for reviews about those companies.
What do customers say about them? This will help you eliminate some of them. Look at their portfolios. Do you love what they have done before? Are there any testimonials?
Read: "Top Web Development Technologies and Frameworks"
By this time, you should be impressed by the samples of some companies. Select the ones with the best examples. You can then consider the issue of budget.
While it is not wise to go for the cheapest company, take a look at the price of the remaining companies on your list? Which one do you think falls within your budget? This should help you make the right decision.
4. Look at the offers in store
Consult various software companies from your search and consult their managers. Request them to tell you more about their offers.
Do you think their offers can help you achieve your objectives? If you aim to create mobile apps, find out if they develop apps that can be compatible with various platforms.
Read: "Latest Web Application Development Trends"
They should be in a position to suggest an appropriate framework that suits your business. All this can be possible if you look at what they have in store.
5. Communication
Before you settle on a software development company, it would be great to contact various companies from your list. As you do this, take note of their communication channels.
How long did they take to respond to your call or email? Communication is crucial because it helps you determine how successful your project will be.
Remember, you will need to be in constant contact during your project. How they communicate with you during consultation determines how they will communicate while working on your project.
6. Integrity and trust of the company
The best software development company should be well known for trust and integrity. They should be honest and have a good reputation. A company with integrity tends to have many customers. Most people recommend their services.
7. Business expertise
You need to get a software company that has expertise in handling what you need. They should create custom software that puts your business together, helping you achieve your goals.
Read: Top 15 Substantial Impact of IT Industry on Current Business
This implies that your developer should understand your business. What business skills does the company have? Are they experienced in developing projects in the area of your business? Don't overlook this idea.
8. Resources and personal approach
You cannot complete any project successfully without the resources needed. The company of your choice needs to have all the resources to complete your project.
A company should not be too small to handle your big projects. Aside from that, they should have a client-focused approach. They aim to make your project a success by using high-quality resources.
9. Make use of LinkedIn
LinkedIn is a social media platform but is known for connecting with companies and other professionals. It is an awesome place you can link up with recruiters, personal experts, companies, and employees.
Do a LinkedIn search, and you will be amazed by the number of software development companies that will appear. Check their profile and website as well.
Read: Top Benefits of Web Application Development for Business
Find out if they offer what you need. Have they worked on a similar project in the past?
10. Choose an agile software development company
Any growing software development company should evolve and grow. They should have developers who can handle projects according to the agile methodology. You must provide them with a full specification of what you need to achieve this.
Software companies can help your business move to another level. Whoever, you can also grow with them if you choose the right company. As you plan to provide your customers with digital products, an excellent software development company will help you achieve that. Consider selecting a company that is well equipped with resources. Do not forget that expertise in your area of business matters.
Have you ever hired a software development company? What did you do to ensure that you chose the best?
Posted by
Mahipal Nehra
|
Posted at 08 Aug, 2019
Web