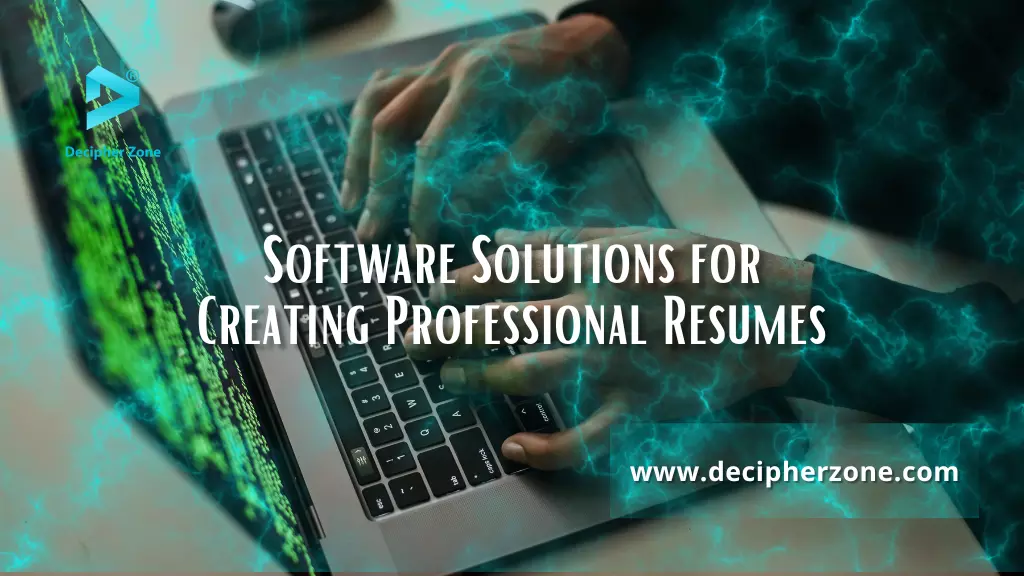 Top 10 Software Solutions for Creating Professional Resumes
Have you ever spent time creating a resume only for it to be tagged "not professional enough"? Or you've been wondering how to craft a professional resume that will capture the attention of job posters.
As a job seeker, crafting a professional resume is critical to securing a job. With the increasing competition in the job market, it's essential to create a resume that stands out, and that's possible with resume software solutions.
These software solutions help job seekers create professional resumes highlighting their skills, experience, and achievements.
This article will share the top X software solutions for creating professional resumes.
Introduction to resume software solutions
Resume software solutions allow job seekers to create and design professional resumes using pre-built templates or customizable formats. These software solutions simplify resume creation by providing users with various tools and features to create stand-out resumes.
Read: Software Development Challenges and Solutions
Plus, resume software solutions allow job seekers to showcase their skills, achievements, and experience in a visually appealing and professional manner.
How to Craft a mind-blowing resume: employing resume cover letter examples
If you're searching for a new job, you know how important it is to have a killer resume. Your resume is your first impression of potential employers, and it's your chance to show them why you're the best candidate for the job.
But with so many resumes flooding inboxes and job boards, how do you make yours stand out?
One way to do this is by including a well-crafted cover letter with your resume. A cover letter is a short document that introduces yourself and your qualifications to the hiring manager.
It's your chance to highlight your skills, experiences, and accomplishments in a more personalized way than your resume alone can convey. Utilizing resume cover letter examples is an excellent way to craft that killer resume that will make an impression on your employer.
What are the benefits of using resume software solutions
One of the most significant benefits of using resume software solutions is the time you save. Manually updating your resume can be a tedious and time-consuming process. With resume software solutions, you will easily add new job experiences, skills, and other relevant information with just a few clicks. This means you can spend less time on your resume and focus more on finding your dream job.
Every job is unique, and your resume should reflect this. With resume software solutions, you'll customize your resume to match the job you're applying for. It helps you tailor your experience, skills, and achievements to fit the job's requirements. Customization can help your resume stand out and make a great first impression.
Resume software solutions are designed to be user-friendly and easy to navigate. They often come with pre-designed templates that you can use as a starting point for your resume.
These templates can help you create a visually appealing and professional-looking resume without hiring a graphic designer. Additionally, most software solutions come with step-by-step instructions, making them easy for anyone to use.
Resume software solutions are designed to create professional-looking resumes that stand out. These software solutions use templates and layouts that are aesthetically pleasing and easy to read.
It makes your resume look polished and professional, which can help you make a great first impression on potential employers.
Many employers use automated scanning software to sort through resumes quickly. These scanners look for specific keywords and phrases that match the job description.
Read: What is Automation
Using resume software solutions can help you optimize your resume for these scanners. Hence, you're more likely to excel in the first screening process and get your resume in front of a human hiring manager.
Hiring a professional resume writer is expensive. However, resume software solutions are a cost-effective alternative. Most software solutions are affordable, offering free trials or low-cost monthly subscriptions. This means you can create a professional-looking resume without breaking the bank.
Top 10 software solutions for creating professional resumes
1.Rezi
Rezi is an excellent software for building resumes and cover letters. Rezi is the only resume platform that uses top AI solutions to automate every aspect of creating a hirable resume - writing, editing, formatting, and optimizing.
It's the sleekest GPT-powered resume builder. So if you're tired of spending weeks or months trying to create a professional resume, Rezi is your one-stop tool.
Rezi AI Writer follows best practices and understands the skills and experience employers look out for, so it drafts the perfect resume in minutes.
2.Kickresume
Kickresume is an innovative AI resume and cover letter builder that helps create documents from scratch or rewrites existing ones. It also serves as a website builder, transforming Kickresume templates into personal websites with public URLs. Therefore, to effortlessly create an outstanding resume, use the Kickresume.
The online resume builder also has design templates with predefined margins and line spacing. Therefore, besides writing, you don't have to worry about the overall document structure either.
Read: Software Design Process and Tools
Plus, they have a huge inspirational database of resumes from real people who managed to land jobs with some of the world's best-known companies.
3. Canva
Canva offers a variety of beautifully designed resume templates to fit your specific needs. With a user-friendly drag-and-drop interface, you can easily add text, images, and icons to create a unique and visually appealing resume.
With Canvas's free resume builder, all your cover letter and resume designs are saved automatically within the editor. Also, the app allows you to create multiple versions of your resume and make slight edits when needed.
4. Zety
Zety boasts a library of over 20 customizable resume templates, each designed by professional graphic designers. Zety is a software solution designed to help you create a professional-looking resume quickly and easily.
Read: Educational Software Solutions Development
With a variety of templates to choose from, you will find the perfect design to showcase your skills and experience. Also, zety's intuitive interface allows you to customize your resume to fit your unique needs.
Also, It offers a range of tools and features to help you craft the perfect resume. From the built-in spell checker to the resume analyzer that checks for common mistakes and enables you to improve your wording, Zety provides all you need to create a resume that will impress potential employers.
One of the best parts of Zety is its flexibility. You can create a resume from scratch or use one of its templates. Zety is web-based, meaning you can access your resume from anywhere.
5. Resume.com
With Resume.com, you will easily create a visually appealing and well-organized resume highlighting your qualifications and experience. In addition, the platform is user-friendly and intuitive, making it easy for anyone to use, regardless of their level of technical expertise.
One of the best things about Resume.com is that it offers a wide range of customizable templates. Whether you're applying for a job in the tech industry or in hospitality, there's a template that will suit your needs perfectly.
You can easily adjust the colors, fonts, and layouts to create a resume that is unique to you and stands out from the crowd.
Another great feature of Resume.com is the ability to import your information from LinkedIn. This makes creating a resume even more accessible, as you can transfer your work history and skills directly onto the platform.
You can also add any information you feel is relevant, such as education, certifications, and accomplishments.
6. Novoresume
Novoresume offers a range of templates, including creative designs that showcase your personality and skills. Their platform also includes a functional resume builder highlighting your skills and accomplishments, making it easy for recruiters to see your potential..
7. VisualCV
VisualCV offers a range of templates that can be customized to fit any industry or job type. Their platform also includes a resume builder that tracks your resume's performance, including the number of views and downloads.
8. Resume now
Resume now works with recruiters to design resume templates that format automatically. Also, resume Now helps you tackle your work experience by reminding you what you did at work.
It's a great software solution for creating a winning resume that gets the attention of your recruiters. It also includes a review from an expert, which gives you an edge in your job search.
9. Myperfectresume
This Resume Builder has dozens of beautifully-designed templates. Each Template in the Resume Builder automatically formats so it stays polished no matter what you write.
Myperfectresume Resume Builder helps you pick which skills and experience to highlight on your resume. Then, with hundreds of pre-written examples for thousands of job titles, you'll show employers you're the perfect fit..
10. Enhancv
Enhancv is more than just a resume builder. It offers incredible features that take your resume to the next level. For example, with Enhancv, you can add video introductions, and social media links and even create a personalized website to showcase your work.
These features make your resume stand out and give potential employers a better sense of who you are as a person and a professional.
Another great part of Enhancv is how customizable it is. You can choose from various templates, but you can also customize them to suit the job post. So whether you want to change the font, the color scheme, or the layout, Enhancv makes it easy to create a resume that truly reflects who you are.
Create the perfect resumes with software solutions
Resume software solutions are a valuable tool for job seekers, as they simplify the resume creation process and allow job seekers to create professional resumes that stand out.
Read: Financial Services Software Solutions
These top software solutions in the market offer a range of features and templates, making it easy to create a resume that highlights your skills, experience, and achievements.
Job seekers can effectively increase their chances of securing a job using resume software solutions. However, when choosing a software solution, it's essential to consider the features, price, and user interface.
Posted by
Mahipal Nehra
|
Posted at 04 May, 2023
Web