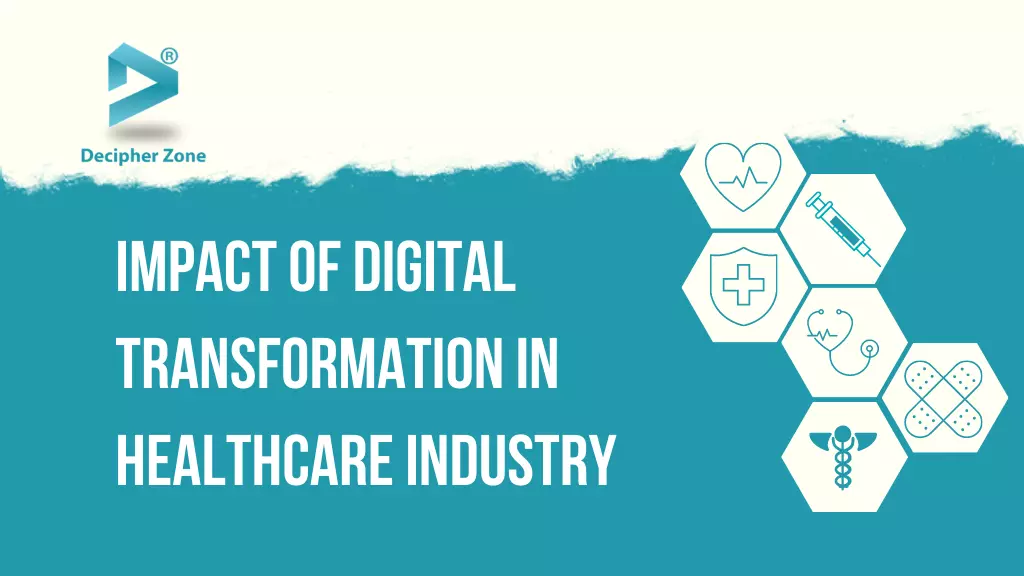 Impact of Digital Transformation in the Healthcare Industry
The Healthcare industry has been in a surge ever since the Covid 19 pandemic took over the lives of millions. The Healthcare industry is the largest sector regarding revenue, with a large volume of patients every year, and it also provides employment. With the rising demand for healthcare services, the companies are moving towards the digital transformation of their businesses and helping everyone avail of the best healthcare assistance they provide.
Digital transformation in the healthcare sector of the United States is enormous, and its digital market is forecasted to reach 504.4 Billion USD in 2025 at a CAGR of 29.6% from 86.4 Billion in 2018. The technology innovation has led healthcare companies to invest in digitizing their services to gain more revenues and better customer satisfaction.
In this blog, we will discuss every aspect of digital healthcare and the ways it will benefit you and shoot up your business.
What is Digital Transformation
Digital Transformation in business means rebuilding your offline business to online (over the web and internet), which can be accessible anytime and anywhere at your fingertips. When we talk about bringing your business online, the first thing that comes to our mind is a website or a mobile application.
Digital transformation also means using digital technology to make your services and products available online to be accessible for the users to operate, and companies can deliver value to their customers.
Read: How Web Applications are Useful in Healthcare Industry?
Technology has already brought changes in the way people shop, travel, have food, or entertain themselves, and it continues to do so. It has made way for businesses to integrate technology and accelerate their growth. According to the changing market requirements, the transformation in the business digitally has opened up many more opportunities.
It offers unprecedented opportunities for innovation - Digitizing a business opens up new ways to boost your business. It enables you to introduce additional services along with the existing services without any mess to benefit your business.

Better Communication - As technology enhances, it also offers better ways of communication to fill up the gap that many organizations face. It eases the work process and builds better relationships between the team members and the customers.

Scalable - Integrating digital technology into your business aids you with real-time data tracking and recording through which you can measure and analyze the data and work on the areas that require improvement.

Less Paperwork and Improved Data management - One essential role of digital transformation in your business is that everything important, for example, the data, is stored in the cloud, which equals less paperwork and even no paperwork sometimes and improvised and organized data so that whenever you require to access any information you can find it easily.

Timely Assistance - Digitizing also opens up one way to get solutions to your problems quickly regarding your business. Mobile apps and websites offer 24*7 support and even easy-to-understand FAQs to answer your questions. Many companies also provide call and email support to their clients, which is an added benefit to earn improved and positive customer feedback.
Digital Transformation in the Healthcare Industry
Undergoing a digital transformation in the healthcare industry is a patient-focused service that will benefit both the clients and the healthcare companies. If you are someone from the healthcare industry or you provide healthcare services, you should think of upgrading your services with digital technology. The digital transformation in the healthcare sector implies developing mobile applications and websites that offer a wide range of services for patients and everyone who requires medical assistance.
Read: Benefits of Using AI for Small Business
Be it the requirement for any medicine or to consult a doctor from anywhere, the digital transformation in the healthcare industry is beneficial for all.
Here is a guideline for you to help with before developing a healthcare application.
Analyze the trending and the best healthcare apps in the market.

List all the latest technology and frameworks according to your budget and requirements.

List out all the risks you might face while implementing this digital transformation into your business.

Prepare a strong marketing plan for a good base.

Get an MVP for the healthcare app to help you understand the app better.
The other way is to perform a SWOT analysis for the same, where you have to list out all the strengths, weaknesses, opportunities, and threats to your business. It will help you understand and plan successful strategies and make better decisions for your business.
Features of Healthcare Applications
Different types of businesses have distinctive requirements, and to cater to the needs in the healthcare industry there are different types of applications developed with unique features. Here are a few features that you can implement into your application.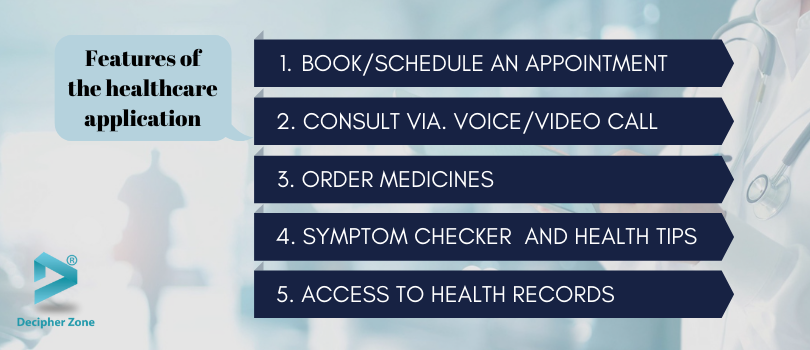 User Registration (via Email, Phone Number or Social Media Sign in)

Online Consultation via Call and Video Call

Book and Schedule Appointments

Order Medicines

Book Lab Tests

Keep Health Records

In-built Messaging and Call

Email and Push Notifications

Doctor and Patient Profile

Dashboard and Analytics

Wearable Device Connection (Like fitness bands)

Medicine Reminder

Geolocation

Symptom Checker

Ratings and Reviews

Daily Healthcare tips (for example, Nutrition tips, mental health tips, weight loss tips from experts)
Pros of Digital Transformation in the Healthcare Industry
According to research by DMN3, users search online to obtain medical information. Where 47% research for doctors, 38% research for hospitals, and other medical facilities, and 77% book medical appointments with doctors. It implies that people are switching from offline to online services for the positive response they receive. More than 4 billion people across the globe use the internet, and here is the benefit of switching to digital mode so that people can avail the services that the healthcare industry offers. Here are a few advantages that you will have if you switch to the digital transformation of your business in the healthcare sector.
Read: Top 10 Digital Healthcare Technology Trends for 2022
Convenient - The first advantage of digital transformation in the healthcare sector is that it makes everything convenient. For example, if you want to consult a doctor and you cannot visit the clinic or the hospital, you can still consult a doctor within a few clicks through the healthcare application. Be it ordering medicines, or checking past health records, digitizing healthcare will simplify every activity that is done manually.

Reduced paperwork - According to research, around 78% of patients prefer to have access to their medical records online. In an industry where keeping the patient's data and health records is very important, we also know that it increases the paperwork. The digitizing of this sector and having electronic health records of all the data will lower the risk of losing the details as well as it will lessen the paperwork.

Advanced patient care - With the patient's health record stored in the online database, it gets easier for the doctors to monitor and take extra care of the patients, because the reports, the health data, and everything is stored accordingly to analyze and use, for further requirements.

Better communication - Through the use of digital platforms for the healthcare industry, the communication between the doctors and with the patient has improved so that they can understand and take better care of the patient.

Eliminates Human Errors - Introducing technology in the healthcare industry is the smart investment for the future of this sector. It eliminates all the possible human error and makes sure everything is managed properly without the risk of making mistakes and causing problems that might have a negative impact.

Better ROI - This investment in the transformation of the healthcare industry will not only give you a better return on the investment or profits, but it will also return with positive customer feedback and a good reputation in the industry.

Time-Saving - Digitizing leads to saving time because things that are done manually can now be easily computerized, which saves time. For example, if we check for the health records in files, it takes time to find them, and then the healthcare apps step in where you can access all your health records easily, all you have to do is enter the name of the report you are looking for and shortlist it according to your need.
Cons of Digital Transformation in the Healthcare Industry
We are all aware of the benefits of digitizing the healthcare industry, but there are also a few disadvantages to it.
Read: How Technology Can Help Us in Healthcare?
Requires Maintenance - Technology keeps upgrading from time to time, and similarly, the healthcare industry requires maintenance and updates frequently. It might be tricky sometimes, but this is for the good of the clients and the patients so that the apps and websites can be easily accessible along with the features developed for the respective users.

Data Privacy - Cyber Attacks are common nowadays, and some hackers steal the data. It is a point of concern that you shall give a thought to before digitizing your healthcare business. But it can be avoided to some extent if you make the correct choice of technology.
Statistics of the Healthcare Industry
Till now, we have discussed everything you need to know about the impact of digital transformation in the healthcare industry. To help you decide whether to invest in digitizing, here are a few stats which show why digitizing your healthcare business will not go in vain.
The healthcare industry of the United States is gigantic, with their national healthcare spending estimated to reach 5.7 trillion dollars by 2026.

In a paper, the FDA mentioned that approximately 1.7 billion smartphone users will adopt healthcare mobile apps by 2018.

30% of adult smartphone users, which is 87 million people in the United States, have used a health and fitness app in 2020.

According to a report by Statista, the global mobile health market is presumed to reach nearly 100 billion dollars by 2025.
Conclusion
The advancement in technology is an ongoing process, and with time new things emerge as innovation, which will prove beneficial for the healthcare industry. About this, investing in the digital transformation of your healthcare business is an idea worth investing in because this will not only boost your business but will also have a positive impact on technology in healthcare, patients, and clients. Digital transformation looks promising, especially in the healthcare industry, and if you are thinking of investing in the digital transformation of your healthcare business, connect with us for your queries and the scope document of your project.
Want to Digitalized your business? Let's connect
Posted by
Mahipal Nehra
|
Posted at 15 Mar, 2022
Web