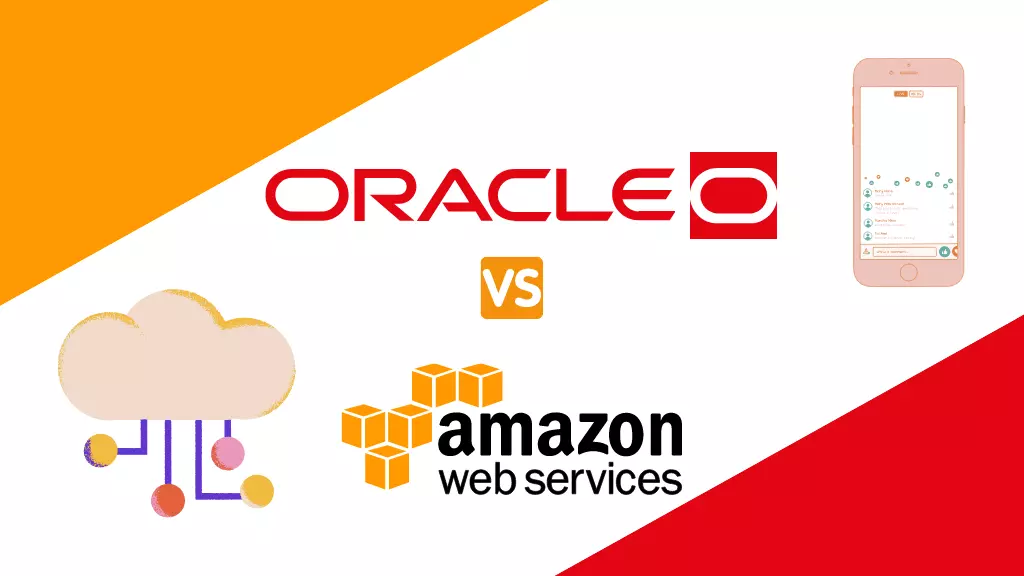 Oracle Cloud vs Amazon Web Services (AWS)
Oracle Cloud (OCI) vs AWS. The development of technology, storage, and processing strength has caused the embodiment of cloud computing and its increasing recognition throughout diverse industries for vital enterprise assist functions.
Over the last decade, the cloud computing market has grown at an exponential rate, with that, some cloud computing providers have also acquired power while others are emerging under these circumstances. Although, it is a challenge to compare virtual machines offerings from two different vendors. We are about to reach a decision on Oracle Cloud vs AWS comparison.
Here, we will have a look at their features and resources relevant to the needs of your organization or software.
What do we mean by Oracle Cloud & Amazon Web Services (AWS)?
Oracle Cloud is the cloud computing platform provided by Oracle Corporation. It offers storage, networks, servers, services, and applications via a global network of data centres managed by Oracle Corporation. Oracle Cloud provides Platform as a Service (PaaS), Infrastructure as a Service (IaaS), Software as a Service (SaaS) and Data as a Service (DaaS). These services are used to develop, deploy, implement and elongate applications in the cloud.
Whereas Amazon Web Services or AWS is a subsidiary of Amazon that provides on-demand cloud computing platforms and APIs to companies, individuals or the government on a pay as you go basis. It offers services like Amazon Elastic Compute Cloud (EC2), Amazon Simple Storage Service (S3), Amazon Lambda, and Amazon Connect that we will discuss later in the upcoming articles. The AWS technology is integrated at server farms all around the world and is managed by the Amazon subsidiary.
Oracle Cloud vs AWS: Resources & Features
Oracle Cloud Infrastructure (OCI) vs AWS (Amazon Web Services). To understand which one among AWS and Oracle Cloud would be beneficial for your business, it's important to look at the main aspects of them, that is, IaaS resources and features both offers.
The IaaS Layer
Both Oracle Cloud and AWS depend on storage, compute and networking resources to provide scale workloads and virtual instances.
The cost of Oracle Cloud Storage is usually lower than that of AWS, except for object storage services. Oracle offers data transfer from the cloud at a notable cost advantage over other cloud service providers.
Although the data transfer into Amazon S3 and Oracle are free of cost, you will have to pay to transfer the data out of the cloud. Where data transfer export from AWS' S3 starts at $0.09/GB after 1GB of data, Oracle Cloud data export is free of cost for the first 10 GB/month and after that charges $0.0085/GB.
Moreover, Oracle's DenselO instances have native NVMe(non-volatile memory express) storage for better database application performance. On the other hand, AWS has an EBS (Elastic Block Store) service for provisioned input/output operations per second (IOPS) that can be bought as an EBS add-on.
As Oracle Cloud and AWS computing architectures and chip types are different, they also have their own measures of cost for vCPUs. Oracle has standardized Oracle Compute Units (OCPUs) for all instance sizes, AWS compares according to EC2 Compute Units which is relevant to a standard measure of machine performance by Amazon.
Oracle bundles its VM services into instances sizes called VM shapes. These VM shapes contain a specific amount of OCPUs and memory. The users of Oracle have to buy storage individually through the Block Volumes service (up to 1petabyte). However, if the user has large databases and requires high-performance local storage they can go for DenselO VMs. The DenselO variant can add 3.2 to 25.5 TB of storage through SSDs connected to NVMe buses.
On the other hand, AWS combines its different VM services into multiple EC2 instance sizes. The sizes here defines the specific number of vCPUs along with the size of RAM. It adds storage to most instances through Amazon EBS or Amazon S3 where each of them can store up to 5TB individual sizes. Some instances can also be configured to be indulged into local storage via high-performance SSDs or low-cost hard drives.
Apart from that, both AWS and Oracle Cloud have bare-metal instances to enhance security and give the user the ability to customize the infrastructure of the app in the cloud. AWS calls its bare-metal instances - I3 instances while Oracle has multiple classes of bare-metal instances, starting with BM. The cost of the I3 instance family starts from $0.156/hour for 2 vCPUs, 475GB NVMe storage and 15.25 GB memory and goes up to $4.992/hour for its largest I3 instance that includes 72 vCPUs, 15.2 TB of NVMe storage and 512 GB memory.
While the cost of Oracle BM.Standard.E2.64 with 64 OCPUs, 50 Gbps networking throughput and 512 GB RAM at $0.03/hour. And, BM.DenselO2.52 includes 52 OCPUs, 51.2 TB of NVMe SSD Storage and 768 GB memory at $0.1275/hour.
When it comes to networking, Oracle VM.Standard.E2.1 offers 700 Mbps speed, which grows with the number of cores up to 24.6 Gbps. And, AWS with its raw networking capacity offers its M5 instance with 10 Gbps bandwidth and 3.5 Gbps EBS bandwidth. Its larger instance, that is, m5.large provide 25 Gbps bandwidth and 14 Gbps EBS bandwidth.
With the knowledge of the resources of AWS and Oracle Cloud, it's time to have a look at their features that will help in deciding which one would be a better choice.
Features Of Oracle Cloud and AWS
Comparing the resources is not enough when we talk about these two best cloud services vendors. It's a must to know the availability, scalability and security of the two.
Availability & Scalability
AWS being an early public cloud IaaS market reflects the reliability, stability, scalability and availability of its services. AWS clearly leads when it comes to these vital features. On the contrary, Oracle Cloud is relatively new in the public cloud market and like other providers, it needs to mature its support, delivery and offering over time.
However, there is one benefit of Oracle that needs to be noticed - end-to-end service-level agreements (SLAs) which are known to cover manageability, performance and availability of its services. AWS too have SLAs but with a long list of exclusions.
The infrastructure of AWS has been developed as a response to startup success like Airbnb and Netflix, but Oracle has spent years managing the infrastructure of organizations.
Where AWS made it easy for startups to swiftly build a new application with the ecosystem of services, its downside is that this method also creates security holes like exposing sensitive information on unsecured S3 buckets. But, it has done great work by implementing a robust security service for identity and access management.
While the oracle cloud approach paid attention to numerous security holes left by different organizations and arose its security approach with strong governance. It makes it efficient to separate application controls from data.
Now that you have the basic knowledge of both Oracle Cloud and Amazon Web Services, it will become a bit easier to make up your mind. Whether you should choose Oracle Cloud or AWS can only be decided after analyzing your requirements. So, if you need a quote or have a query regarding either of them, then contact us now!
Posted by
Mahipal Nehra
|
Posted at 28 Apr, 2021
Web