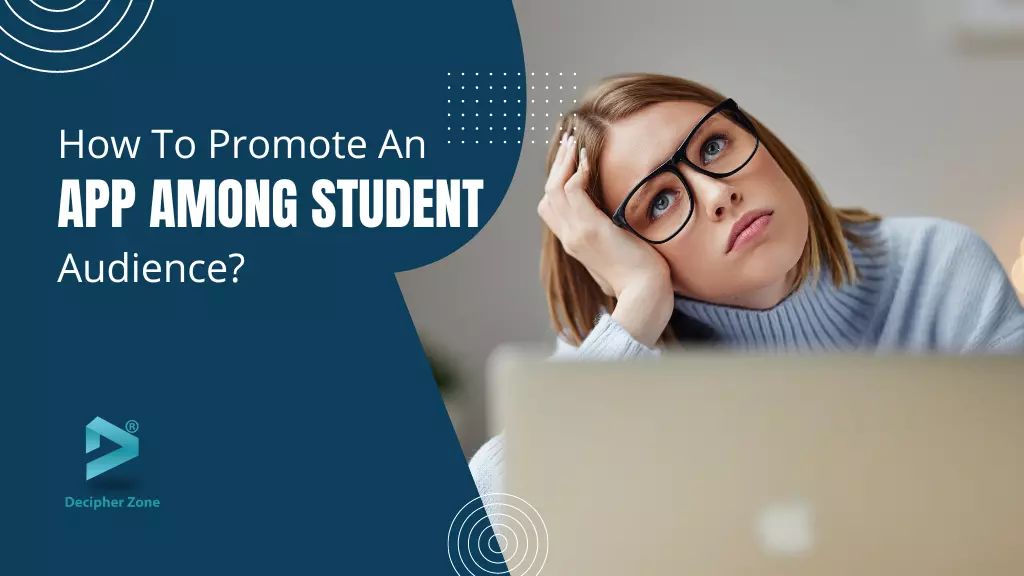 How to Promote an App to a Student Audience
Students have proven to be more receptive to mobile applications due to their familiarity with technology and need for convenience.
That's why promoting apps to students to drive installs and downloads might be a good idea. But how can it be done to meet the specific student needs?
Whether you're a seasoned marketer or a beginner looking for ways to market your app, we've got you covered. Below, you will find eight valuable tips for targeting your app to a student audience. Continue reading to learn more!
8 Best tips for promoting your app to a student audience
Whether you're a seasoned marketer or a beginner looking for ways to market your app, we've got you covered. Below, you will find eight valuable tips for targeting your app to a student audience. Continue reading to learn more!
Research your audience
Every business, whether it is a essay writing service online, a tech company, or a mobile app, needs to do an audience analysis.
By researching your audience, you will gain valuable insight into their unmet needs, likes and dislikes, what resonates with them, and what does not. Later, the information received will help you define your marketing plan and strategy.
Also, when you have a clear understanding of who your target audience is, you can then create content that speaks to them on a personal level.
Moreover, knowing your audience can also help you learn their pain points and shape the overall user experience of your app. This can give your app the competitive advantage it needs to stand out in a crowded market.
Create a marketing plan
Once you've identified the target market and researched your target audience, it's time to move on to the following step. The next step is to develop a plan that clearly outlines your marketing strategy.
To do so, you must conduct a SWOT analysis to understand the strengths and weaknesses of the product or service being offered.
Set goals and objectives for the marketing plan after that. Then, set a budget to fund activities and create strategies to reach out to the target audience. Once the goals and objectives have been established, it is critical for developing a timeline for marketing activities.
Prepare eye-catching visual materials
People are remarkably good at perceiving materials visually. Studies have shown that images are processed 60,000 times faster than text. Thus, the importance of high-quality graphic content cannot be overstated.
By relying on powerful visuals, businesses can communicate the message they want to send more effectively than with words alone.
Besides, younger audiences tend to use services based on their aesthetically pleasing visual appearance. High-quality imagery also can evoke emotion, quickly convey ideas, and drive engagement.
To free up more time for creating captivating designs, delegate writing your texts to specialists from the best assignment writing services, and enjoy writing, proofreading, and editing services delivered by pros.
By leveraging writing services, you can outsource at least one time-consuming task and save time to focus on other tasks.
Involve influencers
When deciding to purchase one or another product or service, social proof can play a significant role for many. People are inclined to be influenced by the decisions and behaviors of others, and they may find social proof reassuring in making their own decisions.
That's why we recommend connecting with influencers to promote your app. Influencers can help spread the word about your product or service. And people are more likely to take their opinions seriously and trust them than other sources of information.
Use word-of-mouth marketing
Word-of-mouth is one of the most efficient and cost-effective ways to promote your app. Most of the time, it happens naturally. When the product is good, people share their positive experiences with others.
However, you can incentivize students to talk about your app. Thus, you will create a network of advocates that will help spread the word and attract even more users.
Don't underestimate the power of outdoor advertising
Students tend to take advantage of their free time by participating in a range of extracurricular activities, such as joining clubs, attending events and festivals, and getting involved in volunteer opportunities.
That is why you should not underestimate the effectiveness of outdoor advertising and market your application in places where students gather using posters, flyers, and stickers.
This way, you can increase the awareness of your app among your target audiences and broaden its reach.
Offer incentives
Once your target audience starts using your app, offer them in-app incentives to keep using it for longer. You can ensure that users keep returning to your app for a more enjoyable experience by providing incentives like discounts, special rewards, or exclusive content and features.
Engage users
If you don't want your customers to delete your app the day after they download it, you must engage them. It is essential that businesses engage their customers to maintain their loyalty and interest and develop a long-term relationship with them.
To begin, make an onboarding process quick and smooth, showing users all the main features and allowing them to tailor their experience. Second, divide your audience into segments and target different groups with personalized campaigns.
Third, make use of push notifications. For the best results, do it at the right time. For example, if there is a sale, if the user forgets to finish an action, or if they have been inactive.
To sum up
Appealing to students' needs and interests can be a great way to make your app stand out from the crowd. Make use of our tips to promote your app more effectively and increase its chances of being downloaded by your target audience.
Posted by
Mahipal Nehra
|
Posted at 03 Feb, 2023
Web