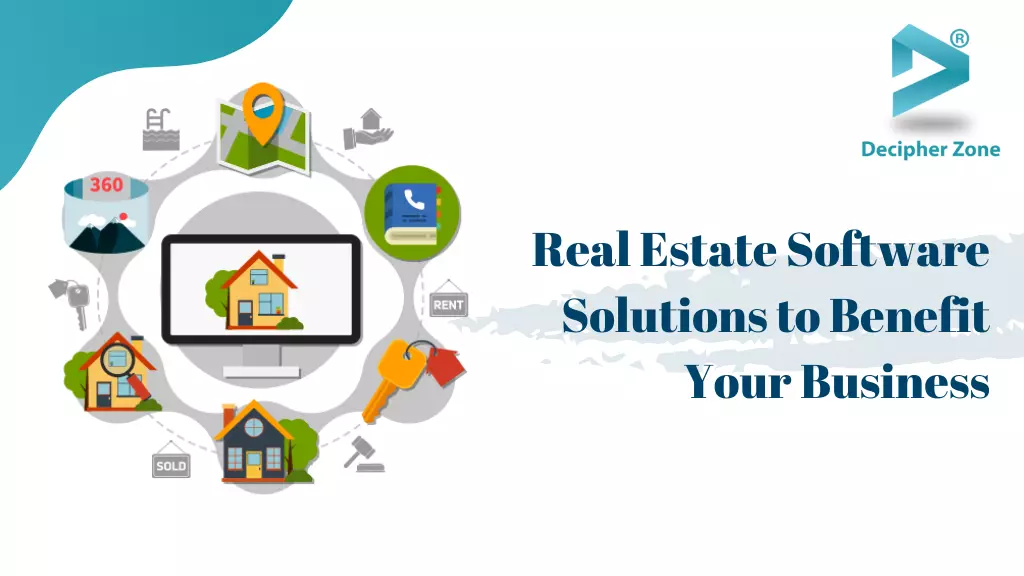 How Can Real Estate Software Solutions Benefit Your Business?
The demand for real estate software solutions has been growing more daily. According to the reports from Statista, it says that the real estate market in the United Kingdom (UK) is estimated to spend around 393.41 million U.S. dollars on software in 2021. Additionally, it is also estimated that by 2024, the industry's spending will increase to 477.35 million U.S. dollars.
Another report from research states that the demand for real estate software is being assumed to grow from 2020 to 2027 at a market rate of 8.90%. These reports result in saying that real estate software solutions are an added boon to reach new market standards for your real estate business.
The real estate business is dynamic because not every customer has the same demand. For example, Interested buyers are willing to pay money, but they are looking for properties within a specific place, timeline, and area. Sometimes it may be difficult for agents to shortlist properties and that is where the real estate software solutions step in. It not only caters to the requirements of the agents and the buyers but also the needs of the owner or the seller.
What is Real Estate Software?
Real estate software is the amalgamation of technology into the real estate industry that caters to the requirements of real estate agents, property owners, and buyers. The prime focus of this software is to draw more clients and ease the process of buying and selling properties. Through this application, the property owners and real estate agents can list out the properties that are available for sale or lease and the clients can access the list of properties available.
Advantages of Developing a Real Estate Software Solutions
Before thinking about developing real estate software solutions for your business, you should first understand the advantages and disadvantages of developing such a solution. Here are a few advantages you should consider.
Easy to Manage - Developing a real estate application will aid you in all your business requirements. But the first and foremost advantage is that it will help you or the real estate agents by managing all the activities like listing properties and sorting them according to the categories and filters, their clients, tax payments, etc handy. You will be able to access everything within the app and watch the ongoing activities, which indirectly minimizes the workload.

Relationship Retention and Generate Potential Leads - The real estate software solutions help you manage every activity, and additionally, it also helps you to generate potential leads. Through an app for your business, you can manage all your clients and keep the relationship alive for years. Through this, you can notify and interact with your clients, and also this also generates more potential leads with the word of mouth technique.

Marketing and Workflow Automation - Through the real estate software solutions, business owners can update their clients about their latest ventures, offers, properties on sale, and send emails and notifications, making it easier to build their brand, create sales funnel, and simplify the work instead of doing it manually.

New Opportunities - Every business wants to reach new heights and generate profit, but it also opens up the way to new opportunities. Implementing new things into the software solution will not only ease the work but also minimize the problems that you face. For example, implementing a chatbot into your real estate app will help your clients to list their queries, and you can answer them quickly within no time.

Scalable and Secure - Nowadays, security is an important factor for businesses, and to avoid fraud the apps are secured with multiple layers of security. Additionally, you can analyze and measure the traffic according to a weekly, monthly, and yearly basis so that you can learn the areas where you need to improve, and then achieve your targets.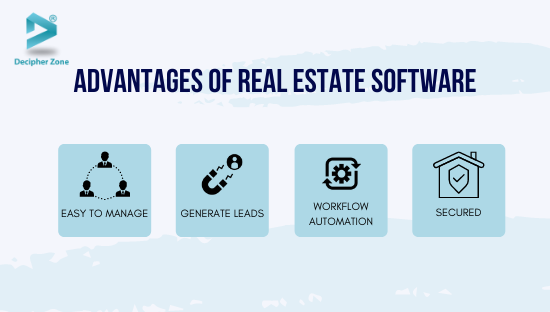 Disadvantages of Real Estate Softwares
Everything has a negative side to it. Although technology is an added benefit for any business, there are a few drawbacks to it. Before developing a real estate app, you should be aware of the disadvantages. There are not many disadvantages of developing real estate apps rather these should be considered as investments, which will later pay off in the near future.
Expensive - Developing real estate software solutions might be expensive for small businesses, but it is a one-time investment worth making.

Requires Training and Time - Not everyone is aware of using software and applications in a business, which requires proper training on how to operate the software with efficiency indirectly leading to time consumption.

Requires Constant Updates - Developing apps requires constant updates, be it adding a new feature to your application, or updating the terms and policies as per industry norms. It is essential to retain a good client base with improved customer satisfaction.
Types of Real Estate Softwares
No dreams turn into reality until you try to implement them into your life. The same goes for business. If you have a plan, the next step is to implement it. Now before implementing your plans and research into your real estate business, you should know the types of real estate software made available in the market.
Custom Real Estate Software - This is the most preferred software among all the types of real estate software solutions available. It can be customized according to your demands, and you can also avail of quick benefits like the affordable cost of development, according to the number of features and its complexity, user and mobile-friendly, and many more.

CRM Software - This type of software mainly focuses on customer satisfaction and works on solving problems with efficiency. It is a handy tool you can use to amplify sales and in industries like real estate, it is very important to retain your customers.

ERP Software for Real Estate - This is an outstanding type of software solution you can implement in your real estate business. It will help you manage the day-to-day activities, financial reporting, payroll, and other business processes.
Why Develop a Real Estate Software
Client's expectations continue to skyrocket, and you need to simplify it by implementing their thoughts into the project. Developing real estate software solutions enables you to monitor all the real estate operations, such as listing a property, finding potential clients, verification, and many more. According to the NAR report of 2021, 97% of home buyers search online via websites and mobile applications for properties. Here are some reasons that will be an additional benefit for your real estate business.
Developing real estate software solutions prevents fraudulent transactions

It maximizes user engagement and minimizes the cost

It automates the manual activities and decreases the paperwork

It gives you access to robust data which you can use in the future to gain more potential clients.

You can access almost everything within clicks anytime and from anywhere

It will generate more brand awareness and render a personalized approach to your customers.

It will help your clients with extensive market research, which will lead to higher engagement and conversion rates.
Essential features of Real Estate Software Solutions
After learning about the advantages, disadvantages, and types of real estate apps, the next thing that you should know is some of the major features that you can put into the real estate software.
User Onboarding/Registration

Listing/Removing Properties and Database

Live chats and Quick Responses (Inbuilt messaging and calling feature)

Filters and Categories (Like location, budget, requirements, etc)

Dashboard and analytics

24*7 customer support

Lease and Property Management

Push Notifications

Maps integration

Fee Calculator

Virtual Property Tour (Including the videos and photos of the property)

Ratings, Reviews, and Feedback

FAQs regarding the usage of the app and about the properties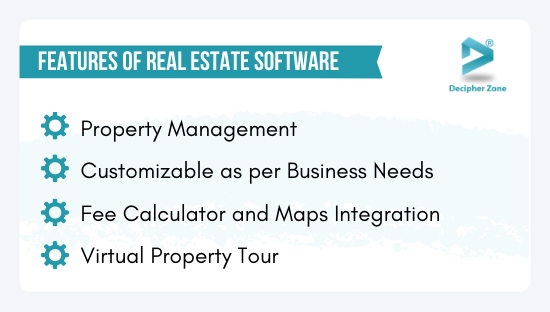 Some statistics on the Real Estate industry
After discussing all the prime features, and other key aspects before developing real estate software solutions, here are some statistics that will help you think more and understand better so that you can positively invest in developing an app for your business.
According to a report by Grand View Research, by 2025, the global real estate market is expected to generate a revenue of 4,263.7 billion dollars.

The advancement in technology has led 41% of buyers and 54% of sellers to buy/rent a property without visiting the place physically.

Another report from Grand View Research states that the worldwide real estate software market was worth USD 2.9 billion, and according to the assumptions made, it will rise to a CAGR of 4.8% from 2021 to 2028.

Data Bridge Market research states that the market for real estate software used by real estate agents is predicted to grow, to 8.90%, from 2020 to 2027.

According to the National Association of Realtors, more than 90% of real estate companies have their respective websites, and 95% of home buyers search online for properties.
Summing Up
We all know that the customer is king, and to achieve enhanced customer satisfaction it is important to cater to the needs of the customer. It will happen only when you do complete research about what your customers want. Also, the cost of developing real estate software solutions depends on the number of features you want to offer to your clients. Besides that, the cost of development also depends on the complexity of the app, the design, and the technology stack that you prefer for the application.
Recently Developed Real Estate Software Solution: NHS LIVE for Urban Analytics
Summing up this blog, investing in the development of real estate software is a bonanza trick to skyrocket your sales and generate leads to reach new heights in the industry. If you have any queries regarding the development of a real estate app you can contact us, and if you are looking to develop one for your business, we are here to help with the best solutions available.
Posted by
Mahipal Nehra
|
Posted at 11 Mar, 2022
Web