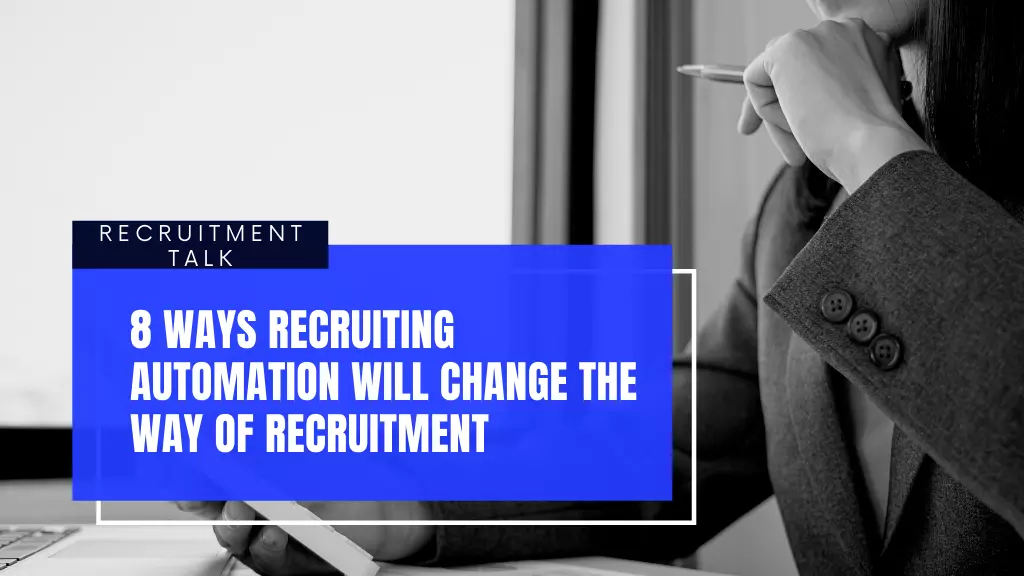 8 Ways Recruiting Automation Will Change The Way of recruitment
The most common need in any company or organization is recruitment. Recruitment automation does not refer to a single technological product or platform. In most cases, automation will entail a collection of platforms, software, tools, and technologies that work together to provide end-to-end features and functions throughout the hiring process. Integration of those applications enables the centralization of all tools and data.
Recruiting software can automate each step of the hiring process, from developing career requisitions and performing candidate screening to scheduling interviews and even transferring out job offers. Simplifying and improving that process benefits everyone, including recruiters, hirers, HR departments, and job candidates alike. Here are eight ways in which recruiting automation will change the way of recruitment.
What is Recruiting Automation?
Recruiting automation is a technology that creates automated workflows for what would otherwise be manual recruiting or HR tasks. Recruiting automation can help recruiters save time by automating candidate sourcing, communication, scheduling, and assessments. Recruiters can spend more time on the phone with and closing candidates who are a good fit for the company and role if these repetitive tasks are automated. Recruiting HR software is typically classified as software-as-a-service (SaaS), and it aids HR operations by saving time and increasing productivity. An applicant tracking system is software that allows for the electronic management of hiring and selection needs.
1. Job promotion and advertising:
Job advertising can be a time-consuming task if done manually, and Recruiters had to list various job boards and websites and manually post jobs on each one. One of the significant benefits of recruitment automation is automating the entire job and publishing process. Recruiters can use digital advertising platforms to publish automated targeted job advertisements on various platforms. They will be able to build a strong talent pipeline and talent pool in this manner. As a result, HR software can assist recruiters in publishing their job advertisements on various platforms such as social media and job boards in a matter of a few clicks, reducing their time-to-hire.
Read: HR Software That You Should Consider for Your Business
2. Sourcing:
The most important mission in recruitment is to find great candidates. According to a survey, passive candidates make up 85 percent of the global workforce. As a result, manually engaging every candidate can be a time-consuming task. Additionally, sourcing from various websites became a source of frustration for recruiters. Fortunately, the applicant tracking system can effectively automate both candidate sourcing and recruiter search. Recruiters can use recruitment automation tools to collaborate with their teams and create job ads that reach a wider audience. This recruiting software allows job advertisements to be published quickly, reducing time-to-hire. Furthermore, certain technologies are available that recruiters can use to source resumes from different channels and maintain them all in one place.
Read: Top 10 Common ERP Mistakes
3. Scheduling interviews:
The essential step after sourcing and screening candidates is interview scheduling. Manually scheduling interviews for multiple candidates may appear to be a simple task. However, it can be a pain if you have to go back and forth with the process to accommodate everyone's availability. Interview scheduling is one of the most complicated and time-consuming aspects of the recruiting process so in order to save time you should consider getting interview scheduling software. Recruiters, on the other hand, can automate this task using recruiting. Recruiters, on the other hand, can automate this task using recruiting.
4. Monitoring and screening of applicants:
Resume screening is an important task in recruitment that necessitates recruiters to extend and push their boundaries. Talent acquisition teams are burdened with hundreds of thousands of applications if they are not assisted by automation technology. They must carefully review each resume before deciding on the best match. However, with the help of HR software, this time-consuming task has become much easier for HR professionals. The most popular application in the field of recruitment automation is the applicant tracking system. It can collect and track information about applicants throughout the hiring process. It efficiently sorts through resumes and shortlists those that best match the job requirements. In turn, lessens the burden on recruiters and aids in the quick filling of positions.
Read : Top 5 CRM Software for Small Businesses
5. Metrics for hiring and data:
The most crucial aspect of recruiting is data and hiring metrics. Recruiters must cover a lot of ground, from the candidate's details, resume, and background information. Keeping and managing all of this data on a computer is not only difficult, but it is also a security risk. Keeping track of how your job advertisements are performing is also a difficult task. HR software handles the entire process of creating and maintaining data in the cloud. These cloud-based recruitment alternatives can effectively store all data in one location without the risk of it being lost. Applicant tracking system gathers and saves resumes in a database that hiring managers can access. Furthermore, these automation tools can analyse the data and continue improving the hiring process.
Read: Top best Tools for Monitoring Microservices
6. Candidate development:
It is critical to keep in touch with candidates throughout the hiring process, not just when they are interviewed and considered. Candidate nurturing tools, also known as candidate relationship management systems, enable businesses to engage with candidates via email automation. The applicant tracking system will nurture candidates throughout the process, ensuring they remain engaged and interested in the position. You can also send automated reminders to candidates to keep them up to date on the next steps, such as upcoming planned, scheduled interviews and assessments.
7. Offers:
Following the interview, if the interviewer has chosen their preferred candidate for the role, they should only update the HR software with this information. The system can then be enhanced by utilizing offer letters, contracts, and other relevant documents for the successful candidate and rejection letters for the unsuccessful candidates.
Read: What is Container Security
8. Employee on boarding:
The employee onboarding phase occurs between the time an offer of employment is made and the new hire's first day on the job. Recruiting software can help with various tasks, including sending automatic welcome emails to employees, setting up IT access, and assisting line managers and HR with the planning of induction and training programmes.
Read: How to improve user experience for mobile and web applications?
Wrapping it up
Recruiting software is especially beneficial for businesses that need to scale their team or have limited resources rapidly. It also provides a significant competitive plus point because recruiters can begin moving pre-vetted candidates through the hiring cycle before less agile companies can. Thus, recruiting automation can significantly improve your high-volume recruitment process, making it more efficient and pleasant for all parties involved.
Posted by
Mahipal Nehra
|
Posted at 29 Oct, 2021
Web