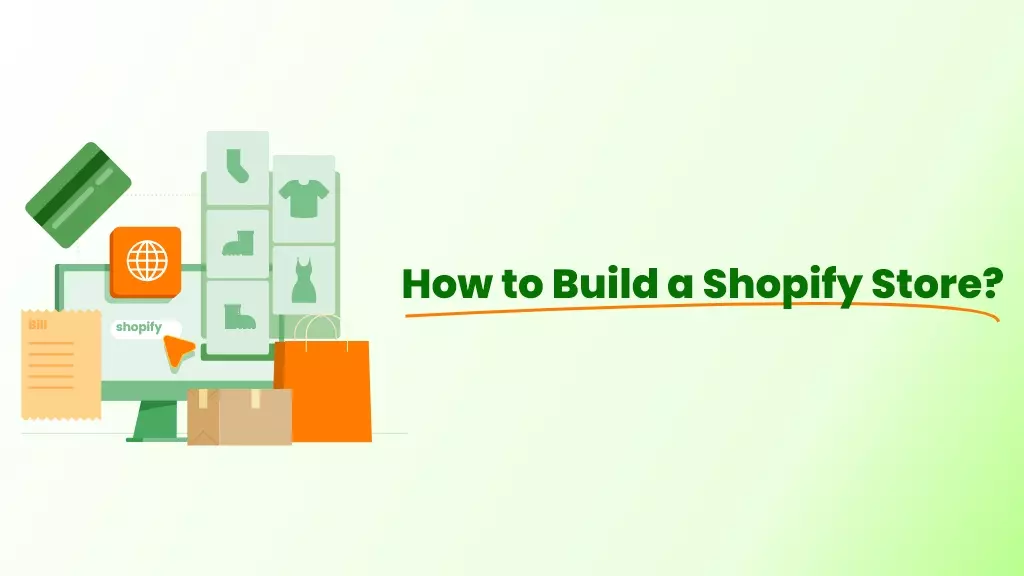 How To Build a Shopify Store for Your E-Commerce Business
Starting an online store can be exciting, and Shopify is a great place to build and run your e-commerce business. Read on to learn how to build a Shopify store from scratch.
What Is Shopify?
Shopify is a cloud-based e-commerce platform that allows businesses to create and manage their online stores easily. It has an easy-to-use interface and a lot of design options that can be changed, so companies can give their store a look and feel that matches their brand.
Shopify also has payment and shipping options built in, as well as several apps and plugins that can help businesses grow their online presence and make more sales. It is an easy and efficient way for small and medium-sized enterprises to do business online.
What Are the Benefits of Using Shopify?
There are many benefits to using Shopify to set up your e-commerce shop, including the following:
Ease of use

Customizable design options

Built-in payment and shipping options

shopify shipping apps and plugins

Secure and reliable hosting

24/7 customer support

Analytics and reporting tools
Setting up Your Shopify Store for Your E-Commerce Business
When looking at how to build a successful Shopify store, you'll find a straightforward process that can be broken down into several key steps, which we will review next.
Choosing a Plan and Purchasing a Domain
Shopify offers several pricing plans for businesses of different sizes and needs.
Basic plan: $29/mo

Shopify plan: $79/mo

Advanced Shopify: $299/mo
Once you have chosen your Shopify plan, you will need to purchase a domain name for your store. You can buy a domain through Shopify's platform or an outside domain registrar.
Customizing Your Store's Design
Shopify has a lot of design options that you can change to make your store look and feel like your brand. You have the option to customize your Shopify store yourself or get support from a shopify agency through the entire design and development process.
One of the quickest ways to customize your store's design is to choose a pre-made theme. Shopify offers free and paid themes, each with a unique design and layout. You can easily customize these themes to match your brand's colors and style.
Payment Options
Shopify has several built-in ways to pay, like credit card payments, PayPal, and Apple Pay.
In addition to the built-in payment options, you can integrate additional payment gateways through apps and plugins. Shopify's popular payment gateway options include Stripe, PayPal, and Square.
Adding Products to Your Store
Once your Shopify store is set up and customized, the next step is adding your products. Shopify makes it easy to upload product information, including photos, descriptions, and pricing.
You can add a product by going to the "Products" section in your Shopify admin and clicking on the "Add Product" button. You'll be asked to include the title, description, price, and product images. You can also add options such as product variants and set up inventory tracking.
You can also organize your products into different collections, which you can use to group similar products and make it easier for customers to find what they're looking for.
Shipping Options
Merchants can use extra features like overnight shipping, package pick-ups, shipping insurance, tracking information, and international shipping. These features vary depending on your location, carrier, and mail class. Additionally, Shopify can integrate with third-party shipping apps to expand your shipping options further.
The Shopify interface makes it simple to modify your shipping preferences.
To begin, visit the Settings page in your Shopify admin.

Choose Shipping under "General."

Here you can manage your delivery options and prices, including adding and removing them.

When you're through making edits, make sure to click the Save button.
Returns and Exchanges
Returns and exchanges are a common part of any e-commerce business, and Shopify offers several built-in options to help you manage these processes for your store.
You can set up a returns policy for your store by going to the "Settings" section in your Shopify admin and clicking "Legal."
The Shopify POS software can exchange an item for a new one.
Shopify lets customers request returns from their accounts, which is easy for the store manager to handle. You can view, approve, or decline return requests from Shopify's admin panel.
Choosing the Right Payment Gateway for Your E-Commerce Business
Choosing the best payment gateway is important for ensuring that customer transactions are safe and secure and that the checkout process is easy and quick. When selecting a payment gateway, there are a few key factors.
Payment options: Make sure that the payment gateway you choose supports the payment options that you need.

Fees: Compare the costs of payment gateways, such as transaction fees, monthly fees, and chargeback fees.

Security: Make sure your payment gateway is PCI-compliant, can spot fraud, and encrypts data securely.

Integration: Choosing a payment gateway integrated with your Shopify store is important.

Support: Consider the level of support offered by the payment gateway.
Marketing Your Shopify Store
Once your Shopify store is set up and running, it's important to start marketing your store to drive traffic and sales. There are several ways to market your Shopify store, including:
Search engine optimization (SEO)

Social media marketing

Email marketing

Influencer marketing

Paid advertising

Content marketing

Referral marketing
By combining these marketing strategies, you can drive traffic and sales to your Shopify store and build a successful e-commerce business.
Summing Up
Shopify is a powerful and user-friendly platform allowing businesses to set up and manage an e-commerce store easily.
If you follow the steps in this article on how to build a high-converting Shopify store, you can build a professional and functional online store that will help you reach and connect with your customers and sell your products successfully.
FAQs
Here are a few more questions on how to build a Shopify store.
How much does it cost to build an eCommerce website on Shopify?
How much it costs to build a Shopify store depends on your site's design, functionality, and applications and plugins. However, Shopify websites cost $29 per month for basic capabilities and $299 for advanced features.
Is Shopify good for beginners?
Yes, Shopify is a good choice for newcomers to online selling. Shopify is a user-friendly platform that makes it easy to set up and manage an online store, even if you have little to no technical experience.
How much does Shopify take per sale?
For Shopify payments, the basic Shopify plan charges 2.9% + 30 cents for each transaction. The Advanced Shopify plan charges 2.4% + 30 cents.
Posted by
Mahipal Nehra
|
Posted at 30 Jan, 2023
Web