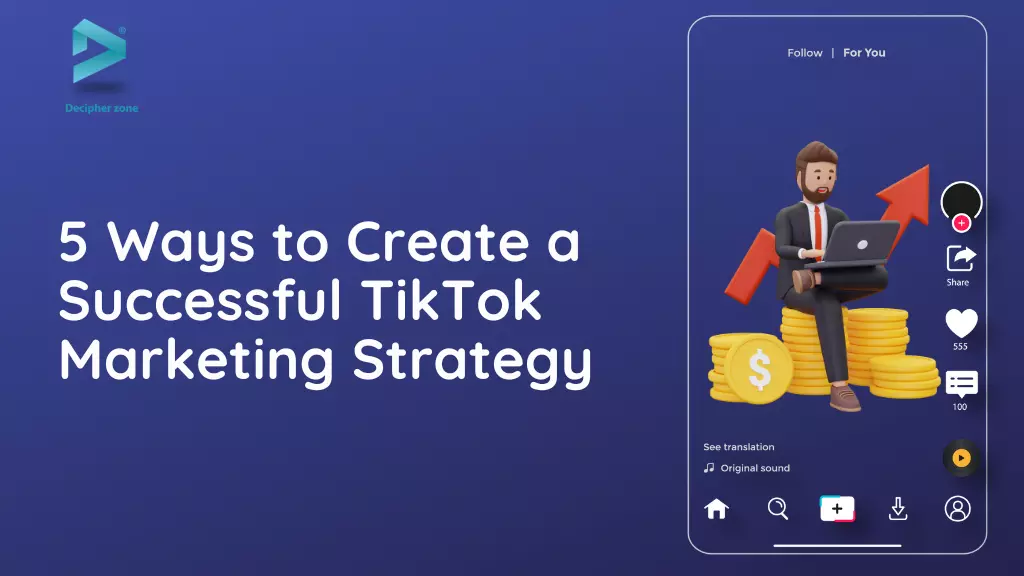 5 Ways to Create a Successful TikTok Marketing Strategy for 2023
In today's competitive world, using social media to promote your brand is essential for success. Besides serving as the primary means of communication with people around the world, social media has also become one of the most powerful marketing tools for both big and small businesses to create a strong digital presence and raise brand awareness.
Although there are many social media channels businesses can use to market their products and services, TikTok has recently become the most popular, even surpassing Twitter and YouTube.
In addition to promoting their brand, businesses can also reap a number of other benefits using TikTok including reaching a broader audience, building engaged communities, and increasing revenue.
5 TikTok Marketing Strategy for 2023
So, if you are considering jumping on the TikTok bandwagon, here are five effective tips to help you create a successful marketing strategy on this social media platform.
Reach out to influencers and growth services
Reaching out to influencers is a common marketing strategy you should employ when using TikTok. The thing about influencers is that they already have a large fan base on the channel and building a relationship with them can certainly help you reach your target audience faster and even increase your followers.
In addition to implementing influencer marketing, you might want to consider taking other approaches to find the right audience and increase your network. One such approach is investing in third-party services such as High Social to help you bring real and organic followers who will eventually turn into loyal customers. Instead of using fake followers and bots, with these services you can build your TikTok follower community the right way.
Try TikTok ads
Ever since its first debut, TikTok has significantly improved, now offering businesses various features to promote their brand including advertising. TikTok ads are similar to other paid social media ads, except they are a bit more expensive. The most common types of TikTok ads social media marketers should be aware of include:
In-feed ads;

Brand takeovers;

TopView ads;

Branded Hashtag Challenges;

Branded Effects.
Whichever ad you choose, make sure you determine your ROI and track your progress to see whether your content works and if you need to do some improvements.
Create high-quality TikTok marketing video
While other social media channels focus on text and images, TikTok is centered around sound and video. This means you should do your best in creating high-quality videos that are super engaging and will increase your follower base.
When creating your videos, there are a few things you should keep in mind to make them more visually appealing.
For example, it is important that you put your main focus on the first 3 to 5 seconds of your videos because this is where you will attract your audience's attention the most. Also, consider using professional gear and premium video editing software to make your content more engaging.
Add relevant hashtags
Probably one of the most effective ways to increase the reach of your TikTok videos is to use relevant hashtags.
For this, all you have to do is look at the trending topics or hashtags, create your own content around them and include the hashtag in your captions to make sure your video reaches the people following that hashtag. This will certainly help you increase customer engagement and build brand awareness.
For optimal results, consider organizing a branded hashtag challenge to encourage users to talk about your product on other social media channels as well as offline.
Track your performance
No matter which marketing strategies you decide to use, you should track your performance to get an insight into what's happening on your profile and whether you need to improve something.
For example, you can make use of the TikTok analytics tool to monitor your progress as well as track your followers' activities from the Followers tab.
This further shows other relevant information about your followers such as their location, gender, and times and days when they are most active, and you can use these metrics to adjust your content strategy accordingly.
Based on this information, you can find the best time to post on TikTok and get more engagement and exposure for your brand.
Final thoughts
Although every social media platform offers unique features and has specific characteristics, TikTok is undoubtedly one of the leading in today's digital marketing trends. You can use it to develop a strong online presence, promote your brand and increase your network, all of which will drive your business to success.
For more help, refer to our post and follow our tips to create a successful marketing strategy on TikTok.
Posted by
Mahipal Nehra
|
Posted at 16 Jan, 2023
Web