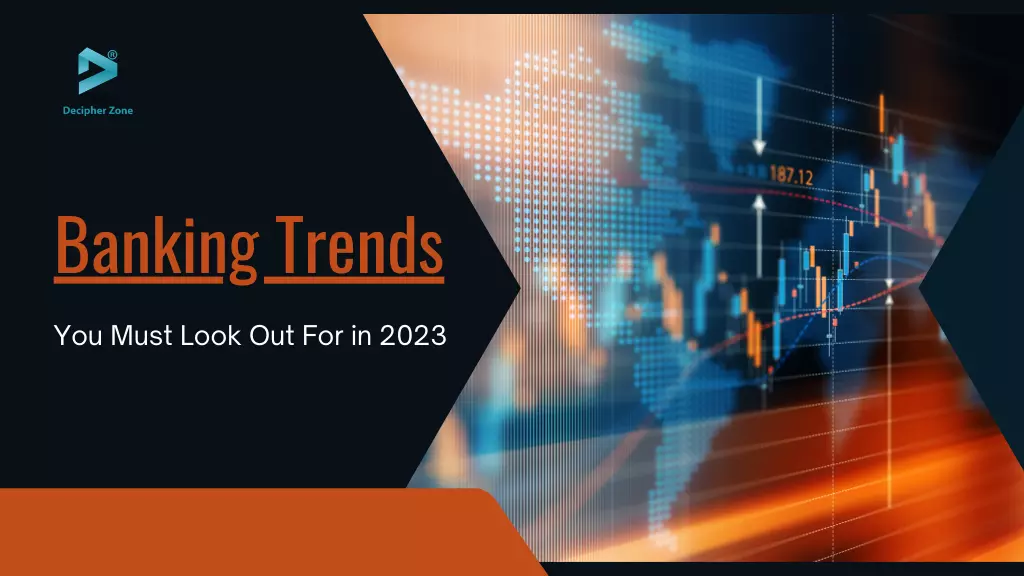 Top 10 Latest Banking Trends for 2023
Top 10 Banking trends to watch out in 2023. The banking sector plays an important role in the economy of a country. And it is growing rapidly with the adoption of the latest banking trends.
Be it making lightning-fast transactions or keeping the data secure these trends have catered to them all.
According to the reports from Statista, the number of online banking users worldwide is expected to reach nearly one billion by 2024, making it an important reason to consider developing banking software.
So, if you are interested in developing banking software, here are some of the latest trends that you can consider integrating into the software.
Top 10 Banking Trends to be Consider in 2023
Some of the top 10 latest banking trends to consider in 2023.
Artificial Intelligence

Blockchain

Banking of Things

Cloud Computing

Cybersecurity

DevOps

Digital Identity

Digital Wallet

Low-Code/No-Code Solutions

Open Banking
AI has been the buzzword for the past few days. And with its integration into every business it has made a huge impact on day-to-day activities, making them easy and hassle-free. AI in the banking sector helps in providing high-quality services, which in turn helps in enhancing the user experience and also saves operational costs.
You can integrate AI-powered tools like chatbots and virtual assistants to personalize the user experience alongside checking the credit score and loan eligibility with ease. In addition, AI also helps with fraud analysis and prevention, enabling us to make better business decisions.
Blockchain is known for the levels of security it provides alongside being transparent. It facilitates smart contracts that help in automating and improving financial transactions. It eliminates the need for a mediator and encourages P2P payments without compromising the speed and efficiency of the transactions.
In addition, it also facilitates cross-border payments and increases the efficiency of its services and operations.
Banking of Things
The banking sector is adopting the Internet of things quickly and is an important trend to consider if you want to accelerate your customer acquisition and revenue generation. It helps in automating data collection, which in turn streamlines the banking processes. It also helps in delivering customer-specific data in real-time along with fraud detection and loss mitigation capabilities.
ATMs are the most common example of the Banking of Things.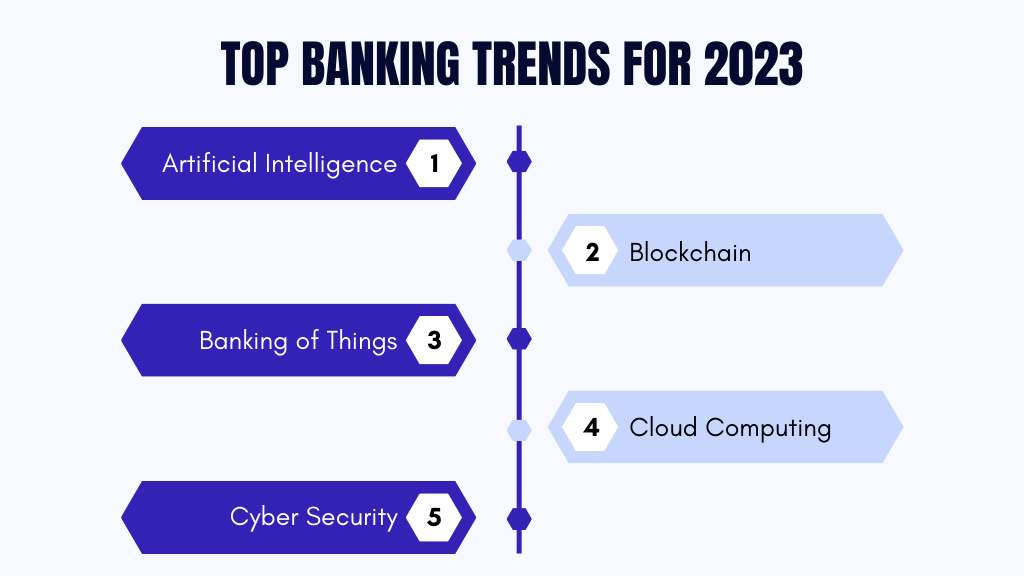 Cloud Computing
Cloud computing is among the top banking trends to consider and is likely to continue its importance in 2023 as well. It facilitates a one-stop solution for every aspect of the software development process, be it servers, databases, or analytics. It helps in optimizing the digital presence of the banks alongside providing innovative solutions.
Additionally, it provides a centralized location for all the financial information to be kept safely, provides automatic scalability, and enhances the user experience by making the services accessible anytime and anywhere.
Cybersecurity
Nowadays cybersecurity is an important concern for businesses. When developing banking software, it is important to consider Cybersecurity as an integral part of the development process. It helps in handling massive amounts of sensitive customer data with security protocols and data compliance management.
Furthermore, integrating it also reduces the risks of data leaks with different tools and also helps with detecting and preventing suspicious activities and unauthorized access.
DevOps
DevOps offers a myriad of advantages in the banking industry. Portmanteau of Development and Operations, makes both teams collaborate efficiently to provide high-quality software alongside quick delivery. It helps in automating repetitive tasks, which in turn boosts productivity.
It also helps in the continuous development and updating of the software and allows more time for the teams to derive innovative solutions for your business.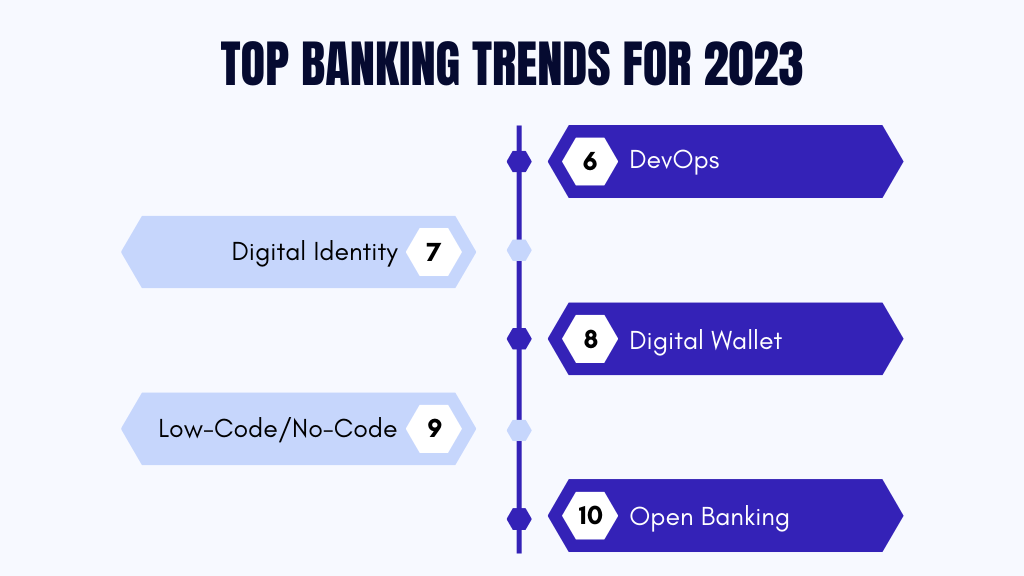 Digital Identity
Digitization has reshaped every industry that has catered to different services and digital identity is one such part of it. In terms of banking and finance, it helps in digital onboarding and also digital signatures which streamlines and makes the banking process seamless.
In addition, digital identity structure also helps in providing human-like experiences to the customers alongside providing more immersive and interactive user experiences.
Digital Wallet
Similar to Digital Identity, the digital wallet does exactly what the name suggests. According to the reports from Statista, digital and mobile wallet payments are expected to rise to 53% by 2024. In the current situation, where everything runs at a fast pace, users want the payments to be fast too alongside making it secure and hassle-free, and this is where the digital wallet comes in.
It helps in making payments easy and also simplifies the way users make transactions in just one tap.
Low-Code/No-Code Solutions
Low-code/No-code solutions are the new hype in the IT industry, which allows even non-tech personnel to develop software. It helps banks to push out new digital products with ease and meet consumer demands quickly.
It also helps in reducing the workload of the in-house development team enabling them to focus more on the critical aspects of software development, like productivity, management, and security.
Open Banking
It helps in providing customers with more accessible and custom banking services through APIs (Application Programming Interfaces), without compromising data confidentiality. It facilitates banking-as-a-service (BaaS) which helps banks increase their revenue and accelerate their processes.
Open Banking also helps in providing customers with more choice and control over their financial lives efficiently, thus leading to enhanced customer satisfaction.
Key Takeaways
The banking trends discussed above have helped financial institutions to accelerate their operations and other banking processes. However, there is no end to innovation, and implementing these trends will help you enhance regulatory compliance, improve operational speed, and also maximize customer satisfaction.
Embracing trending technologies can be difficult sometimes for banks and financial institutions. So, if you want to implement these trends and boost your productivity and profitability, then get in touch with us and develop future-proof solutions for your business.
FAQs
What is the cost of developing banking software?
The cost of developing banking software may vary depending on the design, technology, features, integrations, and location of the development company. However, to give it a range it might cost somewhere between $30,000 - $3,50,000.
What is the future of technology in banking and finance?
Technology has a bright future in the banking industry, as it helps streamline and make processes simple, quick, and secure. Technologies like DevOps, Containers, blockchain, and Cloud computing have helped banks make everything secure and quick along with providing a seamless customer experience.
What are the top priorities of financial institutions in 2023?
The top priorities of the financial institutions in 2023 are -

Modernization and digital transformation

Easy and secure payments

Security layers

Analytics tools

Automation
Posted by
Mahipal Nehra
|
Posted at 23 Mar, 2023
Web