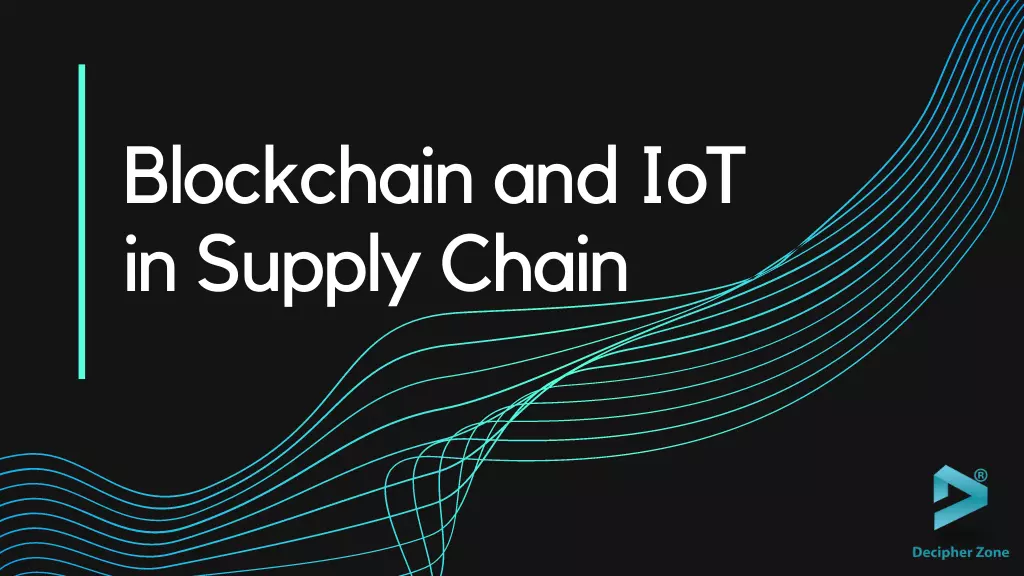 How Will Blockchain and IoT Impact Supply Chain & Logistics
Supply chain and Logistics departments have become more complex and distributed than it was ever before. Modern tech trends like Blockchain and IoT in Supply Chain and Logistics have upgraded the performance of business operations by accurately monitoring assets to deliver exceptional performance. By 2026, the global blockchain IoT market size is expected to grow from USD 258 million in the year 2020 to USD 2,409 million, at a compound annual growth rate (CAGR) of 45.1%.
Deloitte's latest blockchain survey stated that 31% of the cited use case of Blockchain to a particular organization or project is related to product supply chain and trace.
But what's the need for blockchain and IoT in the supply chain or logistics? What are the challenges faced in the traditional supply chain, how blockchain and IoT can resolve them?
Let's find out!
Challenges in Traditional Supply Chain
Challenges that logistics and supply chain employees face in traditional methods include:
Complex processes and regulatory requirements in the supply chain lead to the rise of custom brokers who are needed to prove documents' authenticity, minimize delays, mitigate risks and avoid penalties. This also adds breakers and extra shipping process costs.
Inefficient Inventory management
Visibility gaps in the status and location of shipments lead to inefficiencies in inventory and routing problems resulting in shortages, higher costs, and customers who are unhappy due to late deliveries.
Delayed Reimbursement for Damaged Products
With visibility gaps, not only does it become difficult to manage inventory but also the damaged goods become difficult to track leading to delayed reimbursement.
Costly Letter-of-Credit Process
Banks use letters of credit as a payment method in international trade to guarantee that a buyer's payment will be received on time and for the correct amount, but they are time-consuming and increase additional costs.
Weak Batching and Routing of Goods
The inability of businesses to automate the batching of products often results in higher shipping costs and suboptimal container utilization.
Blockchain and Internet of Things (IoT)
A supply chain management system that is based on blockchain technology is built on a shared distributed ledger that offers an irrefutable record of all the data related to shipping status, location status, storage environment and more. Moreover, blockchain improves customer satisfaction by security, transparency, and process optimization in real-time.
On the other hand, the Internet of Things (IoT) brings physical endpoints (end devices), data traveling from them over network and software together. End devices transfer real-time data and allow the processing of information at a lower cost for businesses. IoT systems use transported goods as physical objects and active sensor devices for transmitting information to help improve the business processes in the supply chain and logistics.
Applications of Using Blockchain and IoT in Supply Chain and Logistics
Here are some of the applications of blockchain and IoT in the logistics and supply chain.
Advances in wireless communication are remarkable advancements in the field of the network that collects all data from the sensor hub and sends it to the assigned client and base station. This allows devices to communicate with each other without being connected physically. With IoT, wireless communication helps in intelligent strategies.
IoT enables organizations to have clear insights into coordinate systems' actions, further encouraging regular stock association. Moreover, sensors and Radio Frequency Identification (RFID) labels help logistics keep track of their inventory along with their current state and location.
Using Blockchain and IoT, both the organization and customer can track the entire life cycle of a product throughout the supply chain. In the blockchain, all communication among IoT devices is recorded. It enables businesses to have instant access to the product information including the manufacturing date, registration and sale - a complete record.
Blockchain and the Internet of Things implement a safe way of communicating information between partners and things in a supply chain management context. By combining this data with other sources, partners can find new nuggets of knowledge across their supply chains by leveraging the most advanced AI methods.
IoT solutions for route and location management are widely used. GPS tracking and truck beacons help in keeping track of vehicle location along with the route it's taking to ensure timely delivery and continuously notifying customers of order's progress.
Blockchain and IoT together can make sure that cargo shipping is safe, even in trades across borders. Smart contracts act like an online arrangement and agreement between all the parties involved in the trading. The contract's terms and conditions are written in computer codes that provide financial transactions between unknown parties without dispute.
Solving Documentation Problems in Container Shipping
The document flow in container shipping is not only resource-intensive but also time-consuming. As a result of heavy paperwork, participants risk loss, fraud, tampering, and other paper freight documentation, particularly in international transportation. Blockchain solutions can help in connecting broad networks and establishing an interconnection between ports, shipping companies and customs to make document circulation easier and digitalization of paper registries more efficient.
Tracking Provenance of Goods
The origin and originality of the goods are the major concerns of buyers. Customers are afraid of getting fake goods and want ethical products only. To overcome the fear of counterfeit, blockchain technology can help in tracking the supply chain and documentation of the product.
Blockchain and IoT Benefits for Supply Chain and Logistics
Suppliers, manufacturers, and logistics providers can achieve incredible results with blockchain and IoT in the supply chain and logistics industry. Some of the key benefits of using blockchain and IoT for the supply chain are as follows:
Read: The Big Shift In Blockchain Technology And Its Consequences
With blockchain and IoT, data sharing in a supply chain ecosystem from all the partners and things are secured. Stakeholders can use machine learning techniques on the dataset along with third-party data sources to derive new insights on their supply chain.
Maximize Supply Chain Transparency
Digital Bill of Lading and smart contracts that are created by the integration of IoT and blockchain can help in tracking goods and their status throughout the delivery stages in real-time, ensuring the accuracy of fulfillment obligations.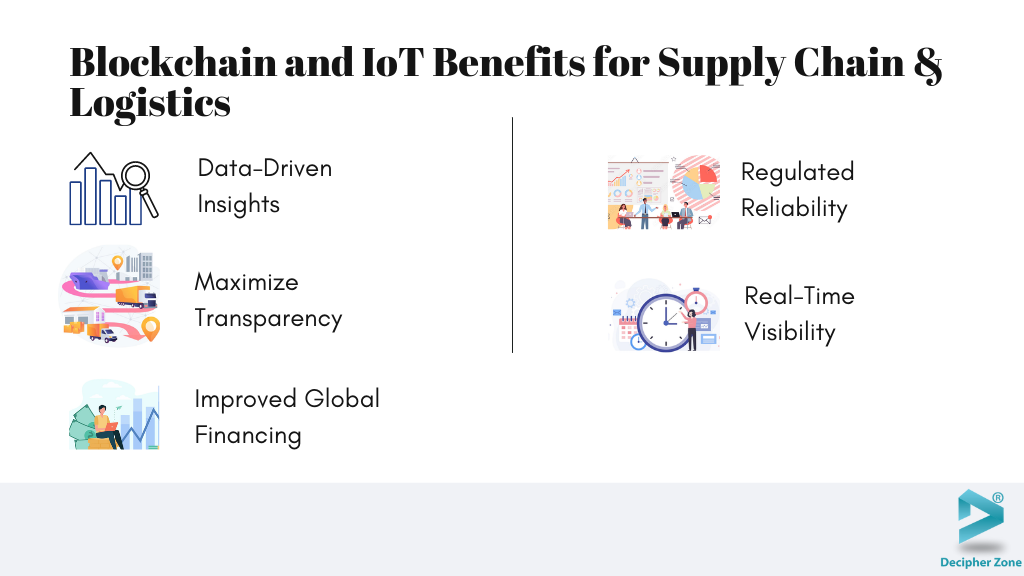 Regulated Reliability of Supply Chain
In highly regulated industries like pharmaceuticals and food, goods need to be transported under strictly controlled temperatures within given time windows. Failure to achieve that can delay the high-value shipment.
With IoT, it has become possible to capture temperature feeds from onboard sensors and transfer them online to the blockchain framework that guarantees the security and reliability of the information captured and received.
End-To-End Real-Time Visibility of Supply Chain
Keeping the numbers of parties in mind, end-to-end visibility across the supply chain can be complicated. Although companies collect their data on the disruptions in the supply chain, they need to analyze and validate data across different companies for reliability. However, tracking the status of goods throughout the supply chain through IoT devices and sharing that information to a blockchain-based framework can enable real-time access to the data by all participants.
Improved Global Supply Chain Financing
The global supply chain involves transactions across borders. It requires bureaucracy and voluminous paperwork, which can impact the time taken for international payments as it involves local banking regulations along with multiple parties. Any inconsistency can lead to a delay in the payment clearing process.
Read: How will 5G change the behaviour of Blockchain Technology?
Using blockchain technology with IoT can significantly speed up the process of shipping goods across borders, resulting in systematic, secure and cost-effective transactions that eliminate fraud through an immutable distributed ledger. Smart Contracts can be used to implement this where agreements between parties can be preprogrammed, automatically executed, and enforced based on occurrences of defined events.
The supply chain and logistics with their immense capabilities keep the world connected. However, the world needs intelligent solutions that can not only drive efficiency into this industry but also make the working processes faster. Decipher Zone has been developing web-based applications solutions with incredible functionalities and remarkable features for quite some time. Supply chain and logistics applications should have advanced features that can help businesses in attracting new customers and lead a business towards high efficiency.
We understand that every business has its own needs, goals and pace. With the help of experts and dedicated developers from our team who have experience backgrounds and a wide skill range, we can help you in developing on-demand supply chain and logistics solutions according to your requirements.
We will deliver customized solutions that will perfectly align with your goals and objectives. Wanna know more, get quotes and hire developers for your business applications? So, what are you waiting for? Connect with our experts for a detailed discussion today!
Posted by
Mahipal Nehra
|
Posted at 16 Mar, 2022
Web