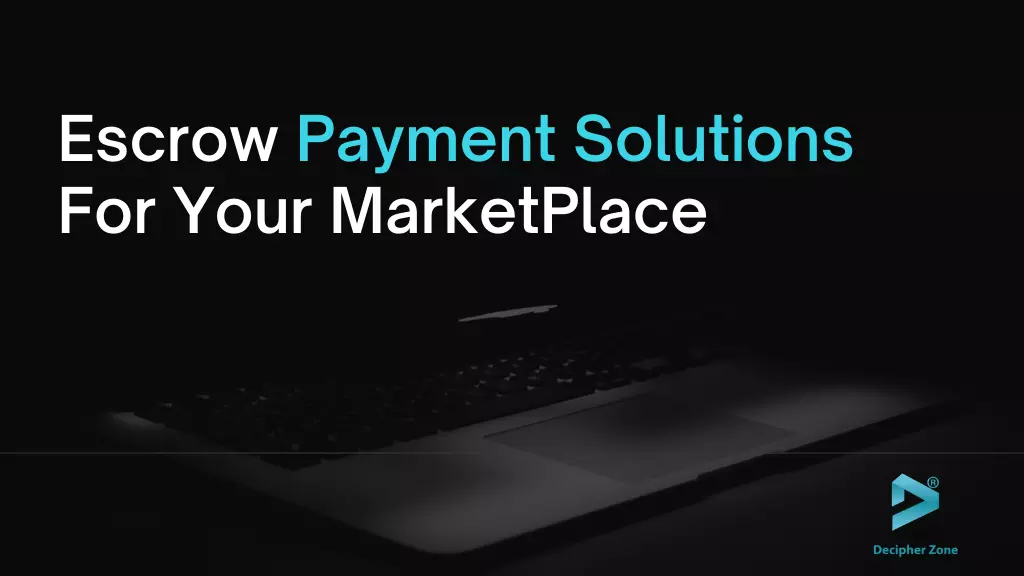 Escrow Payment Solutions For Your MarketPlace
If you are a founder who wants to build a secure marketplace for their customers so that they have a secure purchasing experience on your website. You are at the right place. The enigma to safe purchasing is acquiring an Escrow service.
But first, what the hell is Escrow, when should you use Escrow, and how does it work?
What is Escrow?
An escrow is a formal agreement where an asset or escrow money is held by a third party on behalf of two parties undertaking a transaction. In simple terms, the third party holds the funds until both parties meet their contractual obligations. It's used when there are two parties in the process of finalizing a transaction, but there is some uncertainty whether one partaker or the other will be able to fulfil their contractual obligations.
Read: Supervised Machine Learning
Some of the industries that use escrow are banking, internet transactions, real estate, mergers and acquisitions, laws, etc. To understand escrow transactions, let's take a look at an example.
Let's assume a company is selling its products internationally and it needs assurance that it will receive payment once the product reaches its destination. While the buyer is only ready to pay for the product if it arrives in good condition.
Read: Micro Frontends Architecture
To resolve these trust issues, a buyer can place the funds in escrow with the help of an agent with clear instructions. Then on delivery, the platform will verify the condition of the arrived product, customer approval of satisfaction and identity of product receiver only then escrow will prompt the customer to permit the escrow for releasing payment against this order to the product seller. In this way, both parties are safe from any fraud and the transaction can move smoothly.
But multiple escrow providers deliver escrow payment solutions for different transactions. And to make sure that you are opting for the right one for your company it's important to ensure its reliability for your business. To make your work easier, we have organized a table that helps you understand the Escrow marketplace better.

How Does Escrow Work?
You agree to fulfil certain terms when you buy or sell something. For example, the buyer must pay the agreed amount by a specific time, and the seller must provide the product or service being sold. Transactions are not always this simple. In case of complicated transactions like international transactions or real estate, one party may be unsure that the other party will fulfil their end of the bargain. This creates the need for a third party that can act as a "referee".
Read: Top 5 Payment Gateways
In an escrow transaction, the escrow provider is responsible for receiving assets from one party, releasing funds to another party under the terms of the escrow agreement, and closing the escrow. Escrow providers safeguard a buyer's or seller's assets before they are transferred.
Top 5 Companies That Offer Escrow Payment Solutions
Top 5 companies offering escrow payment solutions. You have a lot of information about escrow, don't you? You can now theoretically know what Escrow is and what you are supposed to do. What about doing it practically? At that time, you will be more confused.
Read: 5 Financial Innovations and What They Mean to the World
But don't worry. We are about to share top companies that provide escrow payment solutions and understand how to practically work with escrow.
1. Escrow.com
Escrow.com is an online escrow payment solution that vouches for simplified sales processes, low-cost solutions, protection for bother parties, reduced risks, and is suitable for a vast range of products or services online like IPv4, personal protective equipment (PPE), domains, vehicles, luxury goods, and watches. From digital products to high-value merchandise, Escrow.com provides trust when transacting with unknown parties. Escrow.com supports large payments, wide payment options, WordPress plugins and can be customized to add support for Dokan.
2. ShieldPay
ShieldPay has partnered with Visa and puts a lot of price on security. It makes sure that nobody is going to try fraud by performing thorough security checks to assure the security of both parties involved in the transaction. ShieldPay enables businesses and individuals to send and receive money online through its Vault where the amount is logged, locked and stored until the parties have fulfilled their contractual obligations. Moreover, the money in ShieldPay is securely held by Barclays Bank plc and managed by ShieldPay.
3. MangoPay
With MangoPay you get a white-label solution and an adaptive workflow with open-source SDKs, fast user verification, multiple currencies and payment methods, and global payouts. However, similar to Escrow.com, MangoPay also offers a plugin that turns WordPress platforms into full-featured e-commerce websites, as well as one that turns e-commerce sites into multi-vendor sites.
4. BrainTree
Braintree doesn't actually do escrow funds. What it does instead is hold the funds of the transaction until you release them. It also offers a WooCommerce plugin and allows different payment methods including PayPal, Credit Cards, GooglePay, Venmo, Local Payments, Apple Pay, and PayPal Credit.
5. StripeConnect
With StripeConnect you can customize your process for onboarding. StripeConnect also enables you to set payout timing, get integrated reporting on finances, and process complex transactions. Here Stripe boasts its simplest API. On the other hand, Connect allows you to add an Escrow component to your marketplace.
Still confused why you need Escrow payment solutions for your business?
Before using escrow, there was a lack of trust, formal binding contracts between buyers and sellers. But with escrow comes a safe and secured mode of transaction that allows both parties to customize their needs in a high-ticket transaction. Escrow-based platforms also check if the requirements are fulfilled and promptly ask for your confirmation for payment release.
Now that you have all the information you need to include escrow payment solutions in your online marketplace. All that is left to do is hire developers who can help you with adding an escrow payment solution for your business.
Posted by
Mahipal Nehra
|
Posted at 03 Jan, 2022
Web