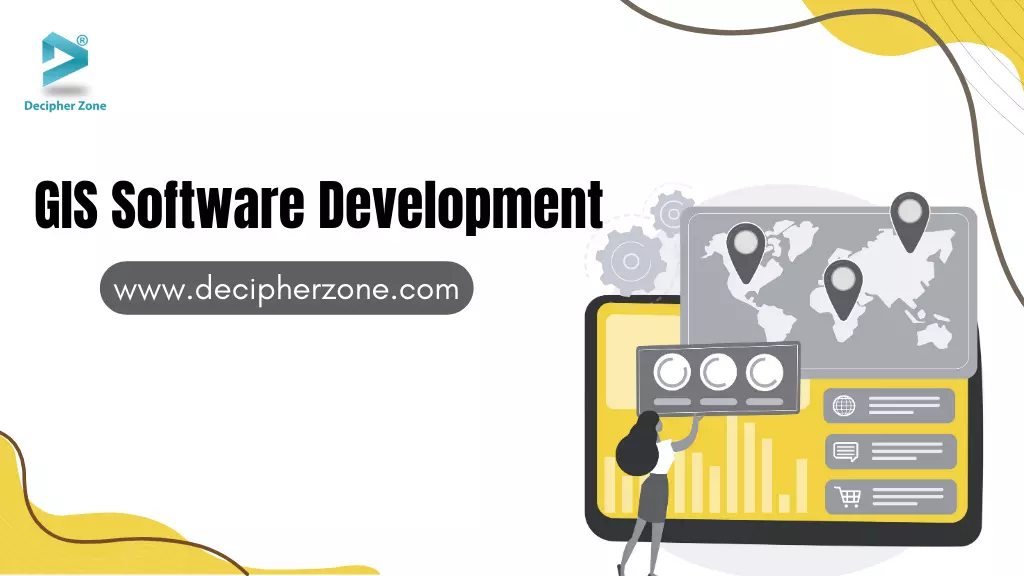 GIS (Geographical Information System) Software Development
GIS (Geographical Information System) Software Development Cost and Features. Advantages of Developing GIS Software and the Drawbacks. GIS Software Development Process.
GIS Software Development. You might have all heard or might have used Google Earth!
Isn't that an amazing app?
You might have used it to see the satellite view or the aerial view of a locality, your home, or any other place right?
And to let you know, it falls under the GIS software category.
Now you might be thinking, what is it all about?
It is an application not only developed to explore places you have never been to, but it has much more to it.
In this blog, we will be filling you up with GIS Software development, along with its benefits, and some other important aspects related to the same.
So, without further delay, let us first describe GIS software.
What is GIS (Geographical Information System) Software Development?
Also known as the geographical information system, GIS software helps users store, visualize, analyze, and interpret geographical data to understand the patterns and trends to manage and improve business operations.
Read: Global Business Management Software Development
It comprises hardware, software, geographical data, and people working to capture, update, store, and manipulate different types of geographic information. The capabilities of GIS software include cartographic data, photographic interpretation, remote sensing, and many more.
Read: Guide to Agriculture Software Development
Google Earth Pro, Oracle Spatial, BatchGeo, AutoCAD Map 3D, ArcGIS Pro, Google Places, Azure Maps, GeoMedia, MapInfo Pro, and Salesforce Maps, are some of the well-known GIS software that are widely used in the market.
Read: Life Sciences Consulting Services and Solutions
Some of the best tools that can help in GIS software development are Leaflet.js, Web AppBuilder for ArcGIS, Turf.js, OpenLayers, and many more to name.
Benefits of Developing GIS (Geographical Information System) Software
Moving ahead, now that you know what GIS Software development is, let us now fill you up with the benefits of developing GIS software.
Although there are innumerable benefits to developing GIS software, some of the most important benefits that you will avail of are as follows -
Easy Record-Keeping

Forecasting

Identify Problems

Improved Decision Making

Reduced Costs
Read: Software Development Challenges and Solutions
Easy Record-Keeping - It helps in recording the geospatial changes and stores them easily, which in turn helps in saving a lot of time and effort.
Forecasting - It helps in predicting natural calamities by understanding geographical behavior, which in turn facilitates planning and preparing for them.
Identify Problems - It helps in identifying the problems regarding a specific area based on the connected maps and visuals and solving them accordingly.
Improved Decision-Making - GIS Software development also helps in making better decisions as it stores detailed information and provides a proper understanding of all the specific locations in a convenient manner.
Reduced Costs - It also helps in reducing costs as it helps in managing fleet movements, scheduling arrival and departure times, and many other possibilities.
Read: Facility Management Software Development
As we know everything has both advantages and disadvantages, so, some of the cons of GIS software development are that -
Although there are not many disadvantages to developing GIS software, do take care of all of the challenges and drawbacks and conduct thorough research to overcome the disadvantages and develop a future-proof and reliable solution for your business.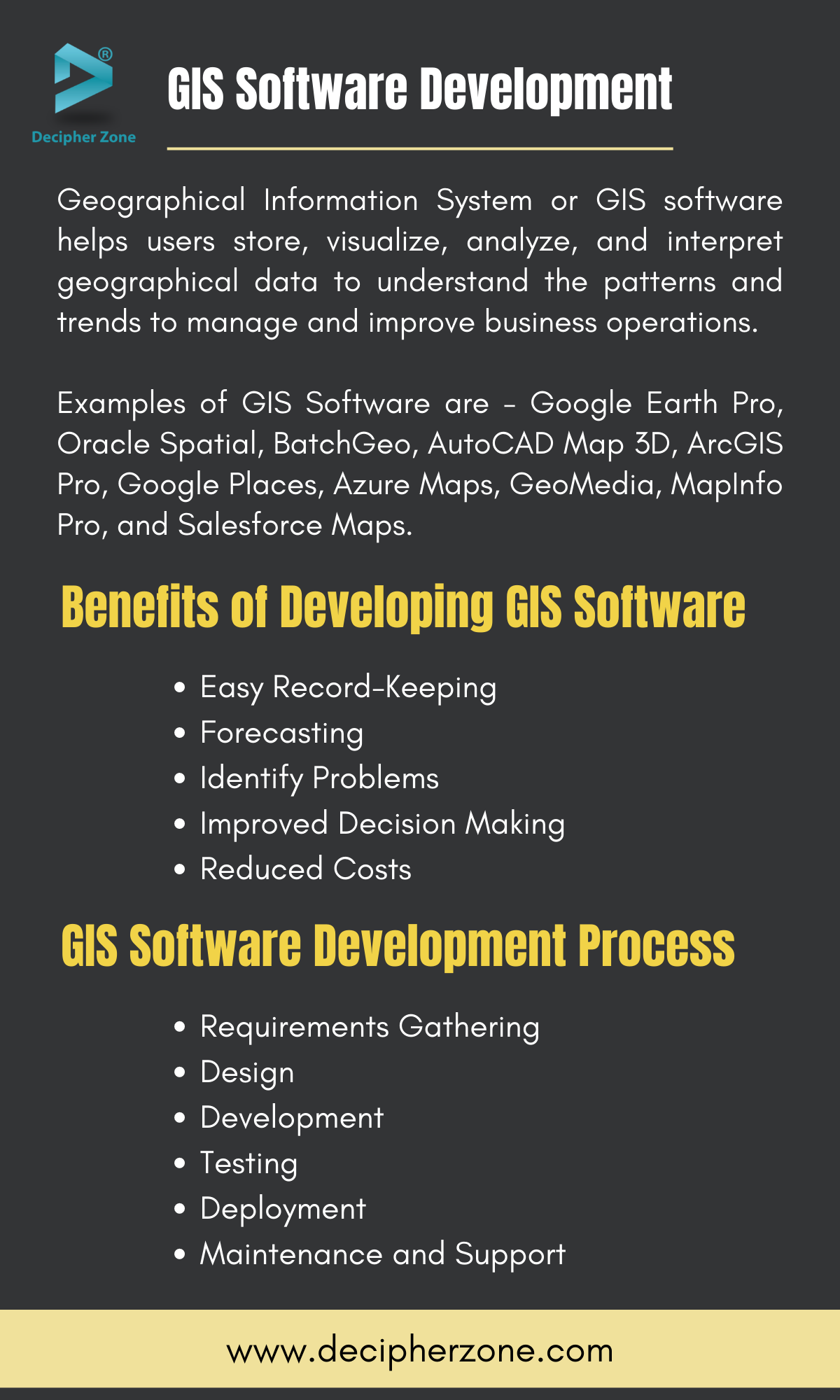 GIS (Geographical Information System) Software Development Process
The primary steps involved in GIS software development are -
Requirements Gathering
This is the first and foremost step, where all the business requirements are collected including the challenges as well as the business objectives. This step helps in ensuring that the outcome should meet the predetermined requirements and user needs.
Design
In this step, the architecture of the GIS software is being designed to determine how the users will interact with the software alongside making sure that it does not lag in performance, and should be easy to use.
Development
It is the most crucial part of GIS software development, where the functionalities are integrated into the design of the software using different programming languages, frameworks, and libraries to develop fully functional software.
Testing
It is an important step in every software development process. In this stage, the app or software that is developed is tested to find the issues, bugs, and errors in the code and fix them thoroughly under various testing conditions to ensure that the software is of high quality and performs well.
Deployment
Once the GIS software does well and passes all the levels of testing, it is ready to be deployed on the platforms for which it was developed, thus making it available to be used and accessed by the users and the target audience.
Maintenance and Support
It is the last and final step of the GIS software development process, to ensure regular bug fixing, constant updates, and enhancements according to the never-ending customer demands and market trends.
Cost of GIS (Geographical Information System) Software Development
The cost of developing GIS software might vary depending on several factors and the complexity of the software.
However, in terms of numbers, it might cost somewhere between $45,000 - $3,00,000, and sometimes even more based on several aspects like the logo and design, the number of features, technologies and frameworks that you choose, the total number of developers working on your project along with their location and hourly charges, and content and marketing charges as well.
Wrapping It Up
As per the reports from a trusted source, the GIS software market is anticipated to reach $14.5 billion by 2025 at a CAGR of 12.4%, showing visible signs of impeccable growth.
Read: Project Management Software Development Cost
And if you are thinking of investing in developing one such software for your business, then now is the time.
Although it is a challenging process and requires a lot of effort and understanding, do not worry, we've got you!
Connect with us, or hire a developer, and get the best GIS software developed for your business, and be ready to scale new heights.
FAQs: GIS (Geographical Information System) Software Development
What are the basic functions of GIS software?
The basic functions of GIS software are data capturing and formatting, spatial relationships, mapping, and analysis.
What are some of the industries that can benefit from GIS Software?
Some of the industries that can benefit from GIS software development include the construction industry, real estate, environmental services, information technology and services, sales and marketing, hospitality and healthcare, and many more.
What are the use cases of GIS software?
The uses cases of GIS software are as follows -
Marketing companies use it to find their target audience

State officials to alarm and plan against a natural disaster

Engineers use it to develop road networks and others.
Posted by
Mahipal Nehra
|
Posted at 10 Jul, 2023
Web