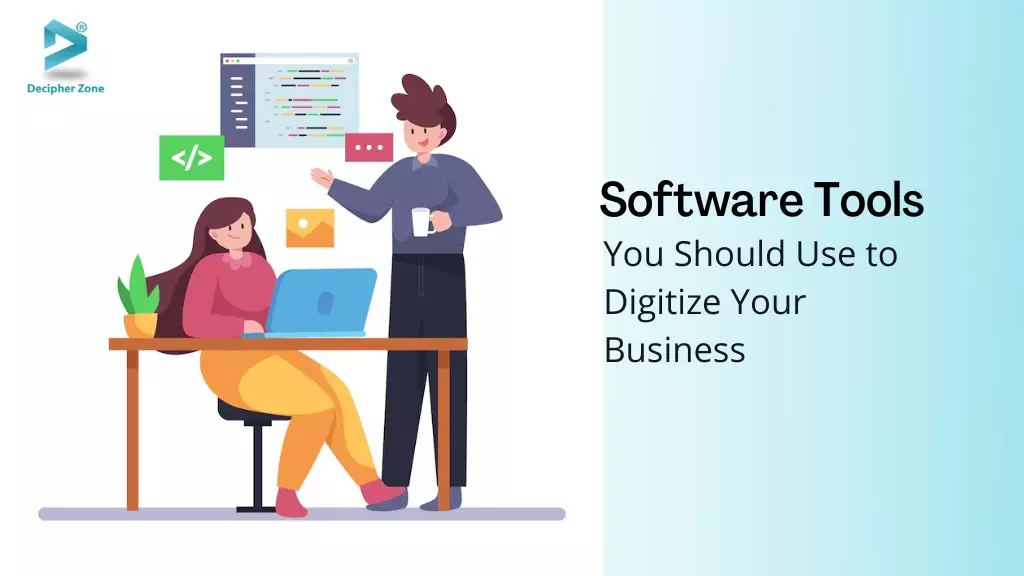 12 Software Tools You Should Use to Digitize Your Business
A software ecosystem is essential to be competitive in 2023. Digitally mature firms experience 45% revenue growth for a good reason. Digital transformation helps businesses to reduce repetitive procedures, streamline teams, and handle customer complaints more effectively.
What are the critical tools required to drive digital transformation in 2023?
Digital adoption platforms (DAPs)

Electronic workplace suites

Collaboration and Communication Tools for Teams

Intranet-Social Tools

Cloud-based CRMs

HCM platforms

Employee-self-service platforms

Cloud storage services

Project management software

Digital accounting tools

CMS platform

Data Protection Tools
What is digital transformation?
16% of companies have undertaken digital transformation. Given this, it appears appropriate to characterize digital transition.
Digital transformation is deploying technology across an enterprise. Implementation success affects organizational structure and operations.
Complete digital transformation requires changes to corporate procedures and culture. You must appoint accountable leaders, implement new processes, develop the documentation, train employees, and manage long-term plan implementation.
Consider digital transformation an established habit. Your workers won't be as excited as you about the changes. Change resistance and skepticism are inevitable. It will be short-lived if you properly communicate the benefits of a new setup.
12 software tools you should use to digitize your business
Technology alters how your workforce collaborates, communicates, completes tasks, and manages operations. It helps organizations meet shifting customer needs.
Using the right tools may save time and boost team morale. Here are eleven software tools you should use to digitize your business:
1. Digital Adoption Platforms (DAPs)
Digital transformation involves digital adoption. One-third of CRM deployments fail. Without an adoption plan, you may see similar software acceptance percentages outside CRM, such as project management and communication applications.
Companies seldom train employees on new technology. Digital adoption platforms resolve this issue.
A digital adoption platform interacts with any system in your internal toolbox to provide customized in-app assistance, such as walkthroughs, task lists, smart suggestions, and lessons. DAPs are useful for onboarding staff, clients, and users.
Read: Exempting the Power Of Fintech In Banking
DAPs let you see how users interact with tools and evaluate which elements are troublesome. A DAP allows monitoring user behavior inside applications and the usage history of specific assistance information.
Companies may develop product tours, provide contextual suggestions for each user type, and manage support widgets. Instead of repeating operations or troubleshooting, automate them.
2. Electronic workplace suites
76% of organizations have blended workplaces. Probably, your company has as well. If so, you would want digital workplace tools.
Digital workplace applications or suites provide dispersed teams with digital alternatives to conventional office facilities. In addition to giving the responsibilities of physical workplaces, they go above and beyond what a regular workplace may offer. Tools like eXo Platform improve interdepartmental collaboration, safeguard data, streamline knowledge management, and provide unique employee incentive programs.
Read: CRM in Real Estate: Cost, Features, and Benefits
The breakroom has grown. The Metaverse platform offers virtual work environments. Rather than offering 2D communication tools, the platform provides fully programmable 3D workspaces.
3. Collaboration and communication tools for teams
The platforms for team collaboration and communication are more than just messaging programs; they are digital workplaces where most corporate operations occur.
Regardless of whether your firm is wholly remote, hybrid, or entirely on-site, an online collaboration solution is required. Even though your employees occupy the exact physical location, it is wasteful to need them to interrupt the entire group whenever they have a question or desire to discuss a project.
However, small, hybrid, and on-site firms require various internal communication digitization strategies. Organizations with a blended work style must find a way to keep everyone informed about online and offline conversations.
Simple communication tools like Slack and Discord help all organizations. Businesses may construct channels for teams and projects, share files, and develop bots on the platforms. Remote teams usually choose these technologies and are paired with a specialist project management platform.
Read: Benefits of Using AI for Small Business
Hybrid teams also choose more complex systems, such as Microsoft Teams, Mirco, and Spike. For example, to encourage successful collaboration between remote and on-site personnel, Miro provides interactive displays as an alternative to whiteboards on which hybrid teams may engage in real-time discussion.
4. Intranet-social tools
The collaboration tools of the future are social intranet technology. By tying your business applications to an intranet portal, these technologies allow you to examine your whole suite from a single dashboard. In a way, it is a tailored social networking platform for internal use.
Despite popular belief, intranet software portals are the only way to combine workplace devices and channels. You may develop an employee-centric intranet by integrating a social intranet technology with Slack or Microsoft Teams.
LumApps, Workplace by Meta, and Honey are intranet technologies for growing companies. Using LumApps, it is possible to:
Create a Newscenter with company updates, news, and social networking

Create a Leadership Corner to help leaders communicate

Offer an HR Portal with news, FAQs, job boards, and surveys

5. Cloud-based CRMs
Adopting a cloud CRM solution is crucial for digital transformation. CRM solutions aid businesses in:
Managing leads

Sales funnels

Shorten sales cycles

Relationship management

Market and sell together

Cross-sell and up-sell

Loyalty, etc.
Enterprise CRM solutions rarely restrict their capabilities to CRM alone. HubSpot provides a single platform for marketing, salespeople, and support staff. CMS software is also included within the toolkit.
Read: Enterprise Application Development: Features, Types, Benefits and Cost
HubSpot CRM's free edition is suited for small businesses, while the HubSpot API is best for large companies creating custom solutions. As a small corporation or startup in its early phases, choose a less sophisticated system, such as SugarCRM or SuperOffice.
Large enterprises have better CRM tools. HubSpot's enterprise CRM software may be an ecosystem of tools for a company's marketing, sales, and customer support teams. Salesforce CRM, Microsoft Dynamics, and Freshworks CRM are excellent for large enterprises.
Read: Top 10 Web Development Trends
91% of companies with 12 or more employees use CRM software, yet end-user adoption is poor. Complex solutions and lack of product-specific training are issues.
6. HCM platforms
HR must invest in HCM software to undergo digital transformation. HCM is Human Capital Management. It simplifies and optimizes these procedures:
Personnel Planning

Recruiting and Employment

Onboarding

Training

Administration

Analytics and Reporting, etc.
Workday, BambooHR, and Zenefits are major HCM platforms. These systems organize all data acquired during an employee's lifespan, from recruiting to separation. Utilize a single interface to directly manage onboarding, benefits, payroll, and PTO.
7. Employee-self-service platforms
Employee self-service portals allow employees to update personal data, access pertinent information, and view benefits without HR support. HCM platforms offer these functionalities.
An employee self-service platform may include the following features:
Onboarding comprises signing papers, making connections, and finishing the tour

Check-ins, time tracking software, scheduling shifts, and schedule modifications

Travel reimbursement, benefits enrollment, savings management

The company's knowledge base is its handbook, updates, rules, and dialogues

Help Desk: HR, IT, Finance, and other inquiries
SP Employee Self-Service Portal and other HCM packages offer these features.
8. Cloud-based storage
Cloud storage is the only way to prevent data loss and give on-demand access to vital assets.
Everyone's work must be uploaded to the cloud. It's needed for digital transformation.
Read: Multi-Cloud vs Hybrid-Cloud
Cloud storage tools include:
Google Drive: $8 per month (free plan available)

Dropbox: $12.50 per month (free plan)

Sync - $5/month/user (free plan available)

IDrive - $69.50/year (free plan available)
9. Project management software
Project management software isn't for everyone. A project management solution may be unnecessary when using a sophisticated collaborative platform like Miro.
If your teams still use Slack, you need a project management solution. This tool helps teams assign and perform tasks, organize projects, measure efficiency, and produce management reports.
Read: How to Develop a Logistics Management System
Your platform choice depends on available tools. Some systems include marketing and sales activities in addition to project management. If you haven't launched a CRM app, try monday.com. The program combines project management and CRM.
Asana and Trello are popular for Kanban and to-do lists. The software development tool Jira. It helps manage IT teams.
10. Digital accounting tools
Digitalization in finance and accounting is critical in 2023. If you haven't already, pick, adopt, and embrace digital accounting.
When choosing one, consult with finance. What's their everyday schedule? Their difficulties in Payroll management has changed. Your accountants may use digital accounting technology.
Freshbooks is accounting software utilized by small businesses and freelancers, while fast-developing companies often select QuickBooks Online and Xero. These apps provide a financial overview, automate invoicing and reporting, and handle payments and bills.
Organizations are increasingly automating document processing procedures to become paperless and exploit cloud-based digital solutions that boost bottom lines.
OCR is short for "Optical Character Recognition." It is a technique capable of identifying text inside a digital picture. It is typically used to identify text in scanned documents and photos. Best OCR software may turn a physical paper document or an image into a text-searchable electronic counterpart.
Read: Top 10 Digital Healthcare Technology Trends
An OCR software is utilized for automated data input, pattern recognition, text-to-speech services, classifying documents for search engines, cognitive computing, text mining, key data extraction, and machine translation, among other applications.
11. CMS platforms
Are you creating and managing digital content? You cannot succeed without a CMS platform.
CMS software allows uploading, customizing, and publishing web content. Instead of writing code to make website modifications, use a CMS's pre-built templates and drag-and-drop editors.
You most likely already use a CMS to administer your website. However, it may not satisfy your needs. WordPress, Drupal, and Joomla are developer-friendly and highly configurable systems. HubSpot's CMS Hub is suitable for content managers with little technical knowledge. Over 3,000 templates, drag-and-drop modules, and HubSpot tool integrations are available.
These platforms provide great intelligence solutions for corporations, but without a robust adoption and end-user support plan, you will lose your workers and customers. They will be overwhelmed and frustrated with the new processes, killing productivity and performance and driving customers away.
12. Data Protection Tools
Data protection tools are becoming increasingly important nowadays as more businesses and organizations collect and store data that is critical to their operations. These tools help keep private and sensitive information safe from data loss, unauthorized access, and other security risks.
A report from IBM found that the average total data breach cost in 2020 was $3.86 million, which shows how important it is to have quality data protection measures. A Verizon study also discovered that personal information was involved in 58% of data breaches. It means that companies must use tools like encryption, access controls, multi-factor authentication, and data backup to protect their data. By prioritizing data protection, companies can reduce the chance of expensive data breaches and ensure their sensitive information stays safe and secure.
Data backup and recovery are especially important if you want to get your data back quickly after a disaster. There are different types of backups, including agentless and based on agents, each with its advantages and disadvantages. Additionally, there are specialized backup tools for virtual machines, like NAKIVO Hyper-V backup software. This type of software makes it easier to ensure that critical data is protected in the event of ransomware-related data loss or other threats.
Read: Impact of Digital Transformation in the Healthcare Industry
These 12 software tools will help digitize your business. You needn't be a computer expert to lead your company's digital transformation. Several technologies aid digital transformation in commercial fields.
Posted by
Mahipal Nehra
|
Posted at 19 Aug, 2022
Web