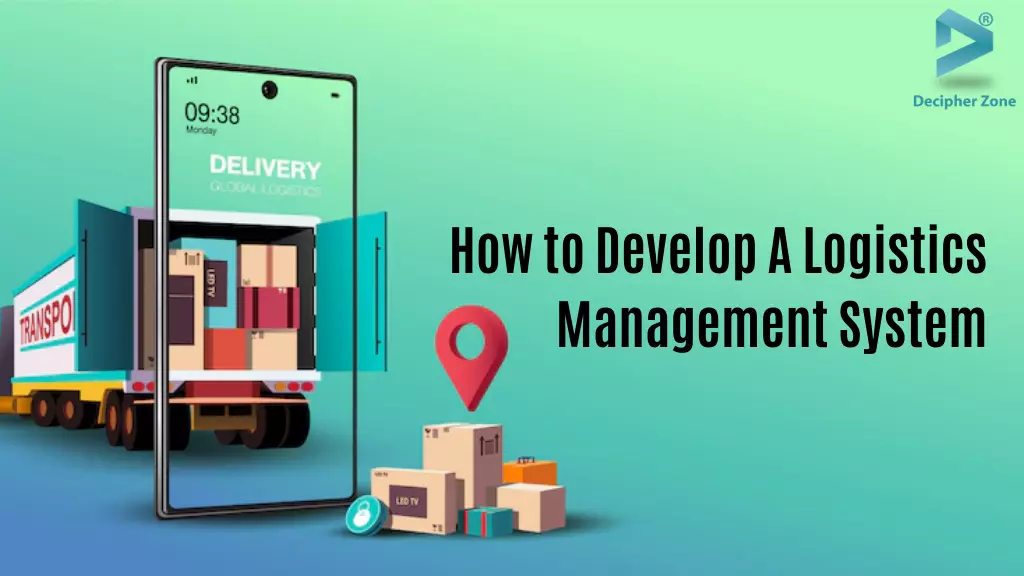 How to Develop a Logistics Management System?
How to Develop a Logistics Management System? Since digital technology is transforming different sectors connected to logistics, like retail, the likelihood of digital disruption consuming logistics increases. For example, with the rise of e-commerce, digital entrants for last-mile delivery have also been triggered.
The logistics industry is characterized by significant inefficiencies, including the fact that half of the trucks return empty on their return journey; digital transformation can be used to reduce energy consumption and improve efficiency.
It is estimated that digital transformation will add $1.5 trillion in value to players and $2.4 trillion in societal benefits by 2025, according to World Economic Forum analytics. In short, logistics industry stakeholders need to prioritize initiatives for digital transformation.
To achieve the digital transformation, the logistics sector stakeholders can work on developing a logistics management system.
Although there are several ready-made solutions available in the market, customizing a logistics management solution that will match your requirements can help you reach your target audience while helping you to manage the supply chain, and elevate customer experience, deliver value more effectively.
Before moving on and understanding how to develop the logistics management solution, let's begin with the basics!
What is Logistics Management System
How to Develop a Logistics Management System? Logistics management refers to the management of the supply chain to meet the customer demands via planning, implementing and controlling the movement and storage of goods and services from the point of origin to their final destination.
With logistics management, companies can reduce expenses and improve customer service while keeping track of data.
Read: Best Database for web app development
Logistics management usually works in two different ways - forward and reverse. In forward logistics, we receive and process orders, prepare inventory, pack and route products, and schedule delivery to customers as fast as possible.
On the other hand, reverse logistics refers to the operations including management of damaged or incorrect shipments, repairing products and recycling or reusing them.
Usually these systems are implemented in large warehouse staffing units, because they can drastically improve overall productivity of the logistics.
Furthermore, a logistics management system can provide a platform to manage risk and compliance by integrating features such as shipment tracking, real-time inventory visibility, and motor truck cargo insurance coverage to protect against potential damages or losses.
For managing both directions of logistics, businesses use logistics management systems. Logistics management systems are a combination of tools that make the process from placing an order to delivering more efficient.
You can introduce and implement the LMS in your business either by purchasing an off-the-shelf software or by hiring developers that will build a customized application according to your needs.
Benefits of Logistics Management Systems
As the market of logistics is acquiring impressive growth, PR Newswire has projected that the logistics market will reach $12,975.64 Billion by 2027 with a 6.5% CAGR.
Logistics management software comes with several advantages. By implementing a logistics management system into business processes, you can align and automate the supply chain system that will streamline the logistics demands and requirements from inventory to warehouse and shipment.
Read: Impact of Digital Transformation
By deploying the right logistics management system you can achieve the following benefits:
With logistics management, businesses can acquire clear visibility of their operations that helps in enhancing customer relationships while reducing the requirement of excess inventory maintenance. This assists in boosting the rate of order fulfillment, hence increasing the company's profitability.
Better Delivery Productivity and Efficiency
By minimizing the wastage of resources, meeting quality standards, and reducing failures, deviations and defects, logistics centers on improving operational efficiency without compromising the profit margins.
Optimizing Operational Costs
The logistics management system helps in analyzing the historical data to provide the optimization of routes that reduce fuel consumption and improve the utilization of assets while reducing operational costs and increasing business efficiency.
Improved Customer Experience
With the logistics management system, businesses can offer better customer service along with a smooth shipment process for an enhanced customer experience that will lead to better brand loyalty and reputation.
Enhanced Intermodal Operations
Intermodal operations refer to moving freight by two or more transportation modes so that it can reach from supplier to customer. In a logistics management system, standardized containers are used for reducing the risks involved in intermodal operations, helping in reducing costs and making transportation reliable, safer, and environment friendly.
Intelligent Route Planning
The smart route planning feature in the logistics management system allows businesses to select the best routes for transportation of the goods that avoids traffic congestion, reduce empty miles, monitor driver and vehicle status and ensure that the goods reach the customer on time.
Key Features of Logistics Management System
How to Develop a Logistics Management System? Let's find out what essential features you can find in the logistics management system: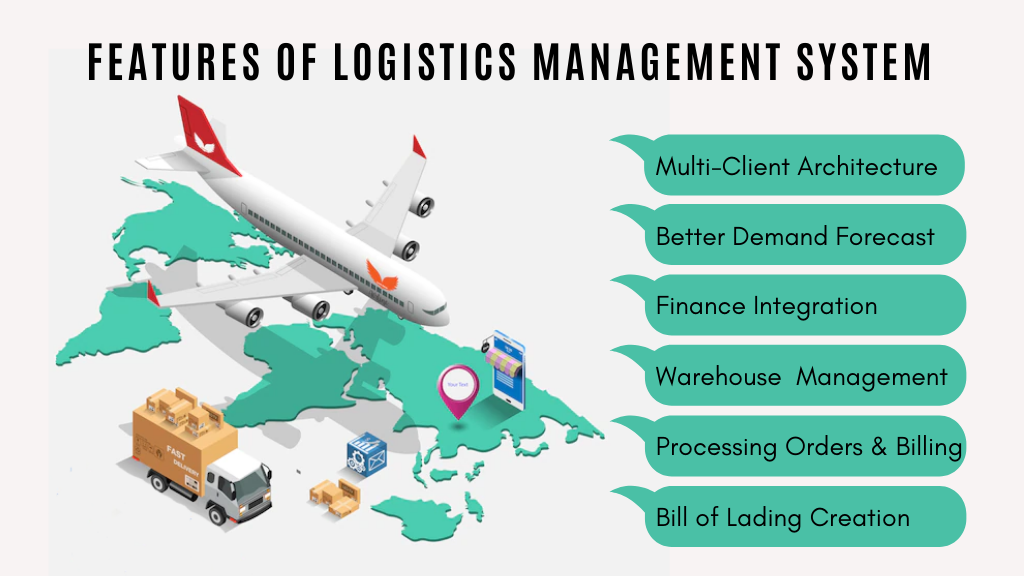 Multi-client architecture: It will allow businesses to share the same information and database while handling multiple clients in different activity phases of the logistics.

Better demand forecasting: With better forecasting, businesses will be able to predict the price and demand of the products which will help in minimizing the inventory by planning resources without getting stock out.

Finance Integration: This feature will help in managing the transactions and accounting efficiently.

Hassle-free warehouse management: This feature will help in improving the control of storage and movement of the goods that should be delivered to the consumers on time.

Processing orders and billing: With this feature, businesses will be able to create orders and charge the clients using the system.

Bill of lading creation: Using the bill of lading creation feature of the LMS, businesses can generate receipts that will increase the speed of goods' transactions under shipper and logistic company consignee.

Fleet management: This feature helps in determining more efficient delivery routes for better coordination of shipment transportation.
Main Modules of Logistics Management System
The main modules that an LMS should possess to achieve effective leverage in the supply chain are as follows: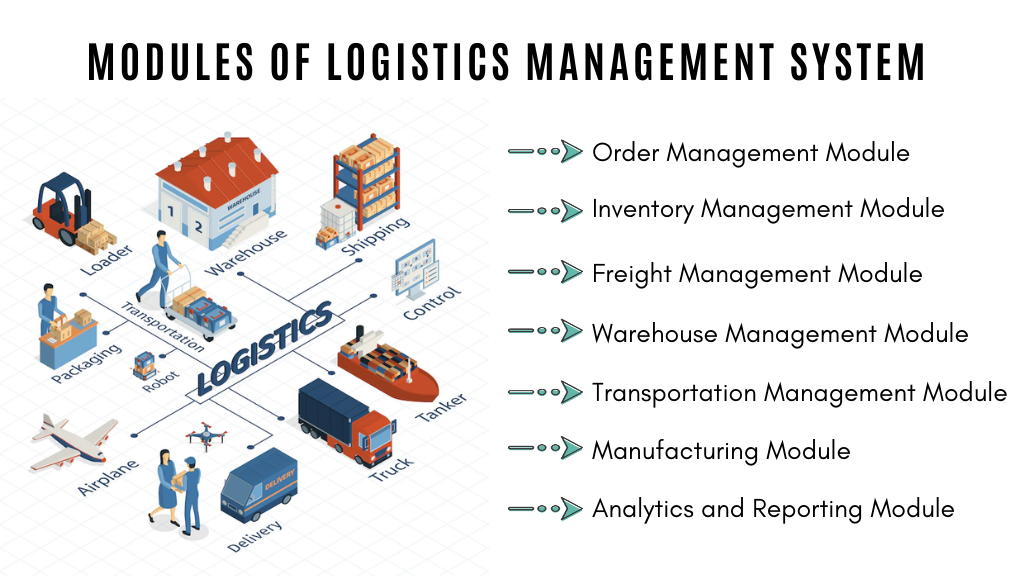 1. Order Management Module
The order management module includes seamless implementation of order data gathered from different systems like fulfillment, inventory database, and vendor database.
Read: Web Application Development Process
Each order lifecycle stage should be clearly visible to consumers while ensuring that delivery is not lost, damaged or delayed during the process. The OMM can allow customers, customer support representatives, and managers to track orders in real-time from anywhere.
It should be integrated with the Logistics Management System tightly to:
Create better routing plans

Synchronize process of delivery with customer's expectations

Easily handle the sudden change in demands of transportation according to the order type or category.

Include data about the delivery of the product.
2. Inventory Management Module
The inventory management module deals with controlling and documenting the number of products available for sale. Automating the spreadsheets into IMM will help businesses in gaining clarity while centralizing data.
Reports will be provided on changes to the inventory and maintain replenishment balance while setting automatic reordering for all products while reducing the possibility of ordering excess goods that surpass the customers' demands.
Freight Management Module
Inefficient freight management can lead to huge losses. While manual freight management has become outdated, it becomes essential for the logistics management system to have a freight management module that can:
Read: Enterprise Application Development: Features, Types, Benefits and Cost
Forecast freight charges to help in financial planning and cost estimation from region to region and order to order types.

Permit self-invoicing.

Manage invoice disputes.
The warehouse management module in the logistics management system will include tools to streamline the processes involved in managing products from storage to shipment and delivery. This module will help in maximizing the use of storage, improving the flow of goods, and managing inventory placement.
Read: Warehouse Management Software System
4. Transportation Management Module
The transportation management module is the backbone of the logistics that makes the supply chain efficient. This module should possess features like route consolidation and optimization, multi-modal transportation, fleet and freight tracking, performance monitoring, and seamless data flow across logistics and carrier management and Fleetio's fleet telematics system does that while also helping you automate maintenance and handling any issues that may arise in a timely manner.
5. Manufacturing Module
The manufacturing module of the LMS can assist in maintaining warehouse stock reserves, ensure on-time shipment and delivery of the goods and reduce costs and risks while maximizing the return on investment/assets.
6. Analytics and Reporting Module
Digitizing possesses vast volumes of data. Data can be refined into actionable insights using the analytics and reporting module, allowing managers to make better decisions leading to greater productivity.
The analytics and reporting module should have features like business intelligence, identify the dead weights in the business and increase the efficiency of the organization.
How to Build Logistics Management System Step by Step?
How to Develop a Logistics Management System? Now the most important question arises, how you can develop a logistic management solution for your business. To help you out we have enlisted the steps you need to follow for an effective and efficient LMS. So let's get started!
Define Requirements and Challenges
The first step towards building a logistics management web app is to identify the pain points of your business that it has to solve. If emailing or calling about the location and status of the orders are stopping your employees from more-valuable tasks, the logistics system should be able to send emails or notifications along with the recent information of the order.
It is easy to scope the system, its required functionality and features, deployment type, and anticipated cost when there is a clear vision of what the system should achieve.
Select Either Custom or Off-the-Shelf Application
For the next step, you should decide whether to choose a custom-made solution or an off-the-shelf application for your business.
If you wanna go for an off-the-shelf application, you can choose from hundreds of solutions that are available in the market but remember to opt for the one that is most appropriate for your use case and then deploy it for use.
Read: How Much Does it Cost to Develop a Crypto Wallet App
On the other hand, if you are looking for a custom on-demand solution, you should outsource a company like Decipher Zone that will help in developing complex and flexible solutions to manage different processes and activities in logistics.
The custom LMS will be highly adaptable to the goals of your company, allowing you to gain the most essential and precise process performance data.
Choose Between Cloud and on-premises Logistics Management
Cloud-based logistics management systems are flexible and can help businesses save money. On the other hand, on-premise systems were often integrated into the servers of organizations to make the system development secure and reliable.
To efficiently achieve business goals, companies that are using on-premises systems also use cloud apps or SaaS.
One thing that differentiates cloud-based solutions from on-premises is that the on-premises solution gets implemented in-house where the organization remains in charge of system maintenance.
While developing a cloud-based system where the resources are hosted on the server-side, data can be easily accessed by the logistics company whenever needed.
Read: What is Custom Software Development
Before choosing the one, keep in mind that cloud systems can offer limitless data storage, ensure the protection of failures, and are somewhat immune to hacker attacks and viruses.
Going with on-premise solutions will make it crucial to buy server hardware and license before integration of LMS within the workflow of the company. But if you want an extra level of security then an on-premise solution for a logistics management system can be more reliable.
Select the Ideal Methodology
Different methodologies can be used for logistics management system development, including Agile, Waterfall, DevOps, Lean, Scrum, etc. Although each of them has its own pros and cons, you need to consider the one that meets the business requirements for your organization to begin software development.
Create a Cross-Platform Version of the App
Building a cross-platform version of the system, i.e, a web application will make it easier to access real-time information from anywhere.
A cross-platform logistics management system will help to receive push notifications in case of changes in the system. It will also simplify the coordination between clients, carriers, forwarders and administrators.
How Much Does It Cost to Develop a Logistics Management Web Application?
The cost of building a logistics management web application can range anywhere from $30,000 to $200,000 depending on the requirements, specifications, and goals you want to achieve from using it.
Apart from that the type of deployment, number of features, method of development and maintenance will also add to the cost.
After reading the above-shared details, you may have a better understanding of Logistics Management Systems, their main features, benefits, and steps to build one.
Read: How Will Blockchain and IoT Impact Supply Chain & Logistics
Relying on a well-versed and experienced team of developers is the smartest choice to build an LMS application. If you outsource developers, you will be able to get a customized solution at a reasonable price and will save on equipment, office rent, etc.
The Bottom Line
Having a custom logistics management web application for your organization will help you to automate and systematize the management of the supply chain.
It also assists in easing the order and inventory management, improves order processing, enriches fieldwork and communication management, and offers better support for the customer.
Needless to say, the logistics industry is relevantly competitive and to stay pertinent as an organization you need to work smarter and hit targets than others. And, a good LMS web app will make it easier to achieve your goals.
Read: How Can Real Estate Software Solutions Benefit Your Business
At the initial stage, building a custom logistics management system might appear challenging but the advantages it will offer to your business make it worth it. Having an advanced web app with the ideal development team will not only ease the processes but also saves money in the long run.
Contact us with a brief description of your vision, and we'll provide you with the needed details.
Posted by
Mahipal Nehra
|
Posted at 13 Apr, 2022
Web