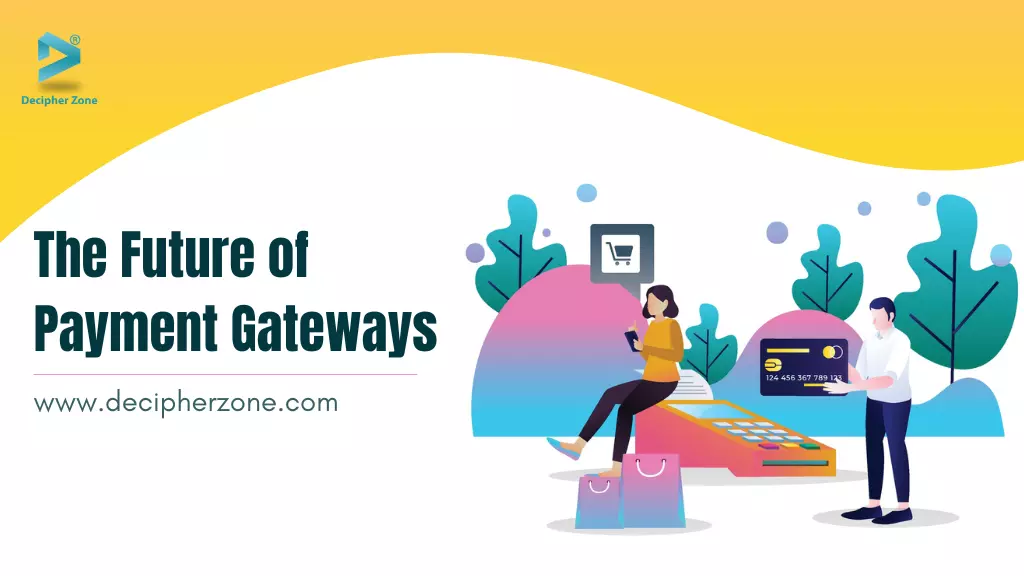 The Future of Payment Gateways - Challenges and Trends
The Future of Payment Gateways - Challenges and Trends. With online shopping becoming more popular, payment gateways have been an important part of businesses to enable secure and seamless transactions on the go. These payment gateways not only help businesses to provide a seamless customer experience but also help accelerate growth with end-to-end services.
According to reports from a trusted source, it is stated that the online payment gateway market is expected to reach $88 billion by 2027, showing clear signs for businesses to invest in payment gateway development.
But wait, what makes an app/software stand out among the competitors in the market? The answer is developing a future-proof solution by conducting thorough market research, alongside learning about the latest trends and consumer demands.
In this blog, we will be filling you up with the future of payment gateways, along with the latest trends and challenges. Before getting into the details of the future of payment gateways, let us first explain to you what payment gateways are.
Future of Payment Gateways
It is an application or software that helps simplify the online payment process, alongside acting as a middleman for the business and its customers. Stripe and PayPal are some of the well-known examples of payment gateways, which help in easing the process of online transactions.
Read: How To Build a Shopify Store for Your E-Commerce Business
With digitization and the advancement of the automation sector, online payments have been triggered which in turn has also accelerated the speed of other digital services. Furthermore, in the coming times, the payment gateway platforms will also experience a further shift in efficiency, alongside rapid evolution.
Read: Payment Gateway Development
Payment Gateways Challenges
The most common payment gateways challenges are as follows -
1. Cybercrimes
2. Data Security
3. Loss of Time and Money
4. Technical Failure
Now moving ahead, while developing payment gateways, you must learn about the challenges as well, which will help you develop a future-proof solution.
1. Cybercrimes
With digitization taking over comes a lot of challenges and the most important challenge that should be addressed on priority is preventing cybercrimes. Cybercriminals, hackers, and frauds can easily hack into the system by stealing important information thus resulting in data theft, loss of money, and many other essential sensitive data.
2. Data Security
We all know that data plays an essential role for businesses, and it is equally vital to ensure data safety while developing a payment gateway as well. Since payment gateways consist of all the sensitive user details alongside their transactions and other bank details, which might result in theft of identity as well as money, and might even lead to shutting down your business.
3. Loss of Time and Money
An application or software might have lots of glitches and bugs while developing so make sure that you also conduct testing at regular intervals so that you will avoid encountering too many bugs at the end and even after the deployment. This practice will help you save a lot of money and time since technical failure is very expensive and time-consuming when it comes to solving the glitches and fixing them.
4. Technical Failure
Technical glitches can occur due to several unknown reasons and can cause several issues so ensure that you conduct thorough research and plan out the workflow properly to develop a full-fledged software.
Read: Escrow Payment Solutions For Your MarketPlace
Now that you know about the challenges, you should also know about the latest trends in the market so that you can develop a future-proof application, which will also help you stand out from the competitors in the market.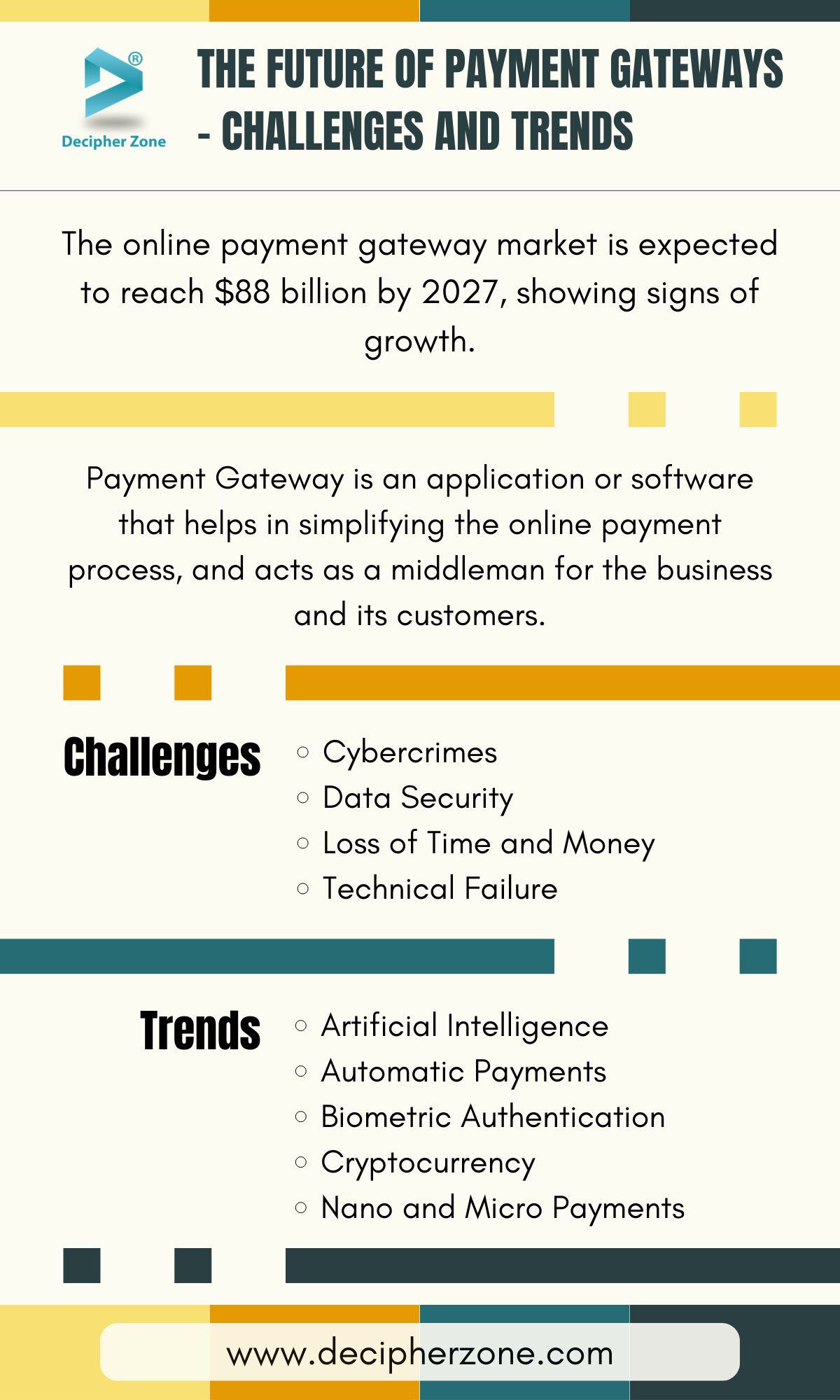 Payment Gateways Trends
Some of the trends that are likely to boost the future of payment gateways are -
2. Automatic Payments
3. Biometric Authentication
4. Cryptocurrency
5. Nano and Micro Payments
Artificial Intelligence
AI has been revolutionizing the technology industry with its capabilities of continuously improving with time, which in turn drastically helps in strengthening communication, finding suspicious patterns, detecting risks, and even forecasting the future. Furthermore, it will also aid in enhanced customer satisfaction alongside providing quality services at cheaper rates.
Automatic Payments
It is the smarter way that requires minimum involvement of people. It is an attractive trend that has been the primary reason for businesses achieving exponential growth.
Companies like Netflix and Amazon Prime Video are well-known examples of this trend, where a user makes payment only once and if they want to subscribe to the services in the future as well, the users can opt-in for automatic payments. Of course it's important to select solutions that fit your industry niche when automating payment collection. For instance, Ollie is home to innovative software for brewers that is set up to ensure businesses in this niche get paid on time, without needing to manage every aspect of this manually.
Biometric Authentication
It is another trend that has the potential to revolutionize the future of payment gateways. It helps the users to authenticate their payments on the go without having to worry about their sensitive information and other important details being leaked or stolen.
Cryptocurrency
Cryptocurrency is on the rise now and has way more opportunities to grow in the future making it an important part of the future of payment gateways as well. Burger King, Twitch, and Microsoft are some of the top companies that accept Bitcoin payments. And in the coming time, even the smallest businesses will accept and process crypto payments, as cryptocurrency is among the fastest growing industries that cater to several other children's benefits to other businesses.
Nano and Micro Payments
This involves a small amount of money that helps in the accurate billing of the services. For example - rather than paying the rent of a house for the entire month, the user will be able to pay only for the days that they have actually lived there. Although currently, it is limited to just a countable number, in the future it has the potential to bring advancements in payments and huge profits for businesses.
Read: Payment Gateways for your Web Application
Wrapping It Up
Digitization has completely changed the way people shop, eat, learn, and even conduct business, and payment gateways play an important role in doing so.
The future of payment gateways is undoubtedly bright and developing one such software will surely open up way more growth opportunities for your business.
If you are thinking about payment gateway development then connect with us, or hire a developer, and get the best and futuristic solutions for your business.
FAQs: The Future of Payment Gateways - Challenges and Trends
What are the benefits of developing a payment gateway?
The benefits of developing a payment gateway are -
It helps accelerate business growth.

Enables you to provide custom services.

It makes the payment process easy, and many others.
What is the cost of Payment Gateway Development?
The cost of developing a payment gateway may range somewhere between $35,000 to $3,00,000 and sometimes even more according to your business requirements, market trends, consumer demands, and several other factors including the tech stack as well as the design.
What are some of the well-known payment gateways?
PayPal, Stripe, Square, Razorpay, PayU, and Shopify are examples of some of the famous payment gateways in the market.
Posted by
Mahipal Nehra
|
Posted at 19 Jun, 2023
Web