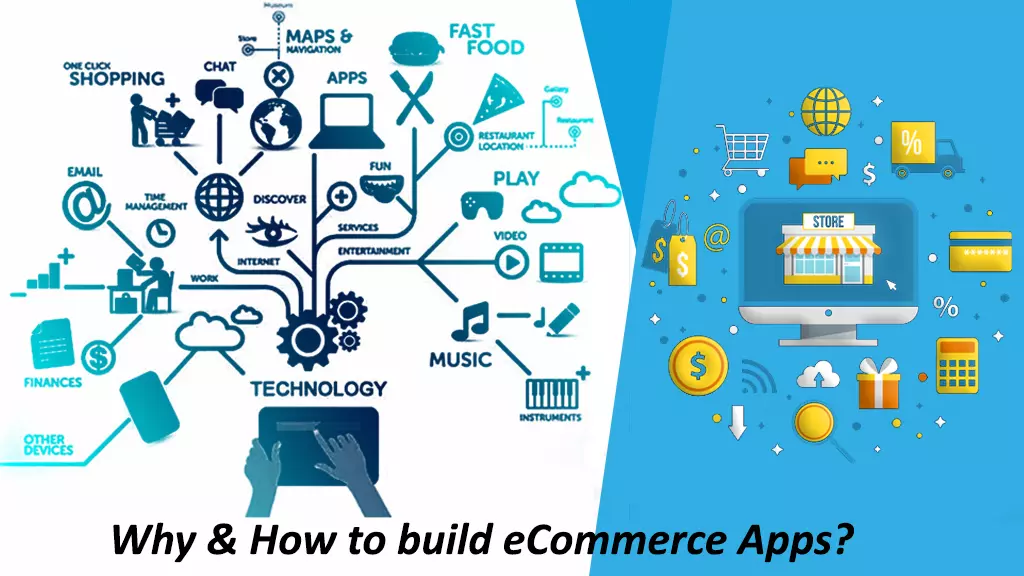 How to build an eCommerce Application?
How to build an eCommerce Application? Why & How to build eCommerce Apps? Ecommerce platform not just sells stuff it guides you in knowing who is buying the products, when they are buying products and how much inventory to maintain. This information helps you in precisely targeting customers, reducing your committed investment capital and cost of operations.
The eCommerce App Development is a better way for showcasing your product line in front of customers and to boost offline and online revenue. Tracking customer interaction and behavior on the eCommerce app generates detailed analytics to make better business decisions.
The decisions include inventory management of products, eviction of products with low demand, relating products to customer groups and target them accordingly. Selling baby diapers to bachelors or couples who don't have a baby will not generate any revenue for you rather you should upsell baby products to couples with babies and senior citizens with grand Childs.
Read: Modern Web Development, Design and Deployment
When eCommerce app development is ideal for your business?
Ecommerce app development is ideal for your business in the following scenarios:
1. When you are selling a unique product
When you are selling a unique product or the one that has less market presence and competition then an eCommerce website with digital marketing can rank-up your product on search engines to generate significant revenue.
2. When you can deliver the product at lower prices
When you can deliver the product to customers at lower prices than gigantic eCommerce players like Amazon, Walmart or Target and still make great profit margins.
3.When you are selling pricey products with huge profit margins
When you list your product on large third-party eCommerce websites then these players take a huge cut from profits and own almost every right to set the discount percentage. The lower offer price can drag a niche product to low-end products and boost sales for a while but it sucks out the exclusivity of the product.
The low exclusivity decays the demand for products over a period of time therefore soon you will need a new product to stay in business. With your own eCommerce website, you can sell the product at a price you wish but you need to fund the digital marketing campaign first with some initial investment, later on, the huge profit margins on each unit sold can easily fund the campaign steadily.
What features a good eCommerce app should have?
Ecommerce app for customers should have the following features:
Registration

User-friendly navigation

Product List & Categorization

Product Detailing (Image & Video Gallery)

Personalized Results & Notifications

Product Comparison Tool

Advanced search option (Image Search Voice search)

Loyalty Programs

Discount Codes

Breadcrumb navigation

Zoom in/ Zoom out image

Add products to Wishlist

Change quantity

Flexible payment options

Real-time tracking of the order

Customer ratings & reviews

Add to cart

Save items for later

Easy return process

Support multiple payment methods and EMIs

Easy checkout

Visually appealing
Ecommerce app for Admin should have the following features:
Create profiles

User role management

Content management

Product Categories/ Subcategories management

Product Management

Manage shipments

Payment accounting

Manage tax

Order management

Complaint management

Offer and Discount codes management

CRM tool with detailed analytics
Ecommerce app for a vendor should have the following features:
Create profiles

User role management

Content management

Product Subcategories management

Product Management

Automated Inventory on sale management

Manage shipments

Payment accounting

Manage tax

Order management

Complaint management

Offer and Discount codes management

Detailed Dashboard
How to structure the content in eCommerce app development?
The content on an eCommerce website should be displayed hierarchically. The home page should have all the mega categories of listed products, heavily discounted products and detailed navigation to smaller categories of products.
The webpages should be attractive and contain enough information about the product to the awareness of the consumer.
Checkout: Top 5 Google Cloud Tools for Application Development
The second part of the content that your eCommerce App development company needs to take care of is naming the product's webpage, H1 tags, and content by trending key phrases used by customers to search that product.
The SEO compliance of website, its content and content's structure will make sure that you save tons of bucks when you start your digital marketing campaign because then you won't be spending on major modifications in website and content. Therefore, it is recommended that I choose those eCommerce app development companies that have extensive experience in SEO and digital marketing space.
What to do after eCommerce app development?
Only eCommerce app development is not enough now to generate profit for your business, you need to do a lot more to take the leap in business development.
Extensive researches and case studies have shown that content, the structure of content, product upselling, user experience, digital marketing, and search engine optimization play major role in luring users to these platforms. The customer relationship management software comes next in line to boost the leads to the customer conversion rate.
Checkout: Top Web Designing Hacks and Trends for Web Development
After Ecommerce app development you need to find a digital marketing company to run your company. Let me tell you why a digital marketing company is recommended here instead of individual freelancers, it's because you also need content and website optimizations to run the digital marketing campaign.
Just think about the cost of hiring a full-time Web designer, Web developer, Content Writer and a digital marketing specialist for making backlinks, running ads, publishing and promoting content on public platforms. With a digital marketing company, all these resources come in a fixed price package and a sales target to achieve.
How to become profitable with eCommerce App development and Digital Marketing?
Ecommerce app development is only worth it if you can make more money than your investment. For this eCommerce app development companies recommend you run a digital marketing campaign but they don't tell you how much to invest for staying profitable and that's what we are going to discuss here.
You need to pour a little initial investment in setting up keywords, link building and blogging for SEO as it offers the best lead to customer conversion rate. The growth in authority backlinks, targeted keyword ranking can be tracked with google search console and UberSuggest.
Once you are assured that the keywords ranking for your business are relevant and are improving the rank month by month only then you should fund the campaign with cashflow. Do not pour more money of your own just pledge a profit margin for the digital marketing campaign so that your campaign expands parallelly with your business.
Checkout: Developers Must Avoid These Web Development Trends
Posted by
Mahipal Nehra
|
Posted at 25 Oct, 2019
Web