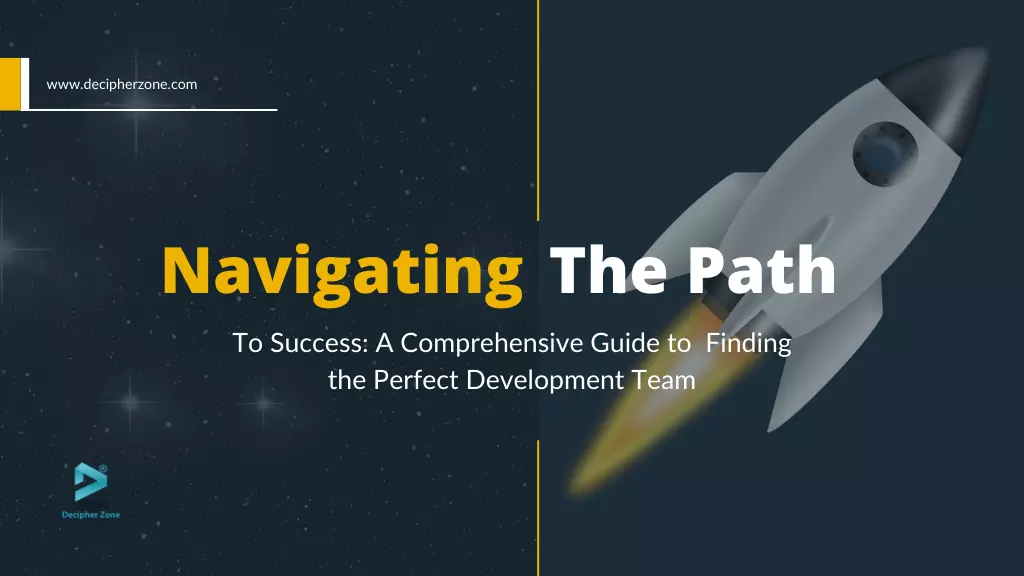 Navigating the Path to Success: A Comprehensive Guide to Finding the Perfect Development Team
The technology and development field can be perplexing, with many layers to explore and a search that may take some time. But don't worry! In this article, we'll guide you toward success by giving an overview of the process, tips on identifying needs and developing goals, and resources to assist you on the way.
The Importance of Selecting the Right Development Team
Choosing the right development team is crucial, as it enables you to build the product that will drive your company's success. But how do you know if a development team is reliable?
Read: Agile Software Development Team Structure
There are many factors to consider, but here are some key things to look for when vetting potential partners:
Experience and expertise with similar projects in your industry

Passion for their work and desire for success (this can be seen through their enthusiasm about your project)

Transparency about costs and timelines

Communication skills: Look for a team that is responsive, clear, and proactive in their communication. By staying informed about your project's progress and being promptly notified of any potential issues that may arise, you can take proactive measures to address them and ensure that your project stays on track.

Technical skills: Make sure the team has the technical expertise to handle your project's requirements. This includes knowledge of programming languages, platforms, and tools that are relevant to your project.

Flexibility: A good development team should be able to adapt to changes in your project's scope, timeline, and budget.Search for a team that is willing to collaborate with you to discover solutions that fulfill your requirements.

Cultural fit: Consider the team's values and work style to ensure that they align with your company's culture and expectations. It will help ensure a smooth collaboration and a positive outcome for your project.

Portfolio and references: Review the team's past work and ask for references from previous clients. It will give you a sense of the team's capabilities and track record of success.
Read: Managing A Distributed Team in Software Development
By keeping these factors in mind, you can ensure that you select a development team that is trustworthy and capable of delivering the results you need for your business to thrive.
Understanding Your Team Needs
It's crucial to comprehend your team's requirements when seeking to recruit a development team:
What are the requirements of my project?
It's essential to have a clear understanding of the features and functionality that your project needs to have to be successful. It will help you find a development team that has the skills and expertise to deliver on those requirements.
What are the goals for my project?
It would help if you had a clear idea of what you hope to achieve with your project. It could be anything from increasing revenue to improving customer satisfaction. Knowing your goals will help you find a development team that can help you achieve them.
Read: Distributed Software Development Teams
How does this new product or service fit into our company's strategy, and how will it help us reach our long-term goals? It's essential to understand how your project fits into your company's overall strategy. This will help you ensure that your project is aligned with your long-term goals and that it will help you achieve them.
Read: Project Management Software Development
What challenges do we face as a company that needs solving before we can achieve those goals (and what solutions might be available)? It's important to identify any challenges that your company is facing that may impact the success of your project. It will help you find a development team that can help you overcome those challenges and find solutions that work for your business.
Read: Securing Rideshare Services App
Once you have an understanding of these things, then you can start thinking about what success metrics would be appropriate for measuring whether your product has been successful.
Read: Cloud Application Development
By dedicating sufficient time and effort to comprehend your company's needs and objectives, you can increase your chances of finding a development team that is the perfect fit for your project and business, which in turn can lead to a more successful outcome.
Where to Find Reliable Development Teams
There are several steps you can take to locate a reliable development team with all the required skills.
Use a development team directory
This is an excellent place to start your search for developers. These directories will allow you to look up companies based on their location, ratings, or cost.
Read: Benefits of POS Software Development
You can also browse through profiles of potential candidates and see if they have experience with similar projects as yours. Once you've found some promising candidates, use the other methods below before making any decisions!
Ask your network
Your friends may be able to recommend who they've worked with before or know someone who did great work at another company in their industry sector etc., so don't hesitate to ask around! It never hurts to ask questions like "Hey do u know anyone good?"and if nothing else comes out of that conversation then at least there's one more friend added to our list :)
Read: What is Network Analysis
Ask references
Many companies will provide references upon request (including ours!), so don't hesitate to reach out because this could save both time & money down the road.
However, all these actions take a lot of time and can still turn out to be ineffective. If you don't want to spend a lot of time looking and researching, you can trust the innovative service Gettrusted, which helps you find the most reliable developers.
Since the first contact
They provide technical and project management support for you. By using a service like GetTrusted, you can save time and effort while still finding the best developers for your project.
This allows you to focus on other important aspects of your business while leaving the development work in the hands of trusted professionals.
Conclusion
Discovering the right development team involves considering many factors. It's not just about finding a team that can deliver excellent work, but also one that comprehends your business and objectives, allowing them to create something genuinely distinctive.
By collaborating with a team that shares your vision, you can achieve outstanding results that meet your needs and exceed your expectations.
Posted by
Mahipal Nehra
|
Posted at 16 Jun, 2023
Web