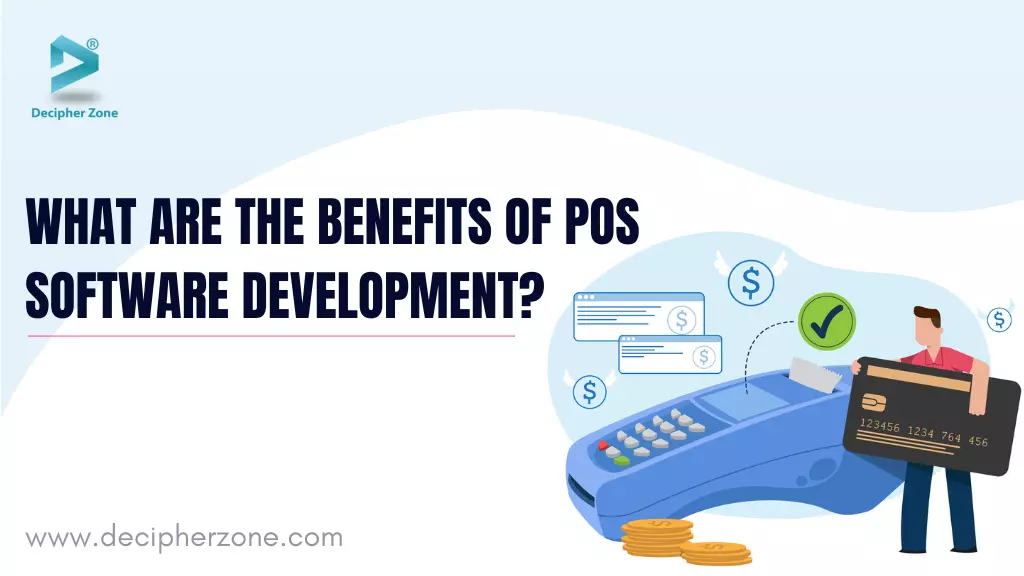 What are the Benefits of POS Software Development?
What are the Benefits of POS Software Development? With everyone entering the digital world via different platforms and mediums people are leaving behind the conventional way of doing things and have opted for fast, efficient, and cost-effective methods. And to this, the technology and IT industry has catered to its best and continues doing so.
And one such thing is POS Software Development. It is the current need for every business to increase its growth and revenue alongside streamlined business processes.
According to the reports from Statista, the global POS software market is estimated to reach $42.5 billion by 2027, which increased to 3 times more as of 2018, showing signs of exponential growth in the upcoming years.
So, if you are interested in POS Software development, this is the right place for you! And without any delay let's get started.
What is POS Software Development?
It is also known as the Point Of Sale System. POS software is an operating system that helps easily streamline complex business processes. It helps manage store operations like accepting payments, tracking in-store sales, and several other tasks.
Read: Restaurant POS System
In addition, it is a full-fledged solution that helps you manage a physical store with ease alongside facilitating other essential tools like inventory management, sales reporting, and others.
Read: Transportation and Logistics Software Development
Some of the common examples of POS systems are Squareup, Shopify POS, Quickbooks POS, and LightSpeed.
Types Of POS Systems
Now that you know what POS Software is, let us also help you understand the different types of POS Systems.
Read: Fashion and Luxury Software Solutions
The different types of POS systems are -
1. Mobile Point Of Sales (mPOS)
2. Cloud-Based Point Of Sales (Cloud POS)
3. Terminal POS
Mobile Point Of Sales (mPOS)
It is a dedicated wireless device like smartphones and gadgets that helps in collecting cash wirelessly, making it easy for businesses to accept transactions on the go.
Its primary components are a barcode scanner and card reader and also helps in managing inventories with ease, sales monitoring, and several other business functions.
Cloud-Based Point Of Sales (Cloud POS)
It is a web-based POS system that runs on a cloud-based system that helps in processing payments through the internet. This type of POS system facilitates a business by enabling them to access the data anytime and anywhere.
Terminal POS
It is another type of POS system that helps businesses maintain and manage their in-store services with ease. It is highly used in grocery stores, restaurants, and several other similar businesses. In addition, it is also a cost-effective and efficient system for a business.
Now that you are familiar with what a POS system is and its different types, let us now move ahead and discuss the benefits of POS Software development.
Benefits of POS Software Development
The benefits of POS Software Development are as follows -
It helps in processing payments easily and quickly as compared to the payments that were done earlier before the advent of POS systems.

It helps in better invoicing and enables you to manage them and distinguish between them easily.

It also helps in securing the company's data with ease alongside providing access to only authorized users, which results in reducing the risks of intrusion.

It also acts as a marketing tool for your business by allowing you to promote special discounts and offers along with their duration seamlessly.

It helps you provide enhanced services to your customers alongside increased brand visibility and brand reputation.

In addition, it also helps in providing simplified business operations and optimizes the workflow which helps in increasing the productivity of the employees and the profitability of your business.
Read: Develop A Delivery Services App for Your Business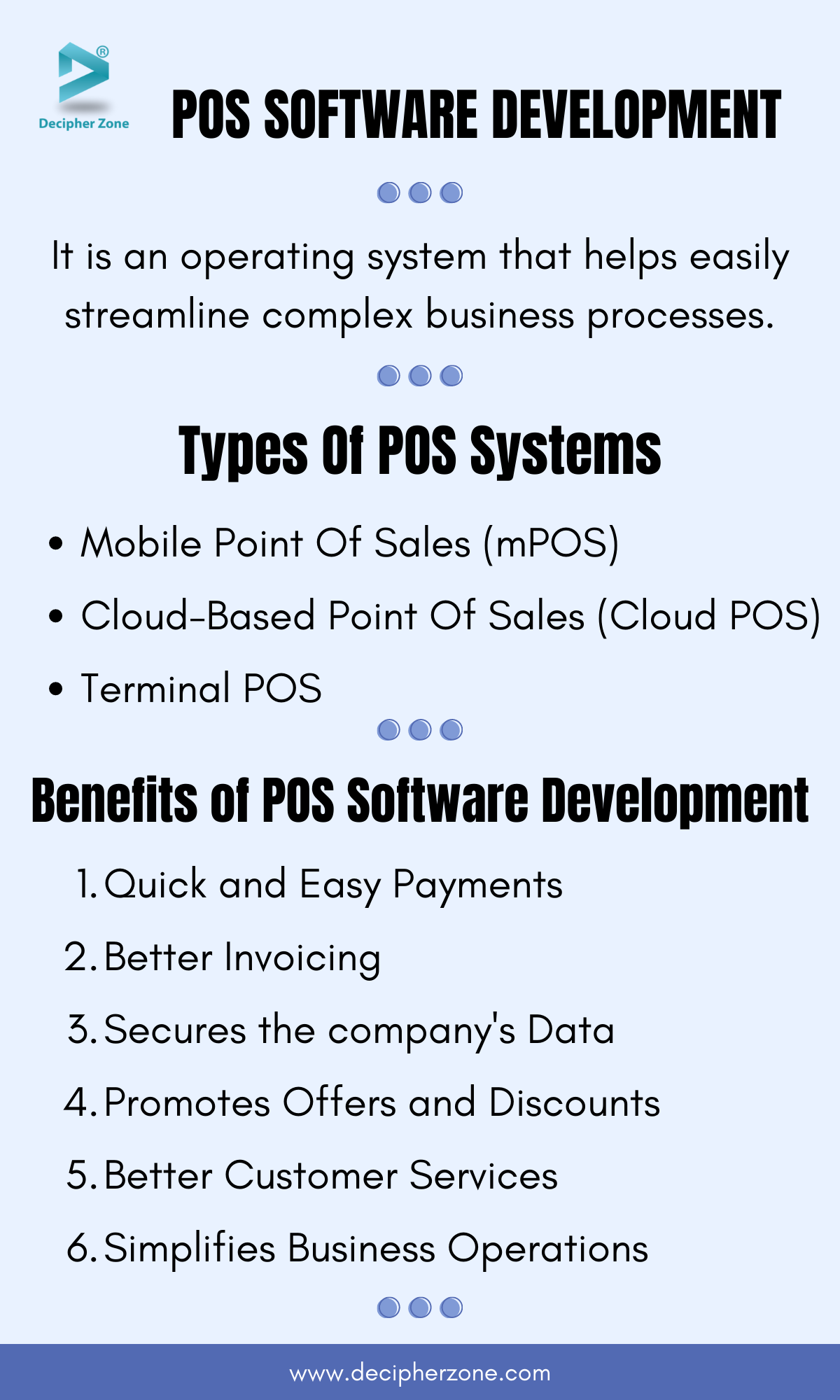 Essential Features of A POS Software
Some of the essential features that you can consider integrating into POS Software development are as follows -
Analytics and Reporting

Centralized Inventory Management

Employee Management

Mobile Checkout

Receipts

Referral Programs
Analytics and Reporting
Doing tasks manually might be monotonous especially when you are planning to create a report on every aspect of your business and integrating this feature helps in creating a detailed analysis of your business performance on several parameters, which in turn helps in improving the business services.
Centralized Inventory Management
This feature helps in managing the inventory in real-time and also helps in checking the quantities, which in turn helps in maintaining the stock.
CRM (Customer Relationship Management)
It helps in managing relationships with your customers, which in turn helps in improving the customer experience, thus boosting positive feedback for your business.
Employee Management
Helps in managing the employees, their payroll, shifts, leaves, and others.
Mobile Checkout
This feature helps the customers to checkout with ease, without having to stand in a queue and wait for their turn at the checkout counter.
Receipts
To provide the customers with proof of purchase and also help you to process returns and exchanges with ease.
Referral Programs
This feature helps in enhancing brand awareness alongside providing customized offers to customers, which will help in customer retention.
How much does it cost to develop POS software?
The cost of POS Software development may vary according to the developer's locations and hourly charges. However, to give it a number, it might start from as low as $30,000 and might rise to $2,00,000 depending on your business requirements and several other factors like the design, the technology stack, the number of features and their complexity, security add-ons, and several others.
Read: eCommerce Platform Development Cost
Wrapping It Up
The POS Software Development market is growing at a fast pace. And with needs and demands changing with time, it is one of the most considered approaches for a business to accelerate its growth and revenue.
So, if you are interested in POS software development for your business then, now is the time.
Connect with us or hire a developer and get the best solutions for your business that are future-proof, flexible, scalable, and effective.
FAQs: POS Software Development
What are some of the industries that use POS systems?
Consumer Services, Hospitality, and Retail are some of the top industries that use POS systems.
What are the components of an entire POS system?
The components required for a POS system are as follows -
Point Of Sale Software

Cash Drawer

Receipt Printer

Card Reader

Barcode Scanner, and

Associate Display.
Posted by
Mahipal Nehra
|
Posted at 01 Jun, 2023
Web