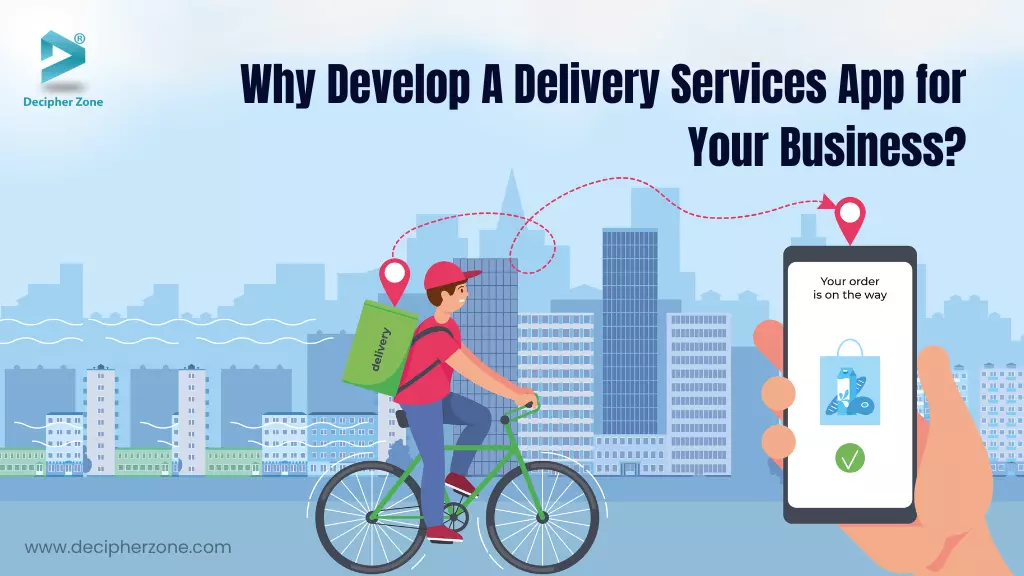 Why Develop A Delivery Services App for Your Business?
Why Develop A Delivery Services App for Your Business? Digitalization has helped businesses extend their services to their customers via mobile apps and software. And the products and services must reach the respective customers easily and hassle-free.
Be it an e-commerce business, online food ordering, or any other business, every business requires delivery services at some point.
According to the reports from Verified Market Research, the delivery management software market is projected to reach $3,729.46 million by 2028 at a CAGR of 10.82% from 2021 to 2028.
This statistic implies that if you are into any online business and looking for a delivery services app or software, then this is the right time to stop and think about investing in software development.
So, without further ado, let us fill you up with the essential aspects of delivery management software.
What is A Delivery Services App?
A delivery service application is a streamlined way that helps in automating the delivery processes and other tasks related to it.
It helps in connecting businesses with delivery service providers, which helps in delivering the services and products delivered to the requested location with ease.
It has three primary components i.e. the user application, the delivery personnel panel, and the admin panel.
Read: Restaurant POS System
In addition, there are different types of delivery apps that businesses can consider. And they are -
E2P (Enterprise to Person) or B2C (Business to Consumer)

E2E (Enterprise to Enterprise) or B2B (Business to Business)

C2C (Consumer to Consumer) or P2P (Person to Person)
Furthermore, some of the use cases where delivery services apps and software can be beneficial are -
On-demand gifts and flower delivery app

On-demand courier delivery app

On-demand grocery apps, and others.
Read: Web App Development Ideas for Startups
How will a Delivery Services App benefit your business
Delivery services app caters to innumerable benefits, that not only help the business by automating and taking over the monotonous job but also facilitate the customers to order anything from anywhere to their doorstep.
Read: Car Wash App Development
Be it an online shopping store, or a food ordering business, a delivery services app, fits perfectly into these businesses like the last piece of the puzzle.
Read: On-demand Medicine Delivery App
The benefits of delivery services app development are -
Time and Cost Efficient -
Time and money are an integral part of a business. And developing an on-demand delivery services app helps in saving time and money by making the services quick and reducing labor charges and other operational costs. It also aids the users/customers by providing quick on-demand services at affordable rates which helps in increasing the user base for your business.
Convenient -
It makes the business more efficient and convenient for both the business and its customers. It provides instant access to the services alongside real-time tracking and making payments with ease.
Transparent -
Transparency is equal to building trust with your customers. Now talking about how developing a delivery services app helps in building transparency with your customers. The answer is integrated feedback systems, which enable your business to enhance and provide better services along with satisfied customers.
Increased Reach -
Everyone is on the internet nowadays which means developing a delivery software or an application will widen your target market. It in turn also facilitates your business with increased revenue and opens up new growth opportunities.
Personalized Approach -
It also helps you to provide a personalized approach to your customers by offering customized rewards, notifications, loyalty points, and referral programs. Bonus points that it helps in customer retention, and is a great marketing tool for your business.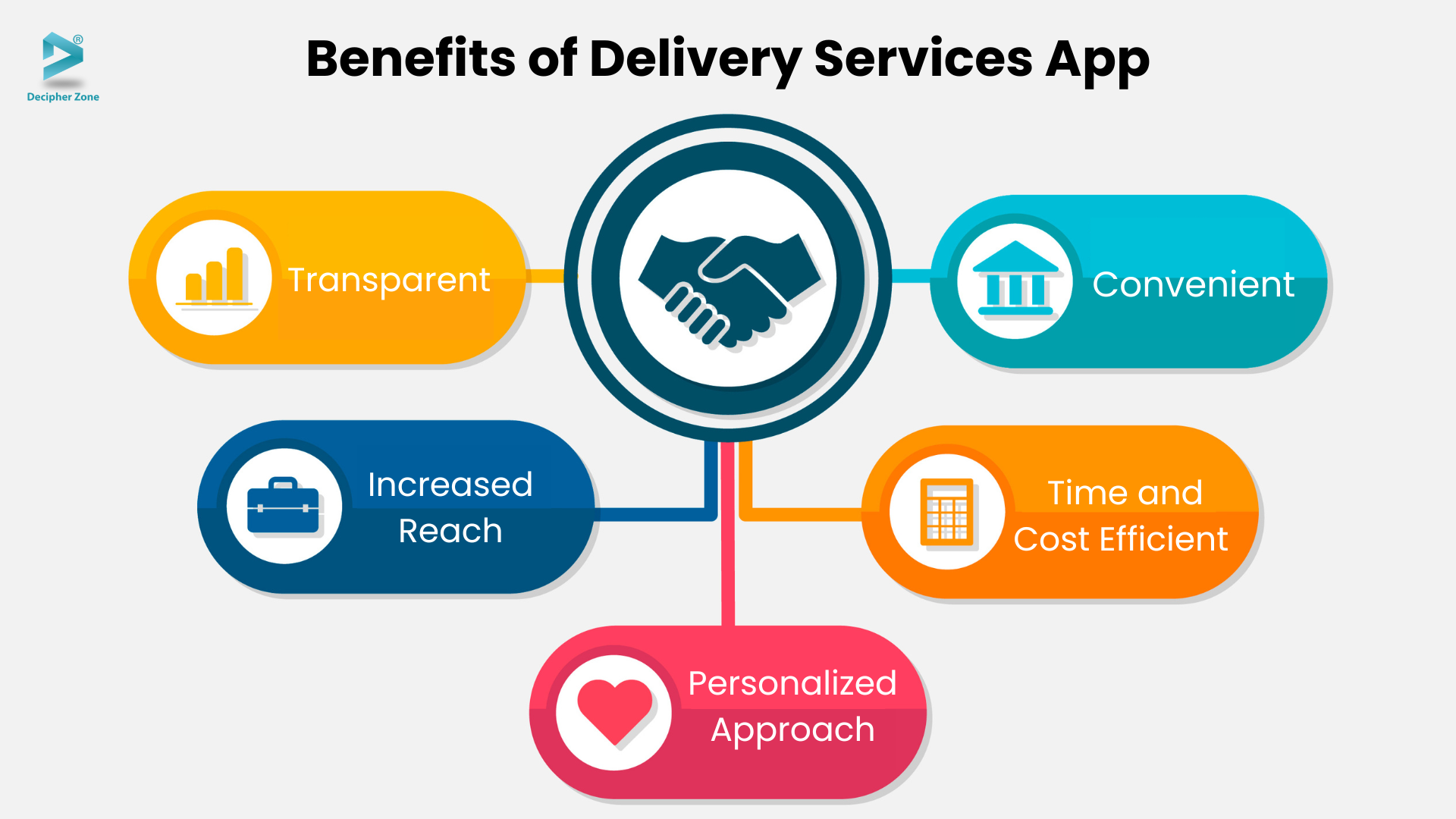 Features of A Delivery Services App
Some of the features of a delivery services app are -
For the User Application -
Easy Signup and Login to simplify the onboarding process and you can also integrate social media signup and logic features to make it more convenient.

Profile management to access their personal information like saved addresses, payment options, and other important information.

Order history and other related options enable the users to browse every detail of the orders they have made and other necessary details. You can also integrate an order scheduling option to make the best use of the software/application.

Multiple payment options like debit/credit cards, net banking, wallets, cash, and several others.

Geolocation feature to enable live tracking of the delivery executive or track the real-time location of the orders.

In-app messaging to enable the users to communicate with the delivery partners, whenever needed.

Notifications to know about the latest updates, reminders, offers, coupons, and other statuses regarding the orders.

Ratings and reviews to provide feedback on the service or delivery person to build trust on the platform.
For the Delivery Personnel Panel -
Easy signup and login alongside uploading the necessary details and getting them verified to proceed with the application.

Personal account manager to update the details and profile like email, contact number, and other necessary documents.

Order manager to access the orders like ongoing, past, and scheduled orders, and also to view the accepted, rejected, and completed orders.

In-app messaging or call feature to connect with the users regarding the orders, whenever needed.

GPS location to reach the customer's location with ease.

Transaction manager to access the payments and the mode of collection and also helps the delivery person to calculate their income according to their requirements.
For the Admin Panel -
Login feature to enable the owner/admin/manager to access the application with the right combination of credentials.

Dashboard and analytics to view the overall performance of the application and track every activity in the form of statistics like the number of orders completed/canceled, revenue generated, delivery executives, and other parameters.

User manager to access the number of users and their profiles and other related details like the number of bookings made by a customer, and other aspects.

Delivery person manages to access their profiles, approve/reject a verification request, number of completed/canceled orders, ratings, and many more.

Payment manager to view the transactions collected by various payment modes.

Order management to view the bookings along with the necessary information like the status, customer details, payment mode, etc.

Notification manager to send notifications to the customers and the delivery personnel regarding the offers and other important updates.

Content managers update the content according to their requirements like terms and conditions, FAQs, privacy policies, and others.

Support module to address the queries of the users (both the customers and the delivery executives) when needed.
Some of the advanced features that you can consider integrating are -
Voice Search option

WhatsApp or Chatbot integration

Search Bar/Menu and Filters

Multilingual (if you want to launch your software/application in different locations)

Offline access.
How much does it cost to develop a delivery services application?
In numbers, the cost might start from as low as $20,000 and might reach $2,00,000 and even more based on your business needs.
The cost of developing a delivery services app varies depending on several factors like their requirements, tech stack, location, hourly charges of the development team, third-party and security integrations, design, and many more.
Wrapping It Up
Developing a delivery services app is a win-win solution for both the business and its customers, and the benefits it provides are straightforward.
And if you have reached here, it means that you are pretty much interested in developing such software.
So, why wait?
Connect with us, or hire a developer and get the best future-proof solutions as per your business requirements.
FAQs: Delivery Services App for Your Business
How does the delivery app work?
The user requests a service > the nearby provider receives a request and approves it according to their availability > once the order is confirmed the users receive a confirmation and can track the location of their order > the order is delivered > payment is made or deducted as per the user's preference, thus making it a complete workflow.
What should I develop: A Website, Web Application, or Mobile App?
You can develop whatever you want, but the first thing is your budget, and based on that you can opt-in for any of the options. Meanwhile, to help you with the question the answer is simple - mobile apps can be accessed only on smartphones like Android and iOS devices.
Websites can be accessed on both mobile and desktop using a browser and an active internet connection. On the other hand, Web Apps fulfill the need of both website and mobile apps without any requirement to install them on devices, unlike mobile apps.
Posted by
Mahipal Nehra
|
Posted at 22 May, 2023
Web