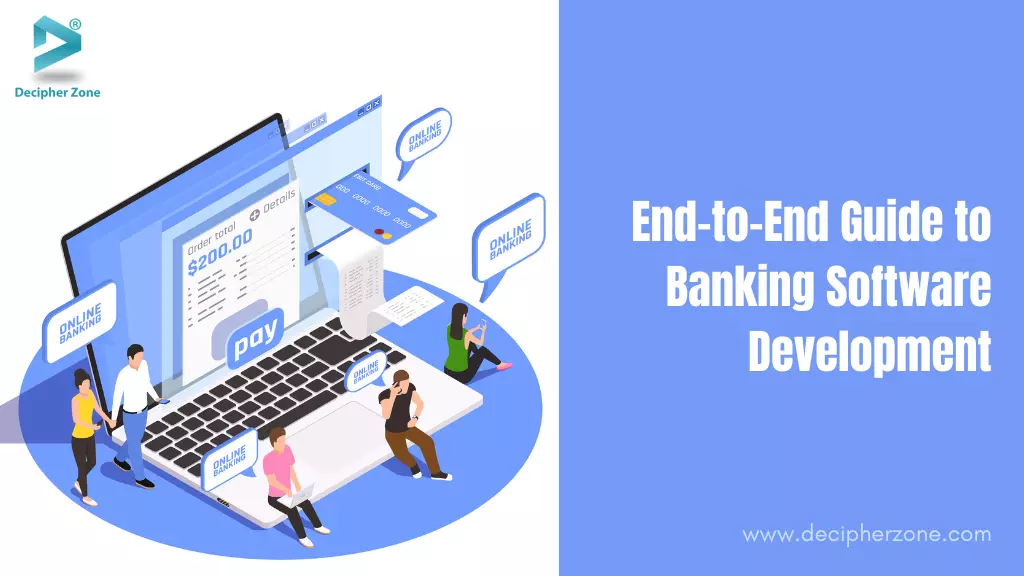 Banking Software Development in 2023
Guide for Banking Software Development in 2023. Banks play an important role in the economy of a nation and provide innumerable benefits for its customers to save and invest funds for their future.
And with the evolution in technology and as per consumer demands, banking software and applications came into existence.
According to the reports from Grand View Research, the core banking software market is forecasted to reach $21.61 billion by 2030 at a CAGR of 9.3% from 2023.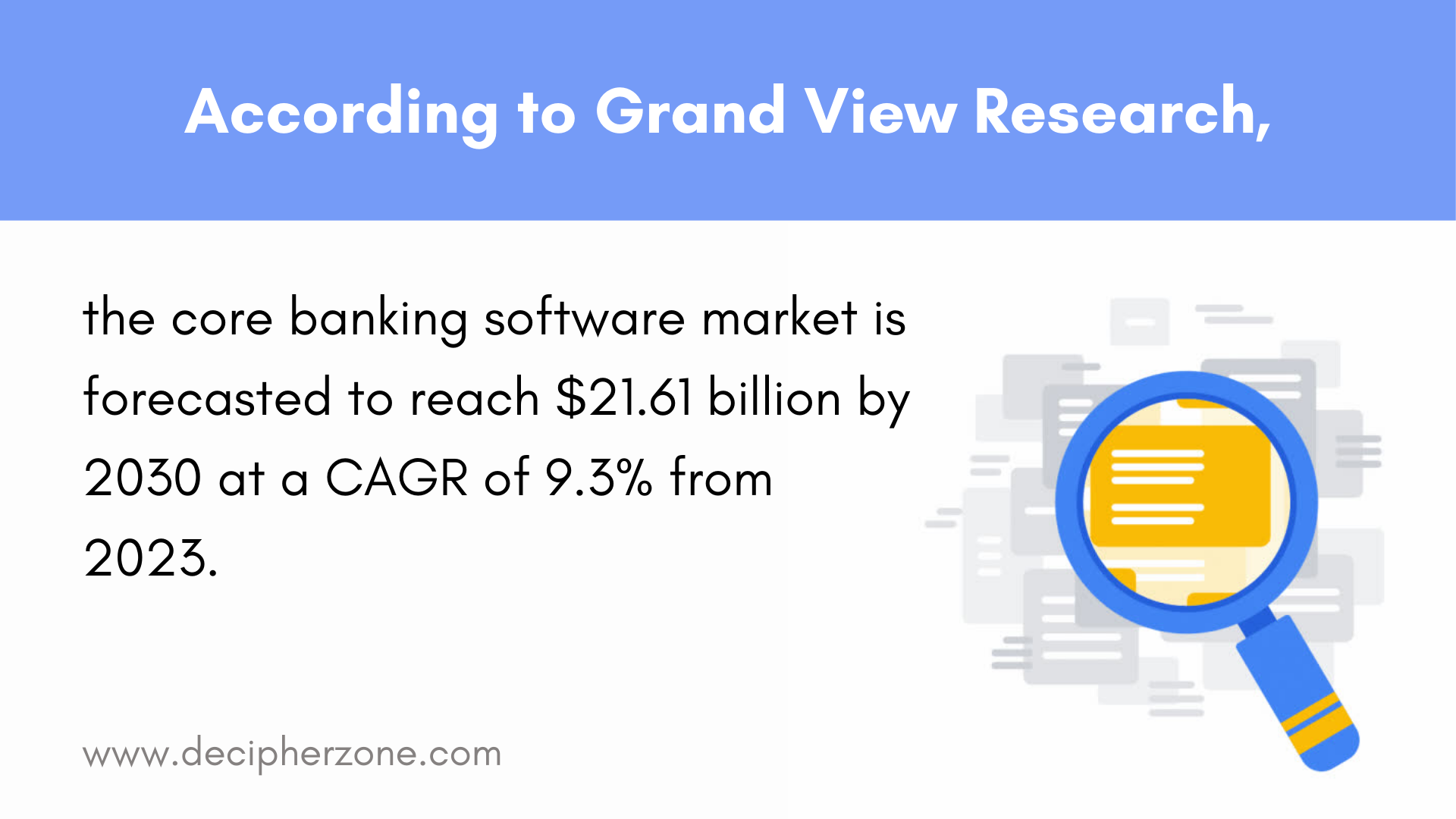 This software not only eases the workflow but also streamlines the banking processes within a few clicks.
And if you are interested in learning more about banking software development solutions for your business, this article is for you.
Banking Software Development in 2023
Banking software is used by banks that help in managing and streamlining the services they provide to their customers with ease. It aims to automate the banking processes alongside providing a satisfactory user experience and increased efficiency for its customers.
Furthermore, this software is developed mainly to fulfill the specific business requirements of the clients with greater security, flexibility, and scalability.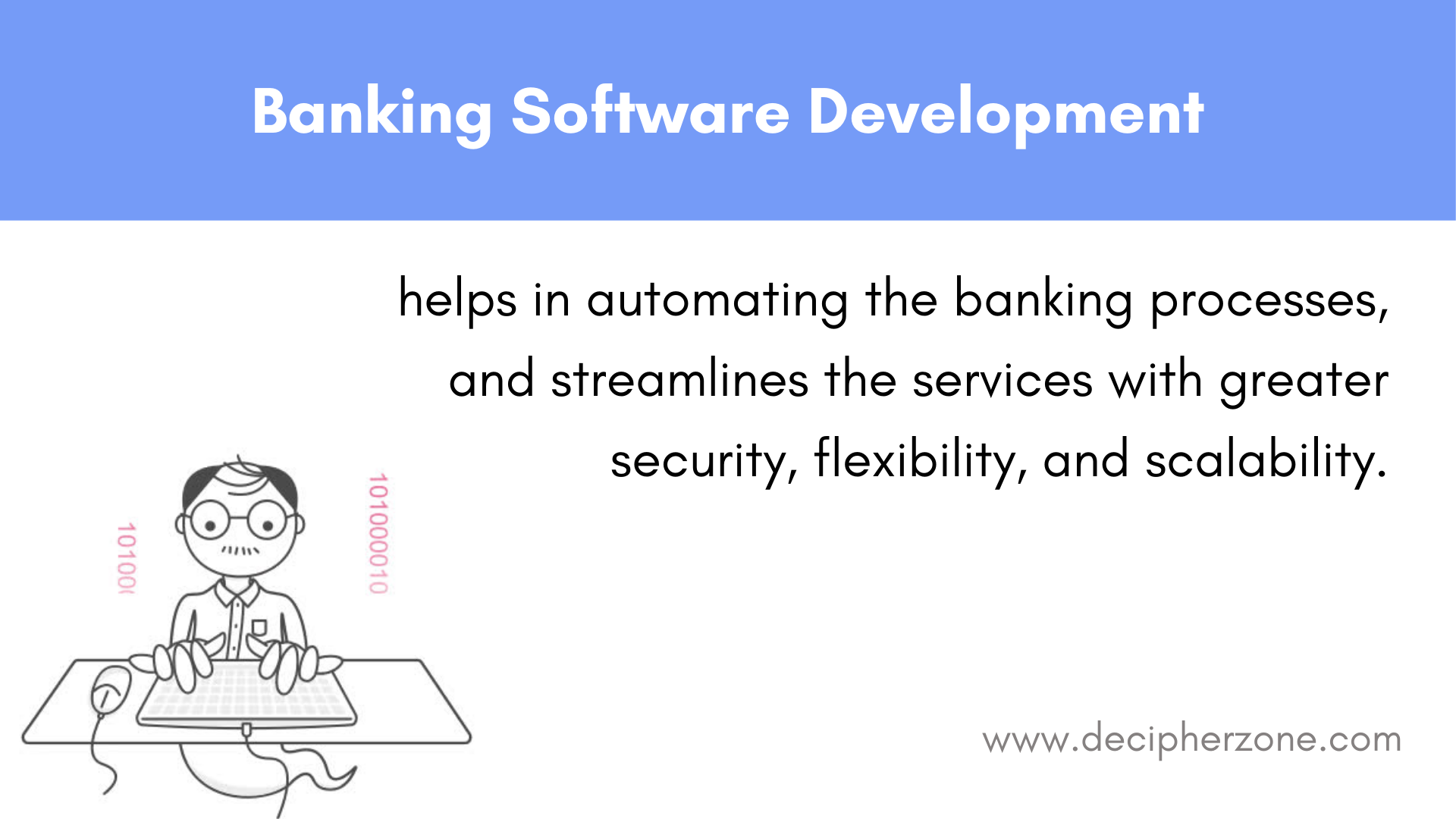 Read: Financial Software Development Cost, Features, and Technologies
Types of Banking Software
As different banks have different banking requirements, there are 8 different types of banking software developed to meet the requirements.
Customer Portal

Document Management System

Facial Recognition Software

Internet Banking

Lending Software

Loyalty Program Management

Payment Software
The different types of banking software are as follows -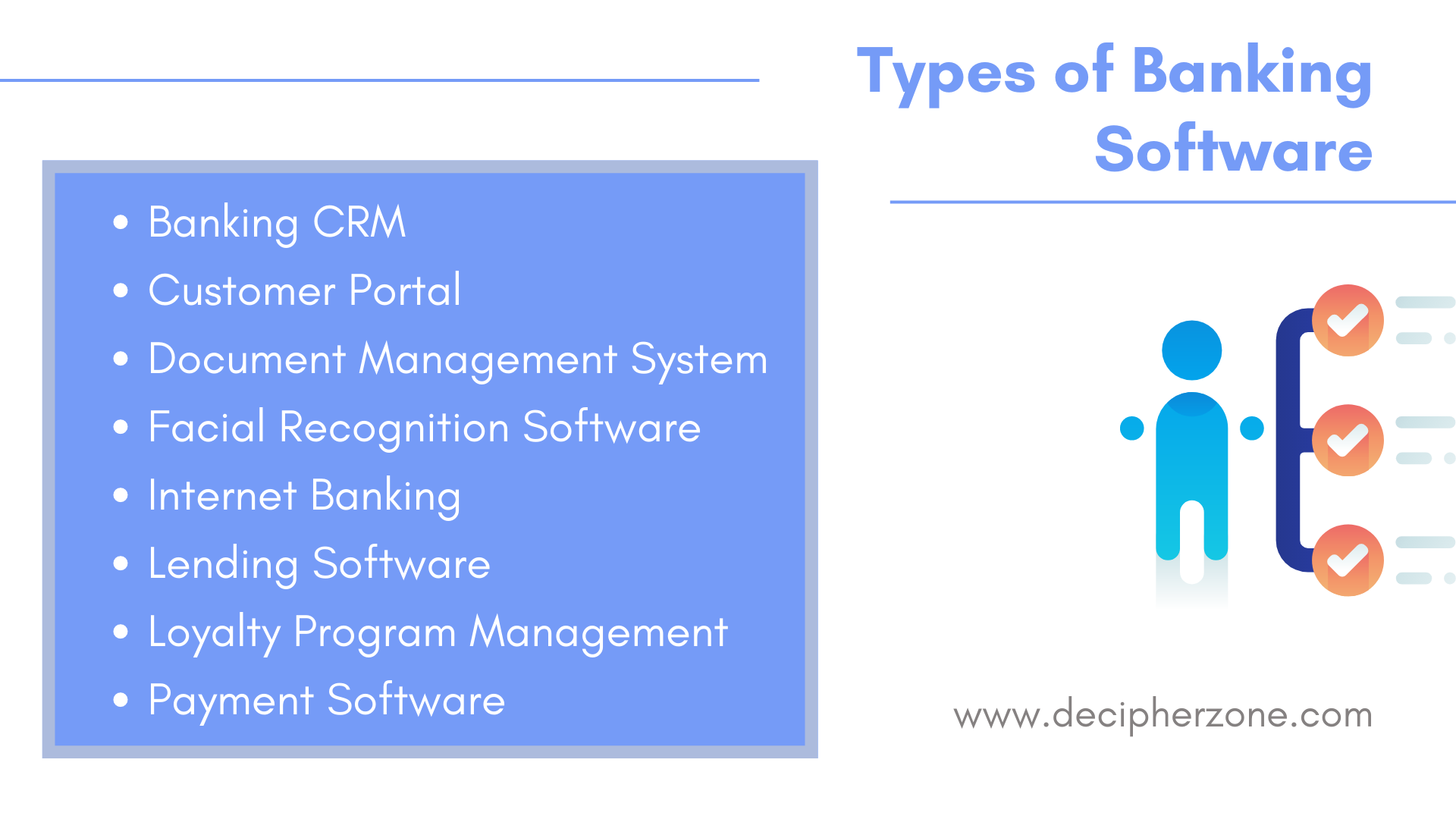 This software helps in enhancing the generation of customer-related data and provides better services to the customers, alongside increased sales and higher user engagement and customer retention.
2. Customer Portal
It helps the banks with seamless communications and helps in maintaining long-term relationships with the customers ensuring personalized and user-friendly experiences.
3. Document Management System
Documentation is an integral part of the banking industry, and this software helps manage all the documents in one place. In addition, it also reduces the paperwork, eliminates errors, and also reduces operational costs.
4. Facial Recognition Software
To enhance security and build trust and credibility with the customers. It also helps eliminate cyber attacks and provides an added layer of security with different authentication models to ensure safety.
5. Internet Banking
It helps banks to provide their customers with 24*7 access to their banking accounts and services online. It also provides its customers with detailed information on their banking accounts like debit/credit cards, bank statements, transferring money, and others.
6. Lending Software
It helps accelerate the loan lending and borrowing process, by providing fast calculations, checking eligibility criteria, costs, and several other important tasks that will help streamline the lending services.
7. Loyalty Program Management
This type of software helps in increasing brand visibility as well as customer engagement by providing customized reward programs to generate and increase the customer base.
8. Payment Software
It helps to manage digital transactions with ease alongside providing real-time speed and security.
Read: Top 10 Latest Banking Trends for 2023
Benefits of Banking Software Development in 2023
Banks are rapidly adapting to developing banking software for easing and providing hassle-free services. Once you decide on what type of software you want to develop, you can move ahead and learn about the benefits of banking software development.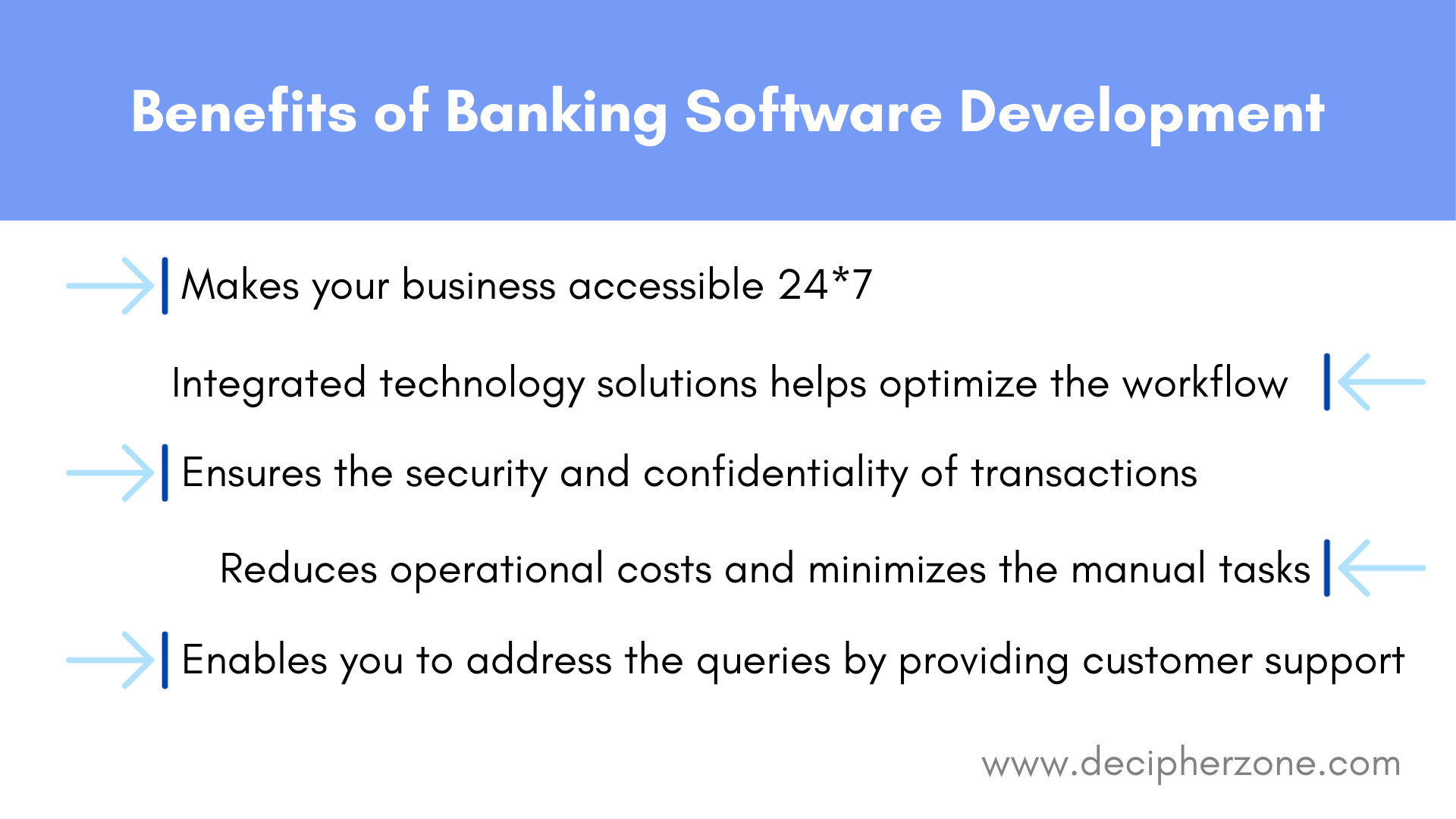 The primary benefit of developing banking software is that it helps in making your services accessible to your customers, anytime, and anywhere.

Integrated technology solutions help in optimizing the workflow and increase the productivity of the employees.

It ensures the security and confidentiality of the transactions and the user details to keep the customer's trust intact.

It also helps in reducing operational costs by automating several tasks.

It helps you provide end-to-end services to your customers and address their queries and concerns whenever required by providing 24*7 customer support.

Furthermore, it helps manage banking operations easily and enhances the efficiency and effectiveness of their operations and services.

Makes transactions faster, easier, and more secure.

It reduces the amount of paperwork and also helps in minimizing manual work which in turn also eliminates the errors and mistakes that might happen while doing the work manually.
Read: Financial Services Software Solutions
Top 10 Features to Integrate into Banking Software in 2023
The 10 common features every banking software should have are -
Analytics and Dashboard

Account Manager

Payments Manager

Customer Relationship Management

Loan Manager

Document Manager

Notifications and Alerts

Debit/Credit Card Manager

QR Code Scanning

P2P Payments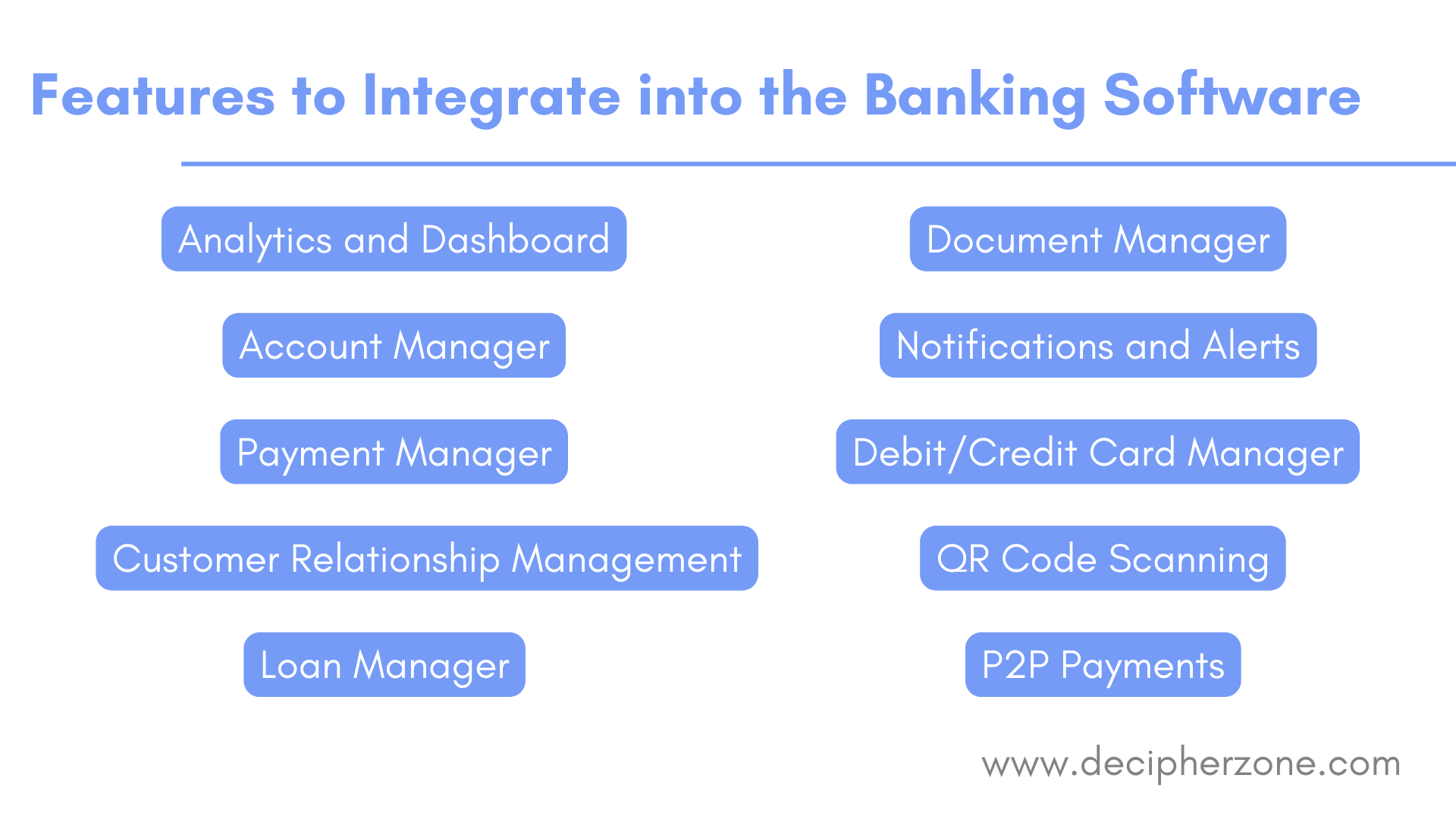 Besides this, some of the advanced features that every banking software should have and that you can consider integrating are as follows
1. Advanced Security and Fraud Alerts
This feature will make every banking process secure at every level for the customers by using sophisticated and encrypted security protocols ensuring Cybersecurity and eliminating threats and risks.
Integrated AI algorithms also help in early fraud detection by analyzing user behavior and usage patterns, and sending alerts accordingly.
2. Easy Calculations
To make the calculations faster alongside helping in calculating the different numbers required in the banking process. Like checking the credit/CIBIL score, interest rate, and others, making it a time-efficient and hassle-free process for the banks and their customers.
3. Chatbots
It helps accelerate the growth of your business by providing personalized customer support to your customers. In addition, it also eliminates the term "waiting in a queue" for real since you can avail of the support services anytime and anywhere on your device.
4. Bill Splitting
It is another essential feature that you can consider integrating into your banking software development. It helps streamline the payment and transaction processes in real-time. For example - when users travel with their friends they might need to split the costs. This feature will be an added benefit alongside helping in customer retention and satisfactory results.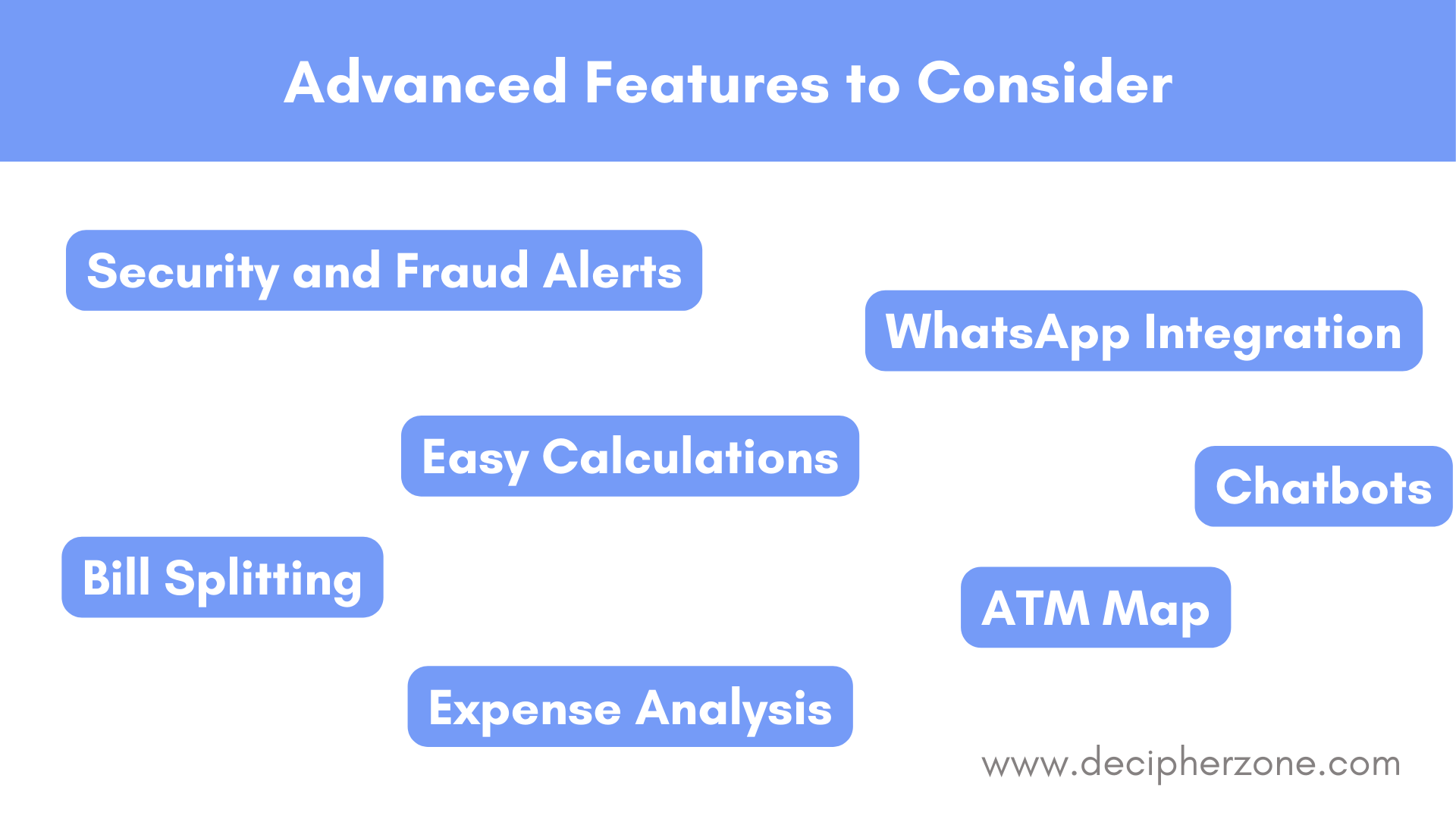 5. ATM Map
This feature helps with ATM navigation to the users, that are available nearby their location, making it easy to locate the operational ATMs with ease.
6. Expense Analysis
It will help the users to analyze their budget, income, expenses, and others which helps them to plan their saving goals and investments accordingly. You can also facilitate this feature with customized charts to easily track and understand their progress.
7. WhatsApp Integration
It is a very important feature that you can integrate, that most businesses ignore, but it is very beneficial. It is a powerful marketing tool as well as helps in customer retention. With this feature, customers can avail of your services via messaging on WhatsApp.
How much does it cost to develop a Banking Software Application in 2023?
The cost of developing banking software application in 2023 might somewhere range between $2,00,000 to $4,00,000 and may even rise depending on several factors like -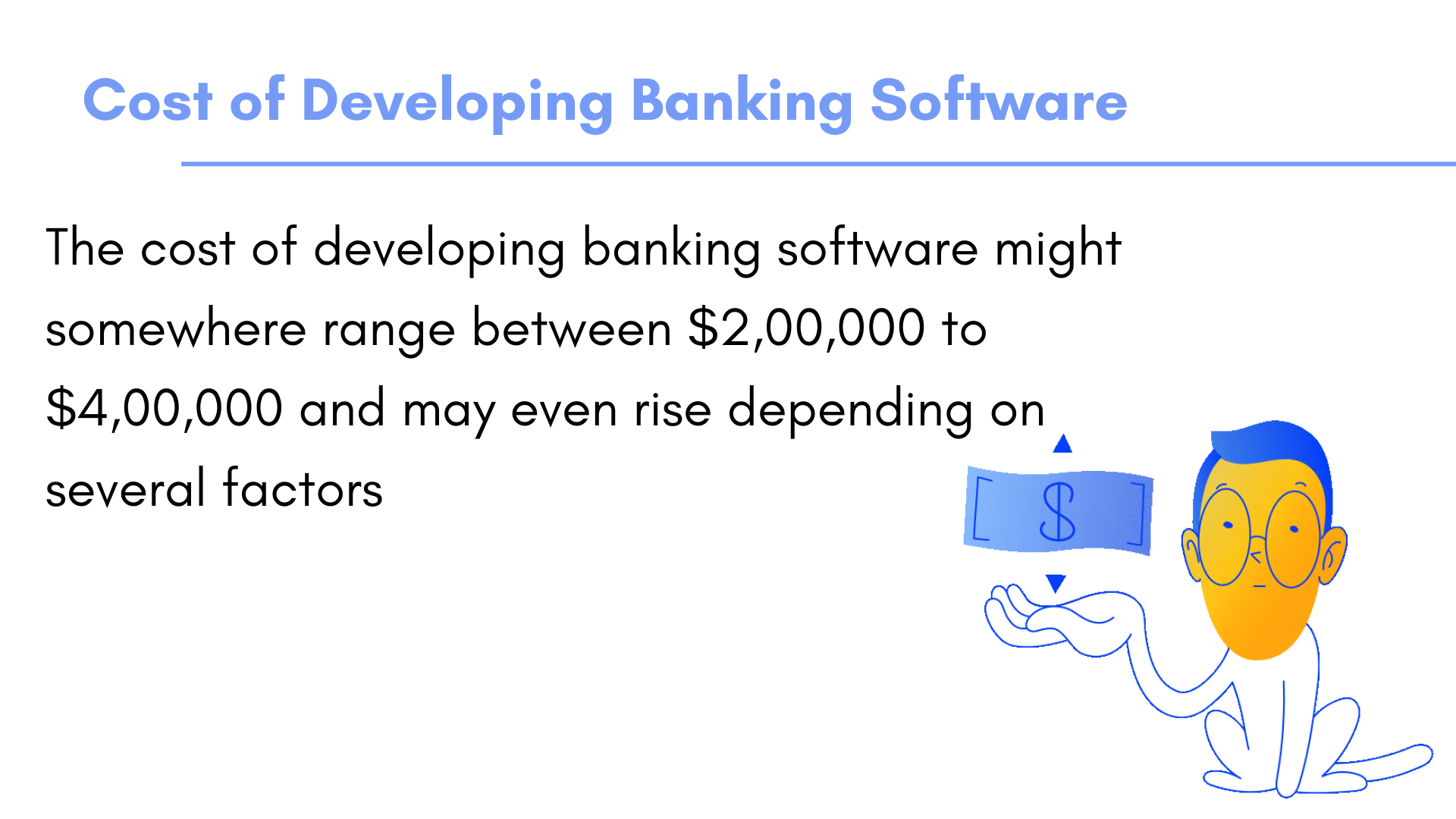 The technology stack that you choose

Hosting and Domain

The Logo and UI Design

Number of developers working on your project along with their location, expertise, and hourly charges

The total number of features and the complexity

Security and third-party integrations, and

Post Launch maintenance and support.
Wrapping It Up
The FinTech sector is one of the fastest-growing industries and banking software development is something that every bank or financial institution should consider for seamless operations.
Developing this type of software will not only accelerate your business growth but will also facilitate satisfied customers ensuring enhanced flexibility, scalability, and security.
So, if you are thinking about developing banking software, hire a developer or connect with us to get the best solutions and gain a competitive edge in the market.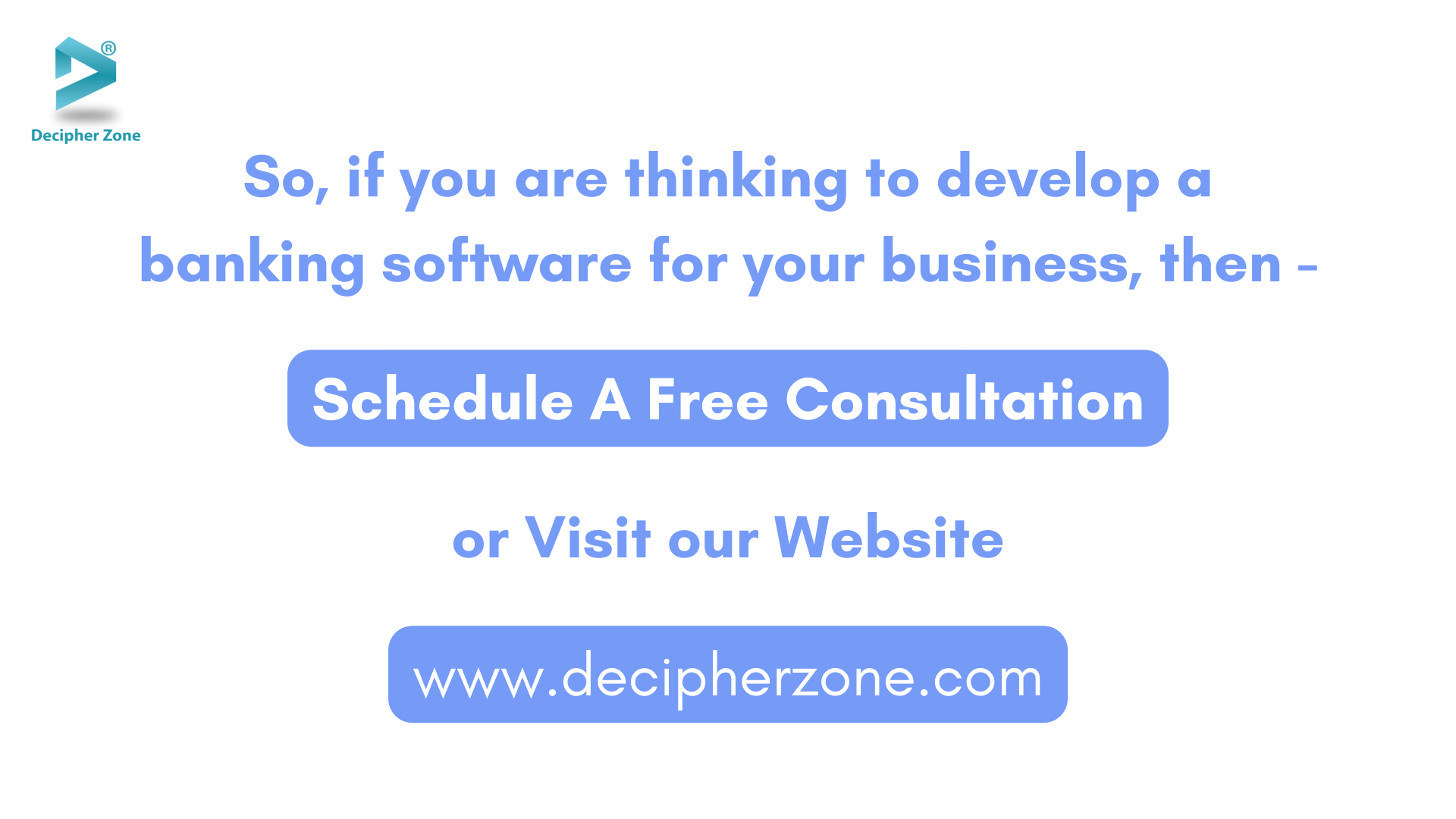 FAQs About Banking Software Development
Is Banking Software and Financial Software the same?
No, because banking is a subset of financial services, and in banking software you get access only to the specific services of a bank. Whereas, financial software helps a business to manage all its financial services.
What is Finacle?
It is a core banking software developed by Infosys that provides banks with a wide range of services and functionalities and can be customized according to the specific requirements of banks.
What are the banks that use Finacle?
Some companies that use Finacle for their banking applications are Axis Bank, HDFC Bank, Federal Bank, ICICI Bank, SBI, and several others.
What is Core Banking?
It is a system that connects different branches of the same bank to streamline the banking processes in real-time like loan eligibility checks, withdrawals and deposits, payments, and other banking functions.
Posted by
Mahipal Nehra
|
Posted at 08 May, 2023
Web