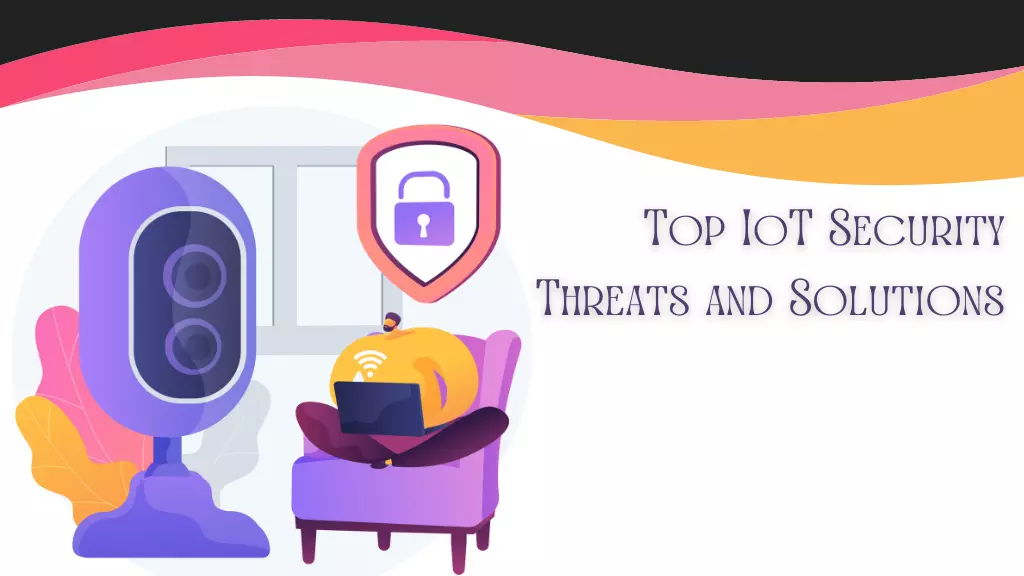 Top 10 IoT Security Threats and Solutions
Top 10 IoT Security Threats and Solutions. Security plays a vital role in the software and IT industry. It ensures that everything is safe, be it source code, credentials, devices, user details, banking information, or any other components.
With IoT being prevalent in every business sector, it is essential to secure devices and data alongside dealing with the challenges with top-notch solutions.
According to Statista, as per the information released, in 2021 the most vulnerable IoT devices were routers. And it is essential to take all the security measures and implement security layers to secure businesses and other essential data.
So, without holding up, let us guide you through the threats and solutions for IoT security.
What is IoT Security?
IoT Security is a cybersecurity strategy that focuses on safeguarding IoT-connected devices and networks like home automation systems, security cameras, and many others against cyberattacks.
It is a common term that covers every element and every aspect of IoT with various processes, methods,tools and technologies.
Read: IoT Trends
It helps in ensuring the availability, confidentiality, and integrity of the IoT ecosystem. Implementing IoT security into the devices is critical as it is the most vulnerable gateway into other parts of the system for cyber criminals.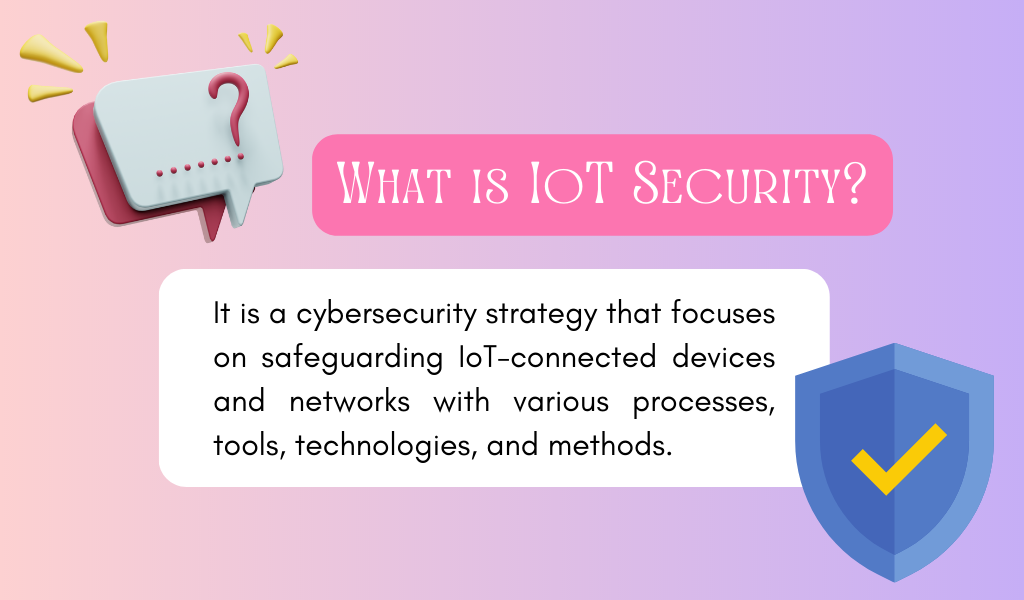 Top 10 Threats and Solutions for IoT Security
Here is the list of top 10 IoT threats, and we will also list out the respective solutions to ensure IoT security.
Botnet attacks

Data Privacy

Insecure Authorization and Authentication

Lack of Compliance

Lack of Physical Security

Lack of Visibility

Limited Security Integration

No Updates

Poor Device Management

Weak Passwords
To secure and protect IoT-connected devices and systems from all possible cyber attacks and threats here are some of the solutions.
Read: Internet of Things Architecture
Botnet attacks
It is a collection of malware-infected machines that cybercriminals use to send thousands of requests every second. And IoT-connected devices are highly vulnerable to these attacks as the devices have no security updates. These botnets are highly used for DDoS (distributed denial-of-service) attacks.
Read: IoT on Web Development
The solution is -
Admins can keep an inventory of each device.

Follow the basic cybersecurity measures like authentication.

Monitor the IoT networks constantly to detect the botnets.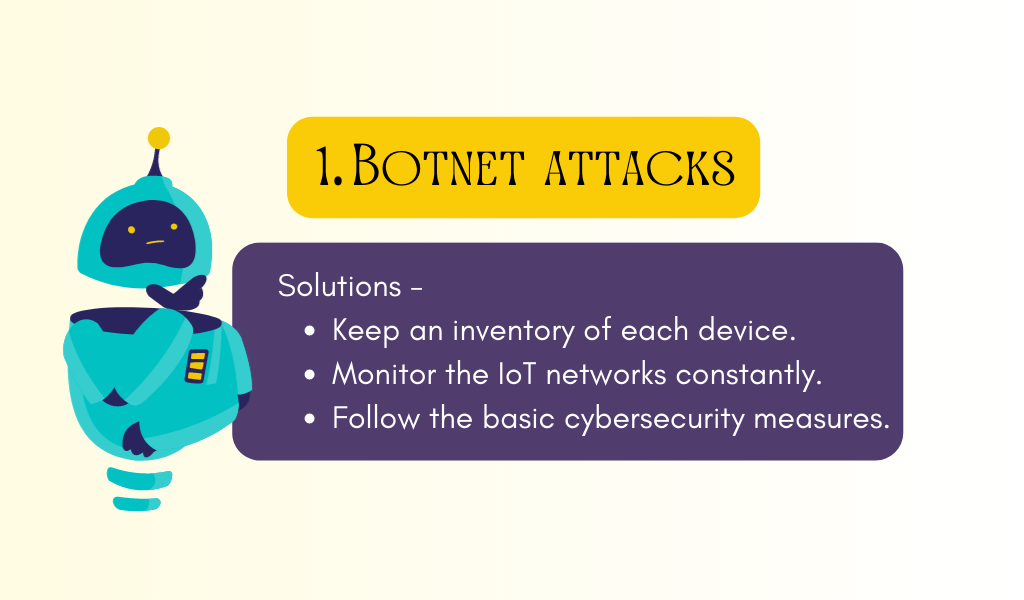 Data Privacy
Data Privacy is a serious issue in the IT industry. Whenever a smart device collects data and transfers it to a relevant location, it puts the data at risk.
Read: NodeJS For IoT Applications
For example - Hackers might get access to the data of a healthcare institution and might either sell it or use it to threaten the owner or the patients.
The solution is -
Integrate data classification systems, data encryption, and privacy measures that allow only authorized personnel to access it.

Implement cryptography to address data protection challenges.

Enable access control like role-based controls, multi-factor authentication, and others.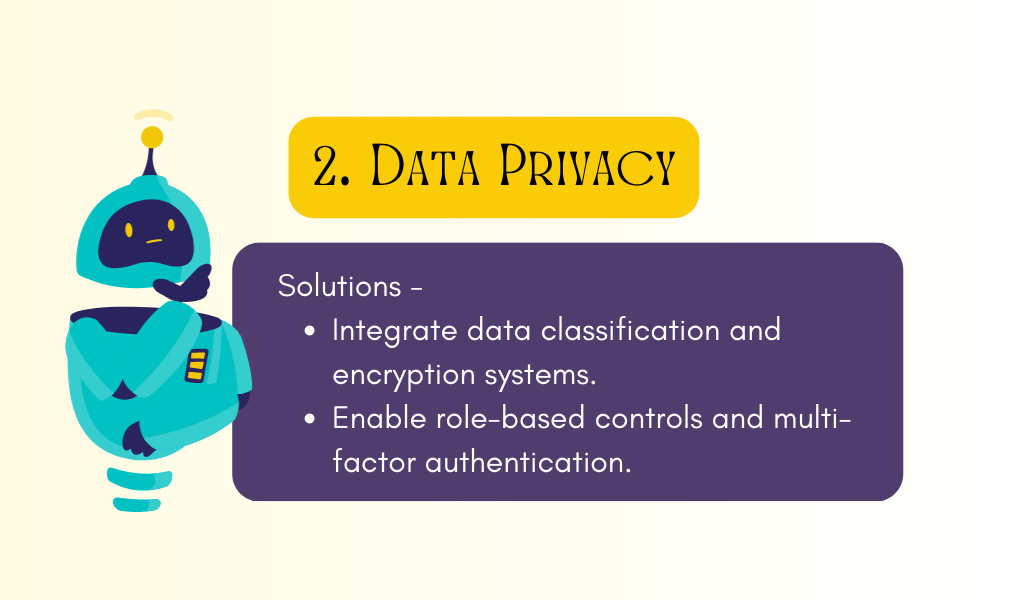 Insecure Authorization and Authentication
It is another major IoT security threat, and it is essential to authorize and authenticate the device's security. The device is one of the common entry points for hackers and cybercriminals, making them vulnerable to cyber-attacks.
The solution -
Enable two-factor authentication alongside additional biometric authentication.

Emphasize using strong passwords at every level.

Enable PAM (Privileged Access Management), PKI (Public Key Infrastructure), or Digital Certificates to ensure device security and eliminate unauthorized access.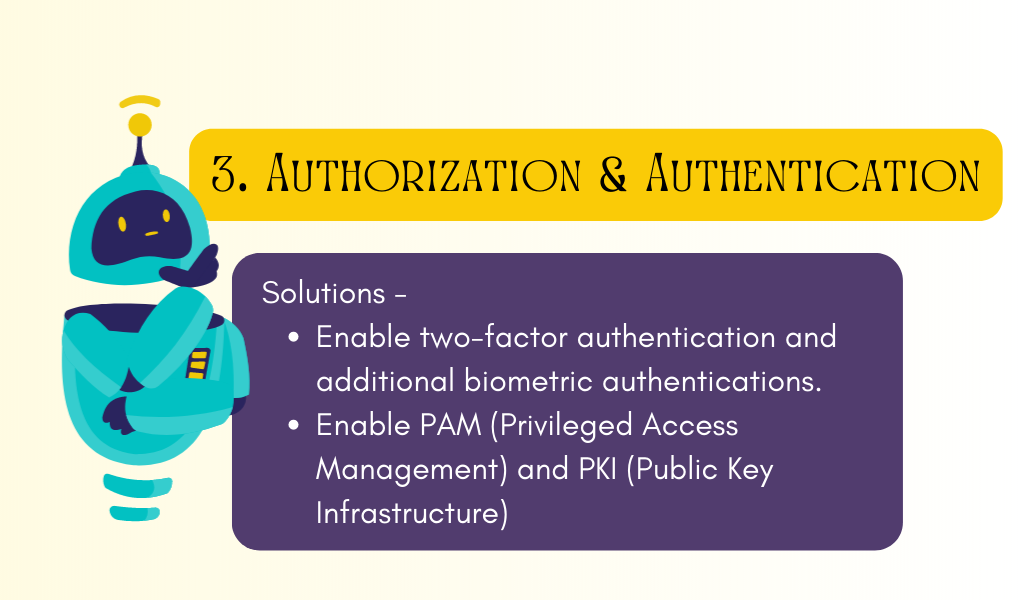 Lack of Compliance
With rapidly evolving technologies, a lack of compliance is an essential concern in IoT security. While manufacturing IoT devices it is crucial to meet specific compliance criteria like manufacturing compliance, operational compliance, and security compliance. If not followed these compliance criteria, it might put the entire IoT network at risk.
Here are some solutions that can help you reduce the risks -
Companies should thoroughly investigate IoT devices to check for compliance standards.

The data flow should be encrypted and made compulsory for IoT devices.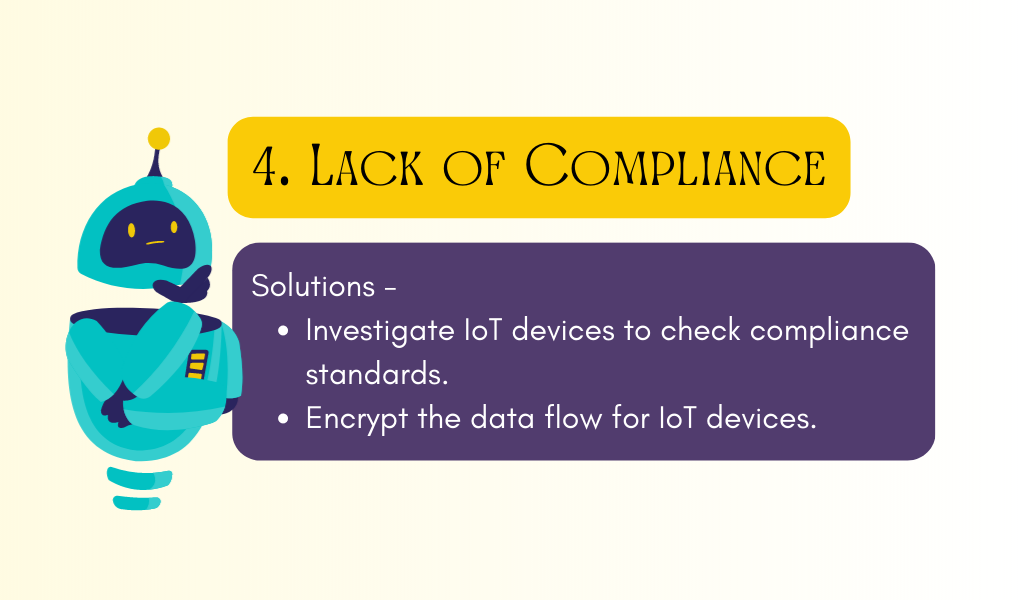 Lack of Physical Security
IoT devices are most prone to security threats, enabling hackers to steal the devices and use them to break into the network. It might also lead to the leak of sensitive information, system downtime, and even financial losses.
The solution -
To deploy only authorized devices and enable only authorized persons to access the devices.

Tamper-evident packaging is another solution that helps to know if the device was being tampered with or opened.

Constant security checkups and firmware updates, to ensure the device is safe.
Lack of Visibility
There are devices that are often deployed without any registered records, which might make them vulnerable to cyber-attacks. And it becomes more challenging for the IT teams to track the devices, making it impossible to detect and prevent any suspicious activity.
The solutions -
Regularly updating the software to ensure the latest security features on the devices alongside providing the ability to respond to new security threats.

Incorporating network segmentation that helps in controlling the flow alongside providing separate networks for IoT devices.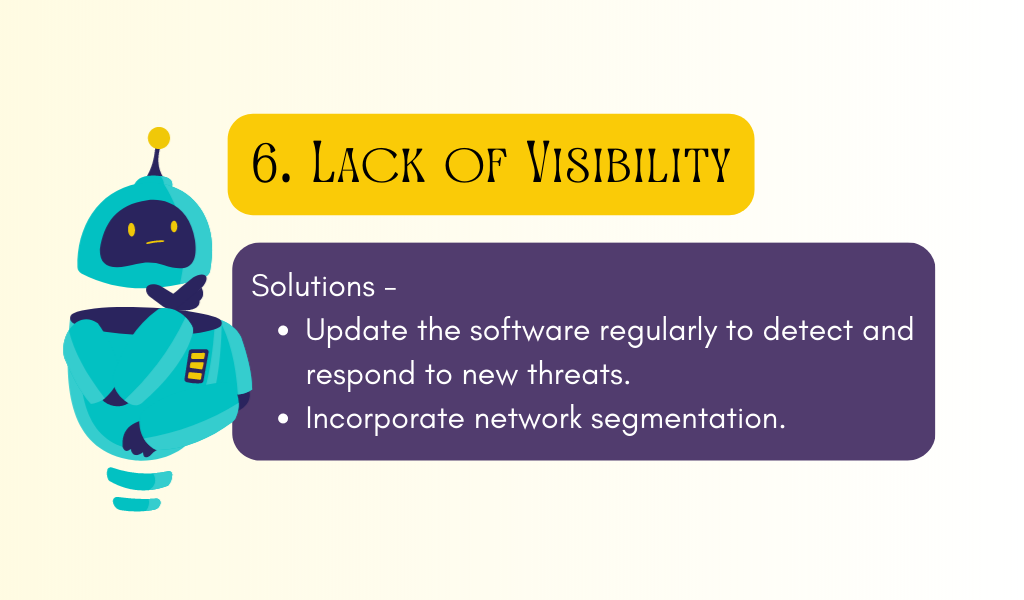 Limited Security Integration
Data can be of different types and among all personal information can be very sensitive. If hackers get access to this type of data, it might even put people's lives at stake.
The solution-
Implementing technologies like Anonymization and Pseudonymization.

Conduct regular security audits and device monitoring sessions to ensure IoT security.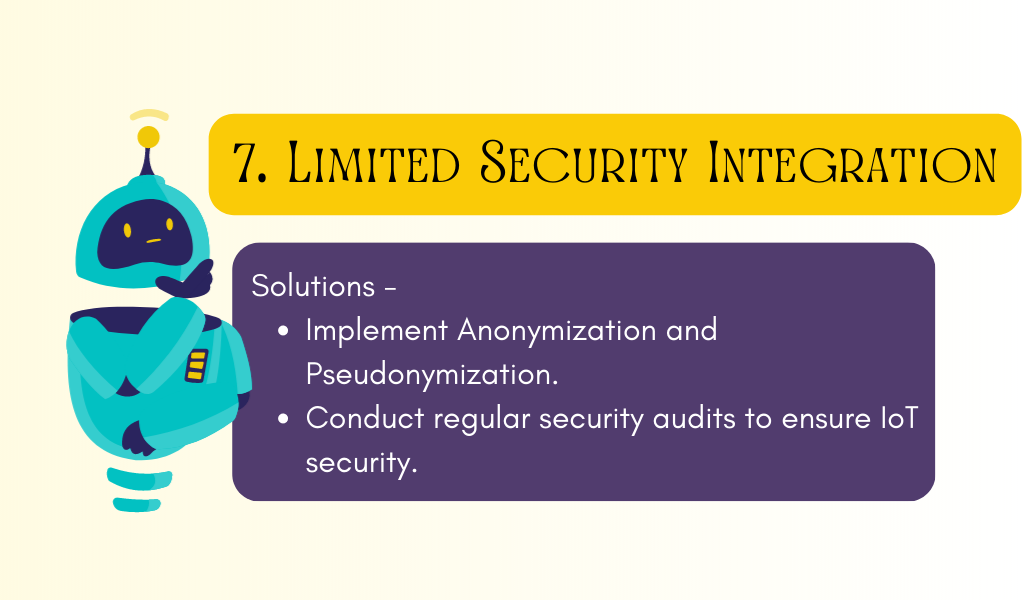 No Updates
Outdated firmware or the lack of regular security updates and patches leads to threats followed by malicious attacks that might lead to huge losses. Insecure libraries, third-party integrations, and many other software components also open doors to unwanted cyber-attacks.
Read: Cybersecurity Trends
The solution -
Scanning the implementations and components including the software and hardware will help in preventing cyber attacks.

Frequent and secure updates through encrypted channels along with the verification of their source.

Use a secure gateway to monitor and control communication to ensure IoT security.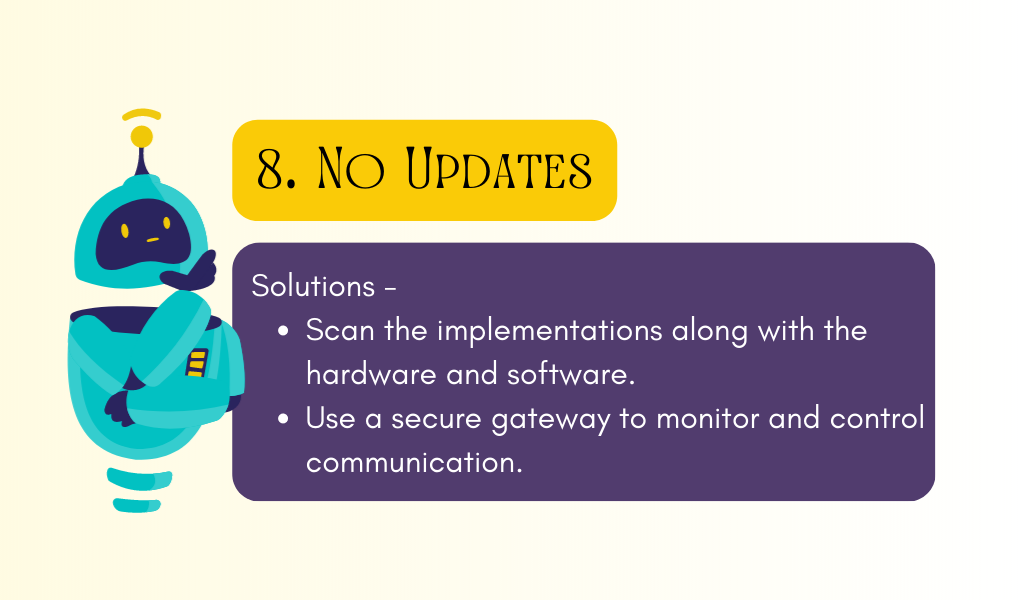 Poor Device Management
It is an overlooked aspect of IoT security. There are different sectors that host numerous devices in a single network with different firmware and security requirements. And these devices make it possible for hackers to trespass and attack the network.
The solution -
The devices should be upgraded and should micromanage the network.

Constant check on the vulnerabilities and updates across the IoT ecosystem.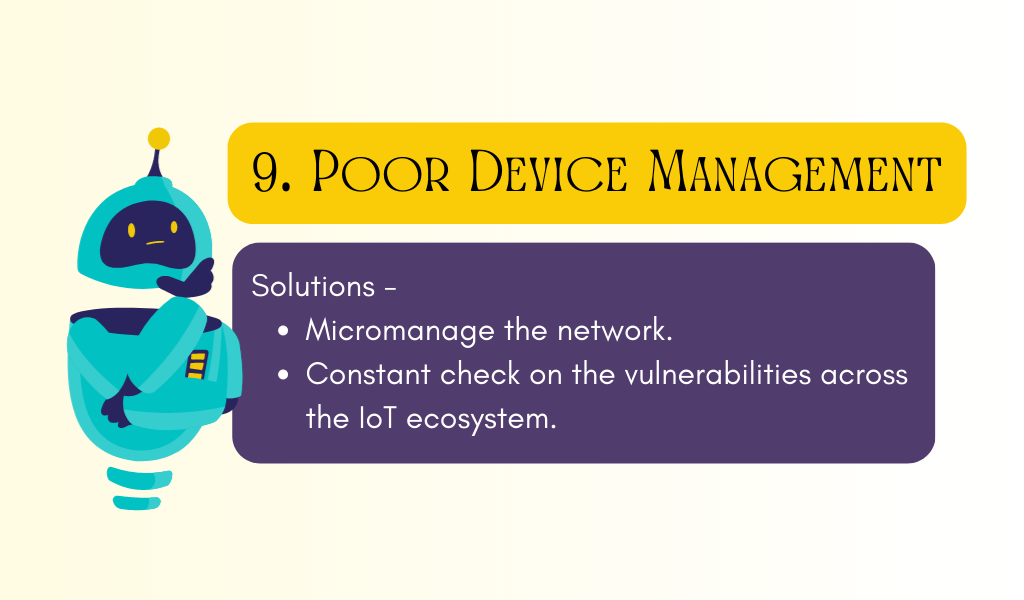 Weak Passwords
Passwords are another vital aspect that should be taken into account. Using guessable or weak passwords might often make way for cyber attacks. In addition, users also need to change the default passwords of IoT devices which might also put your business at risk.
The solution -
Change the default password, as soon as you receive the devices and you can also limit the number of logins.

Use a sophisticated and strong password that is not easy to guess or crack, and include variables like upper and lower case letters, numbers, and symbols.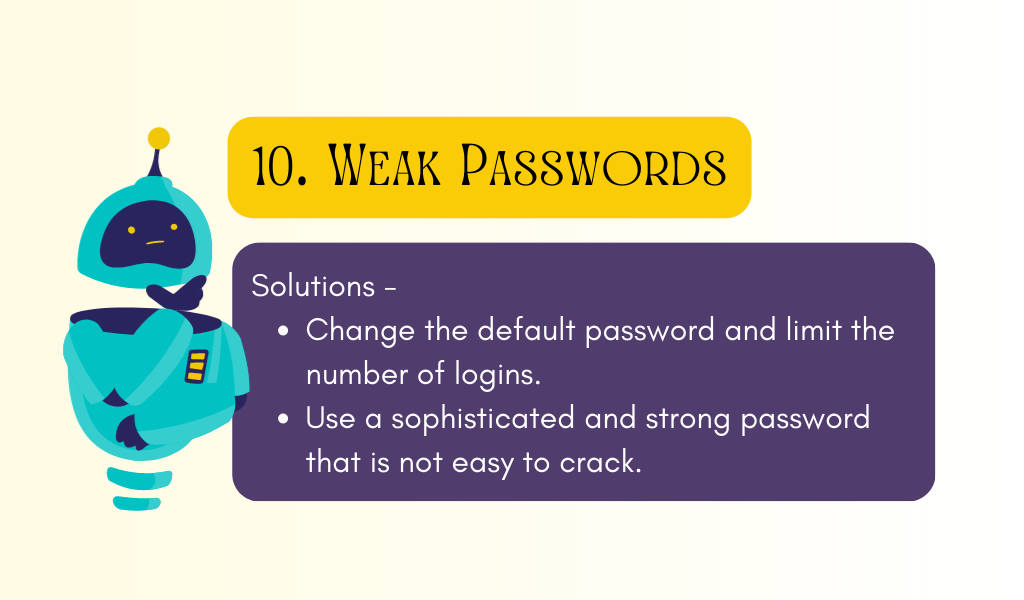 Tips and Tools to Ensure IoT Security
Besides this, here are some tips that will help you against IoT Security threats.
Prioritize using strong and sophisticated passwords.

Enable two-factor authentication, and biometric authentication to allow a user to access the IoT ecosystem.

Enable only limited access through single IP.

Constantly check on the devices for updates and security patches.

Ensure end-to-end encryption to make the data transfer and communication safe.

Opt-in for antivirus and security providers to safeguard the IoT ecosystem against threats and vulnerabilities.
Some of the tools that you can consider using to help you ensure IoT security include Tempered, Nanolock, Overwatch, SensorHound, Trustwave, Webroot, AWS IoT Device Defender, and several others.
Summing Up
IoT security is a big challenge to be implemented to ensure safety and security for both the business and the users. And as per the report from Statista, the worldwide IoT security market was valued at over $5 billion, in 2022, which means that IoT still has a promising future for businesses.
So, if you are concerned about eliminating the threats and vulnerabilities at an early stage then you should take into account the aforementioned threats and solutions to avoid them.
FAQs About  IoT Security Threats and Solutions
What are examples of attacks on IoT systems and devices?
Some of the common types of attacks on IoT systems and devices are -
Credential-based attacks

Man-in-the-middle (MITM) attacks

Physical hardware-based attacks, and many others.
What are the different levels of IoT security?
The different levels of IoT security are data, edge, fog, and cloud.
What are the benefits of the Internet of Things security?
The benefits of IoT Security are -
It increases business agility

It helps in reducing costs and financial damages

Decreases the risks of malicious attacks and breaches, and

Improves the organizational workflow.
Posted by
Mahipal Nehra
|
Posted at 11 Apr, 2023
Web