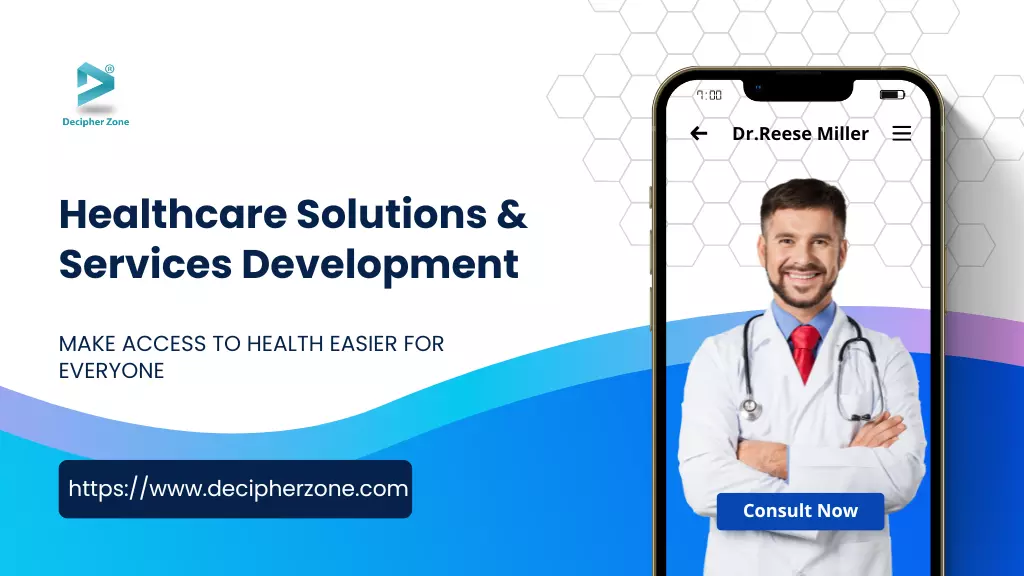 Healthcare Consulting Services and Solutions
The role of IT industry for Healthcare Solutions and Services Development. The healthcare industry is one of the largest sectors worldwide, and ever since Covid-19 this industry has seen a boom over the past few years.
With different types of healthcare consulting services and systems, this industry has catered to every aspect of medical needs, enabling better access, and providing better care, personalized experiences, and outcomes.
It helps cater to every imperative need of individuals with intelligent solutions at different levels, enabling increased equitable health outcomes.
Healthcare Solutions: Types, Trends & Development Cost
The purpose of healthcare solutions is to fulfill each and every aspect and need of the healthcare industry. And different requirements mean different solutions that not only serve the healthcare industry but also cater to the needs of the patients as well.
9 Types of Healthcare Solutions To be Consider
Here is the defined list of top 9 types of healthcare solutions.
1. Appointment Booking Software
It is software that helps patients to book personal appointments with doctors. It also allows clinics, hospitals, and other medical institutions to manage all their bookings in one place.
In addition, the primary feature of this software is that it helps in consulting with doctors and medical experts anytime anywhere. It also helps as a medium for both the patients and doctors to remind them about their upcoming appointments and sessions, via emails and text messages.
Pros of appointment booking software -
It minimizes patient no-shows and allows you to access the appointments on any device like smartphones, PCs, and desktops.

It improves the customer experience and also enables you to provide your services at a higher and wider range.
Cons of doctor appointment booking software -
It might be confusing for the patients sometimes. When the patient is unable to identify the problem or illness among the services you provide online, leading to wrong bookings.
2. E-prescriptions Software
Prescriptions play an important role in the medical industry for both doctors and patients to keep a track of health history. It helps doctors and healthcare professionals track, renew, and cancel prescriptions according to the patient's current health condition.
Pros of E-prescriptions Software -
It can be easily integrated with national drug reference databases, enabling you with information on indications, doses, contraindications, precautions, and others.

This software also facilitates the prevention of prescription drug errors. It helps in monitoring and reconciling medication history quickly and eliminates the issues of lost prescriptions.
On the other hand, the primary disadvantage of E-prescriptions software is that it might put sensitive patient data in the cloud at risk of being hacked. But this can be eliminated if you conduct thorough research and integrate security layers into the software.
3. Electronic Health Records (EHR)
It is the most popular type of software that is used by many healthcare institutions. It helps in collecting information about patients like illness, medication, dosage, and other details. It is further divided into two parts i.e. Electronic Patient Record (EPR) Software and Electronic Medical Record (EMR) Software.
The major advantages of EHR software are -
It enables quick access to a patient's health records and helps in streamlining the workflow with enhanced customer satisfaction.

Helps in reduced costs with less paperwork, improved efficiency, and less manual work, and enhances the privacy and security of the patient's data.
In addition, the disadvantage of using EHR is that it might put the patient's sensitive data at risk of being hacked and might incur hidden costs related to training and support.
4. Fitness Tracking Apps
This type of software is on hype and IoT-integrated smart devices have led to increased demand for health-tracking apps. Smartwatches and wristbands are common examples of devices that help in tracking heart rate, calories burnt, sleep tracking, stress levels, menstrual cycle, and many other essential aspects of health data.

Read: Healthcare App Development Services
Some common examples of health-tracking apps are Fitbit, Oura, Calm, and many others.
The benefits of health-tracking apps are -
It provides a personal coach to each and every user by providing custom guidelines according to their respective health data.

Helps the patients and users monitor their progress and keep a track of their calorie count.
5. Hospital Management Systems (HMS)
It helps in managing the overall functions and workflow in a healthcare institution. Be it inventory, accounting, staff management, shift allocation, or complaint handling, this software helps to manage it all in one place.

Read: Digital Transformation in the Healthcare Industry
The key reasons why medical organizations choose to develop this software are -
It eases communication and collaboration between the team members by providing a smart system to manage everything in one place, making a cost-effective workflow alongside increasing productivity at work.

With automation, this software also helps improve the patient's overall experience by saving time and providing quick resolutions.
The cons of HMS are -
The staff members might require training on using the software, which might incur new costs.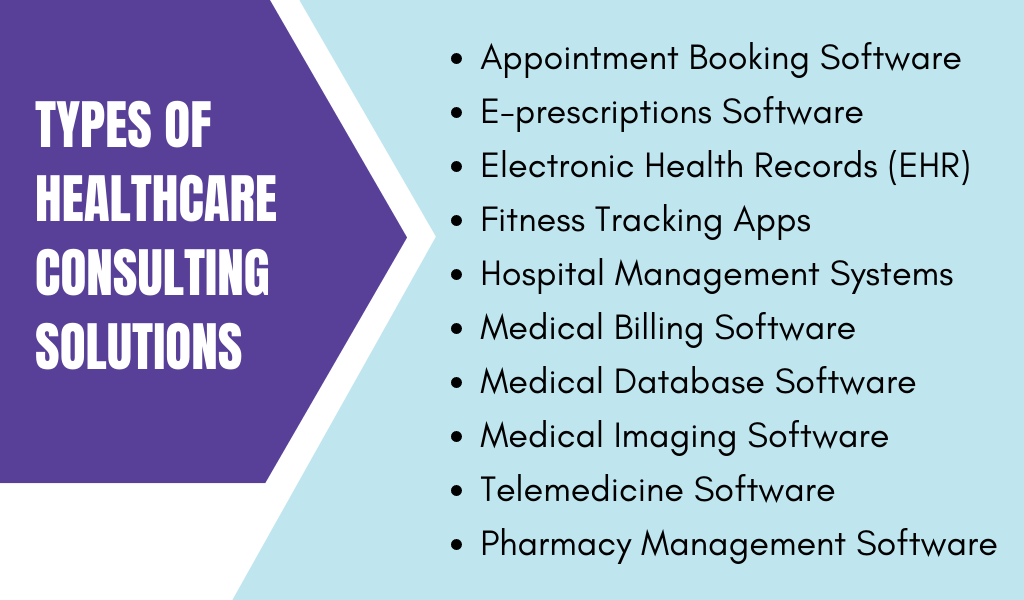 6. Medical Billing Software
It is another type of healthcare solution that is very popular in the healthcare industry. It helps the accounting department of medical institutions to keep track of all the finance-related activities like bookkeeping, invoices, and payments.

Read: On-demand Medicine Delivery App Development
The advantages of medical billing software are -
It helps in automating billing-related tasks and enhances the quality of work alongside reducing errors and paperwork.

It ensures the security of payments by eliminating probable risks like fraud, scams, and other cyber crimes.

In addition, it also reduces the long waiting time in queues, tracks expenses, and also provides updates and reminders regarding payments.
7. Medical Database Software
It is similar to the EHR software but with a larger scope, which stores the patient's information like medical history and treatment plans by categorizing them according to the diseases/illness.
For example - if a patient is suffering from Tinea Versicolor, then this software will help the dermatologist to browse and compare the symptoms, treatments, and recovery plans of different patients suffering from the same disease and provide a better recovery plan.
The benefits of developing medical database software are -
It helps in making better treatment plans and helps doctors with continuously updated information on diseases.

It reduces data entry errors and offers customized solutions and digital support.
8. Medical Imaging Software
The 3D modeling of the interior of a human body is a common practice nowadays at clinics and institutions. It is advanced software that is used to process x-rays, and MRI/CT/PET scans to visualize the results using modern technologies.
The pros of medical imaging software are -
It helps in the 3D modeling and printing of body parts like teeth and artificial limbs in real life before implementing a planned treatment.

It also amplifies the efficiency of the chosen medical treatment and also eases the tracking of the treatment process.
Furthermore, the primary disadvantage of medical imaging software is low image resolution and contrast and also takes time to transfer the content and structure.
9. Telemedicine Software
It is one of the best solutions for healthcare consulting services in terms of business. It lets the doctors carry out their appointments with their patients via chats, audio or video assistance, and provide treatments quickly and seamlessly.
The pros of telemedicine software are -
It aids the patients by providing faster care according to their comfort alongside easy follow-up capabilities and enhanced privacy.

It also helps with increased revenue and also reduces exposure to contagious patients.
Healthcare Consulting Solutions Features and Capabilities
With different types of healthcare consulting solutions and services, come different features and capabilities but collectively all the solutions focus on providing high-quality services that make an impact.
When you develop any healthcare system there are certain features you need to take care of -
Digital Health - It provides a digital medium with innovative solutions to change the current scenario and deliver a world-class consumer experience.

Custom Experience - As the demand for virtual care grows, these solutions will help tailor custom healthcare experiences, value, and insights for every individual, and set a benchmark in the industry.

Transformation - It transforms your business and services to compete globally, with advanced technologies and integrations.

Security - Healthcare data is highly valuable and it is important to safeguard and implement cybersecurity measures, which will help in gaining the trust and credibility of the customers, ensuring secure experiences.

Impression - Everything is changing with the speed of light and the rising expectations have made new things come into existence, leading to modernizing and accelerating the operations and activities of the organization.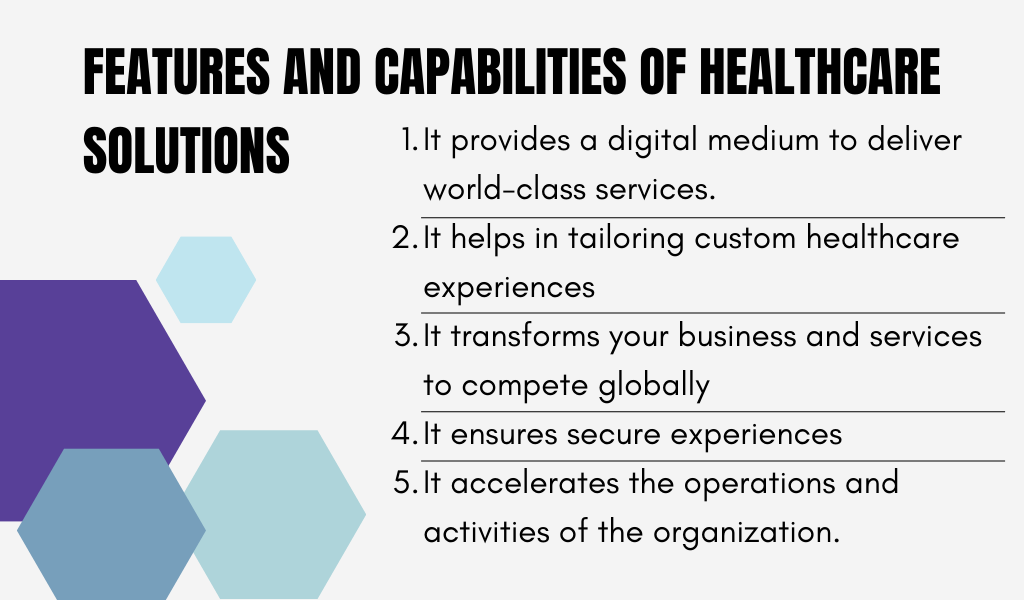 Statistics on Healthcare Industry for Future References
Here are some statistics on the healthcare industry that will help you make better business decisions and stand out in the market with better solutions.
Cost of Developing a Healthcare Solution in 2023
The cost of developing healthcare consulting solution in 2023 might range somewhere between $40,000 - $3,50,000.
Development cost of a healthcare solution varies according to the type of solution you want, alongside the technology, features, and implementing the latest trends.
And the cost might rise even more if you want to integrate any advanced features or anything else according to the current trends in the healthcare industry.
Read more on developing a cost-effective healthcare solution
5 Healthcare Solutions Trends to Watch Out
Some of the top 5 trends that you can consider integrating into your healthcare consulting solutions are as follows -
Artificial Intelligence

Cloud Adoption

CyberSecurity

IoT Infused Systems

Telepsychiatry
With time running and everything changing, the only thing you can keep constant is keeping yourself updated with the latest healthcare technology trends. It not only helps you gain an edge in the industry but also improves the services along with easing the workflow.
1. Artificial Intelligence
The healthcare industry is one of the prominent sectors where AI has a high impact. Integrating AI into the system helps in making complex tasks easier and helps in providing enhanced services like medical imagery, drug discovery, clinical trials, and even early detection of neurological disorders like Alzheimer's disease. Integrating AI into the healthcare solution will help diagnose, detect, and streamline medical processes.

Read: Artificial Intelligence in Software Testing
In addition, it also helps in analyzing huge sets of data to come to a conclusion and provide precise and right treatment as needed.
2. Cloud Adoption
Nowadays everything is on the cloud, and integrating cloud systems can be very beneficial while developing healthcare consulting solutions. It facilitates greater storage capacity, eliminating the need for on-premise storage.
In addition, adopting cloud computing will also help in integrating security at different levels alongside access and identity management features.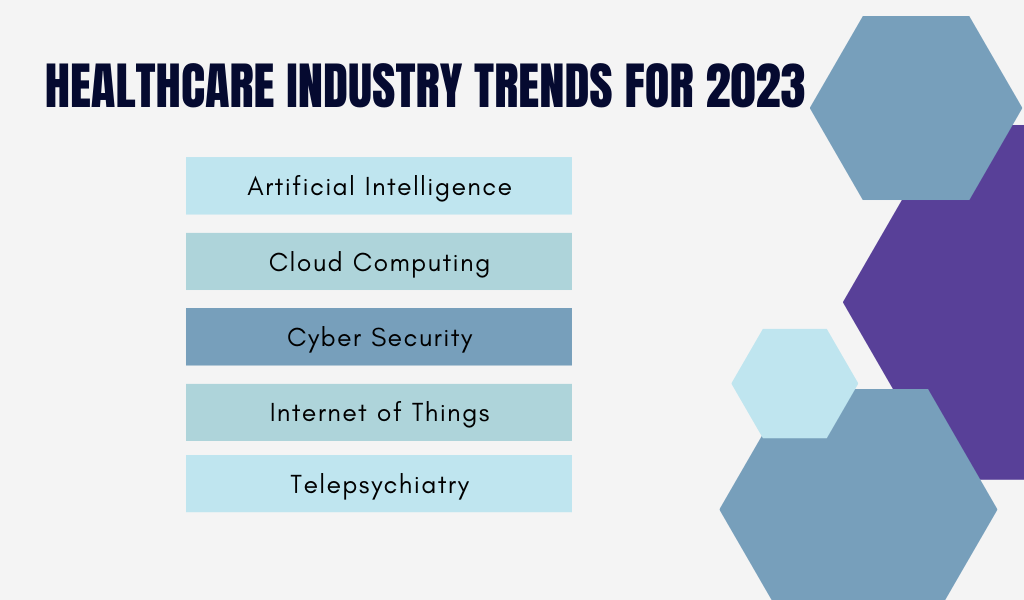 3. CyberSecurity
Data is a valuable asset. And in the healthcare sector, it is essential to safeguard sensitive data from breaches and malicious attacks with security layers integrated at every level. Using the latest and advanced technologies like blockchain will help you ensure the security of patient data.
In addition, you can also consider integrating firewalls, two-factor authentication, biometrics, encryption, and many other ways, which will help you develop a future-proof solution.
4. IoT Infused Systems
IoT has taken over the market over the past few years and businesses from every sector are adopting this technology. Integrating IoT into the healthcare industry is another promising trend to consider. It helps patients track their health with wearable devices and sensors like wristbands and watches.
Additionally, it helps in collecting the patient's health data like calorie burnout, heart rate, body temperature, blood pressure, and many others, which helps in diagnosing diseases in real time and providing better care and disease control.
5. Telepsychiatry
Mental health has been an important concern and it is equally important to take care of it like the rest of the body. Introducing telepsychiatry solutions is expected to be a big success in the upcoming years. It will not only help patients to consult with an expert online but will also help in making the services more accessible to all those in need.
This system will also help users to avail of the sessions and therapies online from professionals and experts like Cognitive behavioral therapy (CBT), Psychotherapy, talk therapy, and many more with ease and comfort.
Wrapping It Up
The healthcare industry is a huge sector and it is impossible to cover every aspect of it. However, if you are into this industry you can consider developing a healthcare consulting solution and integrating different systems into it to provide full-fledged, feature-rich, and future-proof software for patients.
So, if you are up for it and interested in developing one such solution, connect with us and accelerate your services along with better accessibility and provide better care to your patients.
FAQs: Healthcare Consulting Services and Solutions
What is healthcare consulting?
Healthcare consulting means the third-party advisors that help healthcare experts, institutions, and organizations with professional guidance and solutions to make better decisions regarding their business, to deliver high-quality services to their patients.
What are the different types of software in the healthcare industry?
The different types of healthcare software are as follows -
Appointment Booking Software

E-prescriptions Software

Electronic Health Records (EHR)

Fitness Tracking Apps

Hospital Management Systems (HMS)

Medical Billing Software

Medical Database Software

Medical Imaging Software

Telemedicine Software

Pharmacy Management Software, and many others.
What are the latest healthcare trends?
Some of the latest healthcare software trends that you can consider in 2023 are -
Artificial Intelligence

Augmented Reality (AR) and Virtual Reality (VR)

Cloud Adoption

CyberSecurity

IoT Infused Systems

Telepsychiatry and

Voice Search
Posted by
Mahipal Nehra
|
Posted at 22 Mar, 2023
Web