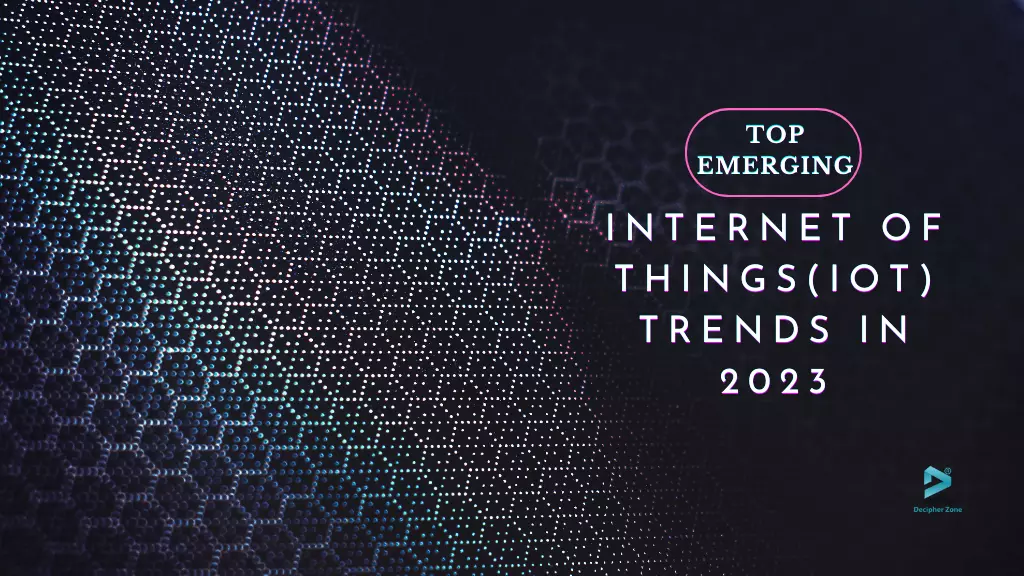 IoT Trends in 2023 You Should Know About
Unlike other technologies that were trending once and are now nowhere in the league, the Internet of Things (IoT) is here to stay, transforming how we used to live. According to McKinsey, on average, with each passing second, 127 new devices are connected to the internet. While a report from Allied Market Research predicts that the consumer market of IoT will reach 292.83 billion dollars at a CAGR of 13.9% by 2030.
In the past few years, we have also witnessed how IoT has evolved from being just a theoretical concept to a practical experience. IoT has expanded its use cases in both domestic and industrial markets.
Although many of us are familiar with the concept of the Internet of Things, some might not have a clear understanding of it. So, before moving on to the IoT trends for 2023, let's get a brief introduction to what IoT is.
What is IoT?
The Internet of Things (IoT) refers to the concept of connecting appliances and devices to the internet. It is a humongous network of connected devices with sensors and processing ability to share and exchange information with other systems and devices over the internet.
With the advancement of technology and the emergence of cheap computer chips and high bandwidth, trillions of devices are now connected to the internet, even our day-to-day appliances including but not limited to toothbrushes, microwaves, air conditioners, fitness devices, and self-driving cars.
Read:The Impact of IoT on Web Development
An IoT environment includes internet-enabled smart devices that use sensors, processors, and computer hardware to store, share, and act on information acquired from their surroundings. These smart devices share the data through the IoT gateway they are connected to or other edge devices where the data is either analyzed locally or in the cloud. Although people can interact with these smart devices, they perform most of their work without intervention from humans.
Top 6 Uprising IoT Trends for 2023
Top 6 IoT trends in 2023. Now that we have a clear understanding of the Internet of Things (IoT), let's move ahead and check the tech trends that are about to empower the IoT network in 2023.
Read: Why Choose NodeJS For IoT Applications
Don't wanna wait till we explain each trend? We have enlisted the top 6 IoT trends to watch out for in 2023.
Artificial Intelligence

Smart Cities

Infonomics and Data Broking

Hyper Automation

Cyber Security Mesh

IoT Governance
Without further ado, let's dig a little deeper into each of these tech trends and how they are going to impact IoT.
Artificial Intelligence of Things (AIoT)
Discussing IoT trends and missing Artificial Intelligence doesn't make sense. AI is human intelligence stimulation, where machines, more specifically computer systems, use natural language processing, machine vision, and speech analytics and recognition to process tasks that usually require human intervention.
Read: Benefits of Using AI for Small Business
While AIoT is the blend of artificial intelligence and internet of things infrastructure that aims to create efficient operations in IoT while enhancing data analytics and management and human-to-machine interactions.
In AIoT, artificial intelligence is embedded into components of infrastructure such as chipsets and programs that are connected through IoT networks where APIs ensure that these components can operate and communicate together without any assistance from the user.
Read:How Does AI Fit into Analytics
As IoT devices create and collect data from processing daily operations, AI analyzes the data using data learning to offer valuable insights to improve productivity, empowering smart retail, smart cities, smart homes, autonomous vehicles, healthcare, and so much more for the future.
A smart city is a modern urban area using different information and communication (ICT) technologies like sensors and electronic methods to gather data to manage resources, assets, and services efficiently to enhance operations across the city. Other smart city technologies include artificial intelligence, dashboard, cloud computing, APIs (application programming interfaces), machine learning, and mesh networks.
According to Statista, the global revenue of smart city projects is expected to reach a value of $241.02 billion by 2025 from $129 billion in 2021, undoubtedly a trend we will see in 2023 and beyond. With advances and expansion of smart devices, we are more likely to see the establishment of smart cities that will include smart buildings, smart retail, smart healthcare, and more.
Read: Impact of Digital Transformation in the Healthcare Industry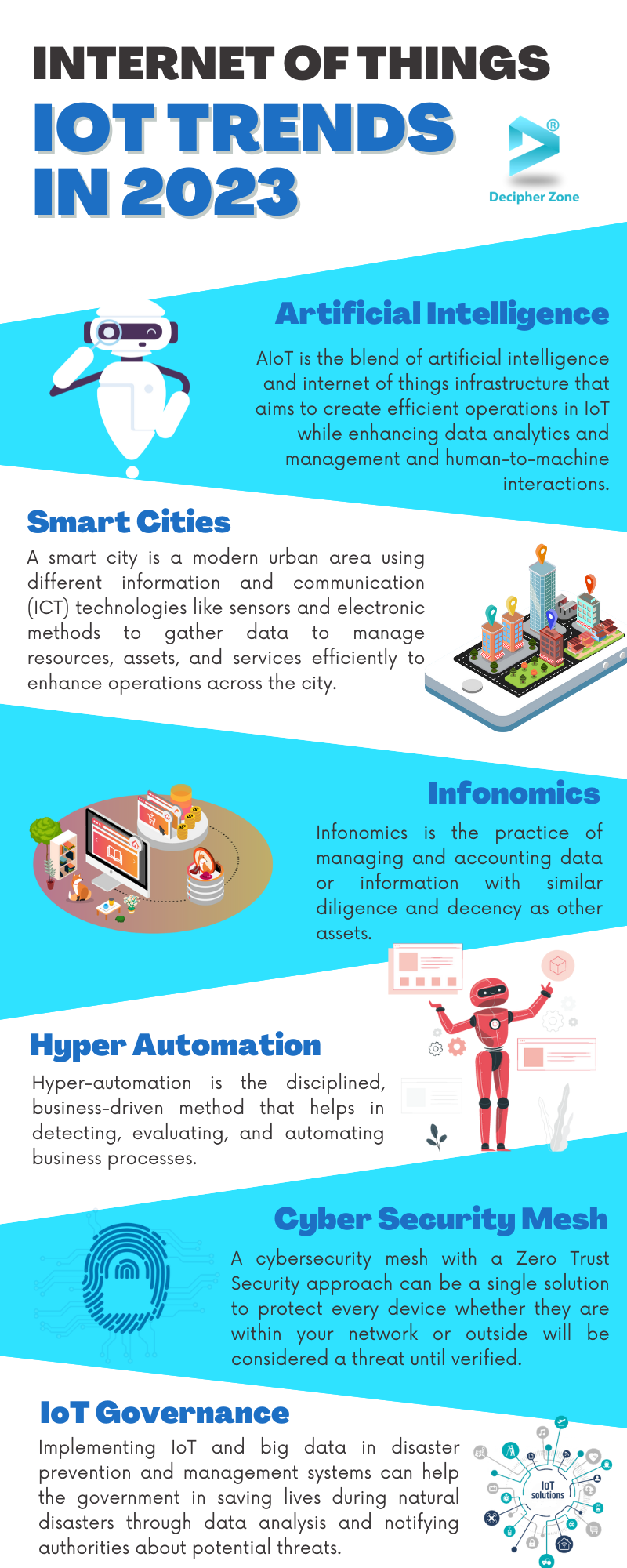 But the success of a smart city will depend on its ability to create a robust relationship between the private and government sectors. One of the core reasons behind using smart cities is to improve public safety through continuous monitoring of crime-prone areas with sensors.
It also brings more efficiencies in urban farming and manufacturing like managing space, energy, and goods and creating new job opportunities. It would be more appealing to have tailored solutions for these new places, therefore the best benefit is to outsource app development whenever feasible.
Infonomics is the practice of managing and accounting data or information with similar diligence and decency as other assets. Simply put, it is an enterprise management concept where data is evaluated as other organizations' assets.
According to the Mordor Intelligence report, the global data monetization market is about to grow at a CAGR of 23.21% between 2022-2027. While another report suggests that the IoT data market will reach $15.4 billion by 2030 at a CAGR of 22.1%.
Hence, it won't be wrong to say that buying and selling IoT data will be a trend in 2023 for several IoT systems.
Hyper-automation is the disciplined, business-driven method that helps in detecting, evaluating, and automating business processes. Technologies like IoT, Artificial Intelligence (AI), Event-driven architecture, RPA, Machine Learning, iBPMS (Intelligent Business Process Management Suites), BPM (Business Process Management), iPaas (Integration Platform as a Service), and other process and task automation tools.
Read: Benefits of Microservices Architecture
As more organizations want to improve their security initiatives and compliance with RPA (Robotic process automation) implementation, we are about to witness an increase in hyper-automation adoption in 2023.
With digital acceleration where more devices and appliances are getting connected to the internet, one of the biggest challenges is increasing complexity and risks of security in the IoT network.
Read: Best practices for API Security
To avoid security issues in 2023, several organizations are going to approach cyber security mesh - a scalable and composable approach that amplifies the security controls among distributed assets by bridging security gaps and flaws beyond the network perimeters.
In short, a cybersecurity mesh with a Zero Trust Security approach can be a single solution to protect every device whether they are within your network or outside will be considered a threat until verified.
In 2023, more IoT systems will be used within the government sector to provide citizenship certificates, identity cards, property registrations, and other services, saving time and money for both government and citizens in performing these ordinary tasks.
Other than that, implementing IoT and big data in disaster prevention and management systems can help the government in saving lives during natural disasters through data analysis and notifying authorities about potential threats.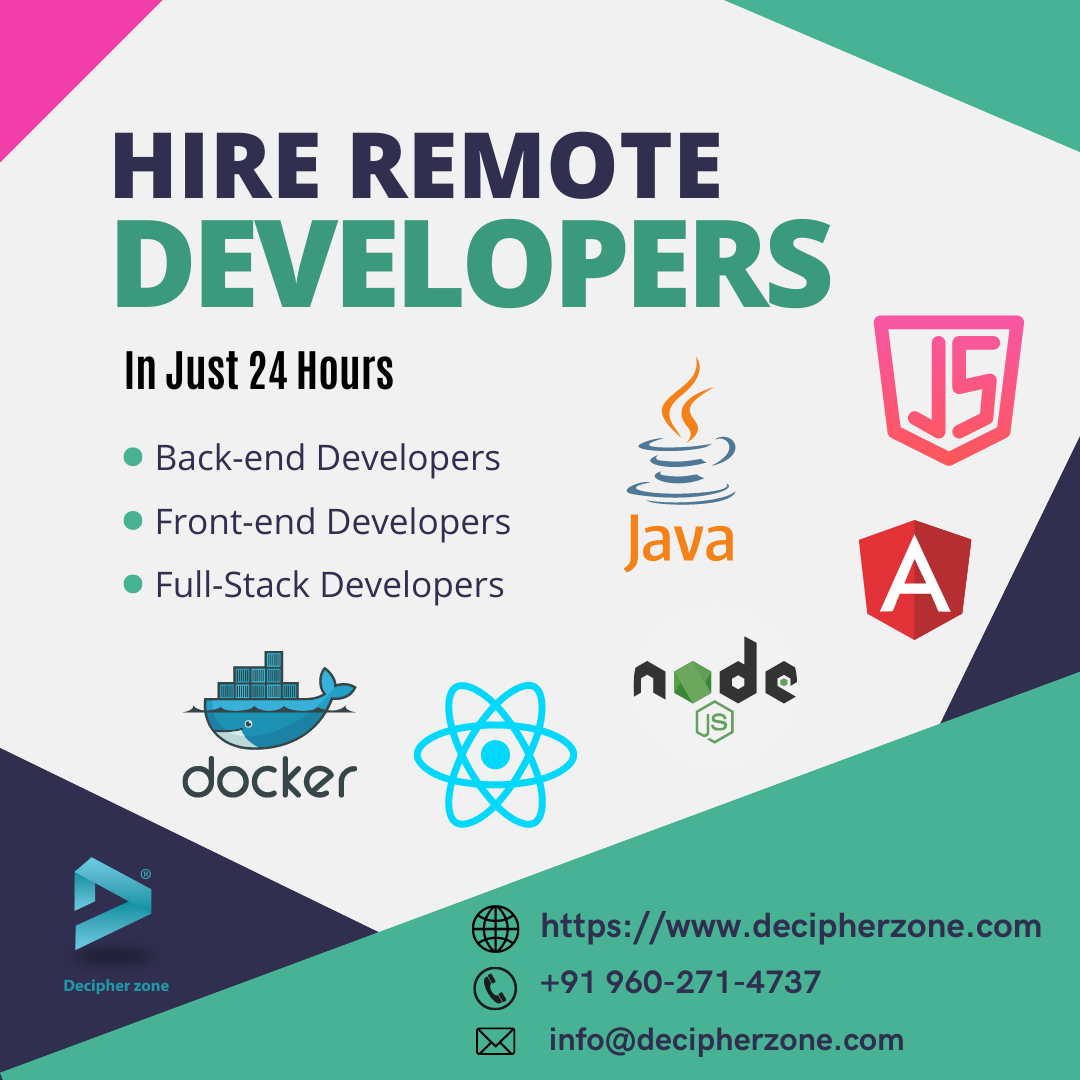 Future of IoT
Needless to say, the Internet of Things (IoT) technology will continue to evolve and become a fully developed technology in the near future. So, it is now important for companies to adopt IoT technology to run their business operations and processes smoothly.
Summing up, we hope that these trends have helped you understand the importance of implementing IoT in your business.
If you are a business owner and want to implement these technologies into your business to speed up processes, boost employee productivity, and gain more user traction. Then, you should hire developers from companies like Decipher Zone that help their partners and clients by offering IoT solutions within your budget with their professional development team.
So, what are you waiting for? Get in touch with us NOW!
Posted by
Mahipal Nehra
|
Posted at 11 Nov, 2022
Web