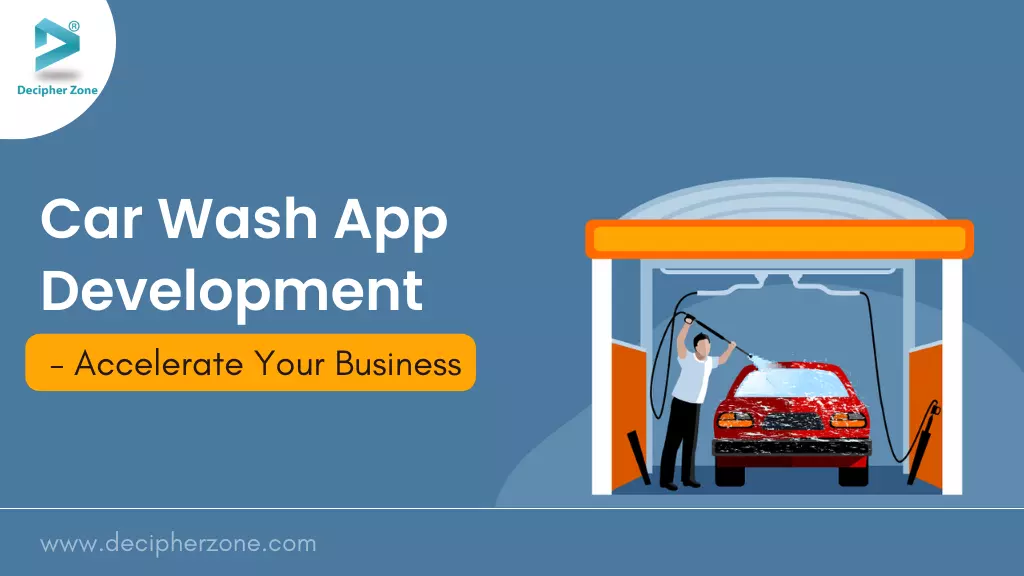 Car Wash App Development - To Accelerate Your Business
Car Wash App Development - To Accelerate Your Business. Businesses have been making it large with the use of applications and software development. Nowadays when companies look for ways to grow their revenue and accelerate their business, software has been the go-to solution that has helped in doing so.
Whether booking a cab or ordering your favorite food, everything has now been simplified with web apps. Now when we talk about web apps, let us make it clear at the very first step that it is an investment worth it for your business and beneficial for your customers.
And if you are into the car wash business or a car wash service provider, then it's time to expand your services with web app development for your business.
Car Wash App Development
Car wash app development is a software solution that helps car wash service providers and businesses with innumerable opportunities to expand their business. It enables the users to select and book a car wash service by selecting their preferred location, timing, and mode of payment, and then the service providers can provide the requested services according to the user's preferences.
It has three primary components that complete the entire car wash service lifecycle. It includes the user panel, the service provider panel, and the administrator panel. Where the user panel is for the customers from which they can avail of the services by making a booking, the service provider panel for listing the services, and the admin panel to monitor and track all the activities around the user panels and the service provider panels.
Read:Educational Software Solutions Development
Furthermore, if you are considering car wash app development for your business, let us also tell you that there are two different types of car wash applications that you can choose to develop. And they are -
Aggregator apps, and

Dedicated apps.
The aggregator apps allow the car washers to enlist their services from which the customers can choose. Whereas, the dedicated apps are suitable for car wash niches alongside providing major advantages like categorized car wash services, increased user engagement, and also helping in generating a huge return on investment.
Benefits of Web App Development for Car Wash Business
Developing a web application for a business caters to innumerable benefits. Web application solely serves the need of both mobile apps and websites, which is why businesses are opting for them in the long run.
Read:Agriculture Software Development
Now, simply talking, there are several benefits of web app development for the car wash business.
They are as follows -
It helps you extend your business and make it accessible in different locations.

It brings your business more potential customers who can avail of your services anytime.

Helps you track your business from anywhere and analyze your business on different parameters like performance, revenue, clients, and many other aspects.

It makes your business accessible to your customers 24*7 and also allows you to provide customer support which helps in customer satisfaction and customer retention.

Developing a web application for your car wash business also helps as a marketing tool for your business as it is SEO friendly and helps you draw more customers towards your business.

A web app for a car wash business not only serves your business solely, but it also helps the users as these applications do not require any additional space in the user's device, and all they need is an active internet connection.

In addition, it helps in lowering operational and infrastructure costs, making it cost-efficient, and helping in automating your business.

It also allows you to manage your business handy anytime and anywhere.

It helps in optimizing your business workflow efficiently, which in turn helps in increasing the productivity of your business.

An added advantage - You can also connect multiple service providers under a single platform and be the admin of the business, alongside providing your services.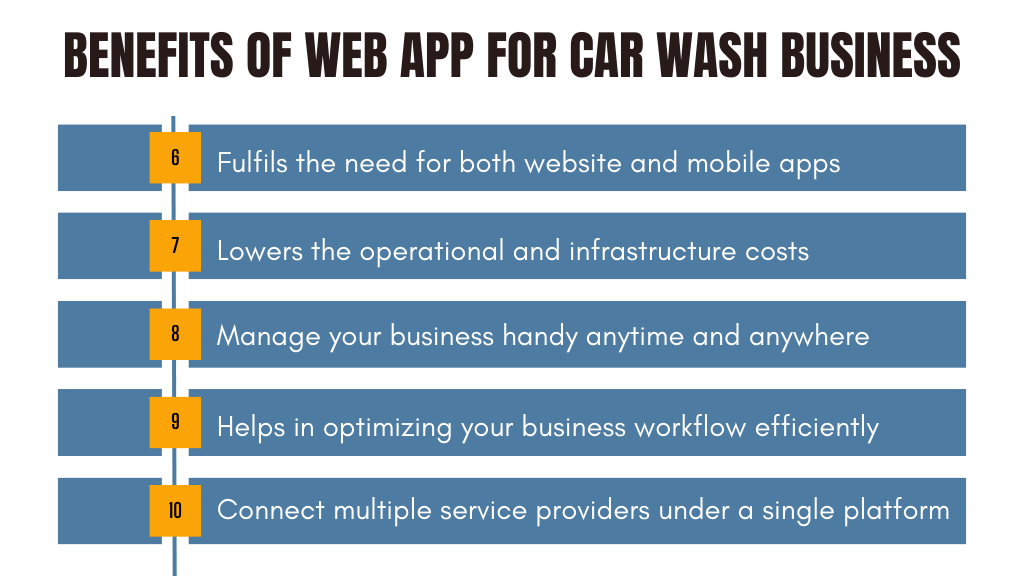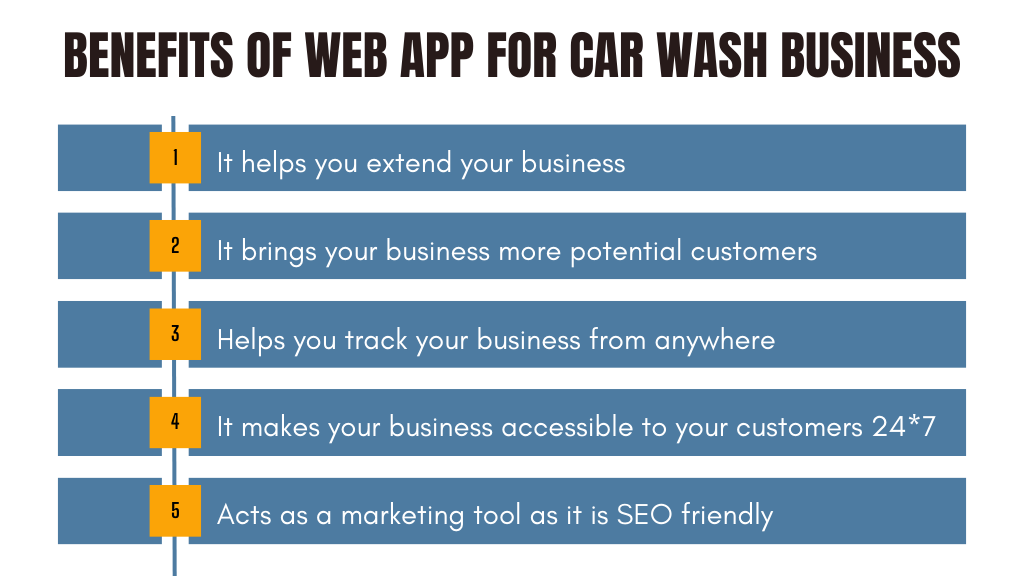 Features to Integrate in Car Wash App Development
Features make an application stand out in the market, and if you want to stay ahead of the competition then make sure that you integrate the right and unique features into your car wash application.
Read:Business Intelligence Software Development
Among all, some of the basic features that you can integrate into your application are -
For the User Panel -
Easy Signup and Login

Social Media signup/login

Real-time location

Bookings (ongoing/scheduled/history)

Payments (credit/debit cards, wallets, net banking, cash)

Email notification

Built-in Messaging and calling

Chatbots/WhatsApp Support

Ratings and Feedback

Contact information of the Service Provider

My Profile (add/edit/delete a section)
For the Service Provider Panel -
Easy Signup and Login

Social Media signup and login

Verification of the profile by uploading the necessary information and documents

Washer Eligibility Test

Navigation

Accept/Reject the user's request

Availability (online/offline)

Contact information of the user

Real-time messaging and calling

Email notifications

Service history/ongoing/scheduled

Total Earnings
For the Admin Panel -
Some features you can consider integrating are as follows -
Login

Dashboard and Analytics

User Management (view/add/edit/delete)

Service Provider Management (view/add/edit/delete/verify)

Location Manager (add/edit/delete a location)

Booking Manager

Vehicle Manager (model/make)

Payments Manager

Invoice Manager

GPS Location (to track the locations of the available/on-duty service providers)

Price chart Manager

Referrals and Coupons

Notification Manager

Reports

Content Manager (FAQs, terms and conditions, and others)

Manage Ratings and Feedback
Now that you have learned about the basic features of the car wash software solution, here are some of the advanced features that you can integrate. They are -
1. Video Calling
2. In-app advertising/Featured listing (it also helps generate additional revenue for your business)
3. CRM integration
4. Voice Recognition
5. One-time password verification, and many others.
How much does it cost to develop a Car Wash Application?
However, to give it a numerical value it might range somewhere between $20,000 - $1,50,000 and even more or less depending on your requirements.
The cost of developing a web application for a car wash business depends on several factors like the technology stack, the hourly charges and location of the development company, the number of features, the experience and expertise of the developers, and several other aspects.
The time required to develop a web application for a car wash business mainly depends on the complexity and features that you want to integrate into the web application but to give it a numerical value, approximately it can take somewhere around 3 months to a year, and sometimes even more.
How is a web application different from a mobile app?
The major difference between a web app and a mobile app is that a web application can be used both on desktop and mobile, whereas a mobile application is devised to be used only on mobile devices.
In addition, web apps do not require any installation to be used on any device, all you need is a browser and an active internet connection and it does not consume any additional space on your device.
Wrapping It Up
That being said, software and applications work as a key element in boosting your business, car wash app development is surely going to help you enhance your business and stand out in the market.
Read:EV (Electric Vehicle) Software Development
So, if you are thinking of developing one such software application for your business, consider developing a web application.
And if you are still confused and want to know more about developing a car wash web application, then hire a developer, or connect with us to get the best solutions for your business.
Posted by
Mahipal Nehra
|
Posted at 18 May, 2023
Web