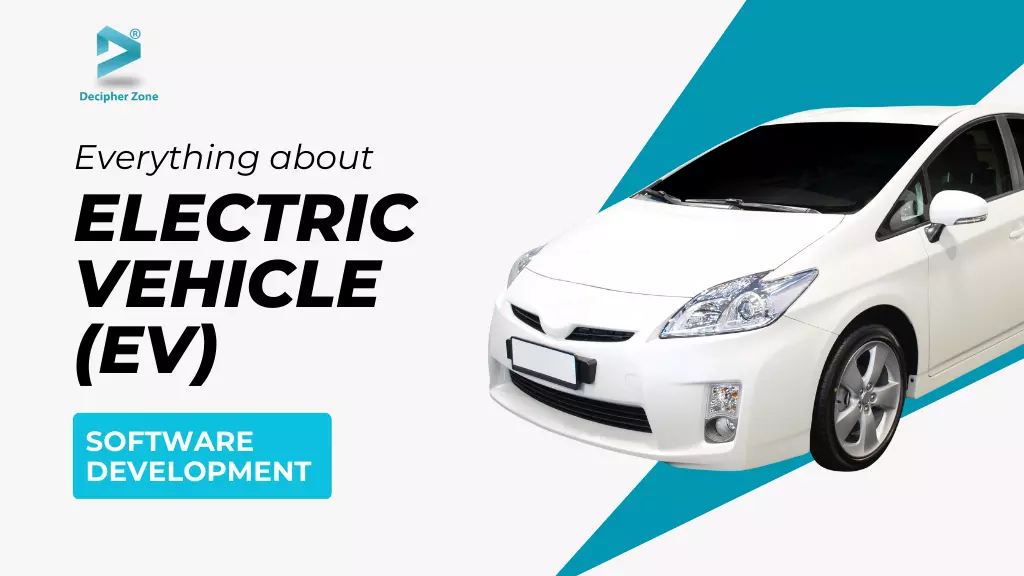 EV (Electric Vehicle) Software Development in 2023
How Much Does it Cost to Develop an EV (Electric Vehicle) Software in 2023? Amid the ever-increasing pollution and global warming, Electric Vehicles (EVs) have emerged as a promising alternative to conventional gasoline vehicles.
Although electronic vehicles came into view around the early 1830s when Robert Anderson invented the first crude EV, it wasn't until recently that they gained prevailing attention.
Based on the insights of McKinsey & Company, the global automotive software and electronic market is bound to reach $462 billion at a 5.5% CAGR by 2030.
Read: How to Develop a Vacation Rental Software
Needless to say, the automotive industry is witnessing paradigm shifts for sustainable transportation solutions. With increasing numbers of people switching to EVs, the need for software to control and manage the vehicle's electronics has grown.
So, in this blog, we will cover everything about electric vehicle software development and how it can help improve the efficiency and performance of an EV.
An Overview of Electric Vehicle Software Development in 2023
Electric vehicle (EV) software defines the collection of computer systems and programs used to control and maintain different functions and components of an electric vehicle.
EV software helps users maintain and control the charging system, battery, motor, and other components of the electric vehicle.
Read: Financial Services Software Solutions
Some of the features that it includes are energy management, regenerative braking, monitoring systems, etc. that can easily optimize the efficiency and performance of the vehicle.
Aside from monitoring and management systems, EV software also provides features like GPS navigation, entertainment systems, and smartphone connectivity.
Read: Healthcare Consulting Services and Solutions
EV Charging and Parking, Navigation, Virtual Test Drive, Battery Health Monitoring, Rental, and Fleet management are a few types of electric vehicle software that you as an EV business can go for.
Common Software Products to Operate Electric Vehicles
Now that we know the basics about an electric vehicle, let's take a look at the main software elements that make it work smoothly.
Read: Educational Software Solutions Development
Digital Cockpit
It can replace conventional dashboard systems in electric vehicles including fuel gauges, speedometers, steering wheels, etc. The digital cockpit reconfigures the way we experience the car from the inside. It is a fully customized high-resolution digitized alternative to traditional analog instruments.
Virtual Prototypes
It is among the continuously evolving trends in the electric vehicle software industry that replicates the electromechanical components with virtual prototypes while managing the hardware and software interaction in virtual models.
Also, virtual prototyping software makes the development and testing of electric vehicles cost-efficient. Thanks to its ability to improve efficiency, streamline development, and minimize the cost that has made it so popular.
Intelligent Mobility Solutions
Digitalization has made it possible to transform any machine to internet-connected devices. Using the smart mobility of SaaS and IoT solutions, it becomes easier to make EVs smarter and optimize the user experience.
Application Program for Autonomous Vehicles
Companies like Tesla, are now focused on developing autonomous vehicles (self-driving cars) by investing a huge sum of money and effort to develop, test, and resolve compliance issues.
And for that they need to use application programs algorithms for machine learning and artificial intelligence, indicating a strong source of benefits.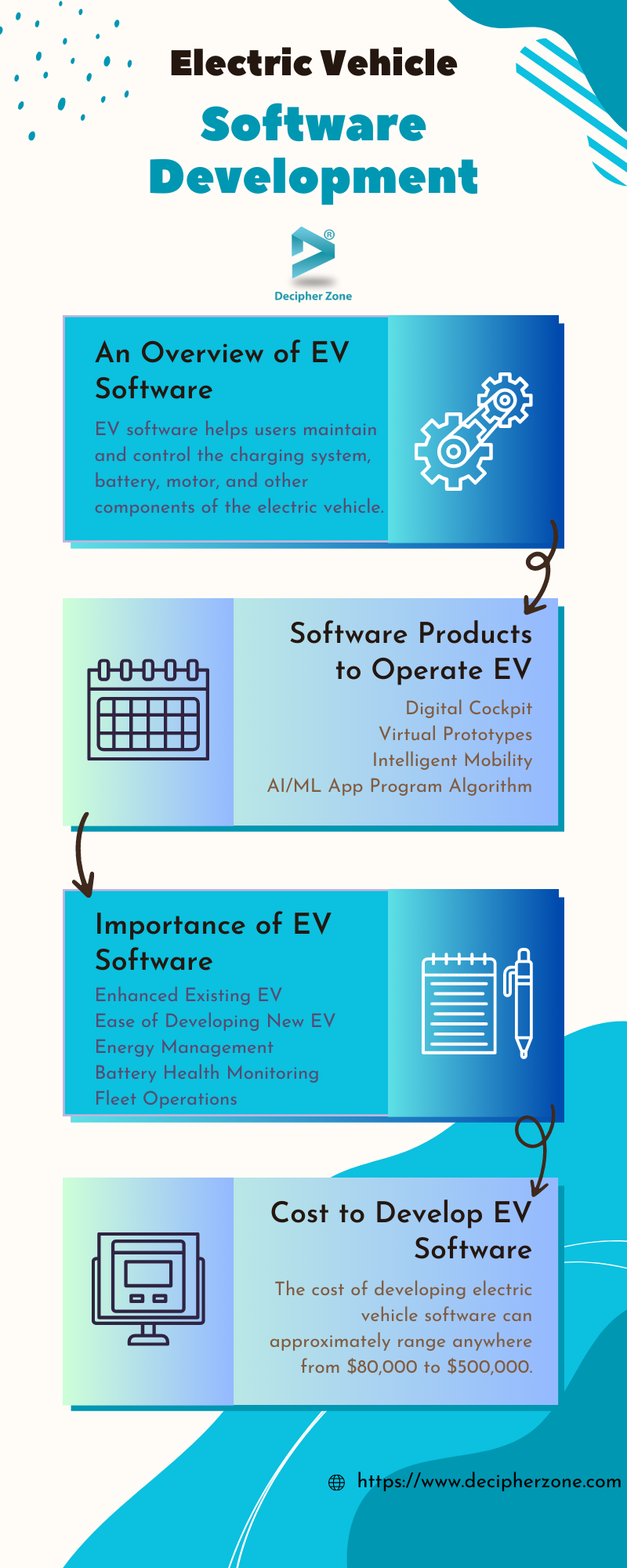 Importance of Software in the EV Industry
Software in the EV industry helps facilitate and empower almost every aspect of eMobility. Here are the major areas where software development has shown its impact:
Read: Life Sciences Consulting Services and Solutions
Enhancing Existing EV
EV software helps enhance the pre-existing electric vehicle's performance by sending updates for improved charging time or increasing its range.
Developing New EVs
Developing software for building electric vehicles has gained massive growth over the years, thanks to its ability to make production, marketing, and launch of the EV faster.
Energy Management
Managing charging stations for electric vehicles is a more difficult task than gas filling. To effectively manage the charging station, it is necessary to distribute the energy between different chargers according to the number of vehicles in the queue, available power, and prices. And EV charging station software can help with optimizing EV charging stations while complying with electrical regulations.
Battery Health Monitoring
EV software that is specifically designed for monitoring purposes can assist in tracking the performance and health of the EV batteries to prevent deterioration of batteries while improving their lifespan and performance by identifying problems at early stages.
Payment Processing
EV software can help electric vehicle charging stations manage payment preferences to serve many consumers without dealing with unnecessary nuances. It will also help offer discounts to employees or members of the network or reduce prices during low-traffic hours.
Access to Different Models
EV software for rental services can help users browse through a multitude of EV models and choose the one they like the most instantly by following a few steps.
Fleet Operations
For fleet managers to control access to EV chargers, monitor individual vehicles, and communicate with drivers, one central platform is needed. There will also be a decision to make about whether to open up their charging stations to the public or restrict their use to their fleet. Software solutions for EV charging stations allow owners to authenticate users and provide customized permissions.
How Much Does it Cost to Develop an EV (Electric Vehicle) Software in 2023
The cost of developing electric vehicle software in 2023 can approximately range anywhere from $80,000 to $500,000. A few factors impacting the overall software development cost for electric vehicles are the software type, protocols, complexity, architecture, design, features, and the location of the outsourced development team.
Read: Website Development Cost
Also choosing the tools and technologies to build the EV software including the front end (HTML, CSS, Vue.js, or React.js), back end (Java, Node.js, Python, or Laravel), Servers (Apache, NGINX), database (PostgreSQL, MongoDB, MySQL, or Redis), APIs (Google Maps, Core Location, or Google Places), Cloud Services (Google Cloud, AWS, or Azure), and Analytics tools (Hadoop, Apache Flink, or Big Data).
Future of Electric Vehicle (EV) Software
Undeniably software solutions are essential for the efficiency and proper functioning of electric vehicles and are here to stay in the long run.
So, if you too want to implement the above-mentioned advanced software programs to boost your EV business, then hire developers from dedicated software development companies like Decipher Zone and stay ahead of the competitive curve and acquire business goals easily.
FAQs About Electric Vehicle Software Development
What is EV Software?
Electric vehicle (EV) software defines the collection of computer systems and programs used to control and maintain different functions and components of an electric vehicle.
What are the common software components of EV Software?
Virtual prototyping, digital cockpit, intelligent mobility, and AI & ML algorithms are the majorly used software products in the EV industry.
How much does it cost to develop EV Software?
The cost of developing electric vehicle software can approximately range anywhere from $80,000 to $500,000.
Posted by
Mahipal Nehra
|
Posted at 02 May, 2023
Web