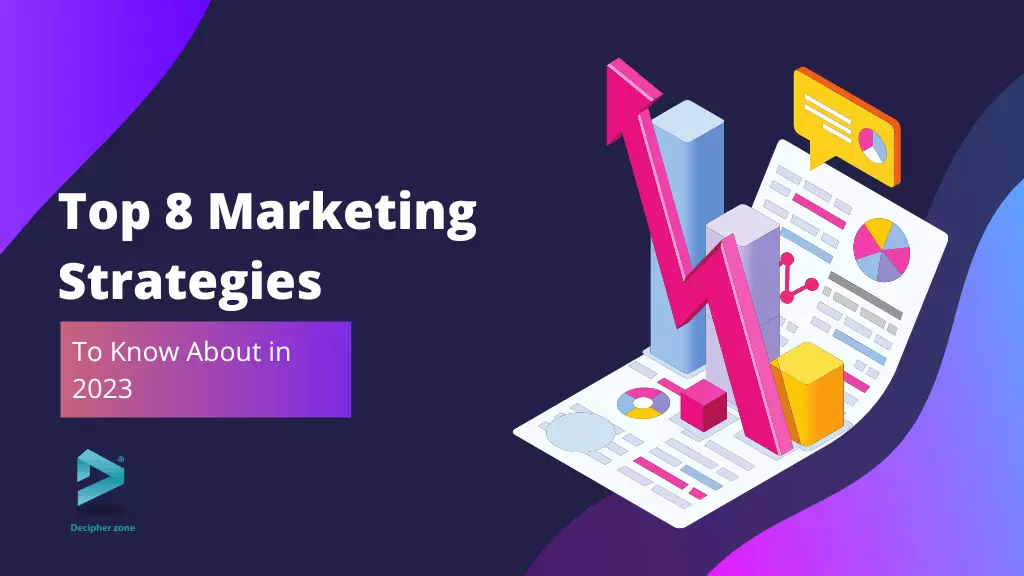 Top 8 Marketing strategies to know about in 2023
The field of marketing is constantly evolving and new trends and technologies are emerging all the time. Competition in the digital space is increasing. To compete and to be successful, brands have to follow consumer attention.
Read: How to Set Up Your Online Store in 8 Steps?
This article discusses the eight marketing strategies that will be important in 2023. Let's get right in!
1. Pushing out unique marketing content
Creating and sharing valuable, relevant, and consistent content to attract and retain a clearly defined audience will remain a crucial marketing strategy.
Read: 7 Essential Techniques To Use To Elevate Your Small Business
To plan out your content calendar, keep the following in mind:
Roll out quirky content.

Use meme marketing to send your message across.

Stay up-to-date with trends.
Email remains a powerful marketing channel for reaching out to customers and engaging them, however, the email content has to be creative. Create a hook. Try out new ways to catch attention. Closely follow relevant events that take place and try to cash in on new opportunities.
2. Focus on demand generation
Demand generation is simply generating interest in a product or service.
Read: E-Learning Web App Development Cost
Focuses on creating awareness and interest in a company's product or service among a broad audience

Involves a range of tactics, such as content marketing, social media marketing, email marketing, price and availability tracking, and event marketing, to generate demand and build brand recognition

The goal is to generate a steady stream of leads over time, rather than focusing on immediate sales
Demand generation is a broad strategy that focuses on creating awareness and interest in a company's product or service, whereas lead generation results from demand generation. Read more on the comparison of demand generation vs lead generation.
3. Adapting to new ways of lead generation
Lead generation is a more targeted strategy that focuses on capturing the contact information of qualified leads who are likely to be interested in purchasing. With the threat of recession always being discussed, sales teams (especially in B2B) are finding it difficult to generate leads.
In 2023, companies have to experiment with new ways of getting leads. The conventional methods don't seem to work, especially due to rising competition in almost every vertical.
For a B2B company, focus on identifying and capturing the contact information of individuals who are interested in a company's product or service.

Create landing pages on very niche areas where your brand expertise lies. Get the niche page to rank on search engines using the latest SEO techniques (more on this below). Use call-to-actions such as forms to help in capturing leads.

Through the forms, collect data such as contact information from qualified leads who are likely to be interested in purchasing the company's product or service.
4. Personalization & targeted marketing
Using data and technology to create personalized marketing messages and experiences for customers will continue to be a key strategy. This can be done through email marketing, website personalization, and personalized ads.
Read: How Much Does It Cost To Develop A Real Estate App
Customers love feeling special.
The brand which creates a personalization strategy for targeted marketing will have a high ROI in 2023. For that the focus has to be on demographic personalization. This includes knowing the following:
Geography

Age

Location

Gender

Browser

Language

Devices used
Consistently monitoring data helps in understanding the interests of users. According to research, 80% of the people said that they're likely to buy from companies that offer a tailored experience.
5. Focus on a single social media channel
Social media platforms will continue to be important channels for connecting with customers and promoting products and services.
Read: Tips for Branding A Software Development Business
If you're a small team, focus all your efforts on one social media channel - the one that gets the most engagement for you.
Review your previous analytics to decide which platform to use. Keep in mind that in 2023 consumers will have access to more information than ever before.
They're constantly searching for reviews and recommendations for everything from local restaurants to the best summer camps in their area. This means that retargeting the customers who search for terms relevant to your niche will be the key to getting the right customers.
6. Influencer marketing will be an integral part of e-commerce
Partnering with influencers to promote products or services to their followers will continue to be a popular strategy, especially in e-commerce. People follow influencers and want to imitate their dressing, styling and fashion sense. Brands are associated with influencers.
Read: Travel Web Application Development Cost
For the younger generation, especially Gen-Z, influencers come first, brands come next.
This is why creating a portal in the e-commerce store in which each influencer is given a separate code is the best way to track sales, revenue and real-time performance.
Read: Decentralized Marketplace Development
Before creating an influencer studio or portal, ensure that you have the best e-commerce services provider. Adding an influencer portal requires customizations, so you have to make sure that the solutions fit into your current tech stack. For instance, if your website is built on Shopify, building an influencer studio will be different than if you're using Magento.
7. Keep on top of SEO updates
Optimizing websites and content to rank highly in search results will remain a key part of any digital marketing strategy in 2023.
Read: 3 Proven Strategies to Automate Marketing
To stay on top of the game, you need to be up-to-date with the latest technology releases. According to Google's Search Quality Rater guidelines, the previously used model for ranking content on search results was E-A-T.
E-A-T (E - Expertise, A - Authoritativeness, T - Trustworthiness)
With the latest update, E-A-T has now been changed to E-E-A-T.
Now, with an extra E the it has become:
(E - Experience, E - Expertise, A - Authoritativeness, T - Trustworthiness)
Google explains it as follows: "Consider the extent to which the content creator has the necessary first-hand or life experience for the topic. Many types of pages are trustworthy and achieve their purpose well when created by people with a wealth of personal experience. For example, which would you trust: a product review from someone who has personally used the product or a "review" by someone who has not?"
With AI tools becoming popular, it has become possible for anyone to write on a topic. This is not a fair way for content creators who are experienced in a specific niche and have writing on it for years.
With Google's latest E-E-A-T update, experience will be given credit.
Note: For companies ranking higher in search results is the goal for 2023. This can now be done if writers increase their content authority, which now requires showcasing your "experience" in a niche.
Still, the prospect of writing your own content can be intimidating, so if you aren't an experienced content writer or copywriter, we suggest you hire an agency. For example, you can look up Straight North if you need SEO services in Chicago. Localized content can be beneficial for your SEO ranking, especially if you have a brick-and-mortar establishment.
8. Search inside videos
Using video to promote products or services will continue to be an effective marketing strategy, especially as more and more people consume video content online. They also upload and seek ways how to compress a video to make it more available for users worldwide.
Google has released a new search technology. The following new features are now being tested and rolled out:
Bilingual option in search results

Bilingual option in voice search

Searching inside video

Google Pay now has natural language search

Google Lens now has the option of handwriting to text translation
The latest features of in-video search will make it easy for people to view particular parts of videos. This feature shows that attention spans of people are decreasing and Google has taken this into account.
Now, you no longer need to watch long videos just for a query that can be solved within a few minutes.
Note: The search features have not been rolled out world-wide, but it's nice to plan your video marketing strategy keeping this technology in mind so that you're not left behind in the coming year.
Final verdict: which strategy is the right one for you?
This article discussed a number of ways to keep your marketing strategies up-to-date in 2023. Let's quickly summarize the key points discussed:
Demand generation and lead generation are both marketing strategies that are used to attract potential customers and generate interest in a product or service.

Content marketing is useful if you focus on the latest algorithm updates for SEO.

Influencer marketing will be the key focus for a number of brands, especially those in the e-commerce sector.

Video marketing will now only have an option of searching inside video so marketers can capitalize on creating helpful, informative content.

Personalization is necessary for targeted marketing as customers adore brands that feel and target their pain points.
It's worth noting that these strategies are likely to evolve and change over time, so it's important for marketers to stay up-to-date on the latest trends and technologies in order to stay ahead of the competition. Hiring an SEO company in Jacksonville, like Dagmar can also do wonders for your marketing efforts.
Posted by
Mahipal Nehra
|
Posted at 11 Jan, 2023
Web