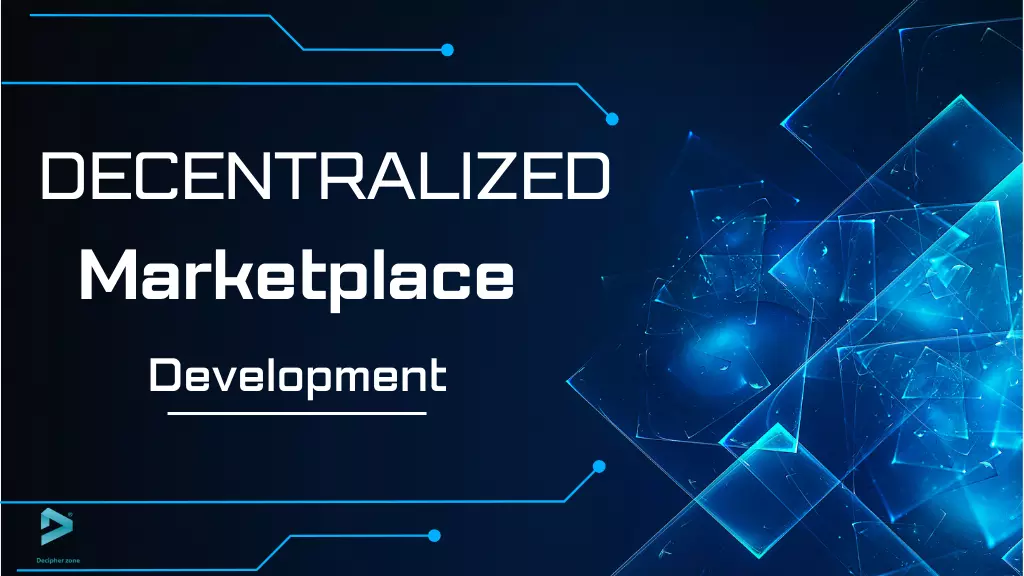 Decentralized Marketplace Development
You might have heard about blockchain technology and how it is continuously evolving. It is also known as distributed ledger technology (DLT) which has made it impossible to modify or delete the history of a digital transaction or assets using cryptographic hashing.
Moreover, blockchain makes transactions transparent and decentralized to enhance peer-to-peer trading without involving middlemen. Some of the popular applications of blockchain include smart contracts, money transfers, the Internet of Things, Healthcare, Logistics, Non-Fungible Tokens (NFTs), Personal Identity Security, and Decentralized Marketplaces.
Although there are many other use cases of blockchain technology, in this blog we will take a closer look at decentralized marketplaces.
So, without further ado, let's get started.
What is a Decentralized Marketplace?
A decentralized marketplace is a virtual space that works on a blockchain network with a non-central authority. It is a platform where buyers and sellers make transactions without any interference from third parties.
In simple terms, decentralized refers to the absence of authorities from business operations. A decentralized marketplace allows buyers and sellers to make deals from all over the world using blockchain and a peer-to-peer network that integrates transparency of the digitized ledger and a layer of trust.
Read: NFT Marketplace Development
Unlike eCommerce platforms, decentralized marketplaces allow people to transact on a permissionless, self-executing platform.
What makes decentralized marketplaces popular is that the funds and trades are executed and controlled by smart contracts instead of an individual.
Note: Smart contract is a transaction protocol or a computer program intended to control, execute, and document events as mentioned in the terms of an agreement or contract automatically.
Read: Trends in Blockchain Technology
Advantages of Decentralized Marketplace
But, why should one invest in the development of a decentralized marketplace? Well, we will let the advantages of a decentralized marketplace answer.
Elimination of middlemen from the marketplace for making it more efficient and cutting out their fees is among the main pros that come from using decentralized marketplaces.

As there is no single source of data, there's a low chance of decentralized apps getting hacked. While hackers might try to penetrate the network, up until now they have rarely achieved success.

Blockchain is not controlled by a central authority, giving censorship resistance from both government and centralized marketplaces that like to ban certain users.

Decentralized marketplaces allow transparency between users, especially if the smart contract has a mutually agreed term to share data and information.

Unlike centralized marketplaces that have to wade through banking regulations and laws for every jurisdiction to operate, a decentralized marketplace powered by blockchain gets global instantly.

With the decentralized marketplace, value is redistributed to the ones who have contributed most to the network. This gives us a "better-than-free" economic model that rewards early users of a platform with rewards.
Read: Blockchain Testing
Decentralized Marketplace Use Cases
A decentralized marketplace has opened up a world of new opportunities for businesses. Some of the top use cases of decentralized marketplaces are as follows:
With a decentralized marketplace, a user gets more control over the assets as it allows users to buy, sell, transfer, stake, and earn interest on digital assets. It also helps users to encrypt and store information on their devices to ensure that only the users have access and control over their accounts' assets.
With a decentralized marketplace, the banking and finance industry can leverage transaction transparency and data protection at once. It makes banking and finance organizations an automated workflow system to track and protect user transactions and assets' information.
As the supply chain industry deals with the production and distribution of goods, having a decentralized marketplace can prove to be a boon for them. It will support transparent oversight and data tracking in an immutable and shared ledger while keeping the records highly secured.
Read: How to convert art to NFT
Previously, the paperwork in the supply chain industry used to create severe bottlenecks for the business that often led to inefficiencies and higher expenses. But, with the introduction of decentralized web apps, all these processes can be automated and streamlined for smoothening logistics.
With the digitization of the world, keeping personal data secured has become one of the crucial tasks. Thus, the protective measures of blockchain-based decentralized web apps ranging from encryptions to private keys help substantially reduce the risks of cyber attacks to steal personal information.
Decentralized web apps in the healthcare sector help in boosting access to users' information and minimize healthcare costs across the stakeholders. It makes it easier and more secure for the healthcare sector to verify if a patient is covered by any health insurance, their previous health issues, allergies, reports, and other things a medical doctor will constantly need access to.
Read: Escrow Payment Solutions For Your MarketPlace
This decentralized platform allows doctors and patients to stay in touch and at the same time allows medical professionals to safely diagnose a patient according to their medical history.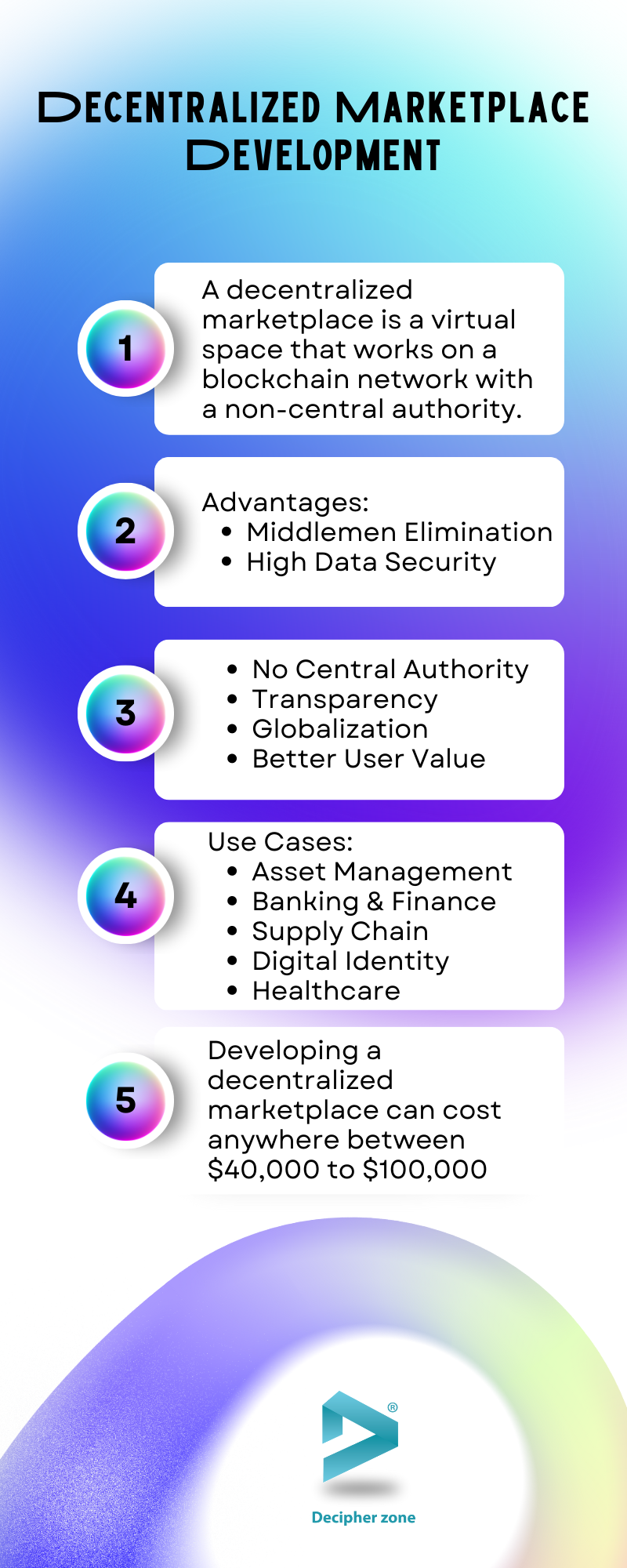 Decentralized Marketplace Web App Development Cost
A typical decentralized marketplace can cost anywhere from $40,000 to $100,000 depending on the features, architecture, design pattern, infrastructure, complexity, functionalities, and compliances of the web app.
Besides, before developing a decentralized marketplace web app for your business, concentrate on your niche, select the right blockchain network, choose the user-centric yet advanced features, build an interactive user interface, choose the right database storage, set terms and conditions of the smart contracts, and focus on testing and deploying.
Read: Cost to Develop a Crypto Wallet App
How Can We Help?
Wanna develop a decentralized marketplace? We at Decipher Zone have a team of skilled professionals that you can hire according to your requirements.
Read: What is Web 3.0
They have experience in working with blockchain technology, smart contracts, databases, cloud infrastructure, serverless, microservices, and so much more that will make the development process a lot hassle-free and fast. All you have to do is get in touch with us and share the project requirements to receive a customized quote to hire developers.
FAQs
Q1. What is a benefit of a decentralized marketplace?
A decentralized marketplace is a virtual space that works on a blockchain network with a non-central authority.
Q2. What is a DeFi Marketplace?
DeFi or Decentralized Finance marketplace are the platforms that use blockchain technology and smart contracts to remove centralized institutes and third parties from financial transactions.
Q3. What is a benefit of a decentralized marketplace?
Transparency, security, trust, privacy, transaction integrity, better data reconciliation, lower transaction costs, etc. are some of the benefits that a decentralized marketplace offers to its users.
Posted by
Mahipal Nehra
|
Posted at 21 Dec, 2022
Web