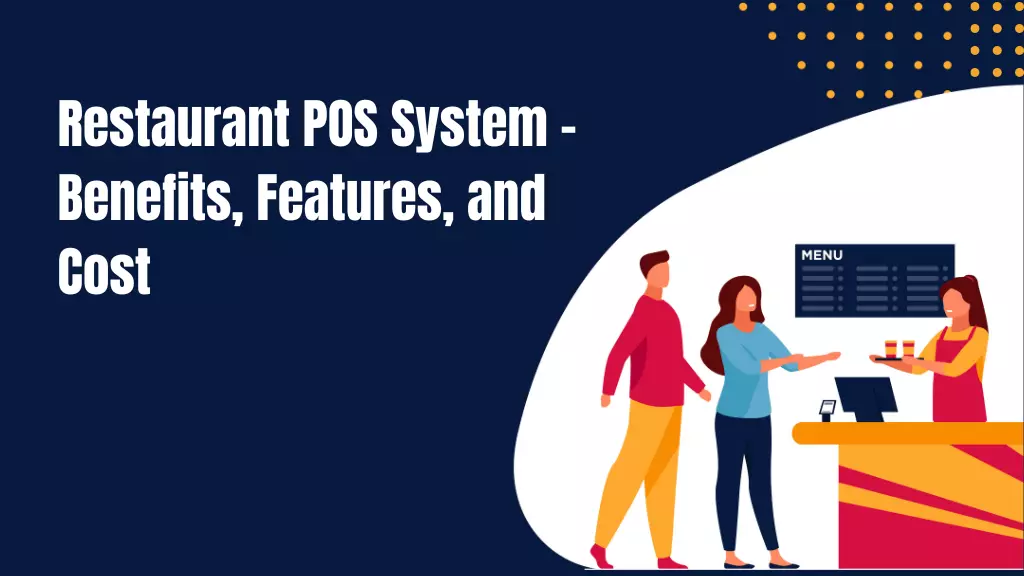 Restaurant POS System - Benefits, Features, and Development Cost
Digitization has helped businesses gain access to a wider range of growth opportunities alongside efficient and effective management. And one such thing is to develop a restaurant POS system.
It helps a restaurant manage its operations efficiently alongside providing an enhanced customer experience. In this article, we aim to provide details on developing a restaurant POS system, along with the benefits it provides.
Read: Multi-Vendor Food Delivery System
But, first, let me tell you that a POS System is slightly different from a restaurant management system. Since POS systems incorporate both hardware and software products, unlike a restaurant management system that only comprises software.
What is a Restaurant POS System?
It is also known as the Point of Sales system. It is a software solution used with hardware devices, which helps register a user, process orders, transactions, payments, and several other aspects needed to run and manage a restaurant.
Read: Restaurant Management System
For example, Subway uses the ParTech POS System that caters to services like digital menu boards and makes business processes flexible, durable, and scalable.
Read: Software Development
There are several components in a POS System and they are the software, a touchscreen for registration, a cash drawer, a scanner to scan barcodes, an invoice printer, and a display pole for the customers to see the price.
11 Benefits of Using POS Systems for your Business
Some of the benefits are as follows -
It provides the necessary features that you need for your business.

It can be easily integrated into other CRM solutions for your business.

POS Systems also facilitates dashboard and analytics which helps in providing real-time insights to make better business decisions and gain a competitive edge in the market.

It helps in accelerating growth and also helps in improving control over your business.

It helps provide quick services which help in enhancing the customer experience alongside faster order processing.

It also provides the flexibility to upgrade or update the system at any time depending on the business requirements.

It helps in the efficient management of the tasks and also reduces human errors since it is the system that does all the tasks like recording to calculate the transactions.

It also helps in increased profitability alongside better inventory management which in turn improves organizational efficiency and increases productivity.

In addition, developing a restaurant POS system also helps in creating a marketing campaign for your business which helps in drawing potential customers toward your business.

It also helps in easing out the entire billing operations.

Restaurant POS Systems also help in business expansion, since it helps you to manage multiple outlets from one place or system.
Businesses are developing POS systems for the innumerable benefits that it provides.
Now that you are familiar with the benefits of restaurant POS systems, also make sure that you learn about the disadvantages associated with them.
There are not many drawbacks but one primary concern is the high costs, which can be eliminated in some time with proper marketing campaigns and advertisements for the respective system.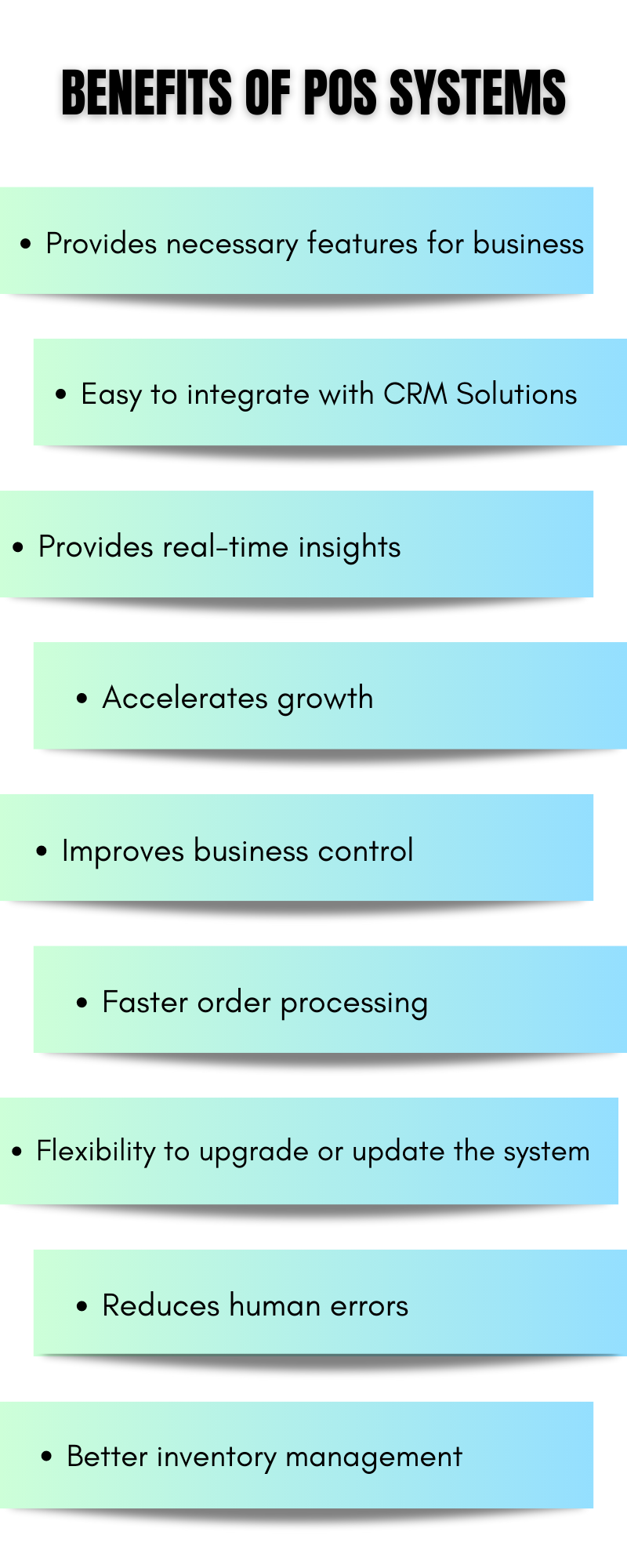 Features to Consider while developing Restaurant POS System
While developing restaurant POS Systems here are a few features that you can consider integrating -
Inventory Management

Transactions Manager

Dashboard and Analytics

Employee Management

Customer Management

Order Management

Kitchen Manager

Menu Management

Location Manager

Referrals and Cashback Programs

Notifications Manager

Security

Invoice Management

Table Reservations

Recipe Management
Different restaurants and eateries have different requirements.
Cost of Developing a Restaurant POS System
The Restaurant POS System development cost might range somewhere between $30,000 - $3,00,000.
Developing a POS System is a complex task, which requires a lot of time, effort, and money. When developing such a system, make sure that you conduct thorough research based on your business requirements, and follow all the necessary steps.
Read: Cost To Build A Hotel Booking Application
Besides this, to determine the cost of developing a POS system first you need to list out your business requirements.
The other factors that you need to consider to estimate the cost of development include the type of software, the features, the technology stack, the location of the development team and their hourly charges, and testing and maintenance costs as well.
Also note that the basic development team that you will need to develop such software includes the designer, front-end developers, back-end developers, QA engineers, system administrators, project managers, and others.
Wrapping It Up
Managing a restaurant and its operations has been a challenging task with the increased demand for customers. It is important to get hold of every aspect of the business simultaneously if you want to accelerate your business growth.
So, whether you own a local cafe or a global chain, if you are thinking of developing a restaurant POS system, then why wait?
Schedule a free consultation with us and develop the best solutions for your business.
FAQs
What does a Restaurant POS System do?
Also known as the Point of Sale system, it comprises both hardware and software components that help in taking and accepting customer orders, managing payments and inventories, alongside managing the entire operations to improve the organizational workflow.
What are the different types of POS?
There are four different types of POS systems, namely - legacy POS systems, mobile POS systems, tablet-based POS systems, and cloud-based POS systems
What are the best POS systems for restaurants?
The 5 best POS systems for restaurants are as follows -

Clover for Quick-Service Restaurants

Lightspeed Restaurant for Cafes

Square for Small Businesses

Toast for Contactless Ordering

TouchBistro for All-in-One Restaurant Management.
Posted by
Mahipal Nehra
|
Posted at 05 Apr, 2023
Web