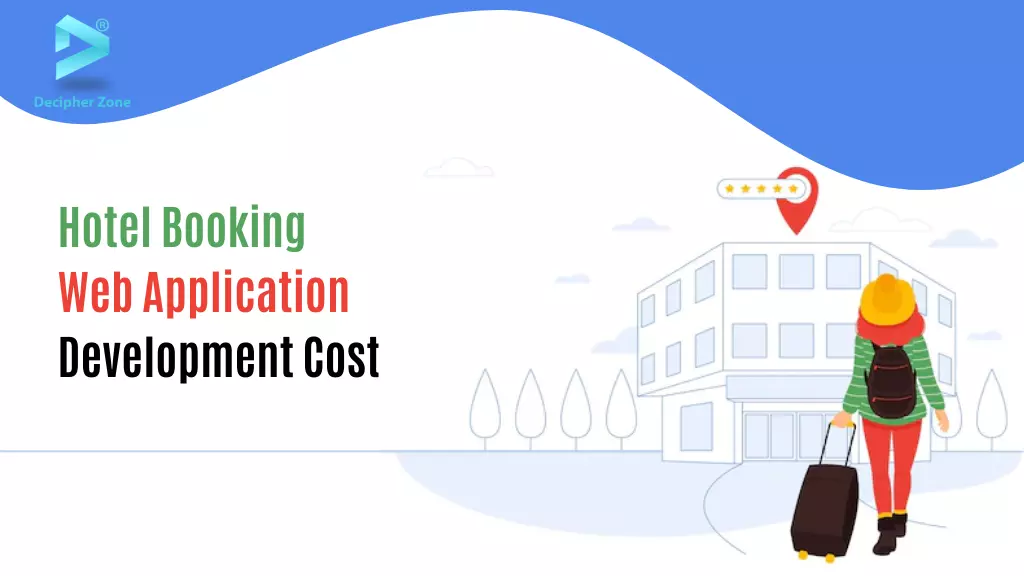 How Much Does It Cost To Build A Hotel Booking Application? 
How Much Does It Cost To Develop A Hotel Booking App? Over the last decade, several industries have digitized their businesses and the travel industry is no different. The travel industry has gone to significant lengths to create its presence online. Using the web for discovering new destinations, planning and reviewing the trip has become an important part of the travel market.
What makes all the planning and booking easier is a hotel booking web app. From trip planning to getting tips and advice, from booking tickets to reservations of hotels, the hotel web app can help in making the travel experience remarkable for users.
Due to the continuous increase in hotel booking websites and applications, many entrepreneurs and startups in the travel and hospitality industry are questioning whether investing in hotel booking websites and application development will be worth it and how much will it cost to start in the first place.
If you are also in the same dilemma, then this blog is just for you. It will help you understand all the aspects of the hotel booking app, its success rate based on different authentic reports, and an approx development cost.
So let's get started!
An Overview of Hotel Booking Web App
How Much Does It Cost To Develop A Hotel Booking App? A hotel booking web app is a software application that is designed to enable easier access to different hotels, allowing guests to schedule the length of stay, plan their travel, check pricing based on room offerings, choose from different room types, book the hotel room, get confirmation, and even cancel the booking in case of changed plans.
Using a hotel booking web application can not only improve the reservation experience of the guest but also helps hotel owners in marketing their hotels, tracking more customers, and getting customer feedback and ratings. Besides, the web app owner can gain commissions ranging anywhere from 10-15% for successful reservations which can be highly profitable given the number of hotels and customers around the world.
Read: 6 Stages of the Agile Development Lifecycle
Statistics for Hotel Booking Web Application
Although we know what hotel booking applications are and how other businesses are creating their online presence, how can we be so sure that it will be a successful move for you?
Let us confirm this for you using statistics from trusted sources.
Read: How to Build a Web Application Using Java
Business Model for Hotel Booking Web App
But before you hire developers to build a hotel booking web app, you need to know the business models to set the web app on. Here is the list of hotel booking web app models.
An aggregator model is the most used one in the hotel industry. It is a networking eCommerce business model where a firm (aggregator) collects data relevant to online booking services offered by different reservation platforms and displays it on its website. The aggregator application is linked to different online booking services and provides a suitable list of hotels with different price options to the users. Once the user chooses one of the hotels from the list, the app will redirect them to the preferred hotel booking website or application.
Put simply, this application helps those users who want to compare prices for better deals and discounts on the booking.
Online travel agencies (OTAs) Model
OTAs business model is a web platform allowing customers to research and book travel services be it flights, hotels, cars, cruises, and other activities. It acts like a third-party service that offers flexibility in travel packages, reservations, hotel booking, and so much more. As an OTA web app owner, you can generate revenue by charging service fees from both hotels and customers.
If you go for the merchant model, you can sign a contract with the hotel and gain the right to a certain number of rooms that you can list on your web application to be reserved by customers.
With this, you can easily offer rooms in different cities, states, and countries worldwide and gain massive revenue.
In simple terms, you sign the contract stating the amount the hotel wants to charge for the rooms assigned, suppose $70, and you put up that room for $100 on your web app, then the hotel will get $70 and the rest $30 will be kept by you.
Similar to the aggregator model, the advertising business model also offers rooms from different hotels. However, unlike the aggregator model where the revenue is generated with the conversion of the lead into the guest, the revenue in the advertising model hotel booking app is generated based on the pay-per-click method.
The dedicated business model is best for a well-established hotel that has a lot of repeated customers. With this dedicated business model, you can build a hotel booking system for the chain of hotels and resorts you own and also offer benefits like loyalty programs and attendant services to your customers. Here, you are free to incorporate as many services in the application as you want to give your customers an unimaginable experience with your hotel.
Read: How Can Real Estate Software Solutions Benefit Your Business
Must-Have Features for Hotel Booking Web App
With the understanding of hotel booking app development along with its business model and success rate, it is time that you know what are the must-have features for the platform.
User Account: The user must have a dashboard that allows them to customize their details as well as the ability to view previous bookings, plan visits, and create wish lists.

Search: The web app should enable the user to search hotels according to their preferences of location, date, and guest number. A user must be able to set the date of arrival and departure through a date picker and select the city they are going to travel.

Result Filtration: Users must be able to filter results even more precisely according to the ratings, price range, etc. which will help them to find the ideal hotel at a reasonable price with ease.

Multiple Language & TimeZone Support: If you want the web app to be accessible worldwide, it is essential to add multiple languages as well as time zone support to help customers personalize their experience.

Secure Payment Gateway: The web app must have a safe and secure payment gateway to avoid any sort of fraud and loss for both hoteliers and customers.

Appropriate Accommodation View: Hotels should offer videos, photos, and 3D tours of their rooms that would help people choose the best hotel for their travels.

Cancellation & Refunds: The web app must have a flexible cancellation approach with clear instructions on conditions where the charges will be deducted on cancellation and when the refund will be fully refunded to the customer.

Hotelier Account: Hoteliers should also have a personalized dashboard that allows them to review and confirm bookings, verify payment status and manage the hotel account.

Push Notifications: The notification feature in the web app will be highly appreciated by the users and hoteliers as it will help in notifying them about booking details, discounts, check-in, check-out time, etc.
Some of the additional smart features that are worth considering before developing the web app for hotel booking are:
Social Signup or Login

Cost Forecasting

Personalized Recommendation Engine

Currency Converter

In-App Travel Guide

Analytics Dashboard

Loyalty Programs

Virtual Tours

Review and Ratings

Hotel Comparison

In-App Navigation

Car Rental

Flight/Train Search & Booking

Analytics
Read: 9 Ways Design Software Can Ease the Process of Product Development
Hotel Booking Web App Technology Stack
With the emergence of new technologies in the web app development industry, creating a successful hotel booking web app requires you to choose the right technology stack.
To make the work easier for you we have listed the tech stack to choose from:
Programming Languages for App Development: Java, JavaScript, TypeScript, Python, Perl, Kotlin (Android App), PHP, Swift (iOS), React, React Native, Flutter, Xamarin (Cross-platform)

Data Storage and Cache: Amazon S3, Google Cloud Storage, Azure Blob Storage, DigitalOcean Spaces, Zadara, IBM Cloud Object Storage, MinIO, Backblaze, Cloudian HyperStore.

Desktop-based UI: Electron, Chromium Embedded Framework (CEF), Node Webkit (NW.JS).

HTTP and Proxy Server: HAProxy, Nginx, Apache Tomcat, Varnish, Caddy, Lighttpd.

Primary Platform Structure: Google Cloud Platforms or Dataproc

Real-time Analytics: Hadoop, BigData, IBM, Cisco, Apache Flink, Spark

Payment Integrations: PayPal, eWallets, Stripe, Braintree

SMS, Phone Verification, Voice: Nexmo, Twilio

Push Notifications: Push.io, Twilio

Aggregator APIs: Expedia Affiliate Network API and ZUMATA Hotel Booking API

Maps: Google maps API, LocationIQ, BatchGeo, Mapbox, Openlayers

Nearby destinations: Bing Maps API, Google places API, MapBox, OpenLayers, ArcGIS

Cloud Environment: Microsoft Azure, AWS, Google Cloud, IBM Cloud, Oracle, Salesforce

Streaming Media System: Wowza Streaming Engine, Red5, Nimble Streamer, Adobe Media Server, Helix Universal Server
Read: Top Reasons Why Should Startups Switch To ReactJS Development
How Much Does It Cost To Develop A Hotel Booking Web App?
How Much Does It Cost To Build A Hotel Booking Website OR Application? A hotel booking web app can cost anywhere between $40,000 to $90,000 depending on the scale, requirements, and complexity of the project. To build a hotel booking web app with a minimum of 8-10 developers for tasks ranging from project planning, designing, building, deploying, testing, and debugging to maintenance.
Read: How Much Does It Cost To Develop A Real Estate App
Conclusion
It takes a lot of effort to build a hotel booking system for a business but all the contributions made towards it are worth it. From the statistics shared in the blog, it might not be wrong to say that these apps can provide a plethora of opportunities to hoteliers and entrepreneurs related to the hospitality and tourism industry.
If you are planning to create a hotel booking web app for your business as well, then it is crucial to hire developers with years of experience and expertise in the area. Wanna know the exact cost of developing a web app that matches your business requirements? Then don't hesitate and drop your query to get an estimation.
Read: On-demand Medicine Delivery App Development
Top 11 Popular Database For Web App Development
Posted by
Mahipal Nehra
|
Posted at 02 May, 2022
Web