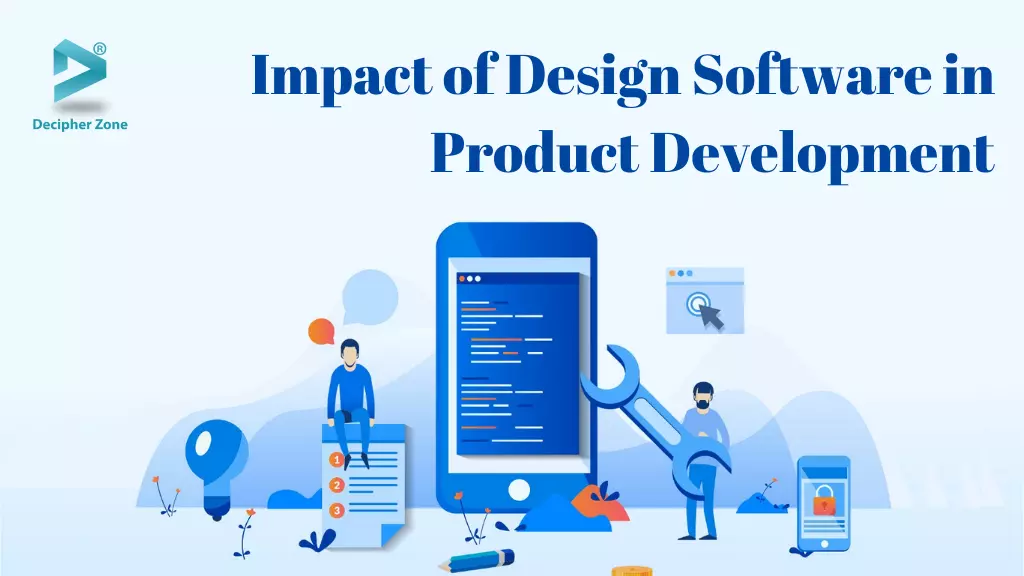 9 Ways Design Software Can Ease the Process of Product Development
As technology refines, so do the processes involved in product development. Nowadays, introducing some software, like design software, makes it possible to streamline the process of creating and releasing products by saving time and effort, and improving the quality of the result.
Continuing to not implement new technologies as they improve causes you to waste resources, time and effort, as well as causing you to lose competitive advantages.
Continue reading if you're still unsure about their implementation within your business. In this article, we're going to list nine ways design software can ease the process of product development.
Let's dive in right now.
What is design software?
The design software used in product development allows designers and engineers to create 3D/2D renders and mockups.
Using design software will ensure your final products are defect-free (fixing errors after production can cost you up to 100X more) and meet your customers' expectations regarding fit and functionality.
How does product design software work?
You can already imagine that product design software can simplify the product development process and allow designers and engineers to develop high-quality products in a short amount of time.
Read: Web App Development Process
Understanding the steps involved in utilizing a design software would help you learn more about how it works.
The following are a few of the most pertinent ones:
1. Initial human input–The designer or engineer will first enter all details and data into the software. This information will then guide artificial intelligence in the generation of the design. Goals, constraints, and limitations of the design are examples of data designers might include.
2. Design software begins to operate–Once the software has been set up with all the parameters, it will begin to operate. Based on the data provided, computer systems and artificial intelligence will generate a multitude of different possible designs.
3. Human corrections–After the software creates the initial design, the designer or engineer reviews it. At this point, they may change constraints and goals. In case of need, they will repeat the process until they reach a satisfactory design.
4. Prototype development–After a designer or engineer has completed the design, they create a prototype. After evaluating the prototype, the designer decides whether to approve it, put it into production, or return to stage three for further modifications.
9 ways design software can ease the process of product development
1. Save money and resources
The typical process of product development generates many prototypes before arriving at a viable product.
As you can imagine, this can require a great deal of money and resources, which can have a major impact on your company's finances.
Design software allows you to optimize your product digitally and create a prototype only once you and the rest of your team are satisfied with all the details and the preview.
This way, you and your company can save time and resources that would otherwise be allocated to other processes or projects.
2. Save time by automating design creation and adjustments
There is a lot of competition in the product development industry. Therefore, the ability to develop and launch a product on time is essential to standing out in today's market.
Fastening time using traditional design methods is, however, quite challenging if not impossible.
Read: Top 5 Web Design Trends for 2022
Instead, design software saves engineers and designers a great deal of time, creating almost perfect designs in a matter of seconds.
In this way, designers can devote their time and efforts to perfecting their product and making it unique.
Also, design software streamlines the process of making changes and allows for reusing previous models without having to recreate them from scratch.
3. Increase productivity
As an extension of the previous point, the time saved also translates into improved and increased productivity.
Therefore, engineers and designers have the ability to complete a large number of projects within a shorter time frame.
It is possible to create infinite variations of a final design using design repeatability or modifying the same design.
4. Improve accuracy and reduce error rates
It is common for designers to make mistakes in manual sketching, which force them to rework the design with more effort, time, and resources.
Design software, in contrast, has a very high rate of accuracy with a near-zero error rate.
Read: 5 AI Trends to Watch
This is especially significant when dealing with complex designs that require the highest level of accuracy.
However, even if the software generates a faulty design, it is easy to make adjustments and it will quickly revert to a correct design.
5. Enable quick sharing for collaboration
Software generates digital designs that can easily be shared among team members working on the same project or product. Shared data is instantly available, so remote workers and workers in other locations can see and collaborate on it.
Also, design software is now being used on the cloud, making designs accessible at any time to an unlimited number of people at the same time.
Similarly, design software generates models with standardized formats. This uniformity in design tools and symbols facilitates collaboration among different users working on the same project.
Multi-location companies especially benefit from this.
6. Provide instant solutions for more complex materials using lattice software
It is quite difficult to use traditional design methodologies to realize a product made of a particular, complex material type, like lattice, since it requires much time, dedication, and resources.
Instead, certain design software, such as lattice software, enables you to create highly functional parts and revolutionary products efficiently.
Software of this type allows you to create conformal lattices for performance and aesthetics, preview changes in real-time, and rebuild even the most complex lattices with a few clicks.
Read: How Does AI Fit into Analytics
In addition to saving time, it allows you to approximate the effective material properties of the lattice by simulating a single lattice cell instead of simulating its entire structure.
Furthermore, you will be able to maximize your performance targets by optimizing your lattice structures.
7. Provision of detailed documentation
Another benefit of using design software is that it automatically generates documentation.
By documenting your design decisions you can justify them and provide simple explanations. Having the product details listed allows other team members to check if the components work together before building prototypes.
Read: Tips To Hire The Best Developers
Furthermore, they can view the documents so that they can see if your component fits into their vision of the product.
Whatever software you use, the geometry and dimensions of the products and their specifications will vary. Each designer will shape the product according to their own artistic vision. Using design software, each step and every draft will be documented.
8. Enhance design creativity without wastes
It can be difficult for engineers and designers to come up with creative and efficient ideas about a product.
Instead, design software generates thousands of design ideas and variations instantly and lets you pick the one that best satisfies your needs. As you can imagine, this will greatly expand your outlook, and will allow you to be more innovative and original, which in turn will give you a competitive advantage and authority within your niche.
9. Get rid of traditional design limitations
When using traditional design methodologies, machines and programs are limited to basic geometric shapes.
Through the use of more advanced design software, AI can overcome these limitations, allowing designers and engineers to create complex geometric shapes that otherwise wouldn't be possible.
Best design software for product development
As you now know more about how design software can streamline the process of product development, you may be tempted to start using one in your company.
However, with so many options available, selecting the right one can be quite challenging and time-consuming.
To guide you, we have listed below some of the best design software to consider.
nTopology
nTopology is a widely used and popular design software. Using some of its key features, designers and engineers can streamline the design process. It is capable of creating reusable workflows tailored to a specific application using state-of-the-art generative tools and allows engineers to fully control the optimization process and outputs.
Fusion 360 from Autodesk
Fusion 360 offers generative design tools that enable users to identify design requirements, constraints, materials, and manufacturing options, all while leveraging machine learning and artificial intelligence to review cloud-generated outcomes based on visual similarities, plots, and filters.
NX from Siemens
A generative design tool from Siemens, NX, helps engineers and designers design more efficient products. NX provides a comprehensive set of integrated tools for all phases of product development, including concept design, engineering, and manufacturing, that streamline the entire design process, preserve and ensure data integrity.
Conclusions
As technology advances, traditional design methodologies are becoming obsolete. Modern software, like design software powered by AI, can speed up the product development process and improve the output.
Throughout this blog post we discussed how design software can bring a lot of advantages to your company, and we outlined the top nine ways it can ease the product development process.
Once you begin using such software, you will see its advantages immediately. Thank you for taking the time to read this blog post. We hope it was informative to you.
Posted by
Mahipal Nehra
|
Posted at 16 Mar, 2022
Web