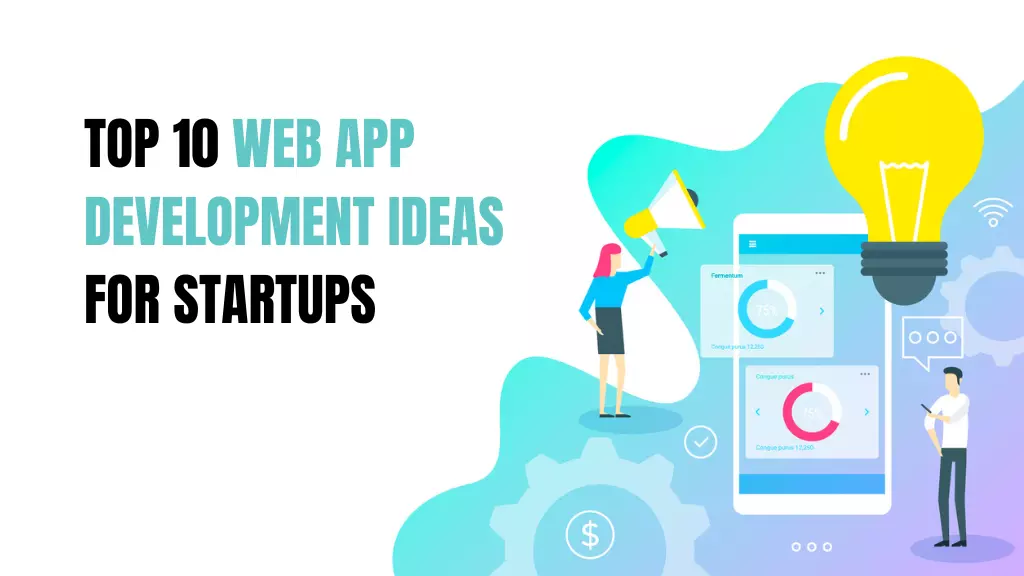 Top 10 Web App Development Ideas for Startups in 2023
Top 10 Web App Development Ideas for Startups for 2023. The world's most valuable companies and businesses, like Amazon, Apple, Meta (formerly known as Facebook), and Google, were once a startup.
These companies have laid the foundation to make an impact on the ever-changing demands of consumers, and software development has catered to them well.
And from all the types of software available, web apps have done pretty well, making it an important reason for startups to invest in web app development.
Top 10 Web Application Development Ideas for Startups in 2023
Here is the list of Top 10 Web App Development Ideas for Startups for 2023.
Car Rental Software Development

E-Learning Software Development

Event Management Software Development

Healthcare Web App Development

Home Service Provider Application Development

Logistics Management System Development

Cook Finder Software Development

Streaming Service Application Development

Travel Web App Development

Vacation Rental Software Development
Web App Development Ideas for Startups - Top 10 to Consider in 2023.
It helps users to rent a car and visit places. These apps work just like the other apps where the users can access the app via the browsers on their smartphones and avail of the services, making the process complete.
Read: Web App Development Process
The features of car rental software include checking the availability of cars, real-time fleet tracking, user details, price calculation, different module managers, ratings and feedback, a dashboard, and others.
Education is the most powerful weapon and an important business idea to consider if you are considering developing an application for a startup. These applications help create and sell courses online in audio/video classes, PDFs, PPTs, and many other forms. In addition, they also provide assignments to test your knowledge.
Read: Web App Development Terms to Know
These apps help in providing a wider range of audiences, customer retention, and reduced costs with reusable study materials and several other modules.
Another important idea to note if you are a startup. Developing event management software will serve all the needs of a wedding, concert, corporate event, or any other type of event. These apps help event planners and organizers plan, manage, and execute all the tasks, streamlining their work and improving productivity.
Additionally, it will provide a digital platform for your event management business and help save extra effort, time, and money.
Some essential features you can consider integrating include a ticketing system, online/onsite check-ins, ticket code scanners, event calendars, live streaming, and many more.
Healthcare apps have risen since the pandemic, and developing a healthcare application will benefit a startup. These apps allow patients to book an audio/video consultation with a doctor, order medicines, and even manage their staff. These apps also help in reducing operational costs and improve productivity at work. Some features you can consider integrating are inventory management, staff management, shift management, health history, and others.
These apps help users avail of any service at their doorsteps by connecting them to local service providers. Not many apps are available in the market that provides multiple services under one roof. Be it house cleaning, gardening, car washing, spa sessions, plumbing, or other services.
These apps help in targeting the right traffic towards your business, make the business more flexible and accessible, and also help you to analyze user behavior and make better business decisions.
When everything moves, why not consider developing logistics software as a startup? These apps help manage the supply chain business processes, helping them reduce expenses and enhance customer feedback.
It helps increase the profitability of a business, helps in better and more efficient management, and reduces costs, alongside improved customer feedback. Some of the features include warehouse management, better demand forecasting, orders and billing management, and others.
When everything's available on demand, why not find a cook anytime, anywhere? These apps are the new buzzword that caters to finding chefs online and enjoying delicious food per your needs. Some features you can include in the app are social media integration, in-built call/messaging, modules management, dashboard and analytics, and others.
Read: Mistakes to Avoid in Custom Web Application Development
The cost of developing such software can range from $35,000 to $400,000 depending on factors like the technology stack, integrations, and others.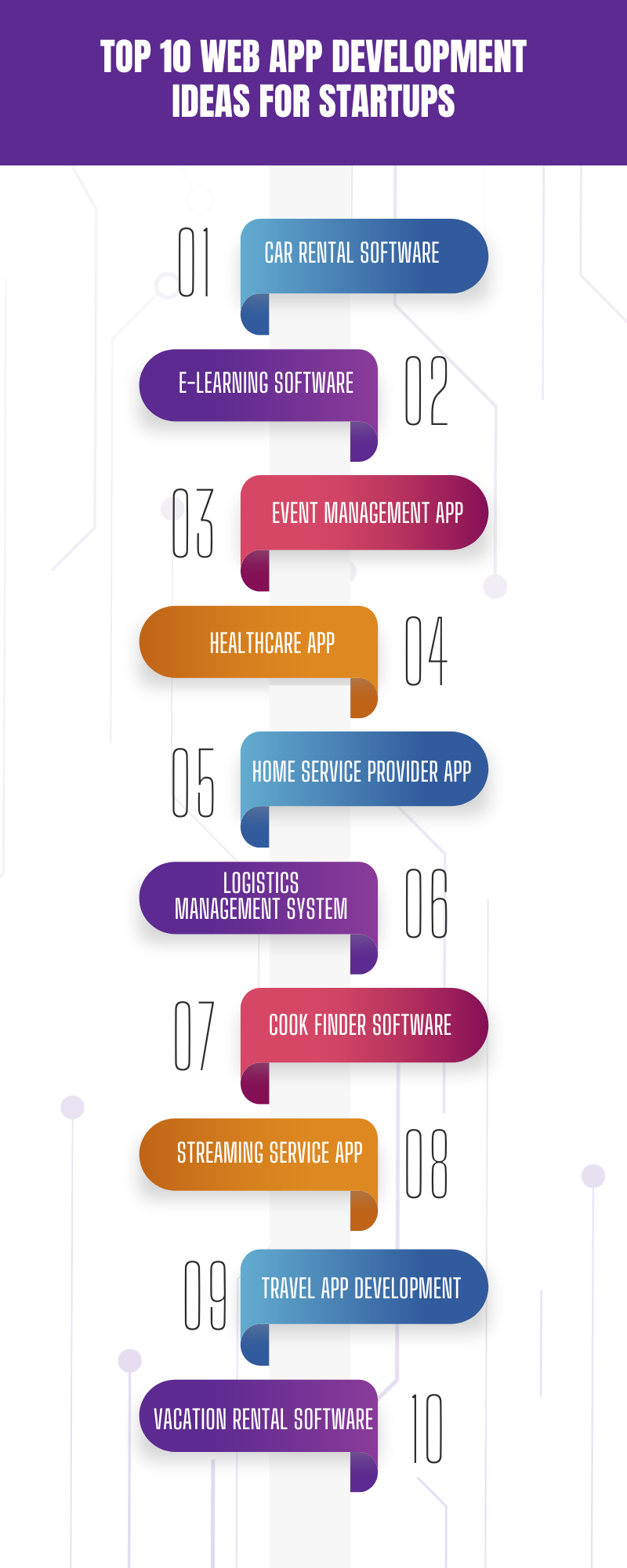 Like Netflix and Amazon prime video, developing a streaming service application can benefit a startup. You can stream videos online under different monetization models monthly, quarterly, or yearly.
Some of the benefits of developing a streaming service app are - it helps in gaining insights on user behavior, makes your business available 24*7, and others.
The travel industry has seen exponential growth in recent years, and developing a travel application for a startup business will accelerate your business growth. These apps have transformed the operations of travel businesses and have also helped in the automation of tasks, In addition, these apps have made businesses accessible alongside providing advanced customization and enhanced customer support and services.
Another important web app development idea to consider if you are a startup business. These apps help users to book and rent stays and accommodations according to their requirements and budget. This software also helps manage properties with a centralized login, makes the operations convenient and hassle-free, and provides access to real-time data and insights.
Some features you can incorporate into the software are - an easy onboarding process, browsing the list of properties with various filters and sorting options, real-time suggestions, and many others.
Why consider Web App Development?
Besides the fact that web apps play the role of both mobile apps and websites, it also provides a cost-effective solution for your business.
Some other reasons why you should consider developing web apps are -
Web apps are accessible on any browser and device with an active internet connection. And some web apps also cater to offline accessibility as well.

It is SEO-friendly, thus making it an important marketing channel for your business.

Unlike mobile apps and software, web apps do not require additional space on your device. Instead, these apps are directly accessible on the browser. Also, the updates are auto-implemented into the application.

It also helps make your business available globally, anytime, anywhere.

In addition, web apps help you understand customer behavior and usage patterns with analytics and dashboard, thus enabling you to make better business decisions.

The dashboard and analytics enable you to provide custom offers and coupons, helping your business with accelerated sales and lead conversions.
Summing Up
Web apps have helped businesses grow exponentially and accelerate their sales. They serve all business needs and are a great startup idea to consider.
So, if you are looking for any web app development ideas, you can consider the above-mentioned ideas and boost your revenue and a strong customer base.
Read: Tips to Choose a Custom Web App Development Company
FAQs
What kind of web apps will be in demand in 2023?
Some of the top web apps that are in demand in2023 include -

Event Management Software,

Home Service Provider Application

On-demand Cook Finder Software

Streaming Service Application, and

Vacation Rental Software
Which language is the best for developing web apps?
The best web app development languages are Python, Java, Javascript, Ruby, and PHP.
What are niche apps?
Niche apps are those developed for a specific business or for a particular purpose to meet the needs of a business. For example, the top-in-demand trending niches for web app development include apps for education or learning purposes, healthcare apps, banking, and finance apps, private messaging web apps, and many others.
Posted by
Mahipal Nehra
|
Posted at 09 Mar, 2023
Web