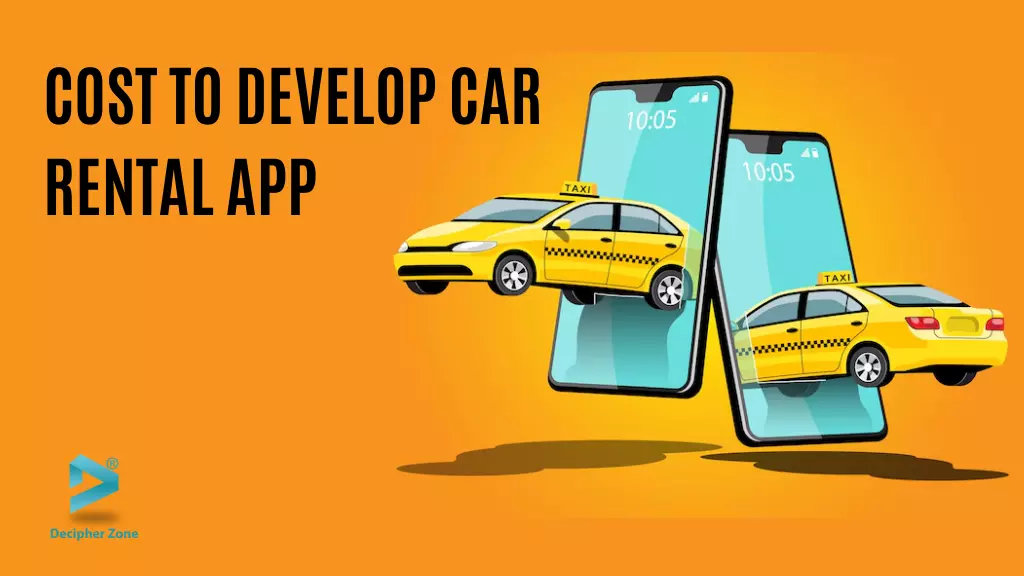 How Much Does it Cost to Develop a Car Rental App
How Much Does it Cost to Develop a Car Rental App? Establishing a car rental business has never been an easy task to accomplish. Just like other industries, technology has also made its impact on the car rental industry. It would not be wrong to say that industry leaders already own a web or mobile app that allows users to rent cars from their smartphones and computers.
Car rental companies have become more reliant on customized applications because the exponential growth of on-demand technology means they can reach their target audience worldwide with customized applications that meet their unique needs. In addition, with more and more people seeking the convenience of renting a car quickly and easily from their phones, car rental apps and websites are becoming increasingly important.
So, now the main objective for businesses is not to decide whether or not you should build a car rental application but what would be the cost and time to build one.
What is a Car Rental App?
Car rental apps enable people to rent a car to go anywhere using their computers or smartphones. Put simply, this app connects people who want to rent a car with people who need to rent. The app provides various choices for users to choose from and pay accordingly while offering some extra revenue to the car owners.
The p2p car rental app has made car owners a tough competitor for offline service providers. Anybody with a computer or smartphone with an active internet connection can get the required service without the need to go to the local rental service companies or make calls to book a car.
Car rental apps can be classified into outstation,self-driven, local, peer-to-peer, corporate, and long-term. You can choose the one that you find most convenient for your business.
"But what's the surety of the success of a car rental app?" - you may ask.
Car Rental App Business Model
Car Rental App is an end-to-end solution for shared mobility that offers the following solutions:
White Label App that gives the ability to customize the interface, logos, and colors and add features like Self Service (Hours and days) and Free-floating (Minutes).

Vehicle Access & Security: It gives access to rent vehicles such as cars, mopeds, scooters, and bikes.

Operation Platform that provides payments, billings, alerts, reserve management system, automation, telematics, analytics, etc.

Customer Success: Operation and marketing of Car Rental App as a strategic partner.
With Car Rental App, you can enjoy everything from round-trip rentals, telematics, micro-mobility, and aggregation capabilities, to full digitalization, as opposed to just pushing for free-floating.
Car Rental App has over 400k vehicles with €100M annual revenue and each vehicle generates €250. It is compatible with any vehicle and can be installed or uninstalled within 5 mins.
With Car Rental App, one can improve their cost retention by 20% and reduce the brokerage cost by €50 per month on a car.
How Does Car Rental App Work?
A peer-to-peer car rental application works in the following manner:
Car owners register themselves, list their cars in the app with just a few clicks and mark the in-build calendar dates to inform users about the cars' availability.

Users can register themselves using their email or social media accounts and go through the lists to choose the car that is ideal for their needs.

After selecting the car, users can send a request to the car owner for renting their car for x amount of time.

The car owner gets a certain time range to accept or decline the request. Once the request is accepted, the owner and customer can schedule the time and place to meet for car pickup.

Customers must check vehicle papers before picking up the car while the owner should verify the driving license, fuel, mileage, key, etc. before renting out the car.

Finally, payment can be either done through the car rental app platform before or after the trip according to the comfort of both parties.
Read : How to Develop Restaurant Management System
Benefits of Car Rental App Development
By developing a car rental app, you will gain the following benefits:
A car rental app allows automobile rental companies to gain fleet information including agreements, booking, pricing, and so on.
Car Availability Tracking
The car rental company can track the availability of a car at any time using the serial number embedded in the records.
Driver and Customer Details
The car rental app allows businesses to easily find information about drivers and clients when needed. The company can permanently delete or ban accounts if a user violates the company's policies, whether they are car owners or customers.
Automatic Rate Calculation
With the back-end logic codes for vehicle rate calculation, the car rental app can easily and efficiently provide automated calculations using the information like renting duration provided by the customer along with basic rates and rate/km charged by the company.
Booking and Pricing management
Keeping track of all the booking information is time-consuming and difficult to manage. Moreover, any mistake can result in unhappy customers and a lot of wasted time. However, by using a car rental application, the process of tracking booking details can be automated so you can focus on other business activities.
Improved customer satisfaction
With an automated car rental app, you can offer better service, lower costs, a smooth booking and payment process, and enhanced customer support. This will ensure customer satisfaction and rapidly improved turnover.
This app provides easy booking, car management, income report, rider and owner management and much more. Using a car rental app, owners and drivers can locate and track their vehicles and better manage their fleet.
The car rental app offers convenience to car rental firms as it allows them to accept reservations, arrange nearby cars, vehicle verification, and availability as well as scale the services up and down based on customer demands.
How To Make Money Using Car Rental App
Now you might have a clear understanding that car rental apps are designed to offer cars to customers for different purposes. It's time to understand how by developing a car rental app you can earn revenue.
In this revenue model, you as the app owner provide the platform for different car owners where they can list their cars, connect with more customers and provide rental services to them. Here, you will get a fixed amount of commission as a service charge.
It is the direct way to make money. In this model, you can rent your cars to the users. Here you will have to own cars and assign them to multiple drivers where you get the base fare and the drivers get paid on the service basis.
Features Necessary to Develop a Car Rental App
Some of the features that you should consider before developing a car rental app are:
User Panel with secured login/sign-up, car search and selection, owner's details, car scheduling, push notifications, instant booking or cancellation, fare estimation, rewards/discounts, payment gateways, ratings and reviews.

Admin Panel with secured registration, interactive dashboard, easy driver management, discount and offer management, report and analysis, customer support, and payment management.

Car Owner's Panel with secured login, booking request management, accepting and verifying payments, ride and fare history, support, and complete trip details.
Basic Tech Stack & Team Structure for a Car Rental App
By hiring an experienced team including a project manager, backend & frontend developers, testers, QA professionals, etc.; and opting for the right tech stack, you can easily build an intuitive and potent car rental app that matches your requirements. Having an app refined with incredible services and features can help you take your business to new heights.
| | |
| --- | --- |
| Features | Technology |
| Real-time Analytics | Google Analytics or Flurry |
| | Postgres, MongoDB, Cassandra, HBase, MySQL |
| Verification | Google sign-in or Facebook SDK |
| Cloud | Amazon Web Services' Data Servers or the Google Cloud serves |
| Location Tracking | Google Maps and Apple Maps |
Read : On-Demand Medicine App Development
Statistics for Car Rental Services Market
Approximately $83,02 billion will be generated from car rental revenue by 2022 with a growth rate of 8.23%, in accordance with a report from Statista. This CAGR will result in a $113.90 billion estimated market value by 2026 and reach 604.2 million users. Moreover, 71% of the entire marketed revenue will be the result of online services.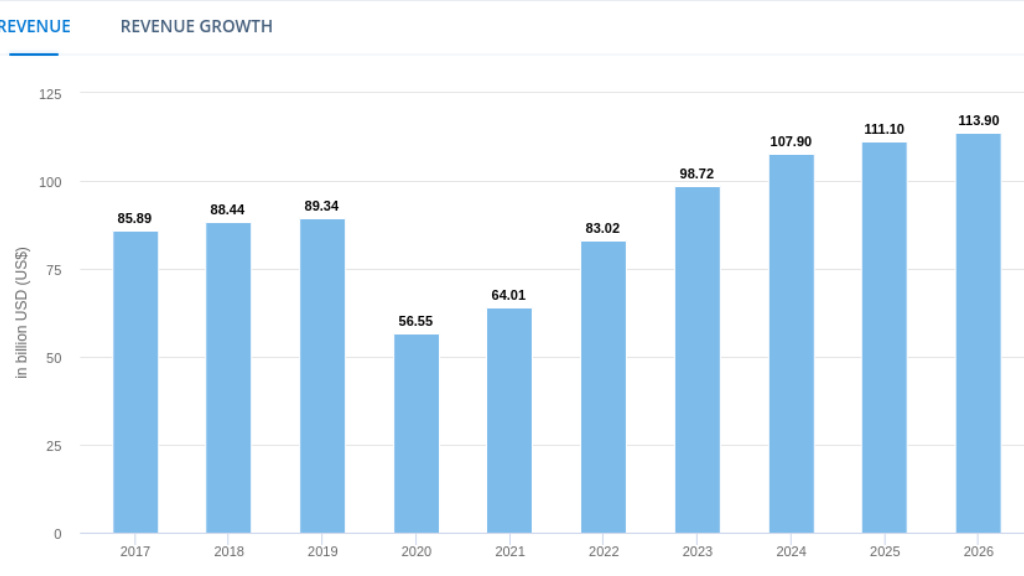 As stated by Globe Newswire, the market size of car rental will reach $186.59 billion with a CAGR of 6.9% by the year 2030.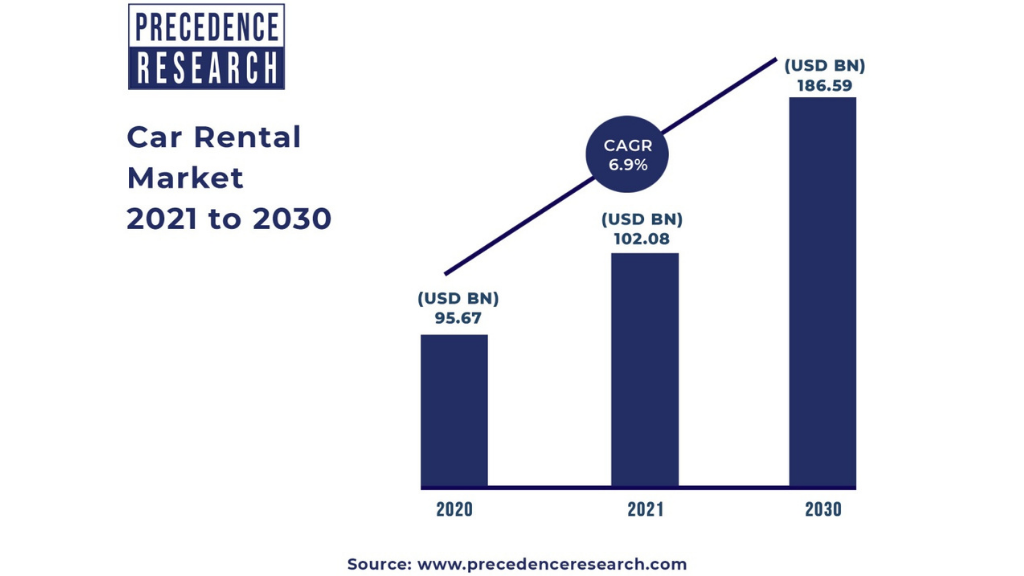 In another report by Grand View Research, the market size of the car rental industry worldwide is expected to grow at a CAGR of 4.6% from 2021 to 2028.
Fortune Business Insights reported that the car rental market around the globe is expected to reach $144.21 billion with a CAGR of 6.7% by 2027.
Zion Market Research conducted by PR Newswire has forecasted that the market for car rental may reach $132.6 billion with a CAGR of 6.9% by 2028.
Read: Real-estate App Development Cost
Car Rental App Development Cost
The cost of creating a robust car rental app majorly depends on the complexity of the features that you want to integrate. To give you an estimation, car rental app development will require a minimum of 10 developers for different tasks like designing, user and admin panel development, API development, testing and debugging for approx. 8 months to a year. It will cost something between $80,000 to $90,000 for the development of a car rental web app with the right features and services.
Want to know more about car rental app development and get a fixed quote? Then get in touch with our experts and schedule a meeting where you can share your idea and requirements to get the fixed cost estimation.
Read More Blog also
Posted by
Mahipal Nehra
|
Posted at 09 May, 2022
Web