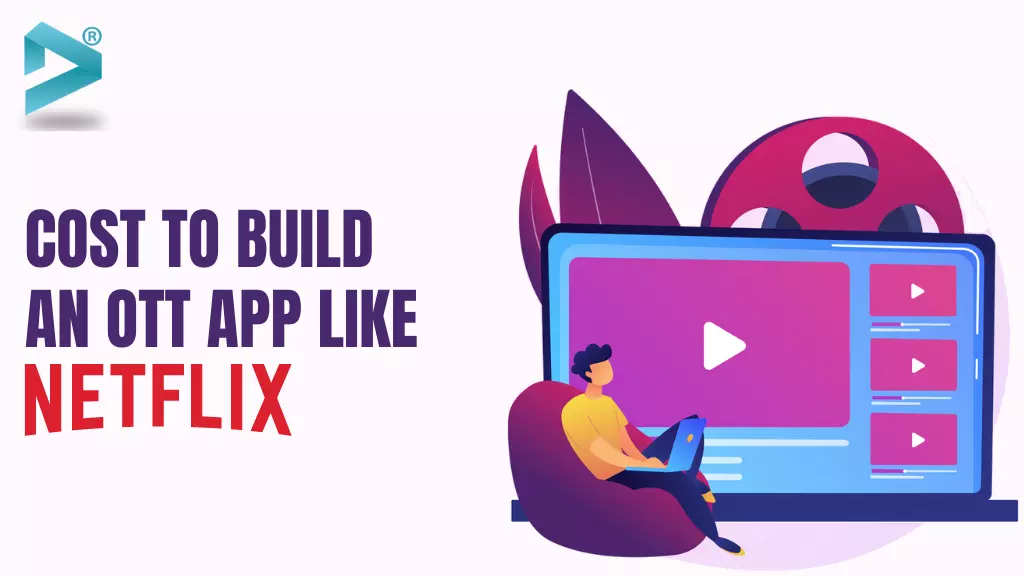 Cost to Build a Streaming Service Application like Netflix
The times when you used to watch television at a fixed time so that you do not miss out on your favorite tv show are now gone. The continuous innovation and advancement in technology have made everything possible now. The content is now being made available anytime and anywhere with an active internet connection and the medium being the streaming service applications.
The introduction of these streaming apps has made users stick to their devices and has made even their boring evenings entertaining and interesting.
These streaming service applications enable you to access thousands of programs, movies, and shows with multiple service packages at your convenience.
With this article, we aim to provide you with a detailed discussion of the cost to build a streaming service application, along with its benefits and features which you can refer to if you are thinking about developing such an application.
What is a Streaming Service App
In general words, a streaming service application is a program developed for entertainment purposes. It is an online on-demand online entertainment source that has necessary components like movies, series, documentaries, and shows which can be downloaded as needed. Also, it is an alternative to cable and satellite on-demand service, for which we need to pay a certain subscription amount either on a monthly, quarterly, or yearly basis. There are some other streaming channels as well that offer subscription per view to make it more convenient and accessible for the users.
Read: On-demand Medicine Delivery App Development
Some of the popular and widely used streaming service applications include Netflix, Amazon Prime Video, Disney+Hotstar, and many more.
In addition to it, the streaming service applications are also known as OTT platforms, i.e. Over the Top, where the services are offered to the viewers directly via the Internet.
Guide to Netflix
Netflix is one of the most popular subscription streaming service applications, that is available globally for all the platforms like smartphones, tablets, and desktops. It is an American company launched in August 1997, by Marc Randolph and Reed Hastings, in California, the U.S. It also has its own production house known as Netflix Originals, with an enormous library of content including original programs available in different languages from different countries.
Additionally, Netflix holds 71% of the worldwide streaming video-on-demand market, and has over 221.6 million subscribers worldwide, as of March 2022. Also, it can be accessed via applications installed on Smart TVs as well.
Read: Cost to Dating App Development
Along with being a member of the Motion Picture Association (MPA), the features of Netflix have made it stand out exceptionally in the streaming service market and have offered innumerable benefits to its users. The advantages of Netflix include -
Although, the features and advantages of Netflix are worth mentioning above we have mentioned a few of them for your reference.
Read: Cost to Development Real Estate App
Now, moving ahead we will be reviewing the benefits of developing a streaming service application, which you can consider if you want to develop an application like Netflix.
Benefits of Developing a Streaming Service Application
Technology itself has innumerable applications and benefits. And when talking about the benefits of developing a streaming service application, it undoubtedly serves the best of its users which has also made Netflix the most used streaming service application.
The benefits of developing a streaming service application are -
Features to Integrate into the Streaming Service Application
To stand out in the market and compete with the industry giants like Netflix, you need to integrate top-class and also easy to use features. You do not just have to add new content into your application to skyrocket your business, but also the features, which should be integrated into the application with a proper market survey and by learning about the user demands. Below we have listed a few of the features which you can integrate into your streaming service application.
Read: Business Travel
Read: Google Cloud tools for web application development
These are the must-have features that you can integrate into your application. Besides that, you can perform a SWOT analysis, and conduct a thorough analysis to list out additional and advanced features to integrate into your application.
Steps to Develop an App like Netflix
Developing an app like Netflix is not an easy task, it requires considerable time, effort, and money to compete in the market. Below are the basic steps you need to follow to develop a streaming service application like Netflix.
1. Gather the Requirements
This is the first and foremost step to develop any application. Here you need to determine the type of streaming you want and then moving forward conduct thorough research starting from the design to the deployment to marketing, you should cover it all. Choose the development model, and the monetization model, and then select the features you want in your application. Also do not forget to set a budget since it is essential to determine the cost to build a streaming service app like Netflix.
2. Choose the UI/UX Design and Tech Stack
Now that the requirements are clear, you will need to choose the design and start working on it. The goal here should be to develop a user-friendly design to provide a seamless experience to the user along with being attractive enough to draw a customer's attention to your application.
Read: How to hire a UI/UX designer
Also choose the tech stack in which you want the application to be developed where you need to determine the programming languages, frameworks, and libraries that you are going to use to develop a video-on-demand application.
An added note is to not forget the database you select for these applications since data here is an integral part of the video streaming application. Oracle, Mongo DB, and Kinesis Video Stream are a few database storage options you can choose from for these types of applications.
Read: Graph Database
Additionally, now that the design and tech stack are sorted you can move ahead to hire a development team to develop the project for your business.
3. Create a Prototype
Do not miss out on prototypes. It plays an important role in the steps to developing a streaming service application. Here in this phase, the first model of the application is created where you can finalize everything you want in your app and can also add new features and functionalities which you think are missing and make it exceptionally high-end and feature-loaded to compete with the industry giants.
4. Develop the Application
The final step is the development of the application after the prototype is finalized, where you integrate all the decided and added features along with the complete design and functionality of the application. Also, take note that it is a time-consuming process that might take from months to years depending on the complexity of the features that you want in your application. And make sure to learn about the progress in the development of the application with a proper communication channel with the development team that is working on your project.
Read: Digital Transformation in Healthcare Industry
Cost to Develop a Streaming Service App like Netflix
Developing a streaming service app like Netflix can cost you anywhere between $15,000 to $30,000 per platform. Now we have determined everything that you need to know to develop a streaming service application. We all know that application development is no joke and requires enough time, effort, and money, and if missed out on anything, it might create a loophole in the future for your business. And one such important thing is the cost to develop a streaming service application. Although the cost is an important factor, we can only pre-determine the budget range the rest of the cost of development depends on certain factors, including -
Although these are the factors that determine the cost of developing an OTT platform, the range may vary according to the requirements.
Final Words
Streaming service applications have now taken over the device of every user and have gained a lot of popularity in recent times. Not just the content that it provides, but also the quality of features that it provides has attracted user attention and has made them use it.
If you have reached this point of the article, we are sure that there is some idea for sure brewing in your mind. What you can do next is now start working on it and develop an application to participate in the race and stand among the best industry giants of the streaming service industry.
Posted by
Mahipal Nehra
|
Posted at 12 Jul, 2022
Web