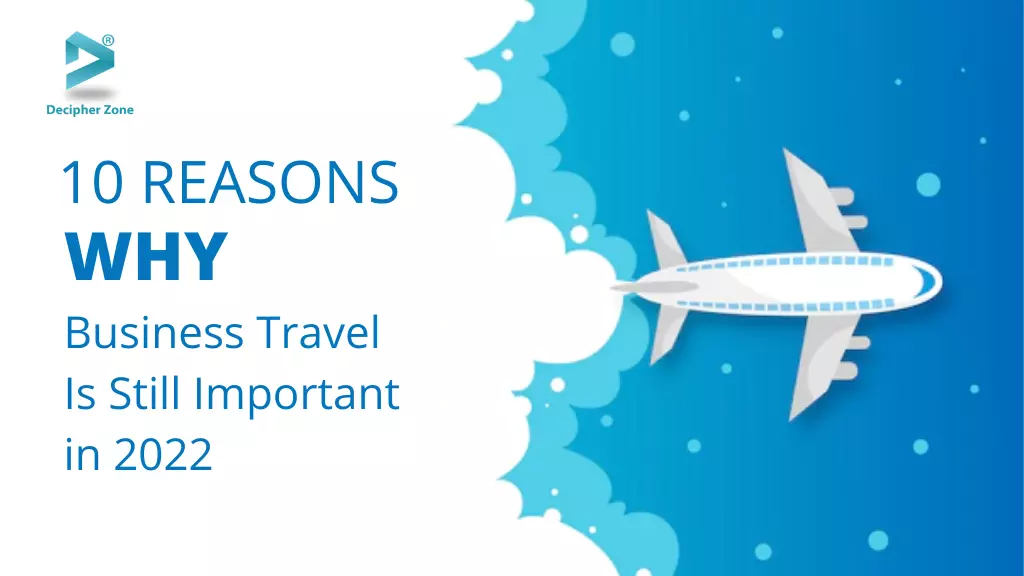 10 Reasons why business travel still important in 2022
Top 10 reasons why business travel still important in 2022. Business travel has always been considered an essential part of business. Even though the pandemic has changed the way business is being done, business travel is still important in 2022.
Most employees are always excited to travel as it allows them to take a break from the daily work routine. In fact, according to a study 30% of employees would be willing to accept a lower salary if the role offered allowed them more opportunity to travel.
Business travel is on the rise again as businesses feel that there is no substitute for in-person meetings.
Top 10 reasons why business travel still important in 2022
Let's dive in to analyze the top 10 reasons why business travel is still important in 2022
1. Business Travel Is No Longer A Hassle
In the past, managing a company business trip was a hassle.
Whenever an employee incurred an expense, they had to keep invoices safe with them.

The receipts then had to be submitted to the finance or accounts department of companies.

The accountant would manually see if the employee followed the company policy and had to go through an approval process from managers to process the invoice.

Once the invoices were processed, then the employee used to receive their cash back.
The whole process was tedious and stressful for both the employees and the finance team. Employees usually had to wait till the end of the month to receive their reimbursements. On top of that, if the employee or the finance team misplaced the invoice by mistake, then the employee had to bear the burden of the expense incurred.
nowadays with travel and expense tools companies have a single simplified platform that manages all invoices and travel expenses in one place. The tool also allows the company to define travel policies, keep track of all bookings and reporting in real-time. Better management of resources through such convenient tools means business travel is no longer a hassle.
2. Establishing and Maintaining Relationships
In-person interactions are key for building and maintaining business relationships. You can build rapport and trust much faster when meeting someone face-to-face as opposed to over the phone or via video conference.
The advantage of in person meetings is that you get the opportunity to read their body language and get a feel for who they are as a person. Meeting a client in person can also help in closing deals faster. This is because you have the opportunity to build that relationship and trust much faster than you can over video or phone calls.
Read: How Much Does It Cost To Build A Hotel Booking Application
3. You Can Network
Networking with other professionals in your industry is an important part of business. Business travel provides opportunities to meet new people and connect with potential clients and customers when you travel for business. There are certain events, such as trade shows and conferences, that are important for business which you can't attend over video or phone calls.
If you're looking to hire new talent, business travel can help you reach a wider pool of candidates. You can attend job fairs and meet with potential candidates in person to get a better sense of their qualifications.
Many companies attend job fairs at universities where they look to hire the best talent amongst the university students. It is also convenient for potential candidates looking for jobs. Imagine talking face-to-face with company representatives to understand more about the job role rather than reading online, or worse, starting the job and then realizing it is not a good fit.
For HR personnel as well, meeting potential employees in-person allows a better understanding of personality. Online personality tests are generic and candidates can get those done by someone else. Instead of going through the online process of doing tests/case studies and conducting various interview rounds, hiring after meeting is a relatively faster process for companies.
Read: 7 Advantages Of Transcribing Video to Text Automation
4. Learning and Development
Attending workshops, seminars, and conferences to gain new skills and knowledge that can help you in your career. Such events are a great way to remain updated with the latest trends in the industry.
You get to meet people in senior job roles and get an insight about their way of doing business. Young employees can learn from industry experts and leaders. It is difficult to connect with industry leaders virtually, so business travel allows ample learning and development opportunities.
Read: How to Build a Web Application Using Java
5. Team Building
Business travel can also be used for team-building purposes. Going on business trips together can help co-workers bond and build morale, which can benefit remote teams that don't have the opportunity to interact on a daily basis.
Companies host annual events where they host activities for employees to come together and get to meet their peers in-person. Although work-from-home is becoming the norm, companies understand the value of face-to-face interactions.
According to a McKinsey study, informal interactions facilitate social cohesion. Virtually employees can usually not feel the closeness and connections. The laughs you hear in your virtual team meetings cannot necessarily be genuine. Physical interaction is more real so teams build a greater understanding.
Read: Multi-Vendor Food Delivery System
6. Building Your Brand
Business travel can help you raise awareness for your brand and get your products and services in front of new people. If you're attending trade shows or conferences, you can hand out business cards and brochures. Apart from distributing promotional materials, you can talk to people about your business.
After trade fairs, people usually discuss which booth was of most value in terms of their presentation, communication and in the ease of doing business. Only the body language of employees is sufficient in conveying a message about the brand - things unachievable while attending events in front of a screen.
Read: On-demand Medicine Delivery App Development
7. Conducting Research
Most businesses are always looking for opportunities to enter into new markets. Business travel can help you with the research needed to expand your business. You can explore new markets in person and learn about the local business climate and culture. Learning about other cultures allows you to cater to a wider range of customers.
In addition to that, when you're conducting market research, it's better to be present at the actual location. Interacting with the local people and even simply observing gives you a better idea of how things work in foreign places. The new information that you learnt on the trips can be invaluable when making decisions about your business.
Read: How to Develop Restaurant Management System
8. Exploring New Locations
Business travel can also be a great way to explore new locations. Employees who get the opportunity to travel for work usually take some time to check out the local sights and attractions. Not only do you explore the world, but also possibly find new places to do business.
When you're considering expanding your business, it's important to visit potential locations in person. This way, you can get a feel for the area and see if it's a good fit for your company.
9. Gaining a Competitive Edge
By attending industry events and keeping up with trends, you can gain a competitive edge for your business. You'll be able to learn about new products and services before your competitors and make sure your business stays ahead of the curve.
Business travel can be used to explore new markets where you raise awareness for your brand, and it allows you to gain a competitive edge. Visiting new locations also opens doors to new opportunities such as starting a franchise or getting an invitation to do business with a company that would not have been known otherwise. In the contemporary competitive era, companies need to grab every opportunity and corporate travel allows just that.
Read:How Smart Parking Solutions Improves Employee Parking Experience
10. Boosting Morale
Business travel can be a great way to boost morale for yourself and your employees. Getting out of the office and exploring new places can help refresh and rejuvenate you for the work ahead. Once employees are back from business trips, they are usually more productive and tend to produce better results for the business.
Business travels also allow something to look forward to for employees. Marking your calendars for a trip to a different city or country is a special feeling, especially if you have never visited the place before. Employees are more motivated to get the opportunity to travel as corporate trips are also associated with leisure time.
Summing up the importance of business travel in 2022
Business travel may look a bit different than it was in the years before the COVID-19 pandemic. However, the importance of business travel shouldn't be underestimated and it is only expected to grow with every passing year.
It's the best way to build relationships, close deals, and attend important events. It can also help you learn about other cultures, find new business opportunities, and promote your business. It is a great way to get away from the office and have some fun. By keeping the aforementioned reasons in mind, you can ensure that business travel remains a valuable part of your company's success.
Read:
Posted by
Mahipal Nehra
|
Posted at 19 May, 2022
Web