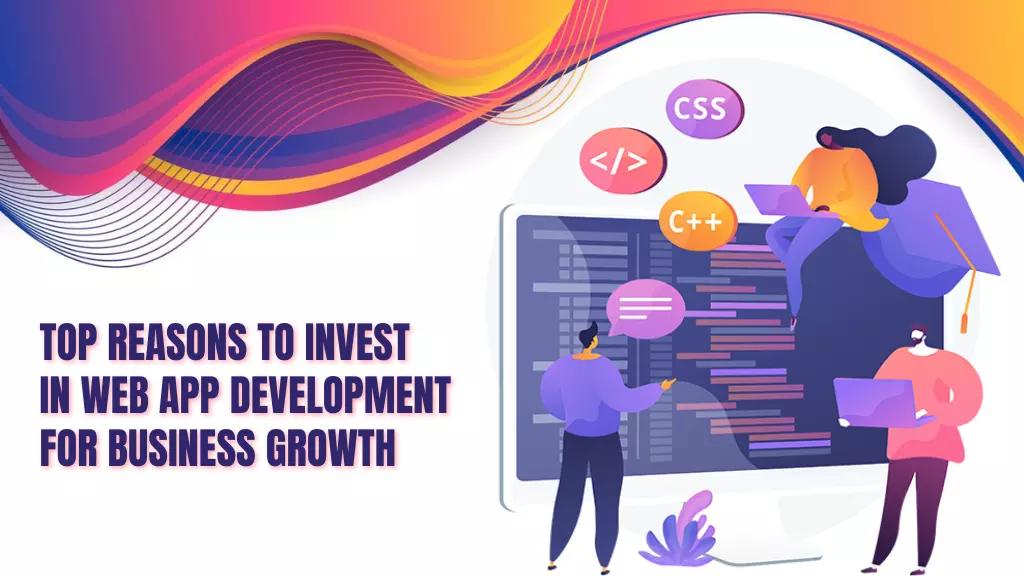 Top Reasons to Invest in Web App Development for Business Growth
The demand for software and applications has grown enormously in the IT market. It has helped businesses generate more revenue and stand out in the market with unique features and services. People, companies, and organizations are investing in apps and software to automate workflow and increase productivity.
Not just this, these applications have also served well to the customers and have even helped businesses in attracting more potential customers with engaging designs and outstanding USPs.
When talking about USPs, the one thing that has completely changed the entire scenario of people shifting their businesses online is web app development.
These applications have their specific advantages and big industry giants like Gmail, Netflix, Wikipedia, and Twitter also use web applications and have reported excellent business growth.
Read: Top 15 Web App Development Ideas
Before knowing about the reasons to invest in web app development for business growth, firstly you should know what a web app is and how it acts as a powerful tool for business growth and development.
So, let us get started with it and explore the aspects of web application development.
Web App Development Services as a Powerful Tool
The IT industry is continuously evolving and with time the companies that provide web app development services have constantly helped businesses in developing their applications and bringing ideas to life.
Read: On-demand Medicine Delivery App Development
Not just this, the development companies have helped businesses to cater to almost every aspect of a business.
Be it the attractive design, implementing the latest web app development trends, optimizing the app performance, or the security, the developers have successfully developed powerful tools to accelerate business growth.
Let us first clarify that web apps are different from websites or applications. Instead, these applications partially fulfill the need for both a website and an application for a business.
These applications are accessible on any web browser with an active internet connection. They are cloud hosted and run on web servers, and they do not require any additional space on your device.
Read: 10 Reasons why business travel
Web applications can be of different types which can be single-page applications or multi-page applications with multiple features depending on your business requirements.
The different types of web applications that you can develop for your business are -
Static Web Applications

Single Page Apps

Multiple Page Apps

Progressive Web Apps (PWA's)

Animated Web App

E-commerce Web Apps

Dynamic Web Apps, and many more.
Web applications are now being highly preferred by businesses, not because they have seen other businesses grow exponentially, but also because of the benefits they provide.
Read: Techniques To Use To Elevate Your Small Business
The primary advantages of developing web apps are -
It serves the need of both a website and an application for a business, which implies one product and two uses.

Another benefit of developing a web app is that it is cost-effective since it can be operated on different platforms with a single code base.

Since SEO is helping businesses with new opportunities, a web app is also developed to be SEO-friendly, so that you can reach more potential customers.

Also, the users do not need to download your web app, and they also do not need to update the app frequently unlike the mobile apps, instead, the updates are automatically implemented into the application.

It also enables you to track and analyze customer behavior and usage patterns to provide customized offers leading to increased leads and conversion rates.

Makes your business accessible to anyone, anywhere, and anytime.
The aforementioned are a few of the primary benefits of any web app that you wish to develop for your business.
Also, do not forget there are also a few drawbacks to developing a web application, and you need to know them all to help you develop a top-notch and risk-free application for your business.
And do proper research on the drawbacks that you might come across so that you can make a better plan and eliminate the barriers with a proper solution.
Read: Software Tools You Should Use to Digitize Your Business
Further, maintaining the security of the application is an important aspect to consider to develop a future-proof application.
Since the tech-driven industry is highly reliable on data, make sure that you integrate advanced level security to keep the application safe from cyber threats.
Read: Cybersecurity Trends
Also, make sure that you choose the right technology stack that will help you develop a scalable, secure, and top-notch web app.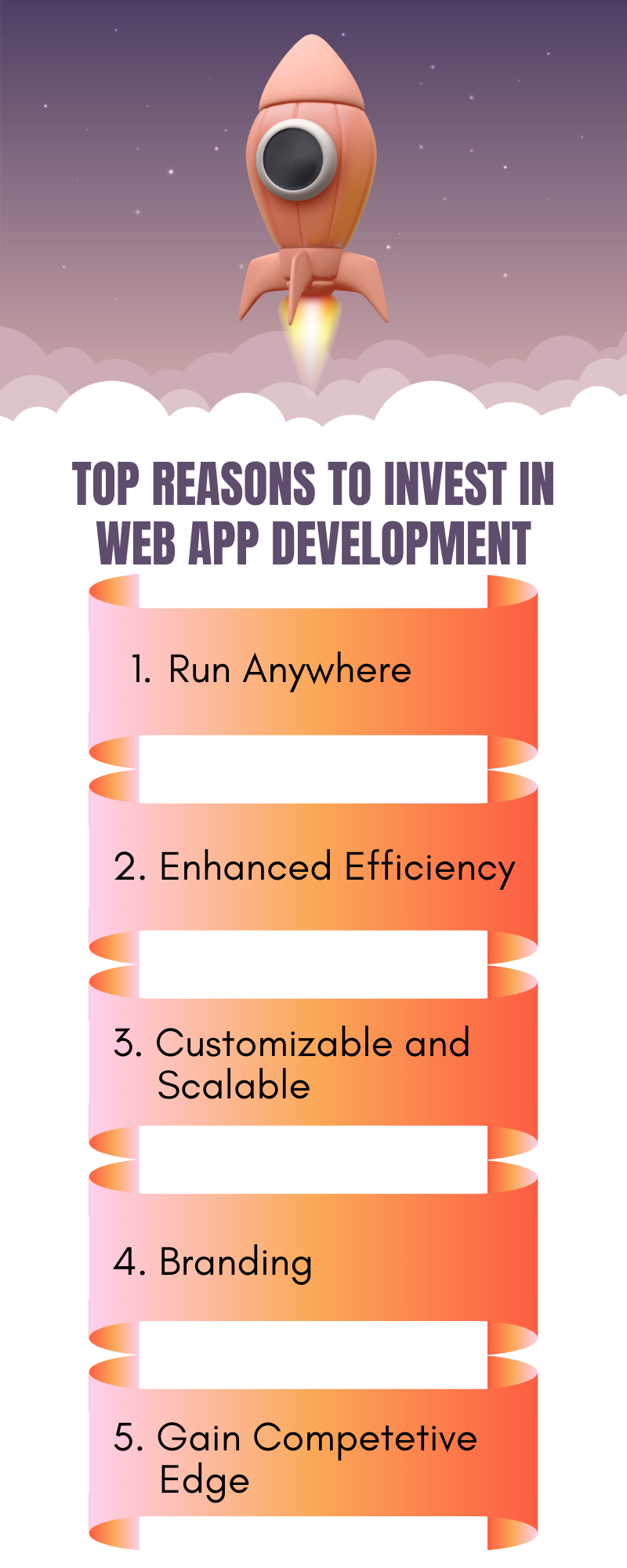 Why Invest in Web App Development?
From the overview of web app development, mentioned above, it is clear that a web app is a powerful tool that helps in the growth and development of a business.
Not just a tool, but it acts as a direct bridge to interact with the customers and learn about their demands and feedback.
Since web apps are among the current trends adopted by almost every company, it is important to know some other important reasons to invest in web application development.
So here we go…
Run Anywhere

Enhanced Efficiency

Customizable and Scalable

Branding

Gain a Competitive Edge

Easy Maintenance
With web apps once developed for your business they run on web servers, and can run on different devices like desktops, tablets, laptops, and even smartphones after the development. It provides your users with seamless access to your services.
The primary reason to invest in a web app is that it makes your business operations efficient and effective. Let us tell you how. With the integration of the right features, it will minimize the paperwork and will automate the tasks, which in turn will eliminate all possible human errors and will also improve the accuracy of the work.
Customizable and Scalable
Yes, we all know apps and software are easily customizable. Customizing an application or developing a custom-made app according to your requirements will help you develop a more scalable and reliable project. Additionally, it will also help you to reduce the development cost and create a good brand presence in the market.
With almost every company switching towards digitizing their business, web apps help you create a unique identity for your brand along with a strong brand presence in the market. With a proper marketing strategy, web apps will help your business to reach more potential customers and will also help you in customer retention along with improved customer satisfaction.
Web apps help you stand out from the cut-throat competition in the market. It allows you to gain an edge over your competitors and continuously enhance your workflow. Further, it also enables you to gain more traffic and also expands your reach.
The work is never complete even after the deployment of the final product. But as compared to other types of software, web apps are easy to maintain. The updates, maintenance, and other changes are directly made on the server, allowing the app to auto-update the users-end without having to do it manually.
Read: Types of Custom App Development
How to Develop a Web App?
Investing in developing a web app for a business is not as easy as it seems. The aforementioned are a few of the reasons that tell you why you should invest in the development of a web app.
Additionally, there are many more reasons that you will come across during the development of the project. Also before starting with the development make sure that you do thorough market research and work accordingly according to the trends and market demands to stand out in the market.
The steps to develop a web application are -
Analyze your idea, gather your requirements, conduct market surveys, strategize, and plan the best solution for your business with the features and scope of your project.

Next choose the development model, technology stack, and framework along with the overall software architecture.

Hire developers, or hire a development company that meets all your requirements and then sign an agreement that has all the necessary details like the cost, delivery time, meetings, updates, deliverables, and other important attributes.

The next step is creating the UI/UX design of your application. Make sure that it is interactive as well as attractive.

Moving ahead, the development of the application comes next. It is the most time-consuming as well as the most important part of the process. Here the features and overall functionalities are integrated into the app.

After the development is done, you can move on to the next step, i.e. testing the app. Find bugs, errors, and loopholes and fix them before the launch.

After the testing of the app, the final step is the deployment, where the app is released to be used by the customers and to streamline your business operations followers with maintenance and support.
Web Application Development Cost
Generally, the cost of developing a web app can range somewhere between $20,000 - $40,000. Also, note that the cost is calculated on certain factors like the technology stack that you choose, the number of features and complexity, the location of the development company, the hourly charges of the developer or the development company, third-party integrations, and several other factors depending on your business requirements.
Cost is an important factor in the development of an application, and when developing an app it is important to determine the budget and stick to it.
Read: E-Learning Web App Development Cost
Summing Up
The software development industry is constantly changing according to the demands of the end-users and businesses. And developing apps and software is not an easy task. You need to constantly work on your idea to develop a top-notch application for your business.
Read: Best Tech Stack for Web App Development
Additionally, try to communicate with the development team regularly so that you can know the current status of your project and also share ideas to make your application better.
It will also help you in saving time and money without having to make any changes later and get the best product out of your investment.
Posted by
Mahipal Nehra
|
Posted at 21 Oct, 2022
Web