Developing a Home Service Software like Urban Company
How remarkable is it when you can avail of any service at your doorstep within a few clicks?
Yes, you read it right.
Urban Company is one such application that caters to all the home service needs of the users and also helps the local service providers with a platform to connect with their customers.
A one-stop shop that caters to all the home servicing needs of the consumer. Be it availing a grooming service, a plumber to help you fix a sink in your kitchen, or a gardener to help you chop off the grass and clean your garden, there are few apps and software in the market that does the job.
And developing a home service software like the urban company would be a brilliant business idea to consider and can turn out to be a game changer in the market. If you have a similar idea in your mind, or if you are thinking about developing a home service provider software, then you are at the right place.
Starting with the basics first, let us help you understand Urban Company.
Urban Company: An Overview
Urban Company, formerly UrbanClap, is a home service company that helps users hire professionals to get a job done via apps and software. It operates in India, Australia, Singapore, the USA, and several locations.
It provides services like grooming, appliance repair, and more. It comprises three users, i.e., the user panel, the service provider panel, and the admin panel.

Read: How to Develop a Vacation Rental Software like Airbnb
Here, the user sets their location and searches for the service they are looking for; then, the search results appear, showing the service providers available in that area. The user then selects their preferred service provider and completes the booking process by choosing the time and making the payment.
Next, the service provider accepts the booking and renders the requested service at the booked location.
Additionally, Urban Company uses one primary business model to generate revenue, i.e., they charge a commission once a booking is marked complete, where the rates vary depending on the services.

Read: How to develop a Multi-Vendor Food Delivery System
Why Develop a Home Service Software?
Now that you know the urban company, let us also brief you on why you should consider developing home service provider software.
Some of the benefits are -
Developing a web app that provides home service solutions will help you generate massive traffic for your business.

It will help you target the right customers via available tools, thus enabling you to grow your customer base.

It will provide a platform that not only supports local experts and professionals to earn some extra penny but will also make the users avail of all the services anytime, anywhere.

It makes a business more flexible and accessible to the users, along with providing excellent services.

Studying and analyzing their behavior also helps you learn about what the users want.
Features to Integrate into Home Service Software
Below, we have mentioned some features you can consider integrating into your software.
The feature list for the user panel -
Quick registration and login via Social media and email id

User profile

Available Service list

Price Estimation and Calculation

Real-time location

In-app messaging

Push Notifications

Order cancelation

Payments and Refunds

Ratings and Reviews
For the service provider panel -
Registration and Validation of service providers

Service provider profile

Booking history

Messaging

Earnings and Transactions
Besides the features mentioned above, the backend or the admin panel is managed by the owner side.
Some of the features of the admin panel are -
Dashboard and Analytics

Location Manager

User Management

Bookings manager

Sales Analytics

Service Manager

Rate Chart Management
Additionally, some of the advanced features that can be integrated include video consultation, voice messaging options, WhatsApp integration, pay-later options, and many other automation and security features to help your business gain more control over the market.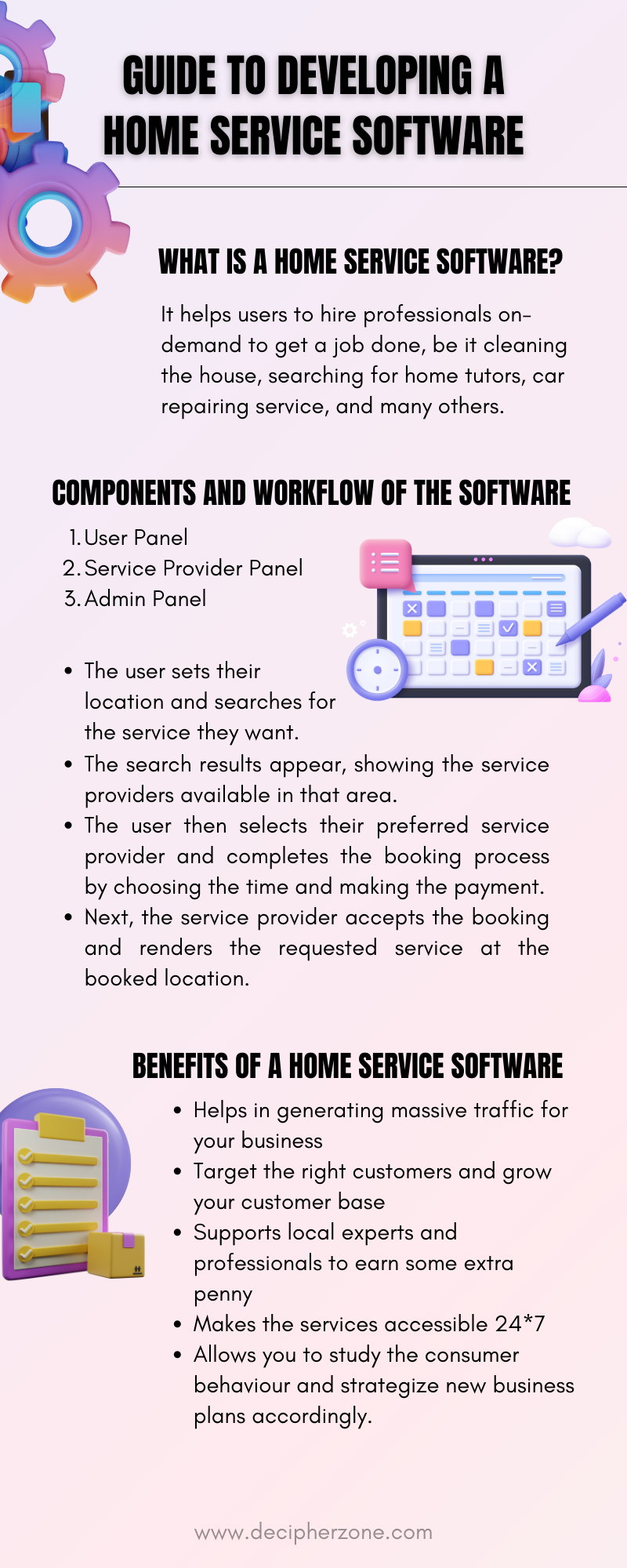 Hacks to Consider in Developing a Home Service Software
Features are an essential factor that will help you grow your business. But besides the features above, we have also listed some of the crucial hacks and tips you can consider while planning to develop your home service provider software.

Read: On-demand Medicine Delivery App Development
Conduct thorough research on your niche, competitors, and business models to help you grow, rank, and establish your business in the market.

Create a unique brand identity in the marketplace with great use of colors and fonts to help people identify your business instantly. For example, when people see the logo of bitten apple on a device, they can quickly identify it as an Apple product.

Customize the software so that your business can provide world-class services by integrating multilingual support, multiple payments, currency conversion features, and many more.

Also, provide seasonal offers, referrals, and cash-back programs to service providers and users; this is a great marketing strategy to help customer retention.

Share regular updates to the users with blogs and newsletters regarding the latest trends and tips on the services available. This will help them learn more about the benefits and create an opportunity for your business to introduce new services and features in the pre-existing software.

Consider using proper keywords that help the users find your business easily on the internet, thus creating a robust online presence.

An additional tip is that if you want your business to grow with fewer negative responses, ensure you address the feedback and complaints and take action against them.
Now that you have reached the end let us also share with you one essential piece of information regarding the development of home service software.
How Much Does It cost to Develop Home Service Software like Urban Company?
The cost of developing software like Urban company may range from $40,000 to $350,000 depending on the features and may take up to 4 to 6 months according to the project size and number of developers working on the project.
Summing Up
Developing a home service software takes work, but it is worth the investment and wait. So, if you are interested in launching an app like Urban company, now is the time.
Connect with us and share your requirements, and we will help you develop the best software and create an online presence in the market.
FAQs
1. How much does it cost to develop an app like Urban Company?
Developing an app like Urban Company may range between $40,000 to $350,000 depending on the services, number of users, features, and complexity, along with the development time and per-hour charges of the development company.
2. What are some of the high-in-demand home services?
Some of the high-in-demand home services you can consider integrating into the software include Pest control services, home cleaning services, car wash, plumbers and carpenters, salon and spa services, and others.
3. What are the tools and technologies used by Urban Company?
Some of the primary technology and tools used by Urban company are HotJar, Node.js, React, Open Graph, Babel, and Express.
Posted by
Mahipal Nehra
|
Posted at 16 Feb, 2023
Web