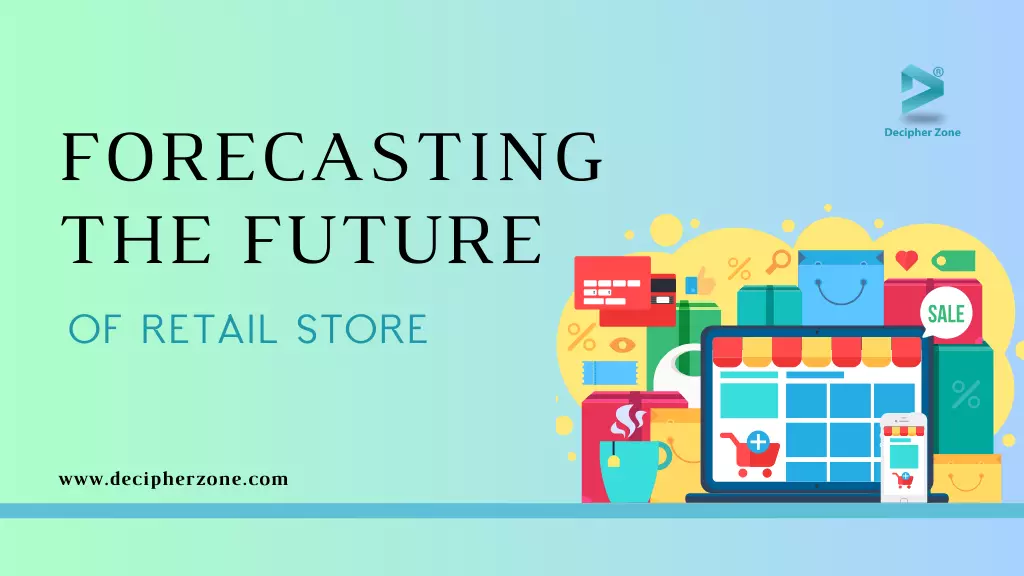 Forecasting the Future of Retail Stores
Forecasting the future of stores. The retail industry is undergoing a massive transformation with technological advances. Retailers are now bracing themselves for macro-level headwinds inducing labor shortages and inflation.
Be it introducing flexible and convenient fulfillment options, mitigating risks by diversifying revenue streams, or producing unique customer experiences, retailers that will continue to push the innovation boundaries are set to win more customers and revenue.
What technology, tools, and strategies will impact retail stores in the future, and where should retailers invest? This blog will answer all your questions about retail stores' future.
8 Predicting Trends That Will Impact On The Future Of Retail Stores
As the retail industry continues to evolve with exponential growth in an omnichannel shopping experience, we will see trends transforming the future of retail stores.
Here we have enlisted trends and technologies that are set to change the retail landscape.
1. Capitalizing on D2C Retail Strategies
According to KPMG, the retail D2C eCommerce market is expected to grow at a CAGR of 12% and reach a whopping 7.4 trillion USD by 2025.
Also as per a consumer insight survey by PwC, 43% of consumers plan to increase online shopping in the upcoming six months.
Read: eCommerce Platform Development Cost
A Capgemini survey states that consumers are expecting decreased interactions with physical retail stores in the long term.
Read: Shopify Store for Your E-Commerce Business
Given the stats, it won't be wrong to say that more legacy brands will leverage Direct-to-Retail (D2C) retail strategy, where brands can market, sell, and supply products to consumers without involving middlemen, wholesalers, or third-party retailers.
2. The Rise of Social Commerce
Social media usage has been on the rise for the past few years. And leading social media platforms such as Instagram, TikTok, and Facebook are improving their games by implementing algorithms on Reels, For You Feed, and Shopping Tabs that help replace traditional targeted ads from influencers and brands as a means of discovery.
Read: E-Commerce Network Infrastructure
Also, based on the report by Grand View Research, the social commerce market will grow at a CAGR of 31.6% between 2023 and 2030 to reach an approx. $4976 billion.
Needless to say, this year we are about to witness massive growth in the social commerce area.
3. Tech will Continue to Transform Retail
The rapid expansion of technologies like machine learning, robotics, and artificial intelligence is transforming the retail industry. The need of adopting technology to stand out from the crowd and increase revenue has become a more pressing matter for retailers.
Read: Developing a Home Service Software
That being said, retailers who are ready to leverage technology to support the eCommerce boom are prepared for the post-pandemic world.
4. Increase in Consumer Data Protection
With the regularly increasing cyber threats and attacks, protecting consumer data will be a major concern for retailers.
Not adapting to consumer privacy regulations like GDPR (General Data Protection Compliance) or CCPA (California Consumer Privacy Act) will not only cost data loss, money theft, lawsuits, and fines but will also damage the reputation of the brand.
Read: What is Cybersecurity
While retail businesses collect data for various purposes, it is crucial to protect it from cyber threats. If you are not sure where to get started with cybersecurity, you can always start by adhering to cybersecurity best practices to reduce the chances of attacks.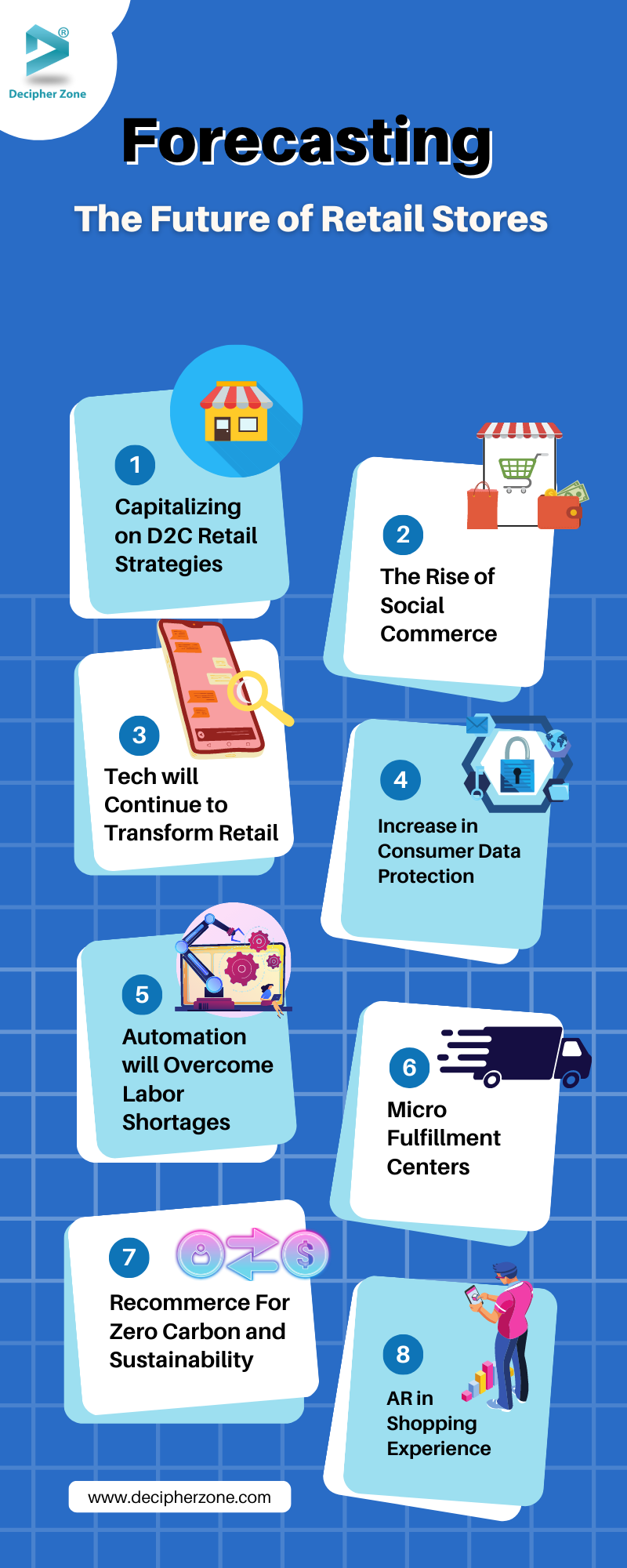 5. Automation will Overcome Labor Shortages
The Great Reshuffle or Big Quit is an ongoing economic trend where more and more employees are voluntarily resigning from their jobs. This has forced retailers in investing more strategically in automation.
Read: What is Automation, Types, Benefits and Trends
Technology like AI and ML will help retailers in automating marketing, analytical, customer service, task management, and other processes, acting as a savior in continued labor shortages.
6. Micro Fulfillment Centers Will Bring Buyers and Merchandise Closer
With the bloom that we have witnessed in the eCommerce industry in the past few years, fulfillment centers are now seen as a symbol of commerce.
Most product strategists are now looking into micro fulfillment centers that can be located in smaller facilities near consumers' residential areas.
Read: Role of Technology in the Food Industry
While Amazon Fulfillment Center is around 800,000 sq. ft. A micro one can be as small as 10,000 to 50,000 sq. ft. Any non-utilized space in a parking lot or mall can be used as a micro fulfillment center.
Despite the smaller area, a micro fulfillment center will assist in faster order delivery and free shipping.
7. Recommerce For Zero Carbon and Sustainability
Reverse Commerce aka Recommerce refers to the selling of previously owned products - mainly books and electronics through an online marketplace.
The recommerce practice is continuously gaining popularity among all generations for sustainable consumption, giving a new use of products rather than throwing them away.
Read: How To Create an NFT Marketplace
Recommerce can reduce the production demand for new items while minimizing manufacturing facilities' energy consumption. Some other advantages of recommerce are cost savings, conscious consumption, recycling, and space-saving.
8. AR in Shopping Experience
The in-store experience will soon be enhanced by augmented reality, one of the fastest-growing retail trends. Try before you buy is one of its most effective applications.
Online users can try the company's products and then visit its physical retail locations to purchase them. With AR, customer journeys are made more goal-oriented with reduced time spent in fitting rooms.
AR can also help in identifying product combinations from the sales data and purchase history to detect trends and provide insights to in-store employees.
It makes it easier for them to arrange products according to the trending combination and also increases the shop's revenue.
How Can We Help in Developing Digital Solutions for Retail Stores?
The retail industry is a volatile one and its future will be highly affected by technology. Not only online eCommerce but physical locations are also under the influence of technology-based transition.
And if you too want to leverage the benefits of the advanced retail technology, then hire developers from Decipher Zone who will help you establish an online presence by creating customized retail solutions.
All you need to modernize your retail business and prepare for overcoming a competitive edge, then leave us your contact information and requirements.
FAQs About the Future of Retail Stores
What is the future of retail stores?
The future of retail stores is going to feature direct-to-customer (D2C) relationships, omnichannel experience, sustainability, micro-fulfillment centers, and social commerce.
What are the major ways retail shopping will change in the future?
The future of retail stores will highlight these key changes - Augmented Reality (AR) will improve the shopping experience, social commerce will enhance sales, and Automation will help overcome labor shortages.
Posted by
Mahipal Nehra
|
Posted at 16 May, 2023
Web