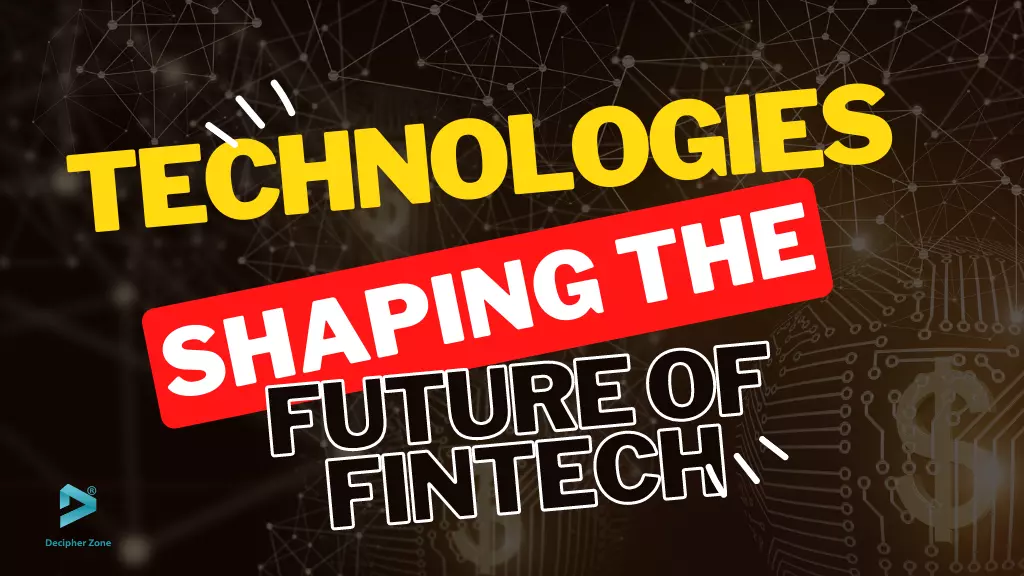 7 Technologies Shaping The Future of Fintech
A multi-million dollar industry known as Fintech has already touched your life if you've ever transferred money or checked your bank statement online. According to Allied Market Research, the fintech market size is estimated to grow at a CAGR of 20.3% and reach $698.48 billion by 2030.
The cohesive source of fintech development and progress is the integration of new technologies and innovation. Fintech aims to transform conventional financial methods and practices into digitalized ones, rewriting the rules and needs of the era.
Leveraging advanced technologies, Fintech has the potential to bring a paradigm shift into the financial industry. But before we dive into the technologies shaping the future of Fintech, let's understand the basics and importance of it.
An Introduction to Fintech
Financial Technology aka Fintech refers to the implementation of new technologies into traditional financial methods to automate and improve the use and delivery of financial services.
The core purpose of fintech is to help consumers, businesses, and companies better manage their financial processes and operations.
Read: Financial Software Development Cost
The term fintech encompasses a fast-growing industry, serving the interests of both consumers and businesses in multiple ways. That being said, fintech has an endless set of applications, including cryptocurrencies, mobile banking, insurance, trading, investment, crowdfunding, etc.
What's the Importance of Fintech
With the emergence and advancement of fintech technology, businesses no longer need to implement traditional methods as now they have multiple digital alternatives to make cash flow seamless and convenient.
Read: Core Banking Software Development
To help you understand the importance of the fintech industry, we have listed the following benefits that come with it.
Economic Growth
With the advancement of technology, the fintech industry has created numerous business opportunities by offering mobile banking, paperless lending, eWallets, etc.
Read: Top 10 Latest Banking Trends
Apart from making fund management easier, some fintech organizations are also providing access to e-Wallets and mobile banking services in countries like Africa to help uplift people out of poverty by developing a society that is financially inclusive.
Cost-Effective
Fintech firms don't require physical branches, helping users with waiving off bank account opening charges. It also streamlines and automates diverse processes using tools and technologies, reducing operational and labor costs. Therefore, in comparison to conventional banking and financial institutions, fintech firms offer high-end digital services at a minimal cost.
Higher Security
Using the advent set of technological tools and complying with cyber security regulations, fintech makes the cash flow much more safer and secure than conventional banking.
Transparency
With the rise and implementation of blockchain technology in the fintech industry, keeping financial systems transparent is no longer a dream. Both the financial institutions and users can be kept in a tight loop about transactions, real-time updates, security measures, etc.
Business Empowerment
Undoubtedly, fintech makes the financial processes easier while allowing users to efficiently manage their funds. Apps that provide financial information are a good example of how Fintech empowers.
In addition to building the future of finance, they also improve financial literacy. Through Fintech and its enhanced financial capabilities, many can learn about budgeting and saving money for investments in the future.
Top 7 Technology Trends Shaping Fintech Future
Top technology trends bound to drive its future.
Below is the list of the top 7 technologies shaping the fintech future:
1. Artificial Intelligence and Hyper Automation
AI models can complete tasks by learning and adapting metadata without human intervention. The fintech sector can leverage AI technology to improve and automate financial advice, customer service, fraud detection, personalized user experience, analytics, facial recognition authentication, smart processes, and more.
On the other hand, Robotic Process Automation (RPA) with AI will make the deployment of chatbots, dealing with complex business scenarios, decision-making, and financial transaction processing a lot easier.
2. Internet of Things (IoT)
Composed of wireless communication networks, smart sensors, and operations and applications support, IoT can help financial institutions in collecting customer data, solving financial problems, offering strong data protection, detecting frauds, etc.
IoT is also being adopted by insurers for risk determination, improving customer engagement, and simplifying complex underwriting and claims processes.
Read: Bitcoin Mining
3. Blockchain
With the digital ledger technology of blockchain, fintech firms can easily record, synchronize, and share data in real time across a diverse network of participants simultaneously.
Other than DLTs, fintech companies might also use cryptography, smart contracts, distributed data storage, and zero-knowledge proof to develop key fintech elements like decentralized finance (DeFi), Digital Wallets, Non-Fungible Tokens (NFTs), and Digital Assets.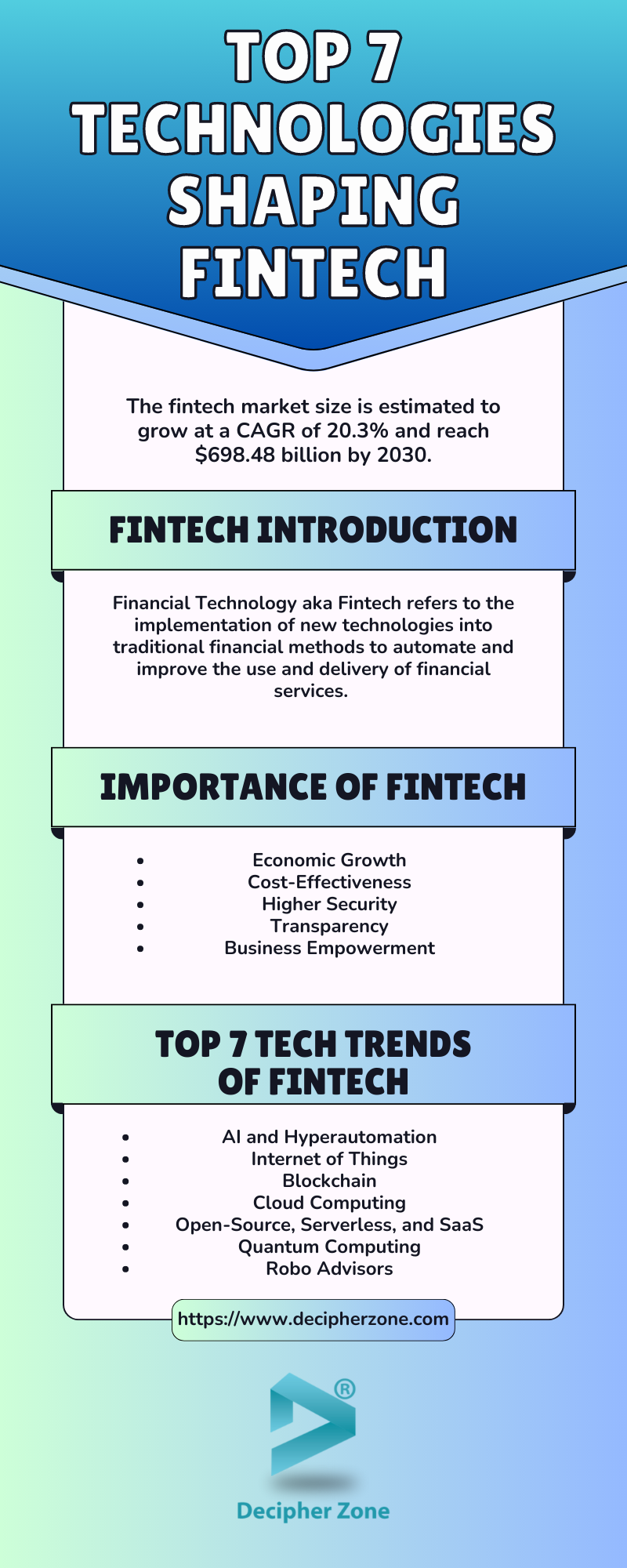 4. Cloud Computing
It liberates fintech companies from physical data centers and IT infrastructure by enabling flexible computing services and storage at a lower cost.
Through embedded and automated security controls such as data encryption and zero-trust verification, cloud computing also reduces security risks helping fintech businesses in complying with industry standards and maintaining sensitive data of both business and customers.
5. Open Source, Serverless, or SaaS
These technologies help in improving the speed and scalability of any business.
While serverless removes the need for owning servers for resources, Open-Source software provides free-to-use code to avoid building the application from scratch.
Software-as-a-Service (SaaS) allows businesses to use the software without worrying about its maintenance, reduces costs, increases scalability, and improves efficiency.
Combining these technologies allows businesses to develop and market software prototypes at minimal cost while also enabling faster infrastructure scaling.
6. Quantum Computing
It is based on quantum mechanics that helps solve complex problems using quantum physics principles.
Implementing quantum computing in fintech will allow financial software to calculate large amounts of data in a fraction of time for highly accurate predictions of the financial market, portfolio optimization, and risk management.
Apart from that, it also amplifies the transaction speed, increases profiles, and minimizes costs.
7. Robo-Advisors
It is an evolutionary form of fintech solution that uses complex algorithms to analyze risk tolerance and the financial situation of the investor and provide automated advice for low-cost investment and portfolio management.
The reason behind the increasing popularity of robo-advisors is their ability to maximize returns on investment by providing comprehensive insights for better decision-making.
Conclusion
These key technology trends are going to completely revolutionize the way we use financial services in today's era.
Read: Financial Services Software Solutions
If you also want to be a part of the fintech industry and leverage the opportunities without getting lost in the competition, then get in touch with our experts, share your requirements, and hire developers to develop customized fintech solutions for your business.
FAQs About Fintech
What is Fintech?
The term 'Fintech' is an acronym for Financial Technology - an umbrella term that refers to native applications, software, and other technologies that can streamline and automate financial processes for consumers and businesses alike.
What are the trends shaping the future of fintech?
Artificial Intelligence and Hyper Automation, IoT, Blockchain, Cloud Computing, Open Source, Serverless, or SaaS, Quantum Computing, and Robo-Advisors are the top 7 tech trends bound to shape the future of fintech.
How is fintech shaping the future of finance?
Fintech brings digitalization to the financial services industry and encourages the use of digital technologies to create innovative solutions such as robo advisors, efficient financial management, crowdfunding, etc.
Posted by
Mahipal Nehra
|
Posted at 04 May, 2023
Web