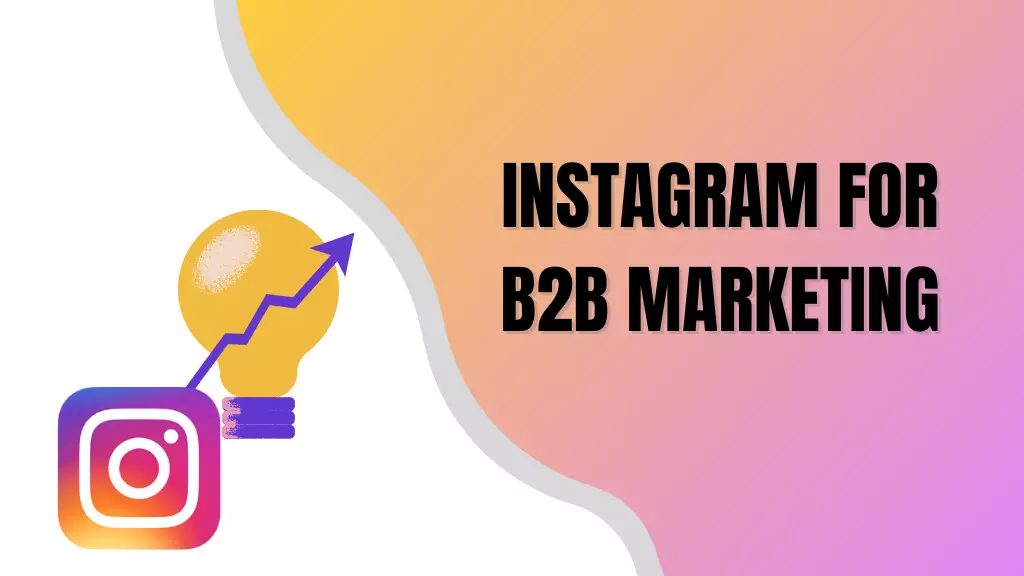 Instagram for B2B Marketing: 7 Useful Tactics
A B2B company has much potential to grow using Instagram for marketing success. It is one of the most widely used social media platforms, with over 1 billion monthly users. And according to a recent study, it is also the most influential platform when it comes to purchasing decisions.
There are still many B2B companies that are not using Instagram for their marketing efforts. If you are one of them, then you are missing out on an excellent opportunity to connect with your target audience and promote your products or services.
7 Useful Techniques for B2B Marketing on Instagram
Here are seven valuable tactics that you can use to market your B2B company on Instagram:
1. Understanding The Essentials Of Instagram Business
One of the main reasons businesses don't use Instagram for marketing is that they don't understand how it works. If you want to be successful on this platform, you need to take the time to learn about the basics of using Instagram for business.
This includes understanding how to set up your account, how to create content, and how to use the various features that are available to businesses. Once you have a good understanding of the platform, you will be able to start using it to your advantage.
Read: Grow Revenue with Digital Marketing
Break things down and start with the basics, such as creating an account, understanding the algorithm, and posting content. You can start to experiment with other features such as Instagram content and hashtags in your business strategy.
2. Create A Profile And Customize It
The first step to using Instagram for business is to create a profile. When creating your profile, there are a few essential things you need to remember. First, you need to make sure that your profile is set to public. This will ensure that anyone can see your content and that you are not limiting your reach.
Second, you should include a link to your website in your company bio. This will allow people to easily visit your site if they are interested in what you are offering. Finally, you should add a description and profile picture that clearly portrays what your business is all about. This description should be short, sweet, and to the point.
Read: The Power of Business Intelligence
Having a concise and clear profile will help people understand what your company is all about, and it will also help you attract the right followers.
3. Add Unique Photos And Videos To Your Page
The key to using Instagram for business is to add unique and exciting content to your page. This means posting photos and videos that will grab people's attention and make them want to learn more about your company.
When it comes to photos, you should avoid using stock images. Instead, focus on adding high-quality images that represent your brand in a positive light. You can also use Instagram reels to add short videos that give people a behind-the-scenes look at your company.
Read: Enhance User Experience & Increase Revenue
People are more likely to follow and engage with companies that post exciting and unique content. So, make sure that you are regularly adding new photos and videos to your page.
4. Tell A Story With Your Content
When you are creating content for your Instagram page, it's essential to tell a story. This will help you connect with your audience on a deeper level, and it will also make your content more memorable. Finding a way to tell a story with your content will also help you stand out from the competition. Telling a story is the best way to avoid coming across as promotional.
For example, if you are promoting a new product, don't just post a photo of the product. Instead, tell a story about how the product was developed and why it is crucial to your customers. This will help people see your products in a new light, and it will also make them more likely to purchase from you.
Read: Everything You Need is An Ecommerce App
No matter what story you decide to tell, make sure that it is interesting, relevant, and clear to your audience. Otherwise, people will quickly lose interest, and they will be less likely to follow your company.
5. Change It Up And Keep It Fresh!
When creating content, there are a few different ways you can keep things fresh. One way is to switch up the type of content you are posting. For example, if you typically post photos, try adding a video or an Instagram reel. This will help break up the monotony of your content, and it will also give people a different way to consume your content.
Another way to keep things fresh is to post about new and exciting things happening at your company. Whether you are launching a new product or you are expanding into a new market, make sure to share this news with your followers. This will help keep people updated on what's going on with your company, and it will also show that you are constantly innovating and growing.
Read: Why Should Startups Switch To ReactJS Development
The best way to keep people engaged with your company is to regularly post fresh and exciting content. So, make sure that you are always thinking of new and exciting ways to share your story.
6. Promote Your Business With Instagram ads
There are plenty of great options available when it comes to marketing your business on Instagram. But if you want to reach a larger audience with your content, then you should consider running Instagram ads. Instagram ads are a trendy and also great way to promote your business to a wider audience, and they are also very affordable if you have a good strategy.
When creating your ad, make sure to include a strong call to action that tells people what you want them to do. For example, if you are promoting a new product, you could include a call-to-action that says "buy now."
Read: E-Learning Web App Development
You should also make sure to target your ads to the right audience. This will help ensure that your ad reaches people who are interested in what you have to offer. Targeting the wrong audience will result in your ad being seen by people who are not interested in your product or service, which is wasted money as well as opportunity.
7. Use Keyword-Rich Text To Optimize Your Posts And Profile
When you are creating content for your Instagram page, it's important to use keyword-rich text. This will help you improve your visibility in the search engines, and it will also help you attract more followers.
Using keyword-rich text is especially important in your bio because this is one of the first things people will see when they visit your page. So, make sure to include keywords that describe your business or what you do. For example, if you are a marketing agency, you could use keywords like "social media marketing," "content marketing," or "SEO."
Read: 10 Reasons why business travel still important in 2022
Including keywords in your posts will also help you get more views. When people search for these keywords on Instagram, your posts will show up in the results. So, make sure to include relevant keywords in your posts to ensure that people can find your content.
By using keyword-rich text, you can improve your visibility on Instagram and attract more followers. So, make sure to use this tactic when creating your content.
Read: Top 15 Web App Development Ideas To Inspire You
Instagram can be a powerful tool for B2B marketing when used correctly. By using the tips in this article, you can improve your visibility on Instagram and reach a larger audience with your content. So, start using these tactics today and see how they can help you achieve success with your business.
Posted by
Mahipal Nehra
|
Posted at 10 Jun, 2022
Web