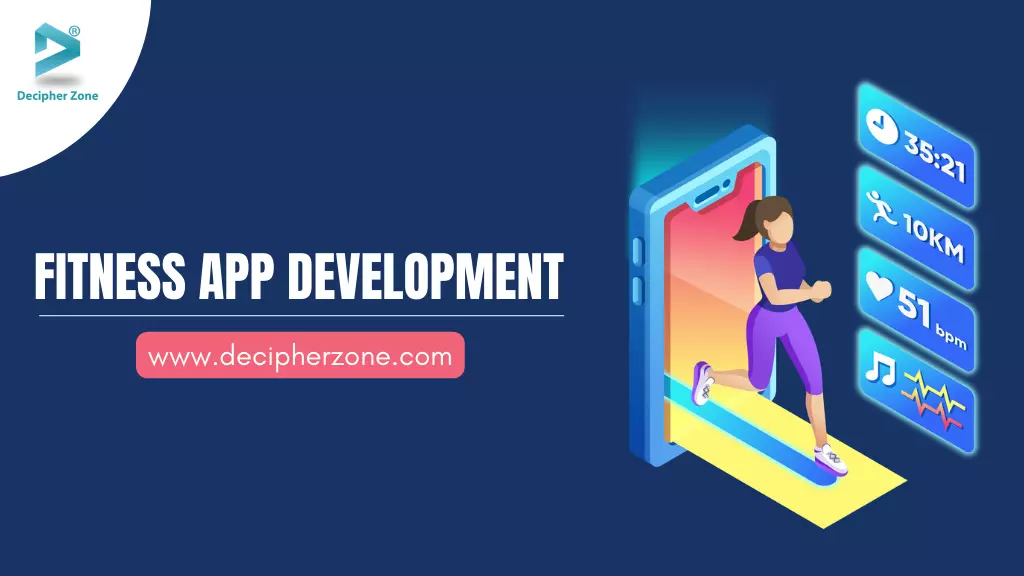 Fitness App Development - Benefits, Features, and Cost
Fitness App Development - Benefits, Features, and Cost. Fitness has been an integral part of the daily lifestyle of people nowadays and with the busy schedule, not everyone has the time to go to the gym and workout. And with technology stepping into the rescue, fitness app development came into play.
According to the statistics from Allied Market Research, the global fitness app market size is estimated to reach $120.37 billion by 2030 from $13.78 billion in 2020, at a CAGR of 24.3%, also making it an important reason to consider developing a fitness app for your business.
In this blog, we will be filling you with an introduction to fitness app development along with the benefits, features, and costs of development.
So, without any further delay, let us step in!
Introduction to Fitness App Development
It is an app developed to cater to the fitness needs of the users by helping them with personalized workout plans, meal recommendations, and others which in turn helps in improving the overall health of a user.
Read: Healthcare Consulting Services and Solutions
Some of the best fitness apps that are widely used in the market are Nike Training Club, FitOn, Gymshark Training, Burn Fit, Daily Workouts–Home Trainer, Google Fit, Headspace, and many more.
Read: Top 10 Healthcare Business Ideas for Startups
Benefits of Fitness App Development
The benefits of fitness app development are -
Convenient and Accessible

Data Insights

Lucrative Market

Marketing Opportunities

Wider Audience
Convenient and Accessible - It makes your business more convenient and accessible by enabling the users to access your services 24*7 alongside providing personalized workout plans, diet plans, and many others at the click of a button.
Data Insights - Fitness app development also helps you to gain useful data insights which you can analyze and use to make better business decisions alongside providing your customers with personalized services, thus improving their user experience.
Lucrative Market - It is a profitable market to consider investing in. Developing a fitness app helps in continuous growth as more and more people are now moving towards a fit and healthy lifestyle thus, making way for more growth opportunities for your business.
Marketing Opportunities - It also acts as a great marketing tool for your business as it allows the trainers to showcase their expertise on a platform without having to pay anything extra for it and in turn the app facilitates a huge user base.
Wider Audience - Developing a fitness app also allows you to reach a wide range of audiences as it increases the potential of your business to target potential leads alongside higher user engagement.
Read: Healthcare Consulting Services and Solutions
Features to Integrate into a Fitness App Development
Some of the features of a fitness app are as follows -
Easy Onboarding process using mobile number verification, Social media login, OTP verification, and others to make the process easy and less time-consuming.

Goals to set objectives of the fitness regime and to help the users achieve them without fail.

Sync with wearable devices to track your fitness data without having to worry about losing on the counts.

3D models, animations, and pictures to illustrate and explain the exercises making it easy for the users to understand and get the perfect posture and workout session.

Activity tracking helps you keep track of the number of steps taken, distance traveled, sleep hours, calories burned, stairs climbed, heart rate, and others.

Audio/Video player to listen to a podcast/music for meditation, and also to watch a video tutorial whenever needed.

Customizable workouts according to the user's preference including diet plans, workout sets, and many more features.

Push notifications and reminders to alert the users of their meal time/exercise time and others to maintain a healthy workout session and not miss any of the workout routines.

Multiple payment gateways to make in-app purchases whenever needed, and many more according to your requirements.
Read: Digital Transformation in the Healthcare Industry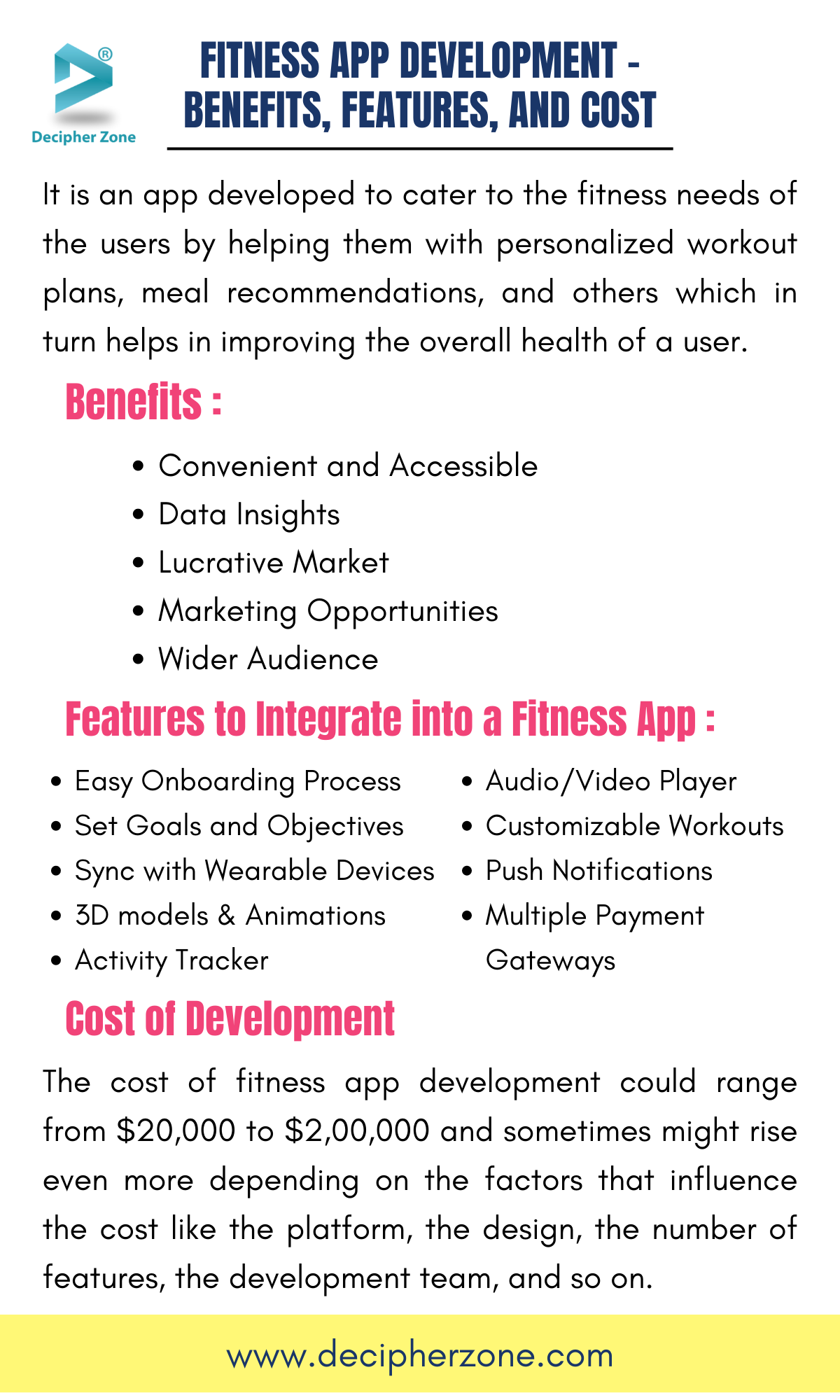 What is the Cost of Fitness App Development?
The cost of fitness app development could range from $20,000 to $2,00,000 and even more depending on the factors that influence the cost.
The cost of fitness app development can vary significantly based on several factors which include the following -
The type of app that you want to develop i.e. native app, hybrid app, PWA, etc.

The platforms for which the app is being developed like for Android, iOS, and others alongside supporting different devices like smartphones, tablets, wearables, and others.

The design and development complexity along with the total number of features like its integration with wearable devices, social sharing, and more.

The technology stack that is being used to develop the application which includes the set of programming languages, frameworks, libraries, and tools.

The development team working on your project like a number of frontend developers, backend developers, quality assurance engineers, and others along with their experience and expertise.

The location and the per-hour charges of the developers/development team.

Third-party API integrations and integrating additional security features like firewalls, multi-factor authentication, 2FA, and others.

App testing and quality assurance to ensure that your app runs well and is error-free using various levels of thorough testing may also affect the cost of development.
Read: OTT Application Development Cost
Wrapping It Up
With time running by and the lives of people evolving rapidly the fitness industry has seen exponential growth with the advent of fitness apps. These apps not only ease workout regimes but have also enabled people to live healthier lifestyles.
Read: Mental Health App Development
So, if you are considering investing in fitness app development, then now is the time!
Connect with us now, or hire a developer and get the best apps developed for your business and take your business to new heights.
FAQs: Fitness App Development
What are the types of fitness apps?
The different types of fitness apps are -
Workout out apps

Activity tracking apps

Diet and Nutrition apps

Yoga and meditation apps, and many others.
How much time does it take to develop a fitness app?
Developing a fitness application usually takes 3 - 6 months and sometimes might even take up to a year depending on the complexity of the application, budget, and resources working on the app.
What are the different ways to monetize a fitness app?
The different ways to monetize a fitness application are as follows -
Paid apps

In-app purchases

Ads

Freemium apps

Sponsored content, and many more.
Posted by
Mahipal Nehra
|
Posted at 07 Aug, 2023
Web