Top 10 Healthcare Business Ideas for Startups and Entrepreneurs
Top 10 Healthcare Business Ideas for Startups and Entrepreneurs. The healthcare industry has changed drastically post the Covid-19 pandemic and has brought several advancements to cater to the healthcare needs of the patients.
Whether monitoring the patient's health using IoT-connected devices or diagnosing their health issues using Artificial Intelligence, technology has benefited the healthcare industry in every aspect of patient health alongside quality and advanced treatment. Not just this, it has also helped in the early detection of several health issues and streamlines the workflow with automation, thus leading to increased productivity.
And if you are in the healthcare sector and thinking to accelerate your business then this article will help you out with some of the best business ideas for startups.
10 Top Healthcare Business Ideas for Startups and Entrepreneurs
Here is the list of top 10 healthcare business ideas that you can consider for your startups are as follows -
Diet and Nutrition

Fitness and Yoga Services

Healthcare at Home

Healthcare Blogging

Lab Tests Services

Medical Billing Service

Medical Equipments Service

Medical Records Management

Mental Wellness

Online Pharmacy
There are several types of healthcare apps and software available in the market. But if you are an early-stage investor or an entrepreneur, who wants to build a startup in the healthcare industry, then your business idea must be different from other businesses.
But what is more important is to make your business accessible to potential customers, which is possible via healthcare software development.
Read: Technology in Healthcare
1. Diet and Nutrition
Nutrition is an important part of people's health and it is an important healthcare business idea that you can consider. Developing software for this specific purpose will help you draw more customers as most people nowadays are inclined towards having a healthy and nutritious diet chart planned out for them.
It not only helps you as a successful business but also allows the individual nutritionist and dietitians to earn extra income alongside facilitating the patients with their requirements within their fingertips.
2. Fitness and Yoga Services
Fitness has been an integral part of people's daily lifestyle nowadays. People are adopting different types of yoga practices, gymming, Zumba, aerobics, and several other fitness sessions to keep themselves fit and healthy.
Developing a fitness and yoga service providing software will enable the users to book personal sessions online with the experts and trainers alongside a seamless experience according to their needs.
Read: Digital Healthcare Technology Trends
As a startup, there are not many fitness and yoga services providing apps and software so this will surely help you create a buzz in the market and help you accelerate your business at a fast pace.
3. Healthcare at Home
This is one of the newest ideas to start a business. For patients who have been recently discharged from the hospital this software will be a savior for them.
The customers will not have to look for healthcare service providers who can monitor the patients in the comfort of their homes.
This software will help in providing in-home medical services, providing a similar experience to the hospital but with better comfort and lesser hassle.
For example - some elderly people need nurses to look after them. Be it giving timely medicines, to monitoring and recording their health status, this software will help you find the best service provider at your doorstep with ease.
4. Healthcare Blogging
The internet has now taken over people of every age group. When you feel uneasy or even have a slight stomach ache, the first thing you do is search the internet for the causes, and it shows the possible causes of your listed problem.
And this is where healthcare blogging comes in, where it facilitates the users with healthcare tips, remedies, and other notes to take care of yourselves.
Read: Healthcare Consulting Services and Solutions
This is among the cheapest healthcare business ideas to start with. All you need is a strong knowledge of content marketing alongside being an expert in a specific domain in the healthcare industry.
5. Lab Tests Services
When you can book an appointment with a doctor online, why can't you book a lab test online and conduct tests in the comfort of your own home?
Developing a lab test service software helps in doing so. It helps the users to book a lab test service via the software and then avail of the services anytime anywhere as per following the medical guidelines.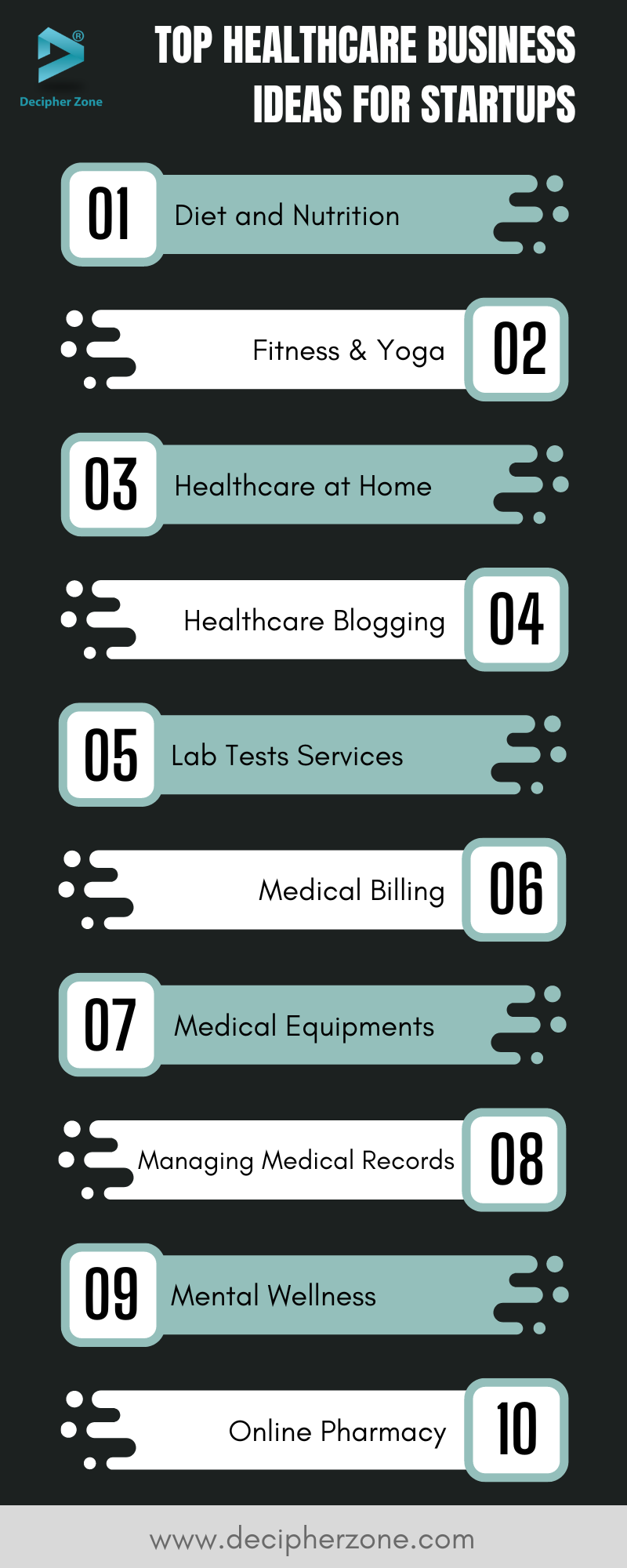 6. Medical Billing Service
It is an important business idea to consider, as it not only helps the accounting department of a healthcare institution but also helps in streamlining the finances and other business operations.
This type of software helps you keep track of every bill-related task along with eliminating the risks and frauds associated with payments, ensuring security and minimal or no errors during the process.
Read: On-demand Medicine Delivery App Development
Furthermore, this type of software also helps in saving a lot of time and money, making it effective and efficient.
7. Medical Equipment Service
Medical equipment is an important part of medical procedures, and these tools are used in bulk numbers every day. Providing medical equipment in an online store will boost your business with proper research and make it easy and accessible for your customers.
It will also help make your services unique, making the services hassle-free and manageable.
8. Medical Records Management
Data is an important part of every business and in the healthcare industry, it is essential to manage and keep the records safe.
Developing medical records management software will not only help medical institutions but will also help patients to track their health records alongside helping doctors to provide a better treatment plan for their patients.
Read: Virtual Hospital Software Development
In addition, it will also help in eliminating the errors that can happen manually or might work best in case of the absence of the physical form of health records.
9. Mental Wellness
Mental health is an important concern nowadays and after the Covid-19 pandemic, the rise in mental health problems is one of the most important reasons why you should develop mental wellness software.
Read: How Web Applications are Useful in Healthcare Industry
It will help the patients avail of the services like therapies, meditation, and many more from psychologists, psychotherapists, and other mental health experts as per your needs.
For example - the user can list out his symptoms and the software will automatically suggest whom to consult regarding their issues.
10. Online Pharmacy
It is one of the most common ideas but still makes it to the list to consider as one of the best startup ideas. Developing online pharmacy software helps users order the required medicines by uploading a valid prescription, and getting them delivered to their doorstep.
Read: Life Sciences Consulting Services and Solutions
It benefits both the business and the patients and provides a cost-effective and time-saving method helping in user retention and growing your business.
Wrapping It Up
In the current times when every business is switching towards digitization, it is important for a startup as well to digitize their business for better results.
And especially in the healthcare industry where every second counts, making your services accessible to the customers is a bonus for your business as well.
So, if you are considering any of the aforementioned healthcare business ideas for your startup or if you have any other ideas, hire a developer, or reach out to us for the best solutions.
FAQs
How much does it cost to develop a healthcare software solution?
The cost of healthcare software development ranges from $40,000 to $3,50,000, and even more, depending on your business requirements and several other aspects.
What are the latest trends in the healthcare industry for 2023?
The latest trends in the healthcare industry for 2023 are -
AI and Machine Learning

Telepsychiatry

Voice Search

IoT-connected devices, and

Immersive Technology.
What are the benefits of developing a healthcare application?
The benefits of healthcare software development are -
Helps in providing improved services

Manages and optimizes the workflow

Reduces operational costs, and

Increases productivity.
Posted by
Mahipal Nehra
|
Posted at 09 May, 2023
Web