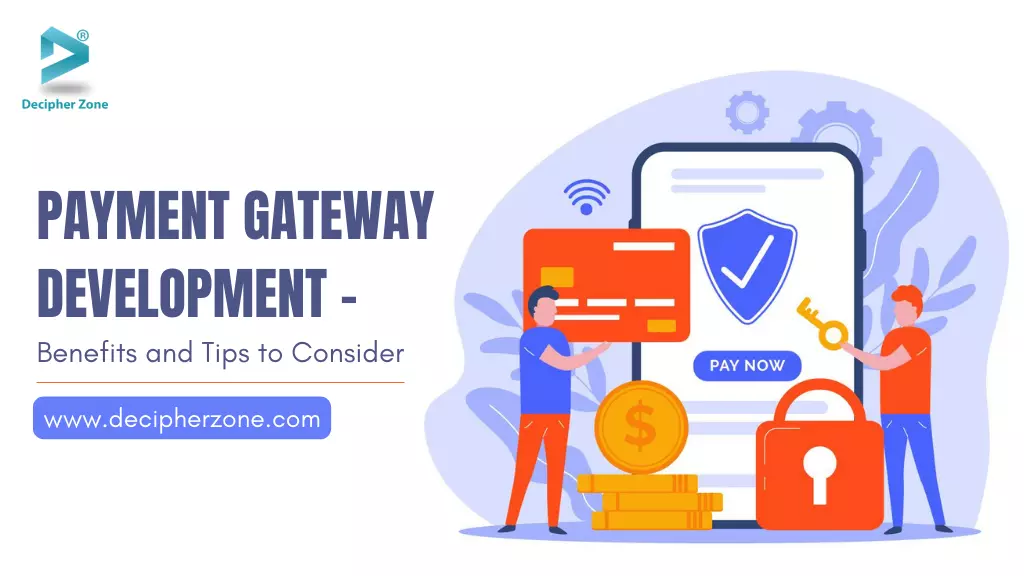 Payment Gateway Development - Benefits and Tips to Consider
Payment Gateway Development - Benefits, Cost, Components, and Tips. Payments are an integral part of a business, and when setting up an online business, payment gateways play an important role.
And in modern times, when businesses are switching towards developing an application or software for their businesses, why not think out of the box and develop a payment gateway for their businesses and provide a one-stop solution that caters to all online payment needs?
Yes, you read it right?
So, in this blog, we will be filling you up with several aspects of payment gateway development along with the benefits, components, and essential tips to consider while developing such software, and make your business gain a position in the marketplace and compete with the giants like PayPal, Stripe, Razorpay, and others.
Payment Gateway Development - An Overview
Payment gateway development is an application or software developed to simplify and streamline online payment processes. In simple terms, it is an online service that acts as a channel enabling users and businesses to make and receive payments respectively.
Read: Payment Gateways for your Web Application
Furthermore, it enables a business to integrate this service or feature into an application or software to ease the payment processes, acting as a middleman between the business and their customers.
Read: Escrow Payment Solutions For Your MarketPlace
Also note that integrating a payment gateway into an application is a challenging task, but do not worry, you can connect with us and we will help you integrate such features into your software with ease.
But what is more challenging here is developing a payment gateway for a business, as you need to take care of the security of transactions and financial details of the customers. But before that let us help you understand the benefits of payment gateway development for your business.
Read: How To Build a Shopify Store for Your E-Commerce Business
What are the benefits of Payment Gateway Development
The benefits of payment gateway development are as follows -
Accelerate the Growth

Convenient and Easy

Custom Services

Encourages More Transactions

Reduced Fees and Extra Profits
Accelerate the Growth
It is one of the most important advantages that payment gateway businesses will avail of as it helps other online businesses as the middleman to make and process payments with ease, thus accelerating the growth of the business.
Convenient and Easy
One of the common problems with the users is that many of them abandon their shopping carts because of difficult checkout processes.
So, developing a payment gateway is the solution that helps the users with hassle-free and quick checkout alongside enabling them to make payments with ease.
Custom Services
It also helps you to provide custom services to your customers, thus allowing you to extend your services through accessible features and stand out in the market because of the uniqueness of your product.
Encourages More Transactions
As most of the users like purchasing things online, it is important to integrate a secure payment gateway, which helps in encouraging the users to make more online transactions, thus again helping your business to accelerate its growth.
Reduced Fees and Extra Profits
It is another reason why you should consider payment gateway development.
It helps you by offering a chance to cut costs for the users and other businesses and draw more businesses towards your software, by reducing the payment processing charges and earning extra profits by integrating different plans for different levels of businesses.
Read: Web Payment Service and a Payment API
Now that you have learned about how payment gateway development is a beneficial business idea, there are many other advantages as well that you will come across once you develop a solution for your business.
Meanwhile, you can also go through the disadvantages as everything has both positive and negative aspects. It will help in developing a future-proof solution for your business.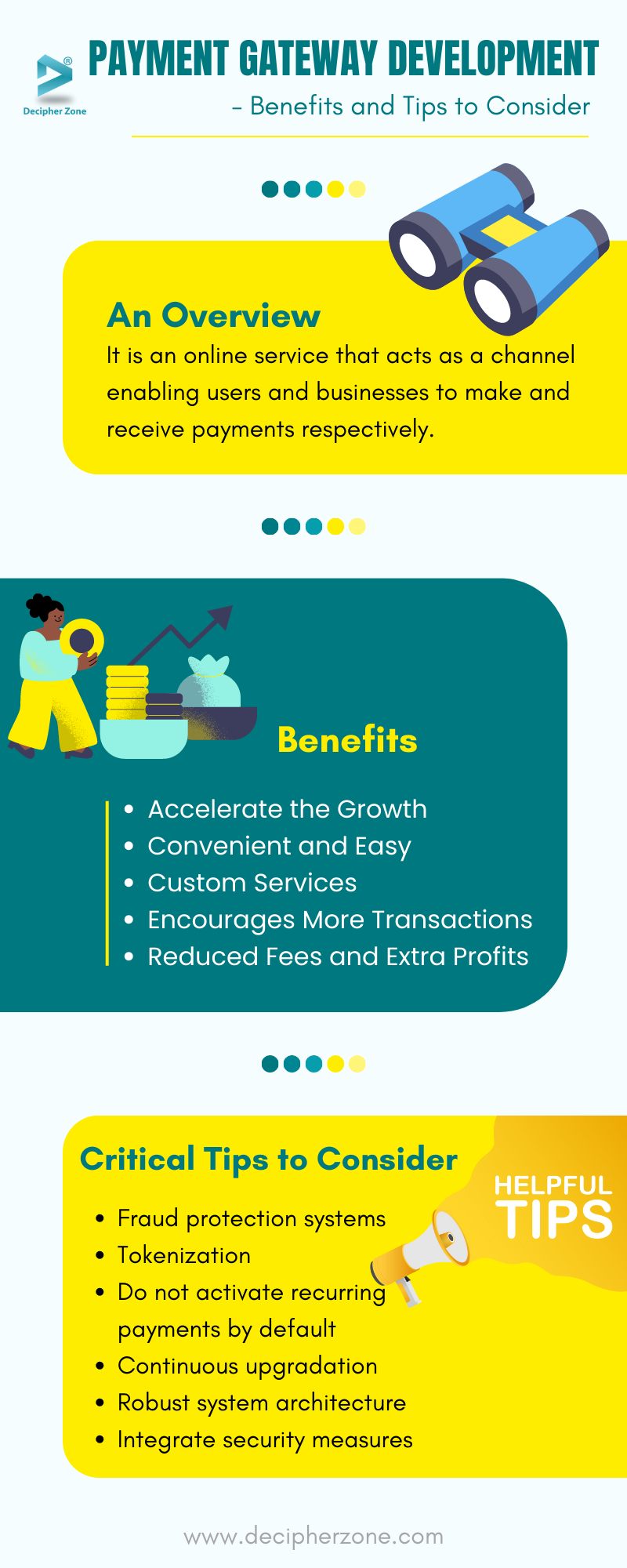 Critical Tips to Consider for Payment Gateway Development
While planning to develop a payment gateway, it is also essential that you should consider certain things to ensure security, scalability, efficiency, and reliability.
Some of the tips that you need to consider are -
Integrate fraud protection systems to detect and prevent fraud using several security methods and frameworks.

Consider using random alphanumeric tokens to secure the sensitive data, so that when anyone tries to hack your systems nothing will be stolen.

Do not integrate recurring payments by default. It will help the users to choose subscriptions according to their choice especially when they subscribe to an application on a monthly or quarterly basis according to their requirements.

Using outdated software is not a good idea, so updating the software timely according to the market trends and consumer demands works well, thus encouraging more user footfalls alongside provisioning a modernized platform.

Plan a robust system architecture according to the requirements so that your software performs well by providing quick loading speed, which helps in enhancing customer satisfaction thus providing a positive user experience.

Integrate different safety and security measures into the software or application like AML, KYC, SSL, multi-factor authentication, biometrics, and others to eliminate the risk of cyberattacks and sensitive data being leaked. This will help you in building trust with your customers along with customer retention, and a good reputation in the market.
What is the cost of developing a Payment Gateway?
The cost of payment gateway development between $35,000 to $3,00,000 and sometimes even more according to the market trends, consumer demands, and charges as per the industry standards.
It also vary according to your business requirements and several other factors like security, transparency, and reliability.
Summing It Up
According to the reports from Grand View Research, it is estimated that the payment gateway businesses will expand to $132.24 billion in 2030 from $32.52 billion in 2023 at a CAGR of 22.2%, making the thought of payment gateway development a great opportunity to consider.
So, if you are thinking of developing a payment gateway for your business and making a stand among the competitors in the market, then hire a developer, or connect with us and develop and deploy the best and most secure solutions for your business.
FAQs: Payment Gateway Development
What are the important features of a payment gateway?
Some of the must-have features that you can integrate into a payment gateway are as follows -
Detailed Reports

Easy Integration

In-built Invoice Options

Multiple Payment Options

Quick Payment Processing, and many others
What are some of the best Payment APIs to manage online payments?
Some of the best payment APIs that help in managing online payments are Razorpay, Stripe API, Square API, PayPal, Paybook, BIPS Invoice (By Coinify), PaySimple, and many more.
Posted by
Mahipal Nehra
|
Posted at 01 Jun, 2023
Web