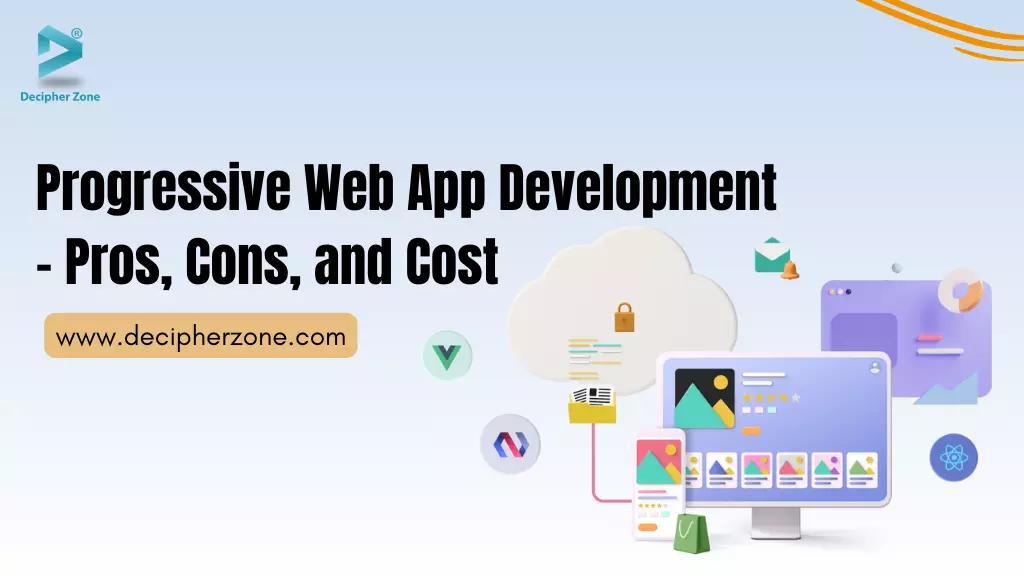 Progressive Web App Development - Pros, Cons, and Cost
Progressive Web App Development - Pros, Cons, and Cost. With technology unwavering its capability deck and providing solutions for every problem the IT industry has come a long way. Be it availing of a business service anytime, anywhere, or easing your daily lifestyle with on-demand apps , technology has catered to it all. And one such thing is Progressive Web App Development.
According to some reports from an online source, it is said that progressive web apps increase conversions a lot more as compared to native mobile apps, thus making it an important factor to invest in PWAs.
In this blog, we will be filling you up with progressive web apps, along with their pros and cons, as well as the cost of development.
So, without further ado, let's get started!
What is Progressive Web App Development?
Progressive web apps or PWAs are web apps that incorporate the features of both web apps and mobile apps. These applications can work on any platform regardless of the device and network connection.
Read: Why Progressive Web Application Development Is Trending
In addition, PWAs are simpler, faster, and can be easily shared using a URL.
Some of the common examples of progressive web apps that you might have probably used or come across are Twitter, Forbes, Starbucks, Pinterest, Uber, and many more.
Pros of Progressive Web App Development
The benefits of developing a progressive web app for your business are as follows -
Better User Experience

Cost Effective

Quick Loading Speed

SEO Friendly

Versatile
Better User Experience - The primary benefit of Progressive Web App Development is that it helps in enhancing the user experience alongside providing features like smooth responses and interactions, quick loading speed, and many more thus encouraging the user engagement and retention rate.
Cost Effective - It is a cost-effective solution for businesses as it helps in fulfilling the need of both website and mobile apps with a unified codebase thus significantly reducing the amount of effort, which in turn also lowers the cost of development.
Quick Loading Speed - Another benefit of developing a progressive web app is that it has a quick loading speed as compared to a normal website which helps in reducing the bounce rates and increasing the conversion rates, thus positively affecting the ROI.
SEO Friendly - PWAs also act as a great marketing tool for your business, as it is SEO friendly and allows you to improve your online visibility and increase the search engine ranking.
Versatile - One important benefit of why businesses should consider progressive web app development is that it is versatile. It implies that the app can be used on any device and every platform like Windows, MacOS, Linux, and many more, alongside the ability to work in offline mode and even in poor network conditions.
Read: Progressive Web Apps The Future of Application Development
Now that you have learned about the pros of progressive web app development, let us move forward and list out the cons as well.
Cons of Progressive Web App Development
The cons of progressive web app development are -
Compatibility with iOS, and

Development Complexity
Compatibility with iOS - PWAs are only compatible with devices from and above iOS 11.3 versions, thus limiting the features and affecting the user experience as compared to Android devices.
Development Complexity - Another drawback of Progressive web app development is that sometimes you might encounter development complexity if you are not an experienced developer or if you do not have a team of experienced developers working on your project as it requires a thorough understanding of PWA-specific tools and technologies.
Read: Web Application Development Process
Although there are not many drawbacks to developing progressive web apps, considering them during the development process can be beneficial along with thorough research to eliminate the challenges and develop a future-proof and full-fledged solution for your business.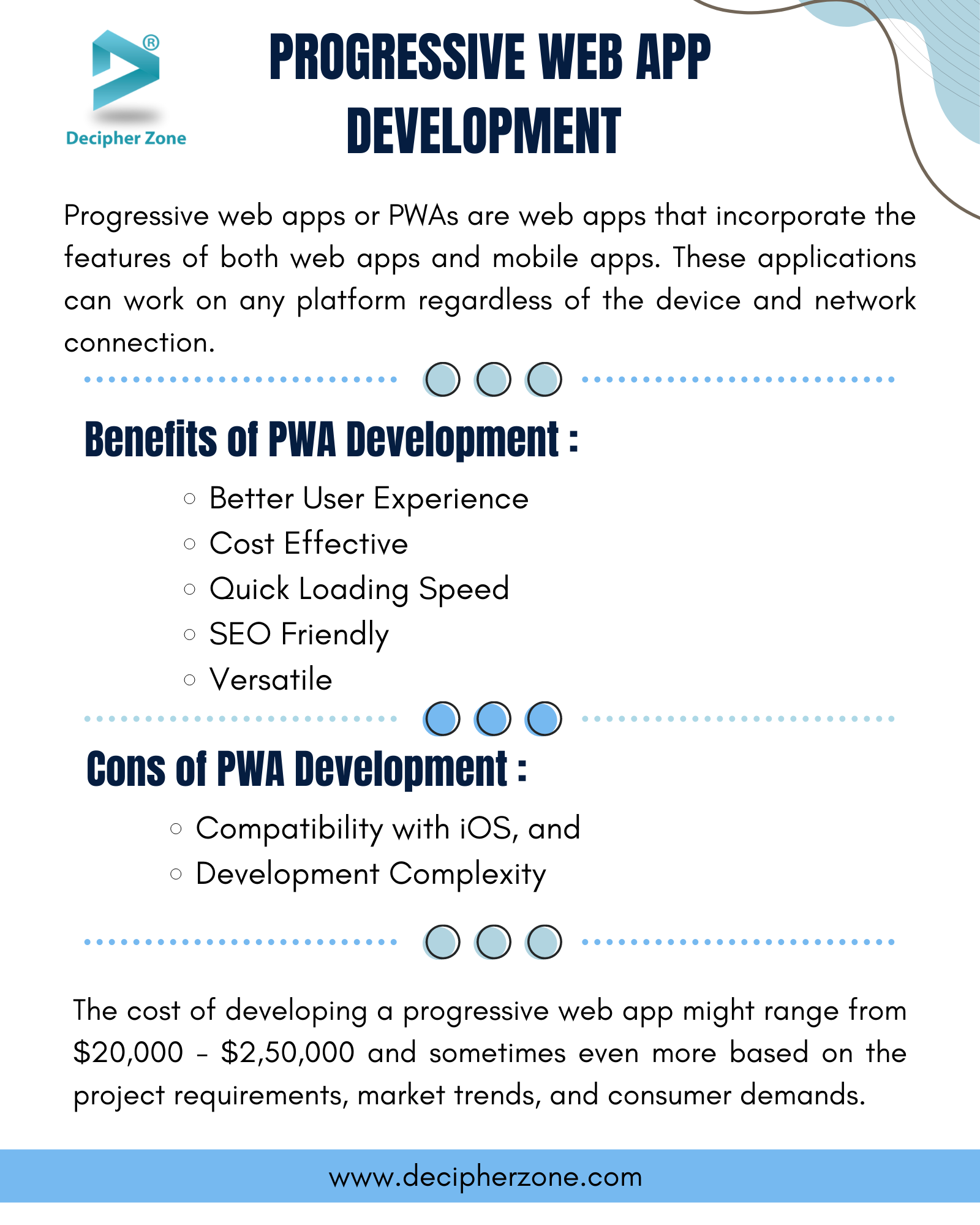 Progressive Web Application Development Cost
Tthe cost of developing a progressive web application might range from $20,000 - $2,50,000 and sometimes even more based on the project requirements, market trends, as well as consumer demands.
Read: Types of Custom App Development
Several factors influence the cost of developing a progressive web app, and they are -
The Hosting and Domain Charges as per your business name and your requirements. Examples - Hostinger, GoDaddy, etc.

The Logo and Design of the web app, where more features imply more designs, thus increasing the cost of development. Also ensure that the design of the web app is user-friendly which will help in enhancing the customer experience, thus improvising the user feedback.

Features and Complexity, where the number of increased features and the complexity of integrating them will significantly increase the cost alongside the requirement for more resources and time of development.

The Technology Stack includes the programming languages, frameworks, tools, and libraries that you choose to develop the application.

The Development Team incorporates the number of developers working on the project along with their experience and expertise. Like the frontend developer, backend developers, QA engineers, and others. Also note that the resources vary according to the project size, which also means that the number of people working on a large-scale project might be more compared to a mid-scale or small-scale project, thus influencing the cost of development.

Location and Hourly Charges of the development team are other important factors that influence the cost of progressive web app development. It means that the cost may vary according to different locations and standard charges of the development team. For example - Hiring a development team from the USA might incur more cost than hiring a development team from India, as the hourly charges of a development team in India are around $15 - $50 whereas for the USA it is around $40 - $80.

Testing and Quality Assurance at different levels to ensure that the application is bug-free and performs seamlessly.

Content and Marketing Charges are also considered to be an essential part of determining the cost of development, as it helps your web app reach potential customers with ease.
Read: React Native App Development - Benefits, Risks, and Cost
Summing It Up
Progressive web app development has been a game changer for businesses and the IT industry. It is a compelling solution for business and favors seamless user experience across various devices.
So, if you are thinking about developing one such kind of web application for your business, then why wait?
We Decipher Zone are here to help!
Connect with our experts now, or hire a developer, and get the best solutions tailored for your business that are ready to scale your business to new heights.
FAQs: Progressive Web App Development
Is Web Apps and Progressive Web Apps the same?
No, progressive web apps and web apps are not the same, where the primary difference is the installation of these apps.
What are some of the best tools and frameworks that can be used in Progressive Web App Development?
Some of the best tools and frameworks that are used in PWA development are Ionic, Polymer, AngularJS, Vue.js, React, Magento PWA Studio, ScandiPWA, Svelte, LightHouse, and many more.
How much time does it take to develop a Progressive Web App?
Developing a progressive web app from scratch is a complex and lengthy process, so it might take around 4 - 6 months and sometimes even exceeds more, depending on your project requirements, budget, and features.
Posted by
Mahipal Nehra
|
Posted at 02 Aug, 2023
Web