What is Supply Chain Management and How It Works?
The journey from coming up with an idea to creating an end product is a complicated one. In today's fast-paced business world, effective coordination and management of business activities, concerning the production and delivery of products, are crucial for making a business successful.
Although managing the supply chain of a business can be quite challenging, by implementing the right set of tools and technologies you will make it easier to achieve operational excellence, improve customer satisfaction, and minimize cost.
But do you know what supply chain management entails? In this blog, we will cover everything including definition, working, importance, and so much more about supply chain management.
So, let's dive into it!
Supply Chain Management: An Overview
The supply chain has existed dating back since the late 1920s. At the most basic level, supply chain management refers to the process of handling the production flow of a product or service.
Read: IoT Impact Supply Chain & Logistics
It involves everything from raw material procurement to the delivery of the goods to the final destination. The purpose of supply chain management is to streamline the supply-side activities of a business to improve customer satisfaction and surpass the marketplace competition.
Read: Logistics Management System
Supply chain activities range from procurement, operation management, supply chain planning, logistics, marketing channels, and order fulfillment. It can also span global trade management like multinational production processes and global supply management.
How Supply Chain Management (SCM) Works?
Supply chain management determines the efforts put in by suppliers to develop and implement efficient and economical supply chains. It attempts to control and interlink the production, shipment, and distribution of goods and services centrally.
Read: Event Management Software
A traditional supply chain management system has five major components that lead to business success. They are:
Planning: The SCM process begins with planning and managing supply according to manufacturing and customer requirements. After establishing the supply chain, it is also crucial to determine the key performance indicators (KPIs) to measure if the supply chain is efficient and delivers customer values to meet business objectives.

Sourcing: The success of supply chain management lies in strong supplier relationships. Sourcing refers to choosing and working closely with suppliers or vendors for a continuous supply of raw materials throughout the manufacturing process.

Manufacturing: This step includes gathering raw materials, testing the quality, manufacturing the product, inspecting, and packaging the finished product.

Delivering: After completing the product is finalized, it needs to be delivered to the customers. So, a company needs to have a safe, timely, and cost-effective product delivery process.

Returning: If in case a customer discovers defects in the product or finds an error on the company's part, there should be a network to create reverse logistics. It should be easier for the customer to return a product and receive a refund.
Role of Supply Chain Management Software in Business
For efficient supply chain management in the digital era, technology plays an important role. Having ERP supply chain management software can help businesses in the following ways:
Having better activity management

Reducing costs and saving time

Eliminating risks of logistics errors and late shipments

Improving customer service

Automating order processing, invoicing, and shipment tracking

Helping in better decision-making

Enhancing inventory management

Offering management reporting and analysis

Supporting communication and collaboration with stakeholders

Giving better visibility across the network
Moreover, implementing technologies such as predictive analytics, IoT, big data, robotics, and autonomous vehicles can also help in solving multiple supply chain management problems.
Read: ERP Application Development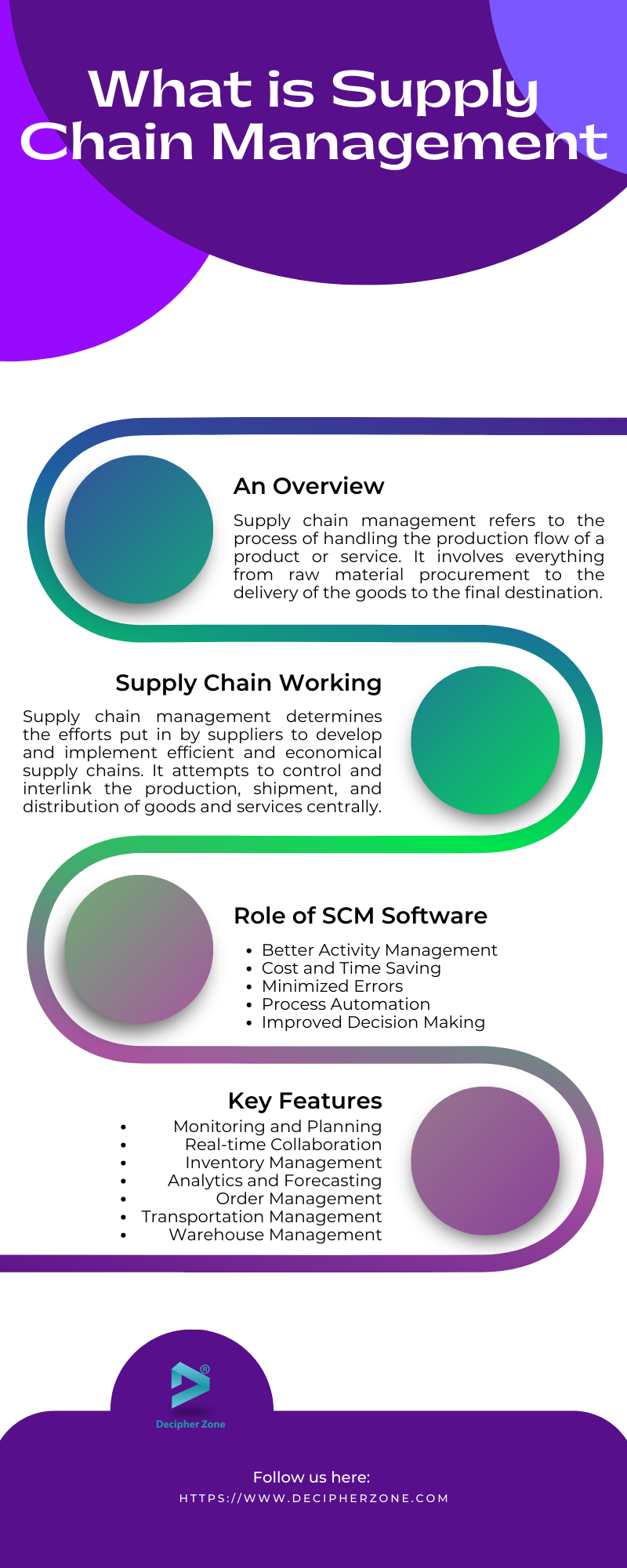 Key Features To Consider For Supply Chain Management Software Development
To build supply chain management software that reaches your business goals, some of the must-have features you need to consider are as given below:
Monitoring and Planning
Shipment time, date, order number, ID, etc. are some of the information provided by supply chain management software that a business can analyze to track KPIs. Measuring the pre-determined KPIs or metrics can help businesses find areas of improvement and make better decisions.
Read: Top best Tools for Monitoring Microservices
Also, having a centralized dashboard where you can monitor manufacturing, procurement, and logistics in one place. You can also leverage performance data to plan strategies for disruption before they happen in the future.
Real-Time Collaboration
To avoid bottlenecks like unhappy customers or missing products, having real-time information is necessary. Real-time information can help businesses respond to supply chain changes or disruptions immediately.
An efficient supply chain management system allows stakeholders to collaborate in real time to avoid manual updates.
Having a customized dashboard, self-service portals, real-time notifications, and role-based authorization are some of the tools in the supply chain management software that can help with just that.
Analytics and Forecasting
Effective supply chain management software must enable organizations to evaluate their business processes through analytics and forecasting capabilities.
This capability will help organizations understand the performance, health, bottlenecks, inefficiencies, customer demands, etc. of the business, allowing them to plan future requirements accordingly to mitigate any risks.
Inventory Management
To run the supply chain smoothly, it is important to have effective inventory management.
To achieve this, your supply chain management software should be integrated with inventory management capabilities that can optimize the level of raw materials, supplies, finished goods, or spare parts available in the company to avoid dealing with understocking or overstocking of the products.
Order Processing and Invoice Generation
The supply chain management software should be able to automate order processing and invoice generation to enable flexible order management capabilities. In short, your SCM software must have an integrated order management system.
Warehouse Management
With a warehouse management system comes a higher control level of physical operations in the warehouse. It helps businesses to deal with labor, floor space, operational protocols, materials, and more.
Implementing warehouse management in SCM software makes managing overlaps and discrepancies easier.
Logistics and Transportation
Having a logistics and transportation system helps in managing the supply of materials and goods at a lower cost. Some of the built-in logistics and transportation tools that you must have are appointment scheduling, dispatch management, and yard management.
Put simply, logistics and transportation management allow efficient and pocket-friendly shipments of materials and products.
Other Technical Considerations
Apart from the above features, you also need to determine the deployment environment and security requirements of the SCM software. Also, it is important to analyze the system for availability, fault tolerance, and integration capabilities.
A few technical considerations you should have are on-premise or cloud deployment, operating system, encryption standards, network monitoring, audit trail, APIs, etc.
Conclusion
Smoother supply chain management can help businesses achieve business objectives with ease. It can help in improving the quality of the product, shortages, oversupply, risks of recalls, stronger brand image, and better profit margins.
So that was all about Supply Chain Management, we hope the article was informative. Also, if you too want to develop supply chain management software for your business, then get in touch with our experts, share your unique needs, hire developers, and acquire efficient results.
FAQs
What are the 5 basic steps of supply chain management?
Planning, Sourcing, Manufacturing, Delivering, and Returning are the five basic supply chain management steps.
What is an example of supply chain management?
Fulfillment by Amazon (FBA) is an example of supply chain management where sellers ship their products to the center and Amazon takes care of the storage, packaging, distribution, customer services, returns, and refunds of products.
What are the software used in supply chain management?
Oracle SCM, Watson Supply Chain, Logility, and SAP SCM are some of the popular software used in supply chain management.
Posted by
Mahipal Nehra
|
Posted at 19 Apr, 2023
Web