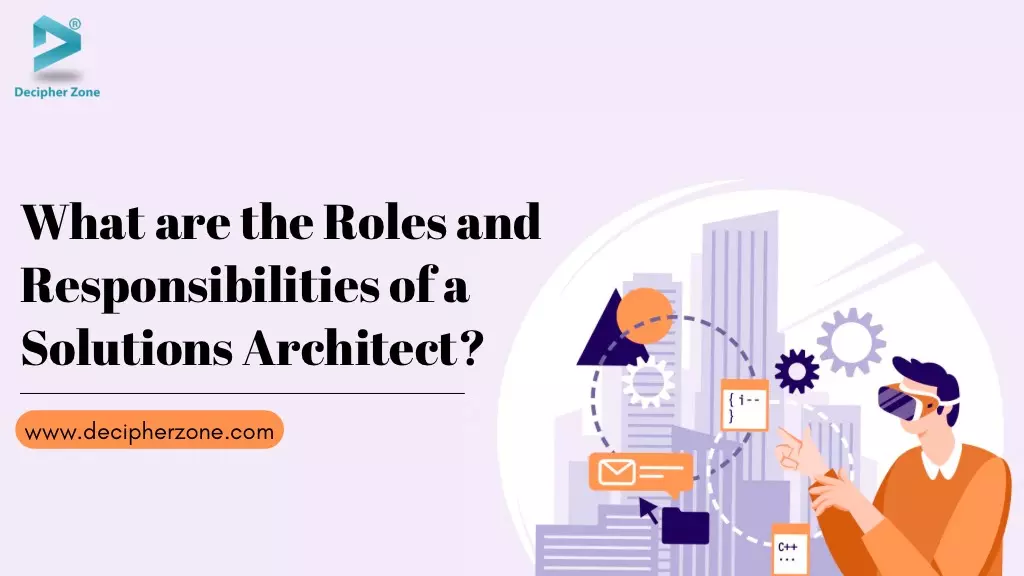 What are the Roles and Responsibilities of a Solutions Architect?
What are the Roles and Responsibilities of a Solutions Architect? With technology evolving rapidly and bringing in new advancements that benefit both the business and the customers, a digital solution enables unmatched growth.
Organizations are quickly leveraging the latest innovations and technologies to stay ahead of the competition alongside fulfilling their customer's demands.
Be it cloud computing, data analytics, artificial intelligence, or the Internet of Things (IoT), these technologies demand a strategic approach to their implementation to get the desired outcomes, and this is where a Solutions Architect comes in, who helps in designing, developing, and implementing these technologies with robust solutions that align with business goals.
In this blog, we will be filling you up with the roles and responsibilities of a solutions architect alongwith some of the most asked questions on the internet on the same.
Who is a Solutions Architect?
A solution architect is a person who bridges the gap between business requirements and technology with comprehensive architectural designs which in turn helps in the design, development, integration, and deployment of the software systems and infrastructure. Their responsibilities consist of various elements like technical expertise, business knowledge, and seamless communication.
Read: Software Architect Roadmap
Roles and Responsibilities of a Solutions Architect
The essential roles and responsibilities of a solutions architect are as follows -
Architecture Development

Communication and Collaboration

Cost Estimation

Documentation

Evaluation of Technology

Project Management

Prototyping

Quality Assurance

Requirement Analysis

Risk Assessment

Solution Design

Technical Guidance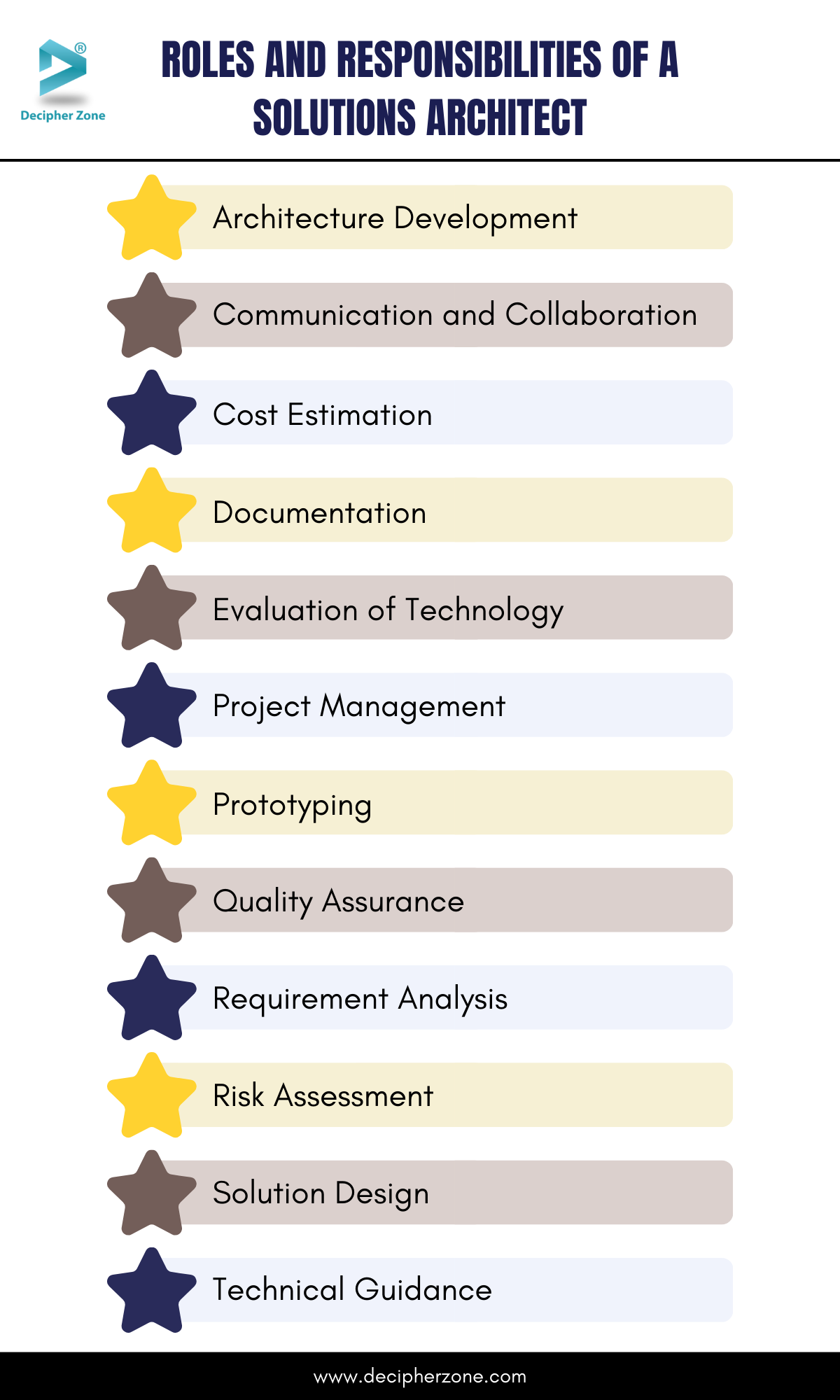 Now moving ahead, let us discuss them in detail -
Architecture Development
This is one of the essential responsibilities of a solutions architect, where they design the overall architecture of the solution alongside implementing several factors like maintainability, performance, scalability, and security. It also involves creating the APIs, databases, and many other components that comprise a software solution.
Communication and Collaboration
Another important responsibility of a solution architect is effective and seamless communication and collaboration. It helps them communicate regularly with the clients to ensure alignment with the business requirements alongside providing regular updates and addressing the concerns.
In addition, they also collaborate with various teams of developers, designers, network engineers, and database administrators to ensure high performance and efficiency of the software solution.
Cost Estimation
Solution architects also help in estimating the cost of development of the solutions by considering several factors like the tech stack, location and hourly charges of the development team, and other operational costs which in turn also helps in effective budget planning.
Read: A Guide To DevOps and Software Architecture
Documentation
They also create and maintain detailed documentation of the solution which includes architectural diagrams, designs, and technical specifications, that further helps in developing the desired solution and also helps the developers know what exactly the client wants.
Evaluation of Technology
In addition to all the aforementioned roles and responsibilities of a solution architect, one other important responsibility is to evaluate and select the appropriate tools and technologies that suit perfectly the client's needs and project requirements.
Sometimes a solution architect can also play the role of a project manager when it comes to creating project plans, and timelines, and even allocating the resources for the respective project.
Prototyping
The solutions architect also creates prototypes of the designs which helps them in demonstrating the feasibility of the solution to the clients.
Quality Assurance
Another important quality of a solutions architect is that they help in quality assurance of the developed solution, where they establish and enforce the best practices and quality standards to ensure the security, flexibility, functionality, reliability, and scalability of the solution alongside conducting code reviews and different levels of software testing.
Requirement Analysis
It is one of the primary requirements in terms of the roles and responsibilities of a solution architect which is also the first and foremost step required while developing a project. It helps in gathering the client's requirements which also helps in getting a simplified vision to develop and deploy the desired results.
Risk Assessment
Solutions architects are also responsible for assessing and mitigating the risks associated with the project, which include data breaches and thefts, performance bottlenecks, privacy and security vulnerabilities, and many more, which helps them in developing strategies to eliminate the risks.
Solution Design
A solutions architect also helps in designing comprehensive solutions that help in meeting the business requirements. Here the primary responsibilities include creating architectural blueprints, diagrams, and documentation which involves the technical components alongside their workflow.
Technical Guidance
Furthermore, another important role and responsibility of solutions architects is that they also help with guidance on the technical aspects of a project solely throughout the software development lifecycle which helps in ensuring that the development aligns with the architectural vision and design.
Wrapping It Up
In conclusion, it wouldn't be wrong to say that there are innumerable roles and responsibilities of a solution architect that fit every aspect that is required to develop a project, and hiring one for your project is the wisest decision for your business.
So, if you are thinking of developing a project for your business, then connect with us, or hire a solution architect and develop the best solution at market-friendly rates and take your business to new heights.
FAQs: Roles and Responsibilities of a Solutions Architect
What are the steps of a solution architecture process?
The steps of a solution architecture process include understanding the business requirements, designing the architecture, evaluating and selecting technologies, creating documentation, and overseeing implementation.
What tools do solution architects use in their work?
Some of the different tools used by solution architects are Microsoft Visio, Jira, Trello, Visual Studio Code with Markdown extensions, IBM Rational Software Architect, Git, GitHub, GitLab, Docker, New Relic, Nessus, IBM Engineering Requirements Management DOORS, Confluence, and many more.
What is the role of a solution architect in DevOps?
Solution architects work with DevOps teams to ensure that architecture supports continuous integration, delivery, and deployment.
Posted by
Mahipal Nehra
|
Posted at 06 Sep, 2023
Web