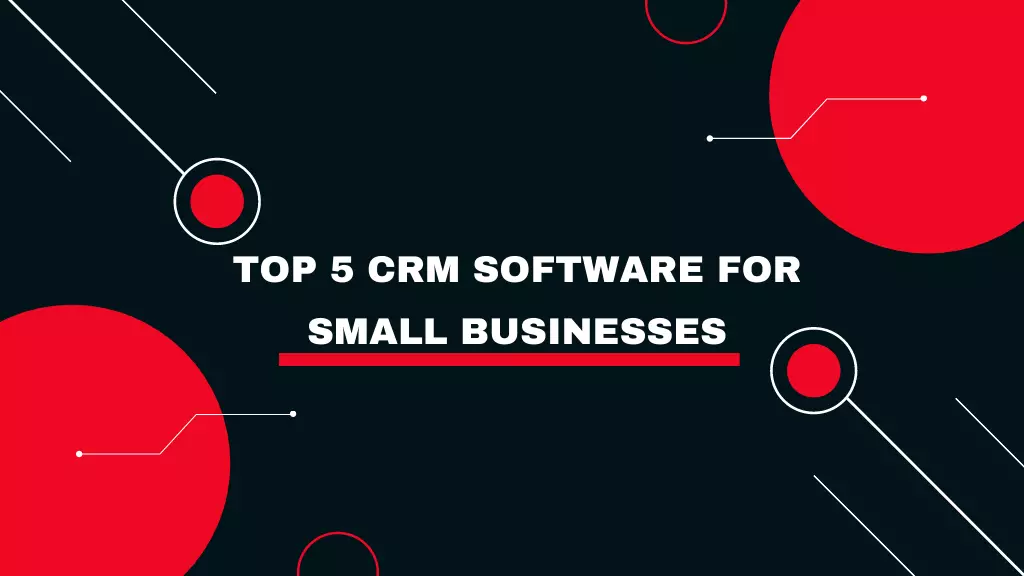 Top 5 CRM Software for Small Businesses
Everyone requires a strong relationship with customers to grow their business. But getting more customers, building your bottom line and scaling operations need investment in ideal concepts. Having an all-in-one CRM system will give you visibility of the customer from every angle to focus resources in the cleverest way possible. The CRM will help you manage your customers and potential customers while enabling you to focus on your business growth.
But exactly what is a CRM and how can you choose the right one for your business. Let's get into it.
What is CRM Software?
Customer Relationship Management (CRM) software is a tool that is used by companies to manage interactions, provide a unique and seamless experience as well as build a better relationship with customers by offering a complete picture of customer interactions, organizing or prioritizing opportunities, keeping track of records and facilitating team collaboration. CRM strategy helps companies to streamline processes, increase sales, build customer relationships, and increase profitability.
Read: Secrets Management Tools For Application Security
CRM software is designed to eliminate silos in customer information by collecting them in a central area and offering a 360o view of the data. Information of the customers such as their email, name, communication preferences and phone number along with the communication and purchase history can be made available to your team that will help them in reaching out to customers for the right reasons via the right channel.
Read: Future of Banking
So what are the top CRM software that you should consider for your business?
Best 5 CRM Software To Boost Your Small Business
Hubspot

Salesforce

Zoho

Salesflare

Nutshell
The best CRM software for your small business is the one that will help you identify where to concentrate the streamlining and organizing of your business process. So, here is the top 5 CRM software that will boost your small business efficiently.
1. Hubspot
Hubspot CRM is one of the best CRM for small businesses. It offers a cost-effective CRM solution for the initial stage. It helps in managing the leads. The free Hubspot CRM consists of inbound marketing tools that guide blog posts towards search engines while offering adequate e-mail marketing. It also helps in managing workflows for better management of projects. Moreover, you can easily assign and trace leads, keep track of sale processes and document customer interactions over channels.
Read: How Web Designing Could be helpful in Promoting Your Business?
It is designed to work with Microsoft Office and G Suite. Having Zapier integration will make it efficient to share information across apps and streamline tasks. And it's free forever for unlimited users, unless you are ready for the upgrade for the advanced version, you don't have to worry about the number of contacts you make while growing your business.
2. Salesforce
Salesforce has become a giant in the CRM industry and is a great software for small businesses as well. Using Salesforce, you can take leads through a personalized journey to be a customer and drive more sales via messages, emails, social media, and digital advertising by intelligent marketing platforms.
Read: SaaS Tools for Successful Remote Team
Salesforce offers features like custom reports and dashboards, automated email and meeting tracking, guided onboarding, enterprise-level security, support for email and social media, etc. For a small business, the cost of salesforce starts at $25 per month/user.
3. Zoho
Zoho is a cloud-based software suite designed to give whatever you need to run your small business smoothly. It offers a powerful set of marketing and sales features along with online productivity tools and SaaS applications.
Read: Online Tools for Building Your Company Culture
Zoho CRM software helps in marketing brands, managing sales, organising contacts, offering customer support and so on. It consists of an AI voice assistant for developing intelligent dashboards and predicting business trends, multi-channel contact management, mobile apps to keep a team on the same page, built-in security for data safety, detailed analytic reports, and sales lead management.
For up to 3 users, it has a freemium plan while for more than 3 users its paid plan starts from $12 per month/user.
4. Salesflare
Salesflare CRM is a great software for B2B sales. It's simple to use and takes advantage of automation so that sales representatives spend minimum time on admin. Getting started with Salesflare is extremely easy as it automatically imports your data on the platform. Each interaction with your contacts either by phone, chat, or email automatically gets logged.
Intelligent tools suggest opportunities that should be placed as a top priority. Follow-ups and reminders help in reducing the number of forgotten customers. It is specifically designed for small and medium-sized businesses that sell B2B products and services. Integrating and syncing Salesflare with Outlook, Google or iCloud is simple. It comes in handy for logging emails and sending follow-ups from Salesflare while maintaining email workflows.
Read: Small Online Business Ideas
It comes in three pricing tiers: $29/user per month in Growth, $49/user per month in Pro and $99/user per month for enterprise level. Salesflare also offers a 30-day free trial so you can take a demo as well.
5. Nutshell
Nutshell is a powerful CRM software renowned for its simple and intuitive interface that works remarkably well for the B2B sales team. The sales and marketing tools enable you to access and develop customer conversations histories, uses an integration of lead form to turn visitors into customers.
Nutshell keeps important conversations and people from collapsing through the cracks. You can also log meeting notes, edit contacts, scan business cards and receive alerts to build new leads directly from the Android or iOS apps. Some of its features include leaderboards, activity reminders, customizable sales pipeline, team alerts and @mentions, click to call and phone recordings.
Read: The Cost and Features of a Cannabis Delivery App
The pricing for Nutshell's Starter is $19/month per user and Pro is $35/month per user. Apart from that Nutshell syncs with Outlook, Exchange, G Suite, and Microsoft 365. On top of that, Nutshell also provides one-click integrations with business tools like Quickbook or Slack and email marketing services like Constant Contact or MailChimp.
Conclusion
The options while opting for CRM software are endless, but with the help of the above-mentioned choices, you can easily start accessing the one that is ideal for you. A few things to keep in mind before making any decisions are costs and course, easy setup implementation and great technical support, usability, user minimums along with the new GDPR security features. Moreover, if you want to build a CRM software that is specially designed according to your needs and requirements then you can also hire experienced developers who have already worked with the development of CRM software.
Posted by
Mahipal Nehra
|
Posted at 08 Jul, 2021
Web