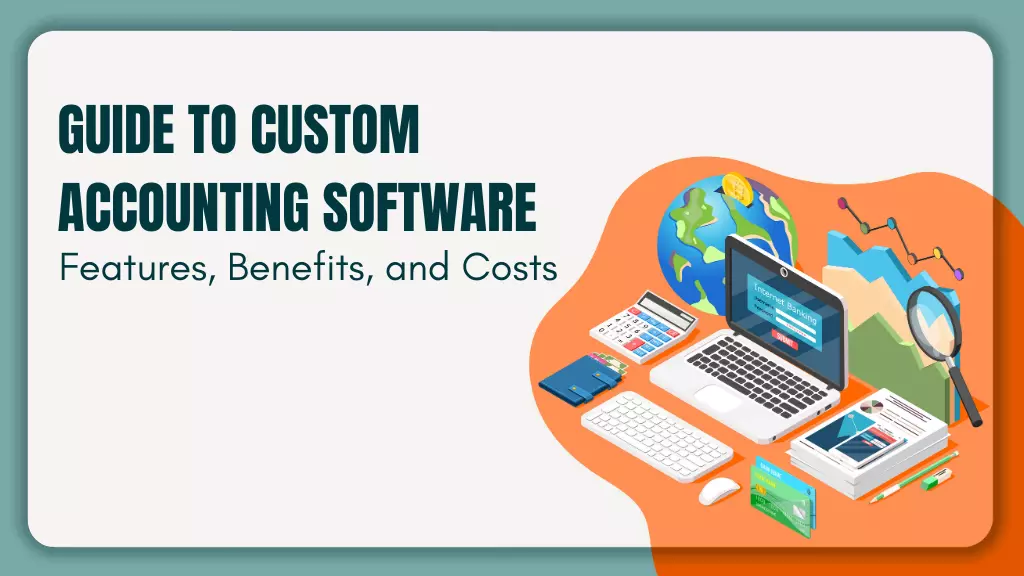 Custom Accounting Software: Features, Benefits, and Development Cost
Bookkeeping and auditing are integral parts of finance management and custom accounting software caters to them all. And with the integration of the latest technology and trends, you can do much more with it.
According to the insights from Reportlinker, the global accounting software market is projected to reach $10.5 Billion by 2027, making it an important reason to consider developing such software.
There are different types of accounting software, like spreadsheets, commercial accounting software, enterprise resource planning (ERP) software, cloud-based accounting software, and others.
And among all the available types, if you are confused about which kind of software to develop then custom accounting software is the solution.
With software development, where every business is making way for more growth opportunities, if you are interested in the same, then this is the right place to be.
What is Custom Accounting Software?
It is an application tailored to fulfill all the specific accounting needs of a business like cash flow management, assets, liabilities, expenses, tax calculations, business analysis, revenue generation, and others.
Read: What is Software Development
It automates repetitive tasks and processes complex data quickly and efficiently with custom formulas, which facilitates matched balanced sheets with ease.
Benefits of developing a Custom Accounting Application
Every software has its own set of benefits, and you must know all of them before developing one for your business. The benefits of developing custom accounting software are -
It helps in managing and processing the data efficiently with filtering options that you can analyze and make better business decisions for the future.

It helps in automating the tasks which in turn reduces human labor and minimizes errors as compared to the manual way.

Developing custom accounting software also helps with personalized features that are built to comply with the specific financial management needs of a business.

Additionally, it also provides better financial reporting and monitoring of your business's performance, which helps in identifying the problems and threats to make better business plans.

It helps in saving a lot of time, which in turn streamlines the organization's workflows and boosts productivity.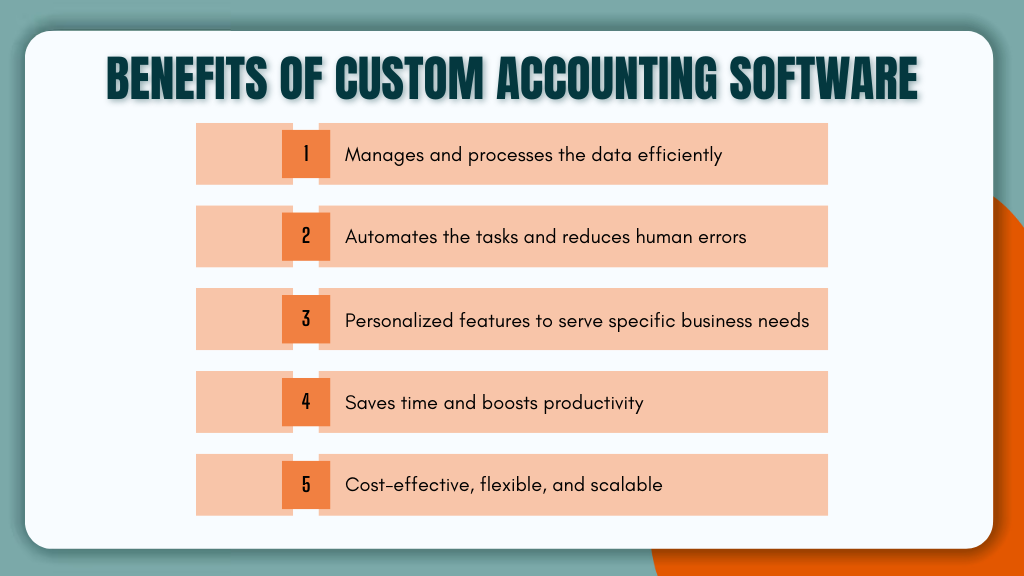 It provides a cost-effective solution for your business, making things well-organized, and also reduces a large amount of paperwork and processing expenses.

It ensures compliance with the regulations in the location where the business operates.

Custom accounting applications can be integrated with many other systems and tools which help you manage your business and all the financial aspects of your business in one place.

In addition, it also ensures flexibility, and scalability and helps in building credibility for your business.
Furthermore, knowing about the benefits is not enough while developing software for your business, so look out for the disadvantages and challenges associated with it as well. It will help you devise future-proof plans and accelerate your business growth.
Features of Custom Accounting Software
While developing accounting software, make sure that you integrate all the basic features as well as some advanced features to enable a future-proof solution for your business. Some of the features that you can integrate into the software are -
It helps in managing all the payable accounts like amounts paid, partially paid, owed, total liabilities, priority payments, and many more.
To manage the received payments, due payments, total revenue collection, amount generated from different payment methods, and others.
To manage multiple bank accounts alongside real-time data and transactions from all the available accounts.
It helps in providing detailed financial reports on every feature of the software like performance, cash inflows, and outflows, monetary assets value, tax summary, liabilities, and others.
To track and record the inventory according to the categories, various stages of production, price list, sales, and purchases.
It helps in managing invoices with user-defined rules and real-time invoice tracking.
It helps in managing journal entries with source attachments like bills, invoices, and others.
To notify about upcoming payments, received payments, custom offers, and many others via emails or text messages.
It helps in managing the salaries of employees and calculating them according to overtime, bonuses, deductions, and others.
Integrating multi-factor authentication, firewalls, access control, biometrics, and payment encryption to keep everything safe and secure from any cyber threats.
Social media sign-up/log-in
To make the user onboarding process easy and hassle-free by signing up with social media handles like Instagram, LinkedIn, or Facebook.
To manage different types of taxes like VAT or region-specific taxes and also caters to rule-based tax filing according to different regions.
It helps in accessing everything like any important update, or any scheduled payments over WhatsApp via messages and attachments.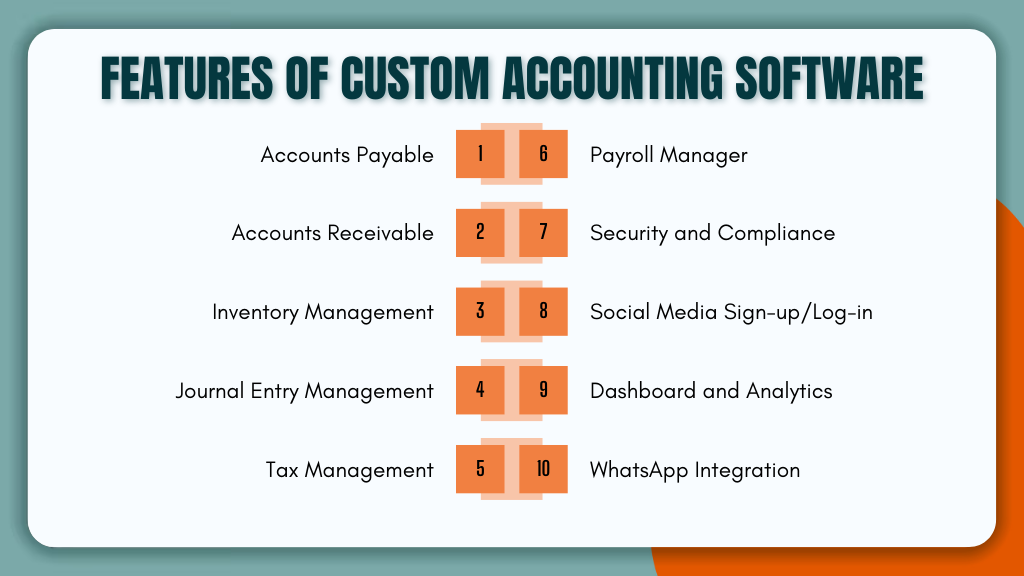 What is the cost of developing custom accounting software?
Custom accounting software development might range somewhere between $35,000 - $4,00,000, and even more if you want to integrate advanced technologies like IoT or Artificial Intelligence.
Different types of software cater to different business requirements. And when developing customized accounting software the price may vary according to what you need in your software.
For example - if you want to clone existing software it might cost you less as compared to an application that is customized or built from scratch.
Read: What is Custom Software Development
There are several aspects to determine the cost of software development, like the hosting plans, technology stack, framework, programming language, the development model/approach, design, number of features, third-party tools, and integrations, post-development maintenance and support, location of the development company, hourly charges of the development company/developer.
Wrapping It Up
Managing a business is never easy. You need to be a multi-tasker and should have enough time and money to do so. But why choose the difficult way when you have an easy option available that ensures accuracy and quality?
Read: Custom App Development Methods and Practices
Develop custom accounting software, and it will help you simplify your finances and manage your business.
If you are interested in developing one such custom-made accounting software to tailor your business needs, hire a developer, or connect with us.
FAQs
What are the advantages of developing custom software?
The advantages of custom-made software development are -

It is customized to tailor to the specific business needs.

It enables high automation.

It saves time and is secure, scalable, and flexible.

It doesn't require any training to use the software.
What are some of the popular accounting software?
QuickBooks Online, Xero, FreshBooks, Zohobooks, and Wave are some of the popular accounting software.
Which accounting software is used widely in India?
Tally is highly preferred by businesses in India, with over 75% market share and over 2 billion active users.
Posted by
Mahipal Nehra
|
Posted at 30 Mar, 2023
Web