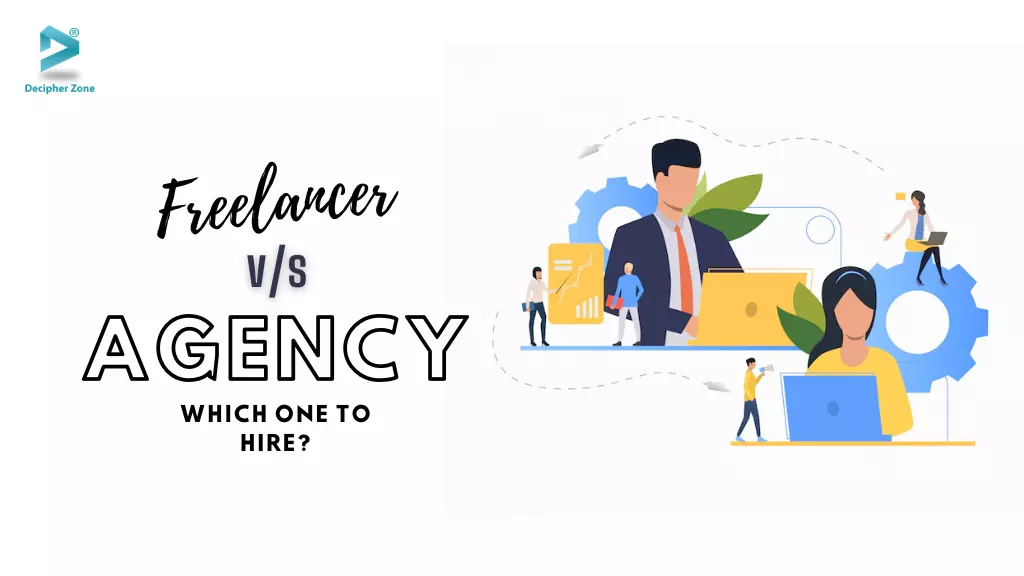 Freelancer vs Agency Developer: Which One To Hire?
As an entrepreneur, you finally decided to digitize your business. You have a brilliant idea for a product and are ready to take the next step. Whether you want to create a web app or a website, it is not an easy task, even with the brightest idea you might have, when you have no experience in writing code.
Besides, developing a successful and robust web application or website depends on the freelancer or agency developers you hire.
Read: Software Tools for Business
But before proceeding ahead, you need to know that hiring a freelancer is a lot different than outsourcing a software development company or agency, yet both have their advantages and disadvantages.
So, in this blog, we will discuss everything you need to know about hiring freelancers or agency developers.
An Overview of Freelancers & Agency Developers
Freelance developers are self-employed professionals who work as independent contractors. They work for one or more companies simultaneously on either short or long-term projects. These freelancers are experts in specific skill sets, like frontend, UI/UX, backend, or data analytics.
On the other hand, the agency encloses a development team that specializes in almost all the skill sets required to build a software application. They are an established team of professionals typically consisting of project managers, developers, designers, business analysts, and quality assurance. Most agencies can offer complete system development life cycle (SDLC) services, from the initial project idea to the deployment of the project in the marketplace.
Read: Agile Development Lifecycle
But what makes one business choose a freelancer while another opts for a development agency?
Let's move on to the pros and cons of hiring freelancers vs agency developers to help find the one ideal for your business.
Pros of Hiring Freelancers
Some of the advantages of hiring a freelancer developer include:
Cost Efficient: A business doesn't need to pay much compared to an in-house or outsourced development team. At the starting stage of your business, when you want to cut costs and expenses, hiring a freelancer becomes more economical. But keep in mind that you get what you pay for, so when you hire more than one freelancer, the cost can quickly mount up, even though it may appear inexpensive at first.

Flexible: Another benefit that comes with hiring freelancers is 'flexibility'. They do not have to follow traditional working hours and can easily adjust their schedule according to your priorities and needs, making them highly flexible.

Specialized Skills: Freelancers are usually specialized in one area. So it is essential to study their portfolio to identify their skills and if they align with your requirements or not. For instance, if you want to add visual components (frontend) to your website, you will need someone with experience in HTML, CSS, jQuery, Bootstrap, JavaScript, or other frontend technologies.
Cons of Hiring Freelancers
Now that you have a clear idea of how hiring freelancers can benefit your business, let's take a look at some of its disadvantages.
Riskier: Hiring freelancers can be riskier, not because they don't know how to work or will ruin your project, but because they do not work in a team. The freelancer you have hired could be one of the most trustworthy people, but, in case, they encounter an emergency, get sick, go on vacation, etc. then your entire project comes to an unnecessary halt.

Limited Capability: You cannot risk overloading freelancers as it could impact their performance. Besides, there is only so much a single person can accomplish. And finding a freelancer who can design, code, and test without compromising quality is an extremely difficult task itself. No doubt, you can always hire more than one freelancer, but it will increase your expenses. Moreover, you will have to maintain standards and communication among them.

Work Quality: Not every freelancer that you will hire will take care of the work already accomplished by others. Freelancing platforms like PeoplePerHour and Upwork invest their time in properly investigating the freelancers they have. So, the chances of interacting with someone who just wants to earn quick cash by quickly delivering projects are higher. Therefore, the quality of your work can be seriously affected.

Management Difficulties: Undoubtedly, freelancers have so much going on their plate. They juggle between multiple clients which can make the management of different products difficult for freelancers, leading to delays and mistakes in your project. So, the best scenario here will be coming up with an agreeable deadline at the start of the project.

Abandonment: Obviously, some extremely talented freelancers available in the industry will never abandon your project. But, there are chances you will not get the chance to work with them. For example, when you hire a freelancer, share the terms and conditions, and set the payable amount for project development to get started with the project. And suddenly one day, all you hear from them is silence (sounds frustrating, right?). Well, it might happen to you, if you choose to work with unreliable freelancers.
To avoid such scenarios, you can either find a couple more candidates in advance or move with plan B, i.e., hiring a software development agency.
Pros of Hiring Agency Developers
A software development agency is a one-stop solution for whatever business needs you may have. In simple terms, you can get all your work done by a reliable and accountable team of professionals. All the processes involved in the system development life cycle are divided into small sprints (stages) where analysis, monitoring, and required customizations are planned.
Read: Tips to Hire Virtual Software Developers
But, like freelancing developers, hiring agency developers also has its pros and cons.
So let's move ahead and take a look at the benefits an agency can bring to your business.
Teamwork: While hiring multiple freelancers for a project, you don't have a guarantee that they will work together in harmony or not. On the other hand, if you hire an agency with a team of professionals working together regularly, you will get unmatched cooperation from the team members. Besides, they are extremely familiar with each other's strengths and weaknesses, they can easily avoid all the challenges that might occur during development.

Reliability: By hiring an agency you will acquire a proper quality control mechanism over the development team that follows work ethics. They are more reliable than freelancers to complete the given tasks without ditching you at the last moment because they work to deliver results on time.

Long-term Approach: If you are looking for a long-term contract or partnership, then the agency will be the ideal choice for you. No doubt that the individuals working on your project might change over the years but the quality and consistency of work you will get from an agency will be the same.

Extended Expertise: Unlike freelancers who have gained experience and expertise over a certain set of skills, an agency has a multitude of professionals with an extensive area of expertise. In an agency, each team member specializes in different development areas you might require to complete the project.

Better Project Quality: Although the quality of work from freelancers is not always bad, agencies hold their work to more rigorous quality standards. While a freelancer might submit a project without much thought after completion from his/her end, an agency will use strict quality analysis and review processes.

Accurate Estimation of Delivery: Most of us are aware that the work is charged hourly, making it essential to know how much time will be required to deploy functionality. By hiring the best software development agency, you will not have to worry about unnecessary expenses. It is so because they will let you know the estimation of project delivery and costs that might add up.

Continuous Support & Maintenance: As agencies are more or less qualified companies, they tend to focus on building long-term relationships with their clients. Hence, they will offer continuous support and maintenance for the project to fix bugs, suggest functionality modifications, and other improvements.
Cons of Hiring Agency Developers
The only disadvantage that we can think of when it comes to hiring agency developers is:
Higher Development Cost: Undoubtedly a software development agency will be higher in cost compared to freelancers. The reason is simple: a) they need to pay more people; b) they have higher overhead costs including software, office space, equipment, systems, etc. That's the reason why agencies are most likely to focus on large-scale projects (as it costs more) than a freelancer.
Which One Is Ideal For Your Business?
Both freelancing developers and agency developers have their advantages and disadvantages. Although there's no straight answer for whom you should hire, we will help you out by listing a few scenarios where one of them will be ideal for a business.
You can hire freelancers for the following reasons:
Developing small or almost-completed project

Low budget tasks

Extremely specialized jobs

Projects that need high involvement from you
While you can hire a software development agency for:
Projects that need extensive skill sets

Complex and large-scale projects

Projects with medium to high budget

High-quality projects
Overall, we can say that hiring a software development agency will prove to be more beneficial than freelancers with their extensive knowledge and experience. You won't have to worry about them disappearing in the middle of project development.
Freelance developers are self-employed professionals who work as independent contractors. "To find and work with them, companies can use the best freelance sites which allow access to a large pool of candidates."
With the team spirit, strong work ethics, high credibility, and work handling capacity of the software development agency, you can get the best possible outcomes for your business.
"How Can Decipher Zone Help You?"
So how does the Decipher Zone fit into the picture?
Simply put, Decipher Zone is a software development agency that involves all the professionals, such as business analysts, frontend developers, backend developers, DevOps engineers, quality assurance analysts, and even the SEO team who will ensure the success of your project from the initial to the final stage of development. Not just that, but the digital marketing team can also help you to reach your targeted audience with ease if you want.
So, without further ado, get in touch with our business consultants to discuss the idea and estimated budget of the project.
Posted by
Mahipal Nehra
|
Posted at 01 Sep, 2022
Web