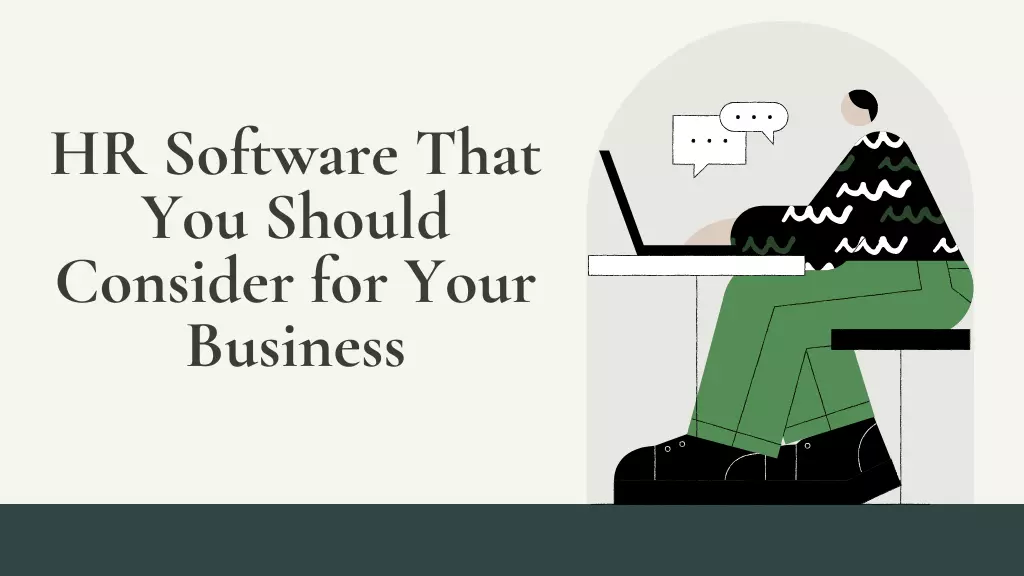 HR Software That You Should Consider for Your Business
Human resources departments have been around for a long time to protect both employees and employers, recruit new hires, and find the best candidates. Unfortunately, not every business can afford a full human resources department. In those cases, HR software can take the place of an employee or multiple employees at a fraction of the cost of paying salaries.
These human resource management software can handle various tasks, from scouring hundreds if not thousands of resumes to finding the best candidate profile to payroll and benefits management. Here is the best HR software you should consider for your business.
Rippling
Ripping is an HR software that's ideal for businesses because it offers a range of products you can choose from, including an employee database, recruiting tool, payroll, and onboarding support. It can help you with international payroll if you have remote workers overseas.
This tool targets every step of the employee process at transparent rates while offering professional employer organization (PEO) services you can use when you need to outsource HR.
Gusto
Gusto is a payroll software for small businesses that offers full-service features at an affordable price. With this software, you can pay employees through direct deposit, checks, or pay cards. The system files your taxes, manages paid time off, and administers workers' comp while providing benefits at no additional cost.
This software is ideal for companies with fewer than 100 employers because it's affordable and offers a one-stop payroll solution.
Paychex Flex
Paychex is a popular HR software among businesses of all sizes. Paychex Flex is a small business version of the software ideal for fast-growing companies with employees in multiple states. Paychex Flex is designed to grow with your business, making it an ideal solution for solopreneurs and small start-ups.
Zenefits
Zenefits is an HR software that allows you to add payroll. It's ideal for small businesses with fewer than 200 employees. With Zenefits, you can organize employee data and policies, along with streamlining processes like payroll.
It also provides businesses with an attendance system, even in its cheapest plan. It has a geolocation feature that allows you to track where workers are when they clock in.
ADP Run
ADP is one of the most well-known HR software with a range of plan options that serve businesses of all sizes. ADP Run is software under the ADP umbrella that's ideal for small businesses, complete with a PEO option that can help growing businesses who aren't ready to hire an in-house HR team. ADP Run makes it easy for businesses to add on services as they grow.
Paychex offers similar services as ADP Run but on a much smaller scale. ADP can post on over 12,500 job boards. ADPs features range from payroll to recruiting and benefits administration. Payroll is its base service, but you can get a customized package to include everything your growing business needs.
Paycor
Paycor's main service offering is payroll, but it also provides additional HR support. This software is best for businesses with multiple locations and hourly workers in multiple offices and locations. Paycor is customizable and can be used across offices.
BambooHR
BambooHR offers a suite of HR solutions for day-to-day operations, including applicant tracking and onboarding. It can help manage employee performance while keeping them engaged. BambooHR has advanced features similar to Paycor, such as performance management and engagement tracking, but some features are only available as add-ons. It's similar to Zenefits as it offers payroll as an add-on.
Read: Top 5 CRM Software for Small Businesses
One feature to note is its employee management. In BambooHR, you can access employee files in one database from anywhere and store your employee handbooks, policies, and employee paperwork in the cloud.
Zoho People
Zoho People is ideal for budget-minded small business owners because it has a free employee database and PTO tracking for businesses that have fewer than five employees. Pricing is very cheap, ranging from $1.25 to $9 per employee per month. This HR software covers everything from onboarding, recruiting, and performance management.
Leapsome
Leapsome is built as a people management platform with a goal to improve employee performance, engagement, and learning thus creating better workplaces and more pleasant work environments.
To start on the journey of growing a successful business and contributing to the satisfaction and happiness of your employees, you should consider learning how to optimize your employee performance reviews.
This software is ideal for starting, maintaining, and growing your business on a daily level.
Namely
Namely was designed to support an existing HR department, with services tailored to creating a user-friendly employee experience so they can find answers before reaching out to the HR department. It includes all basic functions like payroll and compliance, which are automated as much as possible to allow HR teams to focus on more important tasks.
Namely can help employers and HR departments build a positive company culture. However, it's not ideal for small businesses because the minimum annual pricing contract is at least $10,000.
Shareable for Hires
Shareable for Hires is a company that offers online background checks, credit checks, and identity verification. Technically, an online background check tool isn't HR software, but it is software that can be used for HR.
With this tool, you can find information about applicants, such as their criminal history, and verify their educational background. This powerful tool can let you know when an applicant has lied on their application and allow you to verify they have never been convicted of a crime.
Your Bottom Line
HR software is designed to help you improve your human resources function. Without some type of human resources plan, you can't help your employees with questions they have about salaries, reporting problems with coworkers, and more. As a small business owner, you don't have the time to be the entire HR department. However, you may not have the funds to hire multiple people to take over that department.
Whether you have one human resources manager or can't dedicate funds to build that department, you need to be able to keep your employee paperwork, payroll records, and more organized.
When choosing which software is right for your business, consider all of the functions the HR software will need to perform. We recommend hopping on the phone with any of these companies to learn if they're the right fit for you. Make sure you write down all of the things you're looking for in HR software so you can get the best quote.
Posted by
Mahipal Nehra
|
Posted at 20 Aug, 2021
Web